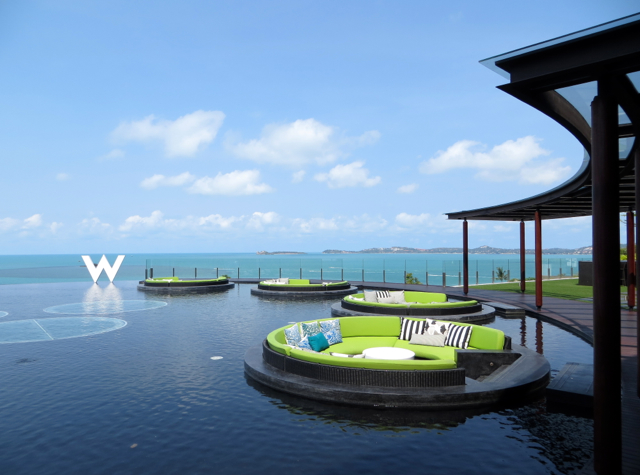 This W Koh Samui review is part of a trip report including Singapore Suites, Cathay Pacific First Class, Emirates First Class, Asiana First Class and luxury resorts and dining in Southeast Asia. For the previous posts, please see:
Singapore Suites A380 Review: New York JFK to Frankfurt
Review: Lufthansa Senator Lounge Frankfurt
Singapore Suites A380 Review: Frankfurt to Singapore
Singapore Airlines Private Room Lounge Review
Cathay Pacific First Class Review NYC JFK to Hong Kong
Singapore Suites A380 Review: Singapore to Hong Kong
Review: Grand Hyatt Hong Kong Club Harbour View Room
Tin Lung Heen Hong Kong Dim Sum Review
Review: Grand Club Lounge, Grand Hyatt Hong Kong
Emirates First Class A380 Review: Hong Kong to Bangkok
Review: Novotel Bangkok Suvarnabhumi Airport Hotel
Conrad Koh Samui Zest Restaurant Review, Menu and Prices
Koh Taen Snorkeling with Tours Koh Samui Review
Conrad Koh Samui Jahn Restaurant Review, Menu and Prices
W Retreat Koh Samui Location, Lobby and Check-In
The W Retreat Koh Samui is located just 15-20 minutes from Koh Samui Airport, between Maenam and Bo Phut, and about 15 minutes from the Four Seasons Resort Koh Samui, where we were coming from.
After our driver, Mr Samui, dropped us off, we were welcomed into the Lobby, where the focal point is the outdoor decorative pool and W, with several circular lounges on the right.
Cool towels were brought in containers, and our welcome drinks were purple–definitely novel, although taste-wise and in terms of presentation, I preferred those at the Four Seasons Koh Samui.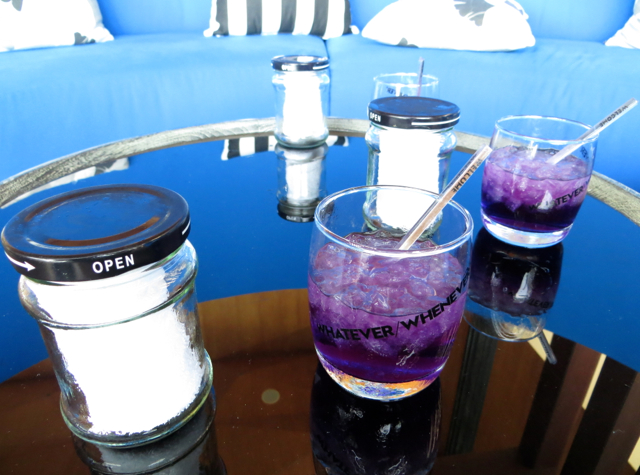 The munchkin didn't even touch his welcome drink as he'd found some blocks in the lounge. We asked our host if we could borrow them for our one night stay, and she agreed, which was nice for the munchkin.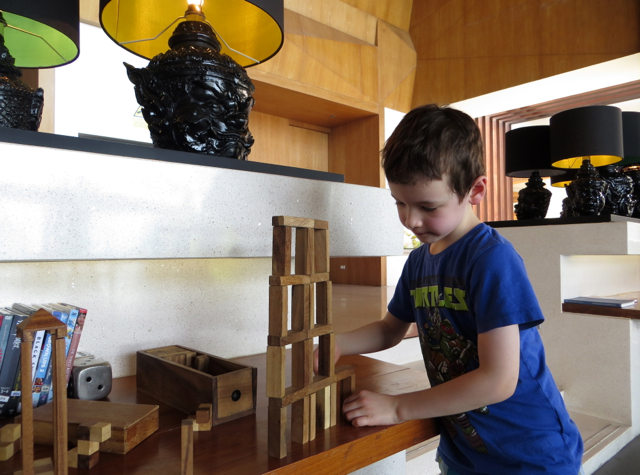 Later that evening, the Lobby, as you'd expect for a W, took on a clubby environment, with folks sipping drinks on those circular lounges. The arresting mural on one wall is courtesy of Alec Monopoly, the street artist best known for his graffiti Monopoly Man character, which was inspired by Bernie Madoff (of course, I'm so out of pop culture I had no idea until a W Koh Samui staffer told me this).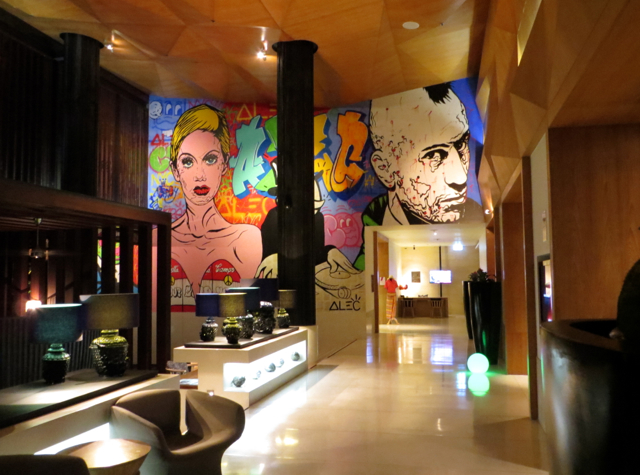 W Retreat Koh Samui Jungle Oasis
We were brought to our Jungle Oasis by buggy, and introduced to its features. As expected, it was the most modern looking of the three Koh Samui resorts we stayed in, with plenty of bright splashes of red throughout.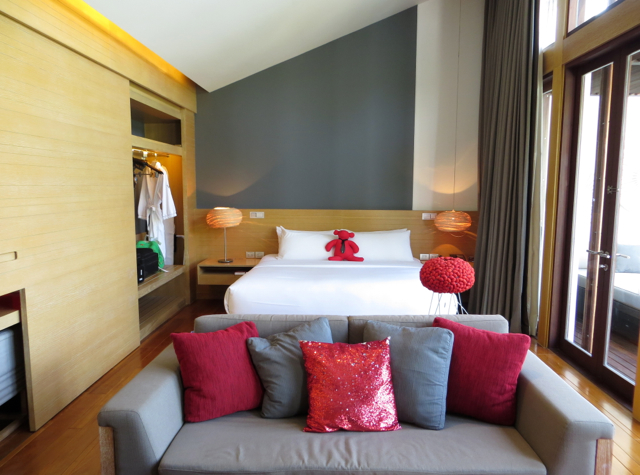 The much vaunted signature W bed was comfortable, but not as comfortable as the Four Seasons bed, even though it's marketed much more heavily.
We were able to get additional linens from housekeeping, to make the sofa into a bed for the munchkin, who thankfully sleeps well almost anywhere there's a horizontal and slightly padded surface.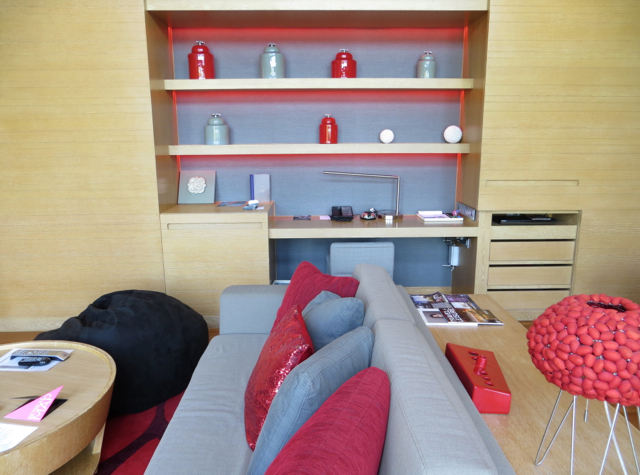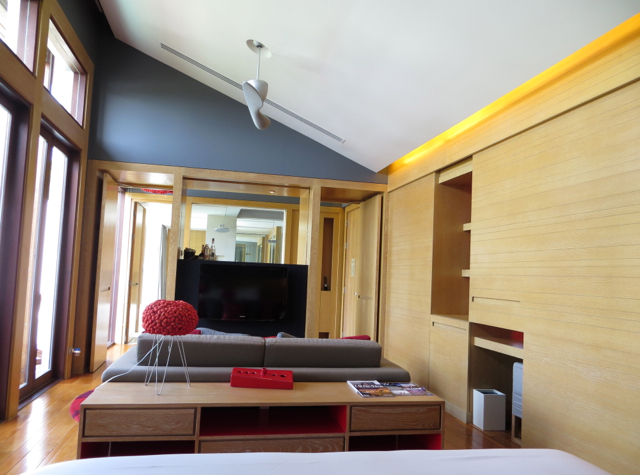 There was a welcome amenity on the table: three pieces of fruit with a chocolate "fondue" dipping sauce, as well as some apples. Nice, but not as nice as the macarons and fresh tropical fruit at the Conrad or the elaborate appetizers, chilled sparkling wine and special kid's welcome amenity at the Four Seasons.
There was a bit of a treacherous step down into the bathroom (not sure which designer thought that was a good idea), which was a bit smaller than the Conrad Koh Samui, and quite a bit smaller than our villa at the Four Seasons. It did have dual vanities, a soaking tub, rain shower and also an outdoor shower in the center, although we didn't use it.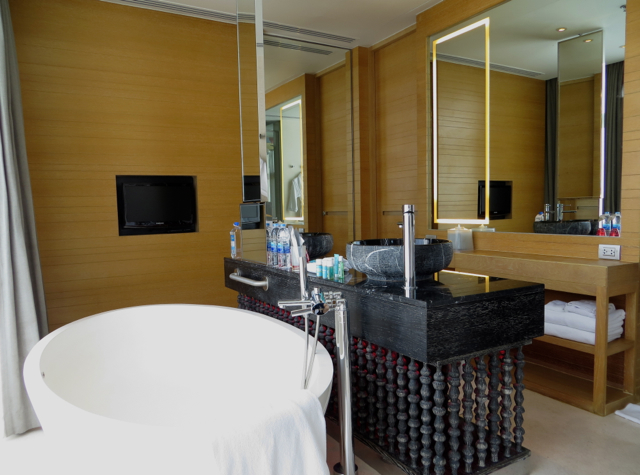 Bath amenities were Bliss, which honestly I've never understood the attraction of. I would rather just have high quality bath amenities of locally made ingredients, such as Aman Resorts and some Four Seasons offer, or if an external brand, Bulgari or L'Occitane.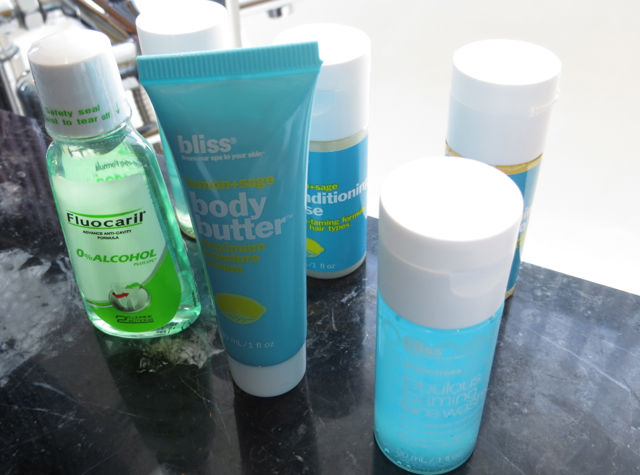 The bathroom's sliding glass door opens directly into the villa's outdoor pool, which is a generous 36 feet by 8 feet–about the same size as our infinity pool at the Four Seasons. As were were in the entry level Jungle Oasis, the view, however, wasn't nearly as nice as what we enjoyed at the Four Seasons Koh Samui or the Conrad Koh Samui.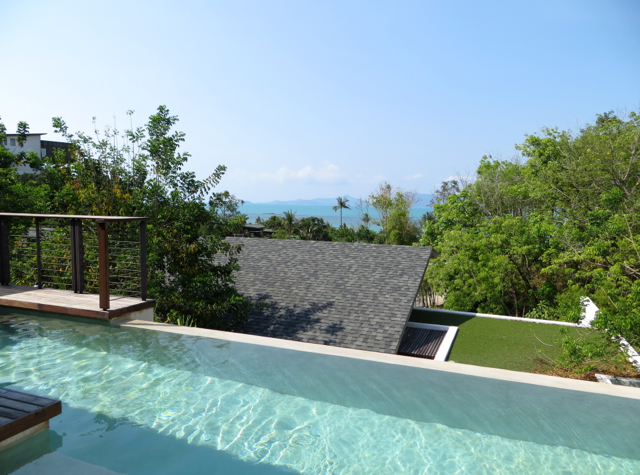 I did like that the W Koh Samui offered an in-room Illy espresso maker (perhaps chosen over Nespresso thanks to its red color?) We didn't have occasion to use it, but neither the Conrad nor the Four Seasons offered a high quality espresso maker, only a more standard coffee maker.
The mini bar, however, I thought was misleading in one respect: there was a "drink up" label on the Fiji water, even though it is chargeable; only the locally branded bottled water was complimentary, although based on that label you would think the Fiji water was complimentary.
W Retreat Koh Samui Beach and Swimming Pool
While we weren't overly impressed with the view from our Jungle Oasis pool, the main infinity pool offered a nice view:
We did have to ask for towels, since none were around when we were there in the morning.
I also went down to the Beach Club, which is completely dead in the morning as most guests are probably sleeping in. There's a big expanse of sand, so there's a nice view: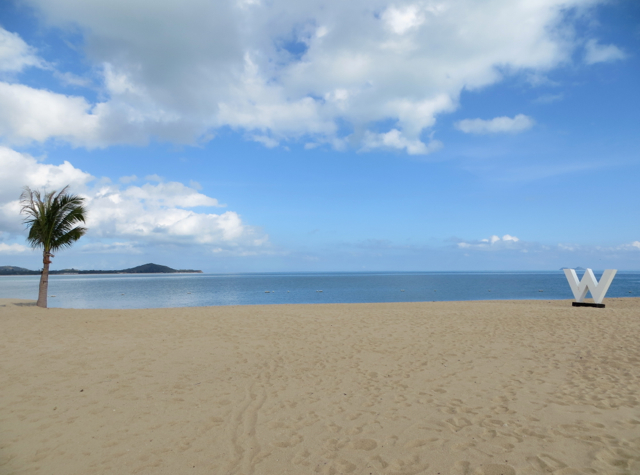 The W wasn't kidding, however, with its sign warning of sharp coral: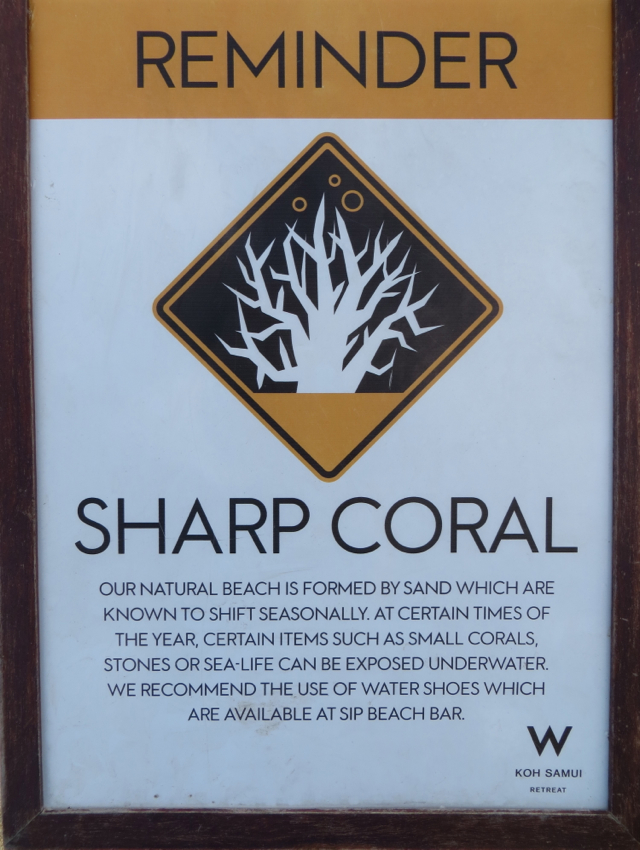 The sand is very coarse and it actually hurts a bit to walk on it in bare feet. Far and away the finest resort beach we encountered was at the Four Seasons, where the sand was white and soft.
A nice touch are the "Sweet Spots" that are sprinkled throughout the property, featuring cold drinks and even ice cream to cool off and refresh with: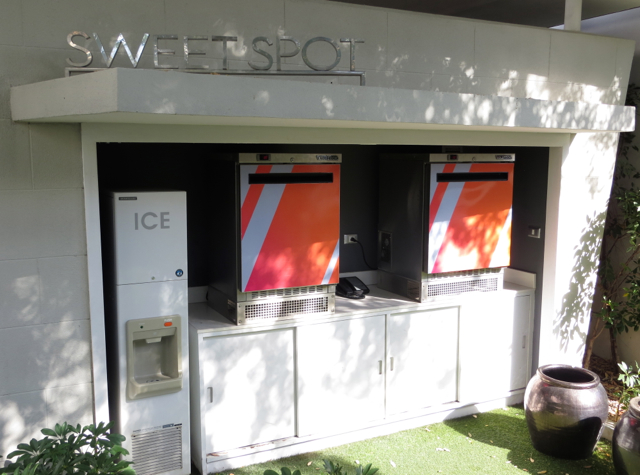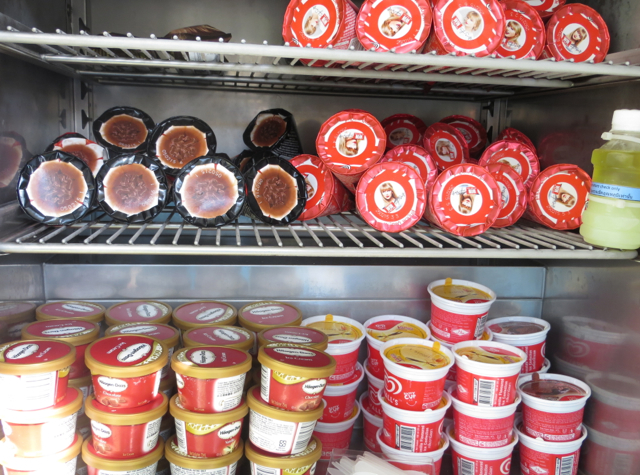 W Koh Samui Dining and Food
I'll cover W Koh Samui dining, including breakfast and dinner at The Kitchen Table, in a future post.
The Verdict
I've never been much impressed by the W brand, especially not the Ws in NYC–the nicest W I've stayed in prior to this was the W St. Petersburg, Russia. The W Koh Samui, as a resort, is definitely a cut above the urban W experiences I've had, but for my husband and me, our least favorite property of the three Koh Samui resorts we stayed at, taking into account the service, quality of the villa, villa pool and amenities. But if you're in you're in the W's target demographic, which I assume is 20s-30s, don't normally stay in luxury hotels, and want more of a "party" atmosphere, especially at night, it would probably be perfect.
Although, the munchkin seemed to think he was the target demographic, judging from his boogieing on the animated Ws in the lobby in the evening: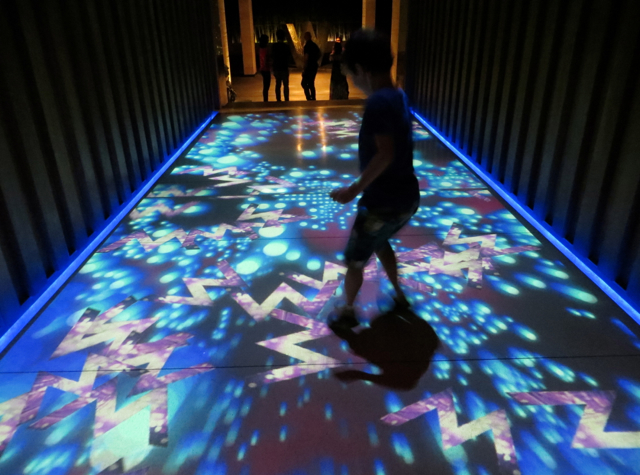 Related Posts
Disclosure: I booked my stay at the W Koh Samui using a travel professional rate.