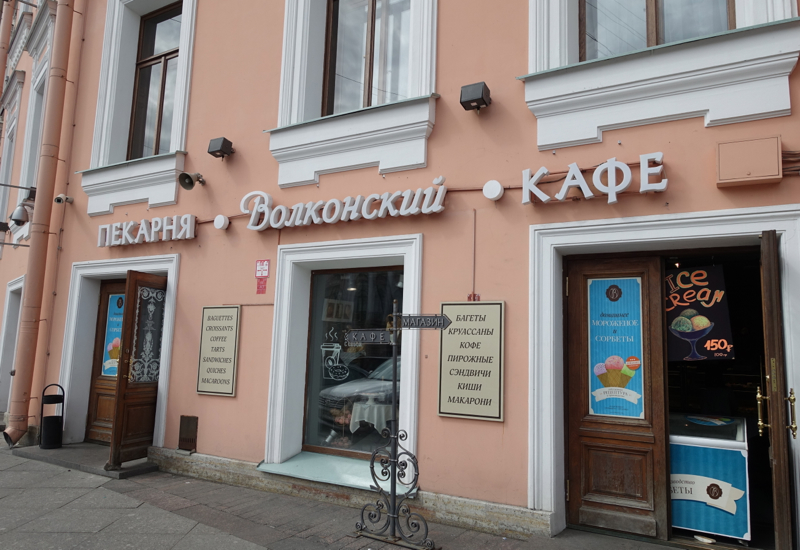 This Review of Volkonsky Bakery and Cafe (Пекарни «Волконский») in St. Petersburg, Russia is part of a trip report including Vienna and luxury hotels and dining in Moscow and St. Petersburg, Russia. Volkonsky, also sometimes tranliterated as Volkonskiy and Wolkonsky, is the Russian bakery name established by famed Paris baker extraordinaire Eric Kayser, whom readers will know from my post on Maison Kayser in NYC.
Eric Kayser is just as savvy a businessman, always adapting his bakeries to the local market. And in the case of Russia, he sagely developed a partnership with bakery manager Alexander Volkonsky, a descendant of Russian nobility, and named the bakeries after him.
Visiting Russia? See all our posts tagged Russia. For the previous posts please see:
Review: Sofitel Vienna Stephansdom
Labstelle Wien Vienna Restaurant Review
Review: Ararat Park Hyatt Moscow
Moscow Metro Tour with Happy Moscow Tours
Review: Peterhof Fountains and Gardens Near St. Petersburg, Russia
Review: L'Europe Restaurant and Dining at Grand Hotel Europe, St. Petersburg, Russia
Review: Four Seasons St Petersburg, Russia
Review: Four Seasons St. Petersburg Breakfast and Dining
Review of Cat Cafe: Great Georgian Food in St Petersburg, Russia
Review: LabyrinthUm Museum, St. Petersburg Russia
Volkonsky Bakery and Cafe St. Petersburg Locations and Hours
Volkonsky Bakery has several locations both in St. Petersburg and Moscow, but the most convenient St. Petersburg location for most visitors is the one at the Taleon Imperial Hotel, at 15 Nevsky Prospect («Талион Империал Отель», Невский пр., 15). It's about a 9 minute walk from the Four Seasons St. Petersburg, or if coming from elsewhere via subway, the closest Metro station is Admiralteyskaya. This location is generally open 8am-11pm, although I recommend arriving in the morning for the best selection of pastries, as they can run out of the most popular ones later in the day.
The Scene
Since this Volkonsky bakery and cafe is, after all, in the same building as the Taleon Imperial Hotel and right off of Nevsky Prospect, there are a good number of foreign visitors. That said, during my visits there I also saw Russian customers, including a group of older "ladies who lunch," local couples and a few families.
The decor is country style French, with several comfortable couches and padded armchairs for the cafe seating.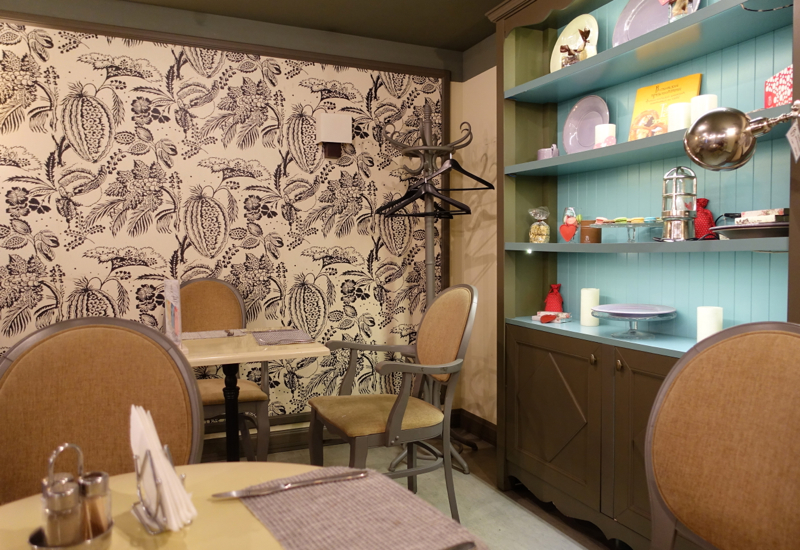 Volkonsky Bakery and Cafe Menu and Food
In his native France, Eric Kayser is known first and foremost as a baker, since there is pretty significant competition in the pastry and cakes arena, for example at the high end by Pierre Herme and Pain du Sucre, not to mention smaller shops such as Ble Sucre, and chocolatiers such as Jean-Paul Hévin.
But in Russia, Kayser's Volkonsky bakeries makes pretty much the best pastries you'll find, and I actually like many of his pastries here better than the versions in Maison Kayser bakery-cafes in NYC.
The sit-down cafe offers breakfast all morning, from 8am-12noon, when you can order omelets, fried eggs, oatmeal and even stuffed crepes in addition to of course pastries.
I tried the crepes stuffed with tvorog (farmers cheese), which was served piping hot. I liked it, but it was too plain for my tasted served on its own; I asked for some homemade jam to spoon atop it, and this really made the dish, in my opinion.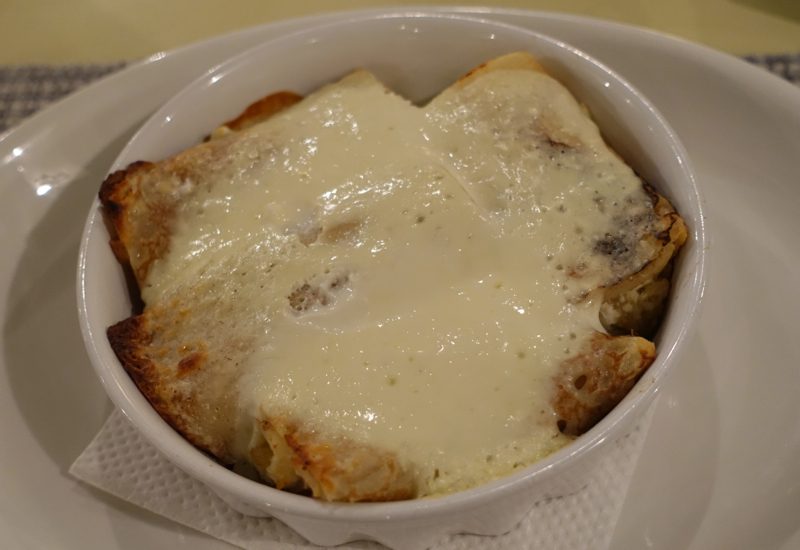 For lunch and dinner, various sandwiches (including Croque Madame and Croque Monsieur), soups, salads and main dishes are offered. I enjoyed the generously sized sandwich with smoked salmon cucumber and capers, and recommend it, though I didn't manage to get a photo of it. Here are the menus, which are the same for lunch and dinner: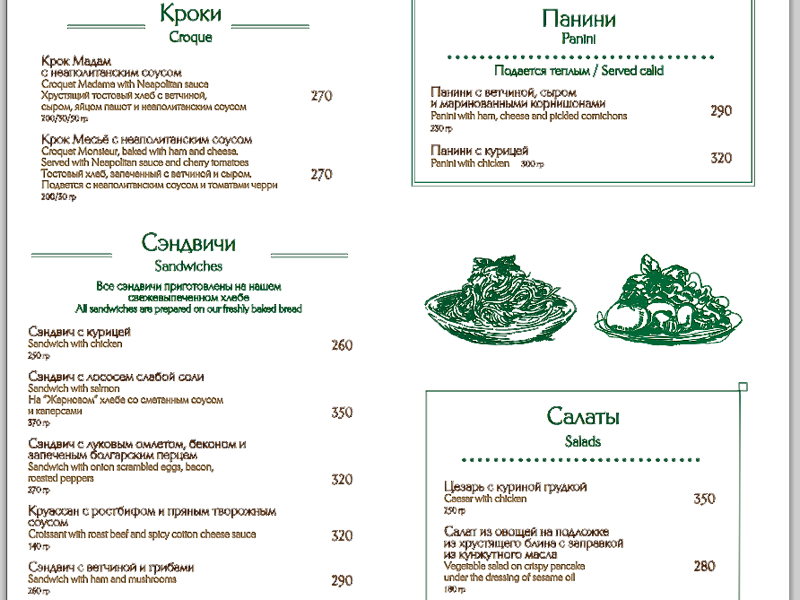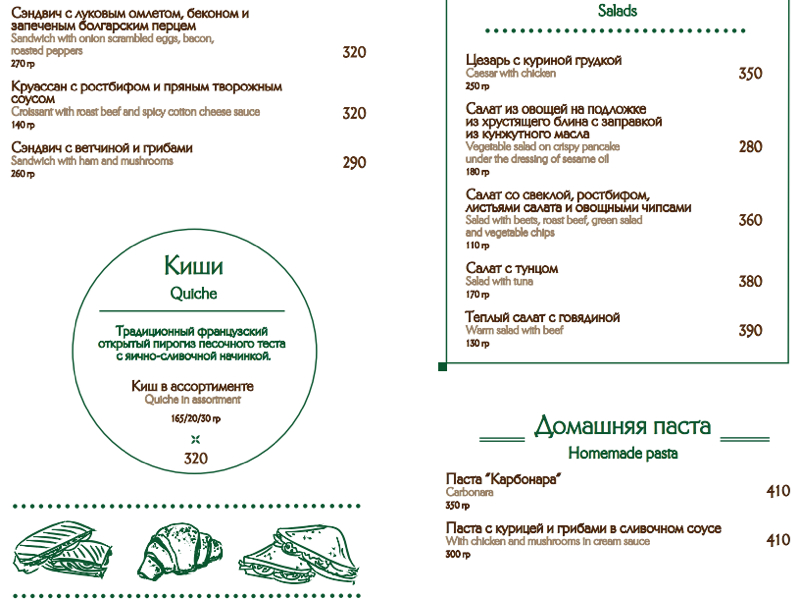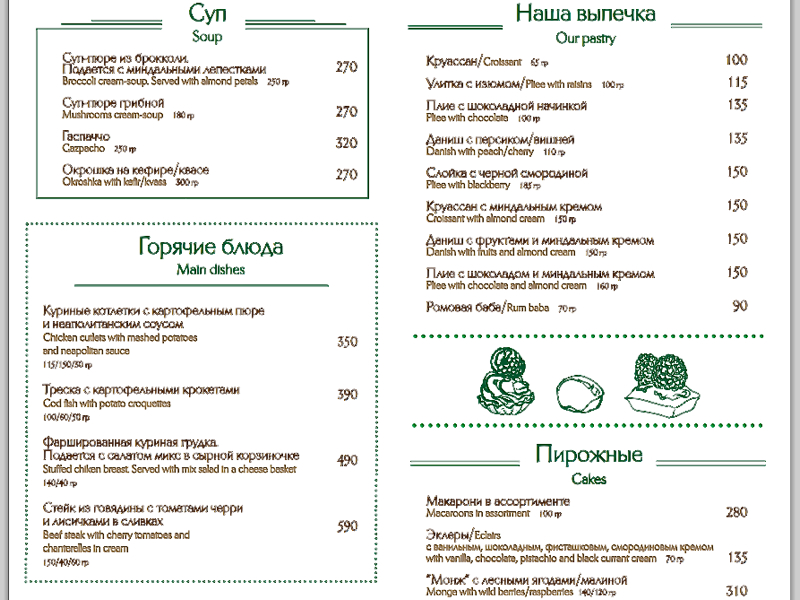 On another day I tried the Croque Madame, and it wasn't the most traditional version I've tried, since the egg was poached and served alongside instead of on top of the sandwich as it usually is. Inexplicably it also came with some tomato sauce on the side. Altogether it was actually very tasty, but traditionalists will be disappointed.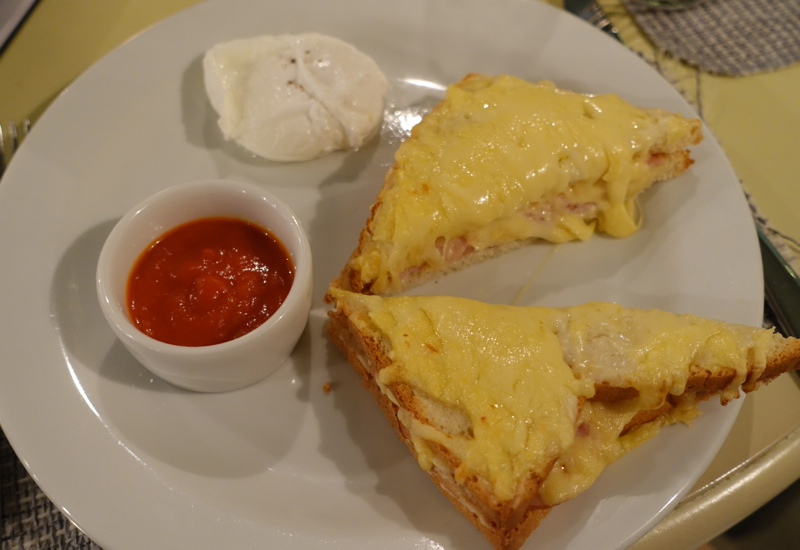 Since Russians love fresh squeezed juices, any good Russian cafe offers these, and Volkonskiy was no exception–in fact, it's a more reliable offering than bottled water, which the cafe was out of on one of my visits. It doesn't come with ice (nor would you want it to, unless you were sure the cafe made its ice with bottled water) so it's room temperature, but was definitely just squeezed and very fresh tasting.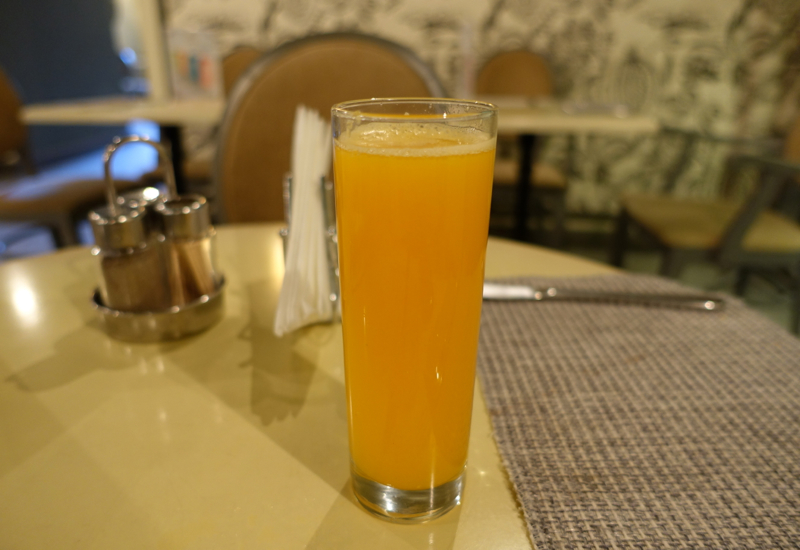 The best bets of course at Volkonsky are the bread (try the cheese bread or really any of the breads) and the pastries, particularly the viennoiserie. My favorite remains the plié (cлойка) with blackcurrants (ignore the menu's mistranslation that it includes blackberries–it uses blackcurrants, not blackberries).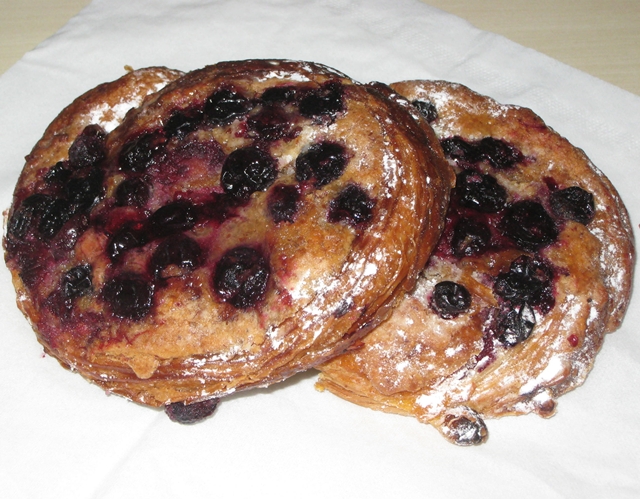 I also highly recommend the croissant with almond cream and cherries, if available: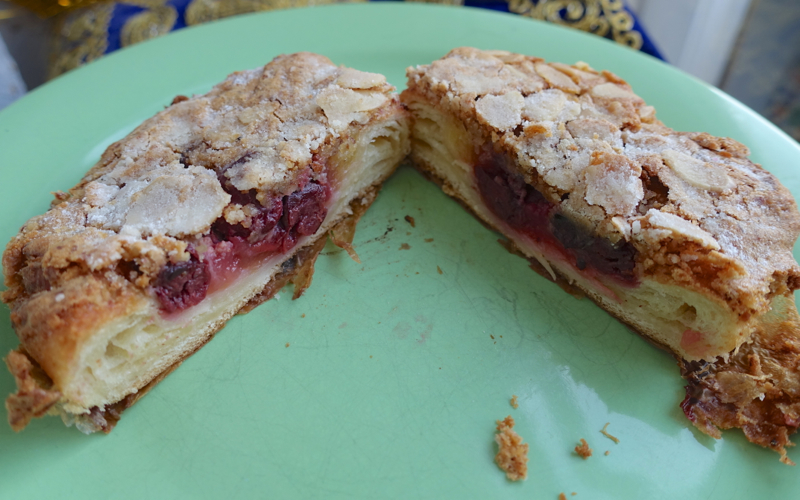 Volkonsky also makes its own ice cream and sorbet. While I only tried the blackcurrant sorbet, it was intensely flavored–a great finale if you prefer a lighter dessert instead of a pastry.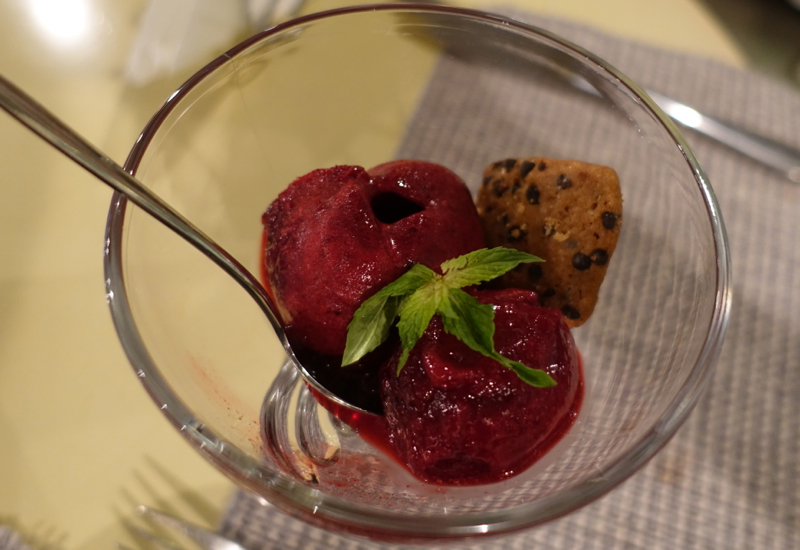 The Verdict
Volkonsky Bakery and Cafe in St. Petersburg is perfect for a lunch or afternoon coffee break in the midst of exploring central St. Petersburg. Cafe meals can be a bit variable, but highlights include breads and pastries, fresh squeezed juice, the smoked salmon sandwich, and housemade fruit sorbets.
Related Posts
Review: Four Seasons St Petersburg, Russia
Review: Four Seasons St. Petersburg Breakfast and Dining
Review of Cat Cafe: Great Georgian Food in St Petersburg, Russia
Maison Kayser NYC Review: Eric Kayser Opens New York's Best Bakery
Need Award Booking Help? Our fee is as low as $75 per ticket if you book your hotel or cruise with us.
If you enjoyed this, join 200,000+ readers: please follow TravelSort on Twitter or like us on Facebook to be alerted to new posts.
Become a TravelSort Client and Book 5-star hotels with Virtuoso Perks and Four Seasons Preferred Partner Benefits