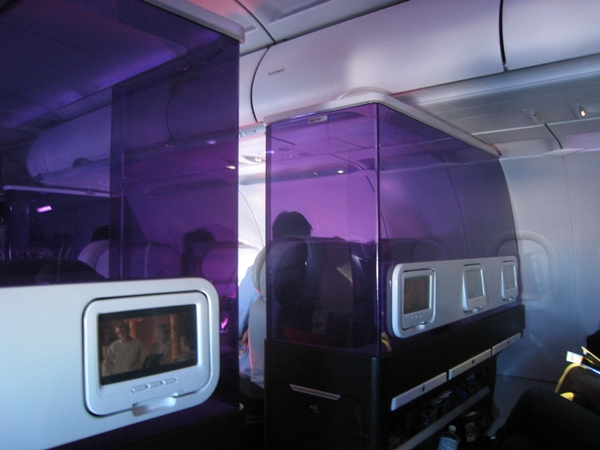 I recently flew Virgin America for the first time, and managed to upgrade to First Class from Main Cabin Select (see
Virgin America First Class Review
). While I considered upgrading again on the return flight, ultimately I decided not to even try, for a few reasons:
1. The hassle with not being able to upgrade online last time, and not knowing whether they'd fixed this yet or whether I'd also need to call in;
2. Not wanting to stay up to 1:10am (since you can only upgrade to First Class 6 hours before the flight), especially if, due to 1., it was in vain due to online snafus;
3. Figuring >$300 for 2 upgrades was a bit steep, since it was a morning flight presumably they'd serve breakfast, not lunch; and
4. Wanting to try and review Main Cabin Select, for the sake of variety
I knew of course that I wouldn't be maxing out the Main Cabin Select benefits the way people that actually pay for it do, and that was fine since our tickets were already in Main Cabin Select using voucher codes purchased as a Gilt City Deal, so ~$400 per roundtrip long haul ticket.
Main Cabin Select seats are simply the bulkhead seats, which have extra legroom, with these additional benefits:
Priority check-in
One free checked bag
Dedicated overhead bin space
All entertainment is free (in regular Main Cabin seats, full-length movies are $5-8 and Premium TV options are $2-7)
Free food (usually $4-9 for sandwiches and salads and $3-5 for snacks)
Free drinks (usually $6-8 for alcoholic drinks and $2-3 for premium non-alcoholic drinks)
The main cons I see for these seats are:
Exactly the same seats as Main Cabin: no greater width or recline
Middle seat is not blocked, so chances are there will be 3 passengers in your row, same as in the other Main Cabin seats
Only 2 lavatories for the entire Main Cabin and Main Cabin Select: we queued for about 15 minutes, which is a long time for a little kid.
Since we weren't checking any bags, I print boarding passes ahead of time and lately it seems I've been lucky enough to get priority in the security lines simply by traveling alone with my 4-year old, the main benefits to us were the extra legroom, dedicated overhead bin space, and the free food and drinks.
We arrived at the gate without incident and the flight attendant who greeted us was especially friendly, even inviting my son to say hello to the pilots as we boarded (joking that they were now in a good mood as she'd given them some coffee), which was a nice touch, even though he was too shy to venture into the cockpit.
This time, there was no one in our seats (last time another first class passenger was in one of our seats) so that was an improvement as well. And while you can never tell how passengers will react when they see that a child will be in their row, our fellow passenger in the aisle seat was very gracious, even helping us stow our bags, and throughout the flight, when we needed to get out or back into the row.
The bulkhead is very roomy, and once we were airborne and could retrieve hand baggage, we used the extra space in front of him during the flight to store the backpack containing all his books and activities. The tray tables for Main Cabin Select slide out from the divider in front of you, which I found more convenient and less awkward than extracting them from the armrest. I also appreciated the plug outlet, so I didn't have to worry about computer battery life. As usual, I found Gogo WiFi on the slow side, but obviously that's not Virgin's fault.
Even before taking off, I was also able to use the IFE to preorder some food and a tea for me. I was pleasantly surprised how quickly after we were at cruising altitude we received our food. The touchscreen method of ordering food and drinks is nifty, and if you're in Main Cabin Select, all the prices are $0 so there's no need for a credit card swipe when checking out.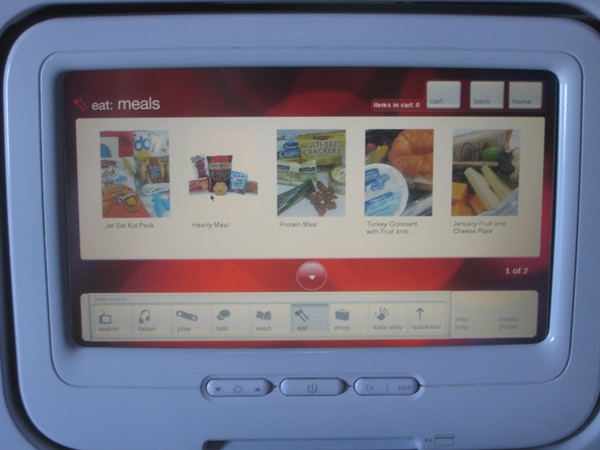 The fruit and cheese plate was standard fare, but exactly what my son wanted to munch on (even though he'd already had some breakfast cereal and yogurt earlier). It included red and green grapes, cheddar, swiss and smoked gouda cheeses, a dried apple slice, a fig and some rosemary lavosh crackers. I didn't see any pecans even though it was supposed to include them.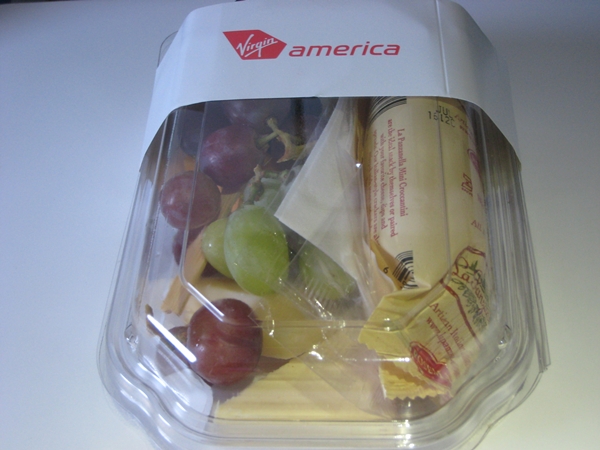 A few hours in, I got hungry and ate the turkey croissant, which came with not only roasted turkey and Swiss cheese, but also some hardboiled egg and some tangy Dijon mustard (I liked it but my son made a face), a fruit cup, and yogurt.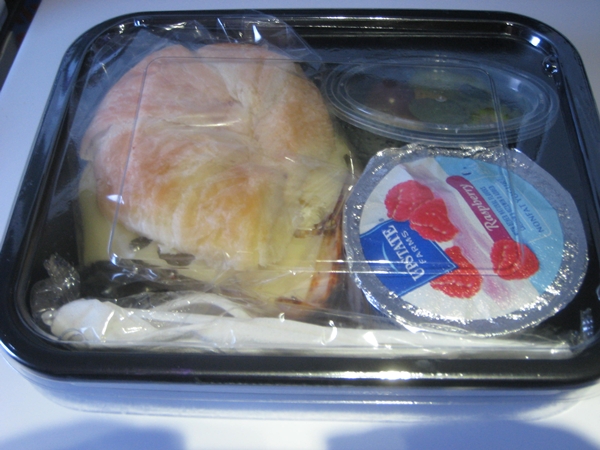 Since my son had eaten some of the turkey croissant and the yogurt, I also got a Sicilian Club Sandwich: rosemary ciabatta with roasted turkey, ham, salami, lettuce, tomatoes, provolone, sweet pepper and roasted tomato spread. It was ok, but I preferred the turkey croissant.
Other food choices included Pastrami on Rye, Asian Vegetable Salad, Chickpea Salad Wrap, BBQ Roast Beef Half Wrap, Peanut Butter and Banana Half Sandwich, Hearty Meal (salami, crackers, cheddar cheese, Welch's fruit snacks, cranberry almond cookies), Protein Meal (Bumble Bee lemon pepper tuna, bagel chips, tomato hummus, crackers, almonds, Craisins, Toblerone chocolate) and Jet Set Kid Pack (strawberry dip'ems snacks, Ritz peanut butter crackers, Goldfish crackers, Fruit by the Foot, earbuds and slide puzzle).
I also got a small bottle of the Hayes Ranch Merlot towards the end of the flight–it was passable, although not as good as the wine we normally get at Trader Joe's.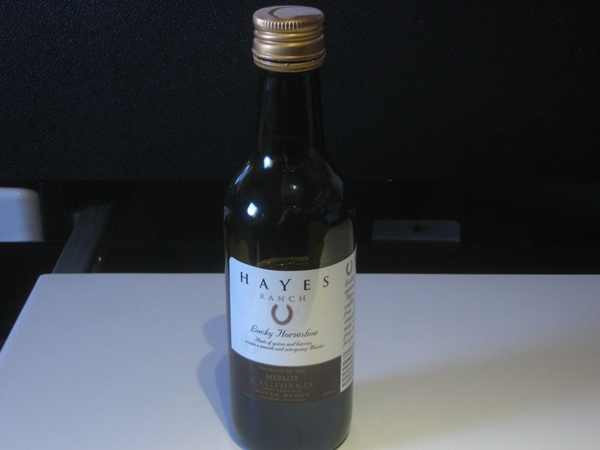 There were, of course, many other drinks on offer that I didn't try because I don't normally have mixed drinks or spirits (and especially not in the early afternoon). All food, drink and entertainment choices are on Virgin America's Web site.
So would I ever pay for Main Cabin Select if I didn't have a voucher that enabled me to get it for about $400 roundtrip? Unquestionably no, if the fares that I recently looked up are anything to go by. I picked some random dates in May for JFK-SFO, which is the route we flew, and found that while the cheapest Main Cabin Seats were $149 each way plus taxes, or a bit over $300 all in, Main Cabin Select was consistently $547 each way, for a whopping $1093 round trip.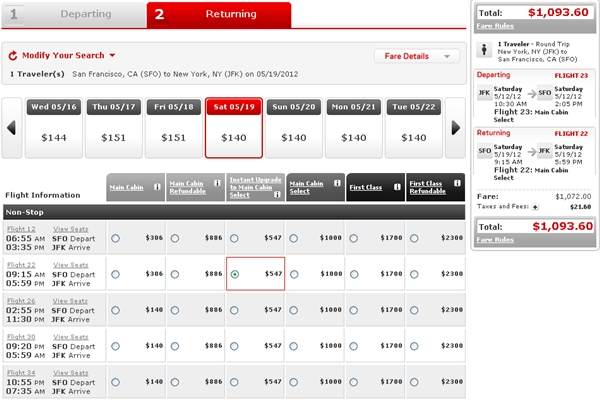 Ok, so what about just buying Main Cabin and then upgrading to Main Cabin Select 24 hours before the flight? While this is certainly much cheaper, the upgrade for JFK-SFO, which is a long haul flight, is $129 each way. So would you pay $129 for extra leg room, priority check-in and free food and drinks? At that price point I would likely simply look for a cheaper JetBlue flight (since even regular seating has ample enough legroom for me) and bring my own food, which is better than Virgin's anyway and wouldn't cost me more than $15. But if you're attached to Virgin's mood lighting, entertainment, good looking flight attendants, need to guarantee access to onboard WiFi and a power outlet or simply have the appetite of a sumo wrestler or you drink like a fish (or all of the above) you might find the upgrade worthwhile 🙂