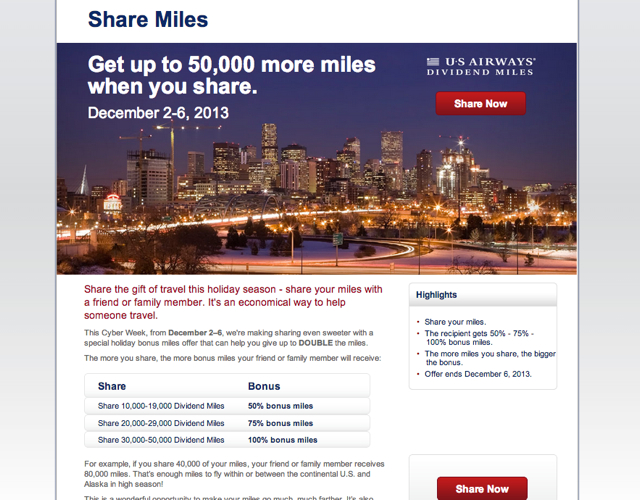 US Airways offers a 100% bonus on shared miles this week December 2-6. Here are the offer details, followed by some recommendations for products to fly on a 90,000 Dividend Miles business class award or 120,000 first class award to North Asia.
Dates: December 2-6, Pacific Time
Share 30,000-50,000 Dividend Miles to earn the 100% share miles bonus
50,000 = Maximum number of bonus Dividend Miles a recipient can receive (for a total of 100,000 miles, including the 50,000 miles shared)
Both accounts must be at least 12 days old (so unfortunately you cannot create a new account that would be eligible for this promotion)
Cost to share miles is one cent per mile + 7.5% tax + $30 transaction fee
If you share 50,000 miles, you would pay $567.50 ($500 + $37.50 + $30) and the recipient receives 100,000 miles. That's 50,000 miles for 1.135 cents per mile, which is decent.
Keep in mind that if you share 20K-29K miles, the bonus is only 75%, and if you share 10K-19K miles, the bonus is 50%. So you'll want to share at least 30,000 Dividend Miles to make this worthwhile.
Also note that no airline or travel category bonuses apply, since the transaction is processed by points.com and not US Airways. Still, it could be useful for meeting minimum spend on a new credit card.
As regular readers know, I'm not a fan of US Airways Dividend Miles for award travel for several reasons, including:
That said, if you do want to take advantage of this deal, here are my recommendations for business class and first class airline products to fly to North Asia. Business Class is 90,000 miles, and First Class is 120,000 miles.
1. Asiana First Class Suites
Asiana's new first class suites, on its 777-200ER (which are coded 777-300ER on United.com, even though Asiana doesn't actually have any 777-300ER aircraft) are an excellent way to get from NYC to ICN nonstop. Note that there are a few days around Christmas where a 747 will be plying this route, so double check the aircraft type if you're focused on getting Asiana's first class suite, and not its old first class product.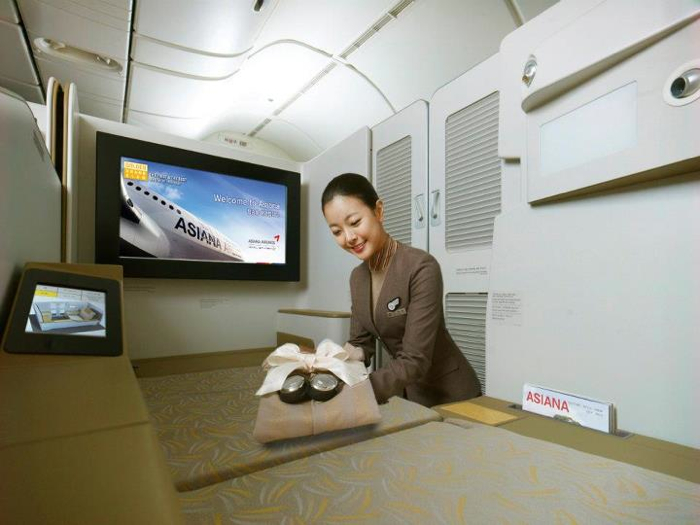 2. Thai First Class
Since Thai has so many different business class products of varying degrees of comfort, first class is definitely preferred with Thai, so you can be assured of a flat bed seat (not to mention a 1 hour massage in the first class lounge in Bangkok, if you depart in Thai first class from Bangkok).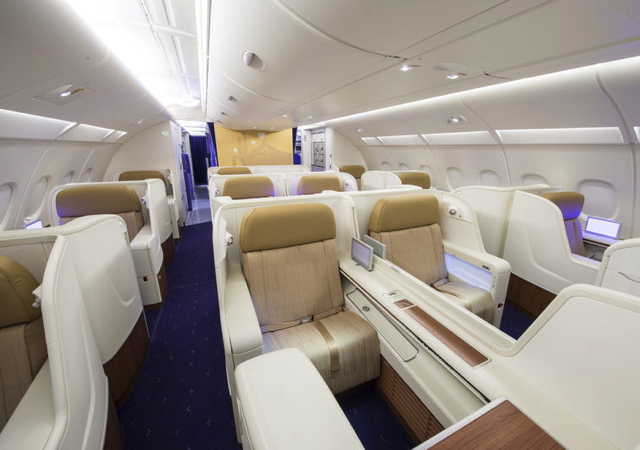 3. ANA First Class
ANA first class is sometimes blocked by US Airways and quite difficult to get, but a great product if you can get US Airways to see and book it for you.
4. SWISS Business Class
SWISS Business Class is very limited into and out of the U.S.–try the Boston to Zurich route, which can have better availability. To Asia from Europe, Zurich to Tokyo is one of the better routes for award availability. Forget SWISS First Class awards, since these aren't released to partners. In fact, unless you're a Miles & More elite, you won't be able to book SWISS first class even with Miles & More miles starting in 2014. See
SWISS First Class Miles & More Awards: Last 5 Weeks for Non-Elites to Book
.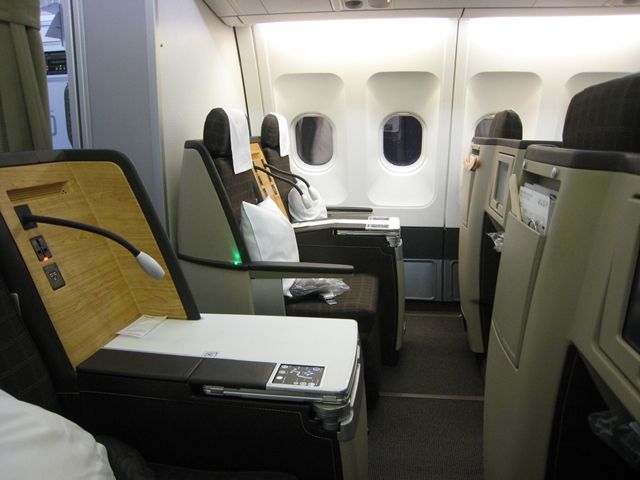 5. Asiana New Business Class (Quadra Smartium)
As Asiana's old business class is angled flat, aim to book Asiana's Quadra Smartium New Business Class, which is wholly lie flat. It's available on the Boeing 777-200ER (also coded as 77L or 77W) routes between Seoul ICN and NYC (JFK), LA (LAX) or San Francisco (SFO).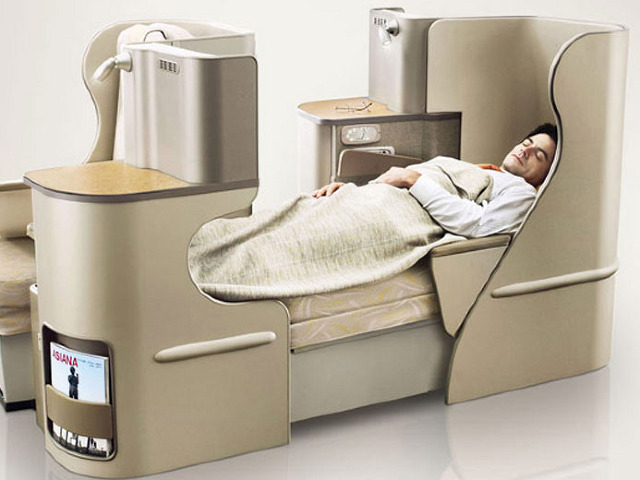 6. Singapore Business Class
Singapore Business Class isn't really an option into or out of the U.S. using US Airways miles, but it could be an option for an award that is to or from Copenhagen, Cairo, Istanbul, Australia/New Zealand, India, the Middle East, or within Asia. The issue, however, is that Singapore is so far south that it could prove very challenging to book as part of a North Asia award, even with geographically challenged US Airways agents.
7. EVA Royal Laurel Business Class
EVA Royal Laurel Business Class, with flat bed seats, gets great reviews for nearly everything except its food, so it's a solid bet if you don't mind connecting in Taipei.
8. ANA New Business Class
Avoid ANA's old business class (777s), with angled flat seats, but if you can book an award on any of ANA's 787s or those 777-300ERs that are coded as 77W, these offer ANA's new business class with staggered seating and direct aisle access.
9. Austrian New Business Class
Austrian has finished installing its new business class, which are also flat bed in a staggered configuration, so you don't have to worry about getting an old angled flat seat. Austrian's flights to North Asia include Vienna to Beijing and Vienna to Tokyo.
10. Turkish Business Class
Turkish Business Class award availability tends to be better than a number of the other above options, and is a solid business class offering with flat bed seats and an on-board "chef," although service tends to be rather apathetic.