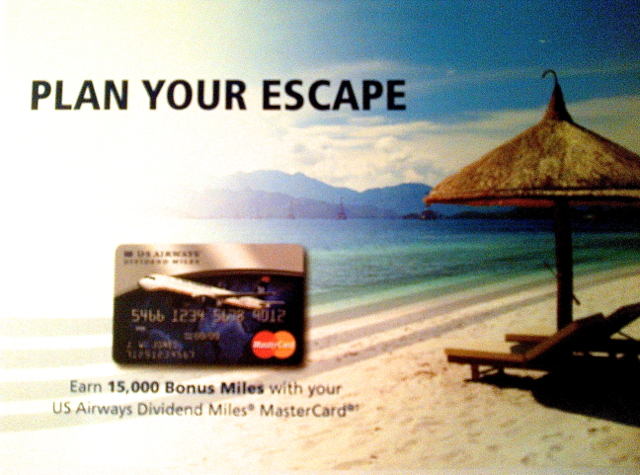 If you recently got a US Airways credit card in order to turn Dividend Miles into AAdvantage Miles with the American and US Airways Merger, check your junk mail for a 15,000 bonus miles offer. In the past this 15,000 offer was often made but required $1250 spend per month for 3 months, but this offer requires lower monthly minimum spend. Here's the offer I received, and others on Flyertalk report receiving as well:
Spend $750 in net new purchases each month May, June and July

Automatically earn 15,000 bonus Dividend Miles

Bonus miles will appear on your statement up to 6-8 weeks after the end of the promotion
Who Got the Offer?
Apparently most folks who got this offer only used the card once, to trigger the signup bonus after first purchase, and haven't used the card since. Others who used the card even twice have not, as yet, received the offer. Update: commenter Elliot reports having received the offer even though he used the card periodically.
While it's still good practice to periodically use a card that can earn you a nice retention bonus, the US Air card and most Barclay's cards aren't known for particularly great retention offers apart from a possible annual fee waiver, so bonuses tied to set spend or limited time increased category bonuses are about as good as it gets with the US Air card. And the lesson here seems to be to only use the card once for first purchase, then put it in a drawer, in order to trigger this additional bonus offer.
Is the 15,000 Bonus Miles Offer Worth It?
It depends on your alternatives for that spend. If you just applied for a slew of attractive card offers and will have to work to meet minimum spend for those cards, then no: focus on meeting your minimum spend and collecting more lucrative signup bonuses.
If, however, you either have very high spend, are currently not working towards meeting any credit card bonuses, or simply are willing and able to easily do some manufactured spend, this could be for you. Also see my Top Tips to Meet Minimum Spend.
What Types of Spend Are Excluded from Counting Towards the Bonus?
The terms state: "Net retail purchases do not include such things as the purchase of money orders, traveler's checks, foreign currency, lottery tickets, gambling chips, wire transfers, person to person money transferes or using the account to obtain a cash advance"
The terms don't exclude gift cards, so you could front-load some spend on your favorite gift certificates, Vanilla Reloads or Visa gift cards. As I wrote in Gift Card PIN: Use as Debit Card to Load AMEX Bluebird or Get Cash Back, you're in luck if have an AMEX Bluebird and easy access to a Walmart, since you can load funds from Visa gift cards for free once you create a PIN, enabling them to be used as debit cards.
The terms would seem to exclude Amazon Payments, but at least one poster on FlyerTalk reports being able to use Amazon Payments, along with some regular spend, to meet the minimum spend and trigger the 15,000 bonus miles. As always, your mileage may vary.
When Can I Apply for Another US Air Card?
Folks have had varying degrees of success when applying for a second US Air card. You don't have to cancel your first card, but most advise waiting until 4-6 months in before applying for a second card. Your goal is instant approval, since it can be a lot tougher to get approved via Barclay's Reconsideration. Also see Can You Churn Bank of America, Barclay's and US Bank Credit Cards?
When Will US Airways Dividend Miles Become American AAdvantage Miles?
Probably not by the end of this year, if I had to guess, although I have no inside information. That may not be good for those looking to consolidate their miles in AAdvantage, but it does have the advantage of giving you some time to apply for another 1-2 US Airways cards (or 2-4 if you have a spouse or travel partner). And that's a good thing, given that Citi's more restrictive new rules for earning AAdvantage miles with the Citi AAdvantage credit cards.
If you received the targeted 15,000 bonus miles offer for your US Airways credit card, do you plan to take it?
Related Posts