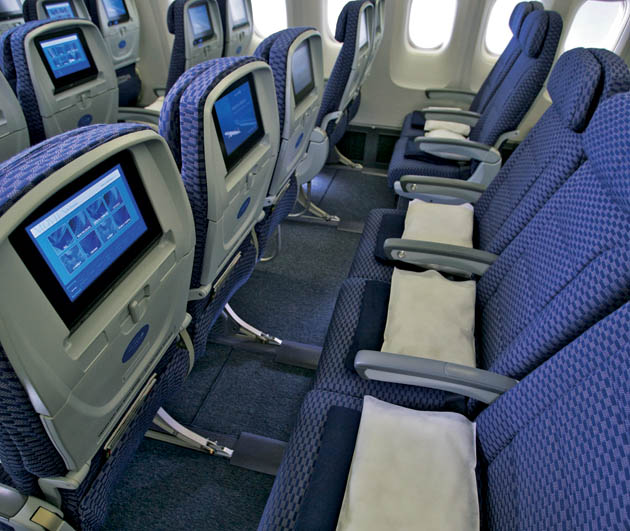 TravelSort reader Mike writes "What are the ways to get a free upgrade to United Economy Plus? I'm 6'3 and am really tired of having my knees jammed up against the seat in front of me (and of course the guy or gal in front of me is even less pleased) but would like to avoid paying the additional fee for Economy Plus if I can."
Mike's question is probably common to a lot of folks that fly United even occasionally, and would love a free upgrade to United Economy Plus, with more legroom. Unfortunately a free upgrade isn't that easy. Here are the top ways to get it:
1. Be a United Premier Gold, Premier Platinum or Premier 1K to Upgrade to United Economy Plus at Time of Booking
On both paid tickets and award tickets, United elites with Premier Gold, Premier Platinum, Premier 1K or Global Services status are able to upgrade to United Economy Plus at the time of booking.
2. Be a United Premier Silver to Upgrade to United Economy Plus at Time of Check-In
United Premier Silver members are only able to upgrade to United Economy Plus at the time of check-in (24 hours before departure), *not* at the time of booking.
3. Be on the Same Reservation as a United Elite
If you're traveling on the same reservation as a United Elite, you're able to upgrade to United Economy Plus with the same time frame as that members. Note that United Premier Platinum and Premier 1K members can upgrade up to 8 people traveling on the same reservation, but United Gold and United Silver members may only upgrade 1 person traveling on the same reservation.
4. Be Star Alliance Gold and Get Lucky
Officially, even with Star Alliance Gold status, you're not entitled to United Economy Plus seating. In practice, some Star Alliance Gold members are lucky enough to be able to select a United Economy Plus seat at time of check-in, similar to United Premier Silver members.
5. Be on a Business or First Class Award Flight and Ask Nicely
If you booked an international business or first class United award ticket with the requisite number of United miles, but a segment didn't have award availability so you're seated in Economy, you may have luck by asking nicely at check-in, the lounge or the gate. There's no guarantee, but also no harm in asking.
6. Be Bumped Up Because There's No Space in Economy
If you have no United elite status, you could get very lucky if on a full flight such that you have a ticket but don't have a seat assignment.
FAQ
Isn't There a United Economy Plus Annual Pass?
There used to be one; as of March 2012 United stopped selling these.
If I'm a United Elite But My Non-Elite Partner is Traveling on the Same Flight but a Separate Ticket Can I Get a Free United Economy Plus Upgrade for Him or Her?
Officially, no–your elite status allows you to upgrade up to 8 companions traveling on the *same reservation* to United Economy Plus. Companions on other tickets, even though they're on the same flight, are not eligible. That said, you may be lucky and get a sympathetic United agent to upgrade your partner anyway.
How Do I See What United Economy Plus Will Cost?
Simply mouse over an Economy Plus seat while making your reservation, and you should be able to see the additional cost. The price is added to your total reservation cost.
Why Are There Different Prices for Different Economy Plus Seats?
United varies the pricing of Economy Plus seats even within the same cabin on the same flight by row and type (window, aisle, middle) and also varies the pricing over time, just as it does with other seats on the plane.
Can I Get a Refund of My United Economy Plus Seat?
Only if you weren't actually seated in Economy Plus, for example due to an equipment change, etc. Unfortunately, even if you paid more to select a certain Economy Plus window seat but were reseated in an Economy Plus middle seat, you wouldn't be entitled to a refund. The United terms state: "An Economy Plus purchase reserves a seat within the Economy Plus seating area. Specific seat assignments are not guaranteed." Seems somewhat unfair, but those are the terms.
The good news is that you may even receive goodwill compensation in addition to your United Economy Plus refund. See United Economy Plus Refund and Goodwill Miles for Downgrade.
Do you have other tips for scoring United Economy Plus upgrades?
Related Posts
Best Premium Economy Airline Seats
United Club Card Annual Fee Waived: Worth It?
Flying with Kids: Tips for Taking Toddlers on Long Plane Flights
Best Airlines for Kids and Families
Need Award Booking Help? Our fee is as low as $75 per ticket if you book your hotel through us.
If you enjoyed this, join 150,000+ readers: please follow TravelSort on Twitter or like us on Facebook to be alerted to new posts.
Become a TravelSort Client and Book Your Hotel with Virtuoso or Four Seasons Preferred VIP Amenities!