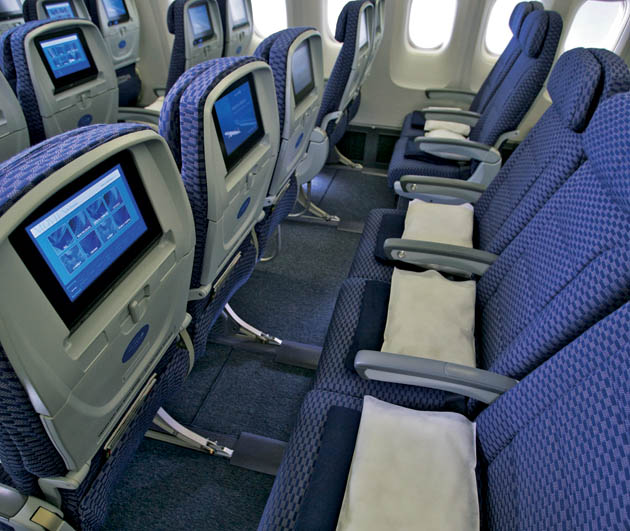 Get an United Economy Plus refund and possible goodwill MileagePlus miles if you pay for United Economy Plus and are later downgraded to Economy, including through an equipment change.
This is what happened to the munchkin and me recently, on a United flight from NYC to SFO (see our trip report so far, including review of the Mandarin Oriental San Francisco, Marrakech Magic Theater and Tartine Bakery). We booked the trip back in April, thanks to a $198 roundtrip NYC to SFO or LAX United fare sale, one of which I was able to book complimentary thanks to maximizing the AMEX Platinum fee credit.
Since we were already getting 2 roundtrip tickets NYC to SFO for $198, I decided to splurge on Economy Plus seating for the longer outbound trip, at $79 each.
Well, come the day of our departure, first our flight was delayed by about 1 hour. Then several minutes later it moved back to the original time (!) and we made a mad dash to a new gate. The new aircraft turned out not to have Economy Plus at all, so we were in standard Economy seats. We had a nice seat mate, a pediatric nurse, and all in all it wasn't a bad flight, although of course I did want to receive a refund for Economy Plus as we didn't receive the seats we had paid for.
If you're ever in the same situation, here's what to do:
How to Receive your United Economy Plus Refund
1. Log into Your United MileagePlus Account
2. Go to United Refunds
Select Economy Plus Refund from the drop down menu. You typically only need to request an Economy Plus refund if you retained your original boarding pass, but your seat was no longer the Economy Plus seat you booked. If you were issued a new boarding pass, per the United site "the fees paid for the seat will be automatically refunded"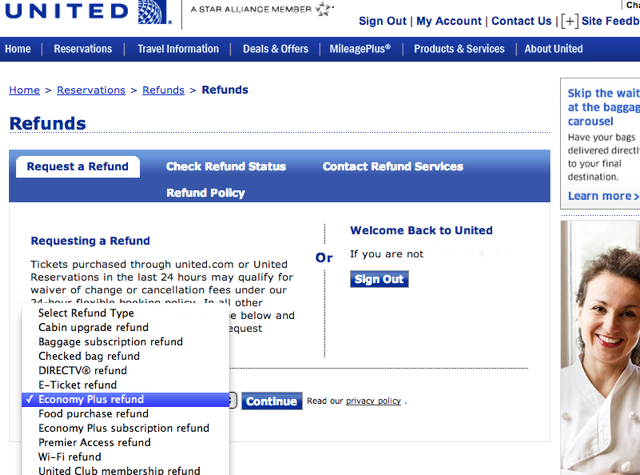 3. Complete Your Details, Including Confirmation Number and Special Service Document Number
You'll need to enter both your confirmation number for the ticket and the 13 digit special service document number that you should have received in your confirmation email for the Economy Plus seat purchase.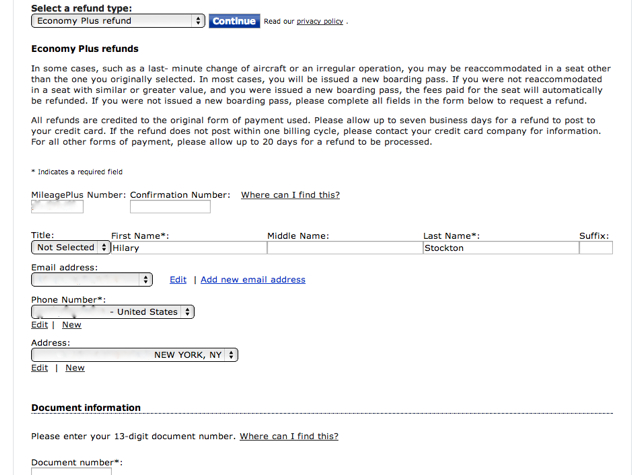 4. Allow 7 Business Days for the Refund to Post to Your Credit Card Used to Pay for Economy Plus
Per United, "All refunds are credited to the original form of payment used. Please allow up to seven business days for a refund to post to your credit card. If the refund does not post within one billing cycle, please contact your credit card company for information. For all other forms of payment, please allow up to 20 days for a refund to be processed."
5. Possible Goodwill United MileagePlus Miles
There are no guarantees on receiving goodwill miles, but United was good enough to provide me 5250 United miles for the inconvenience.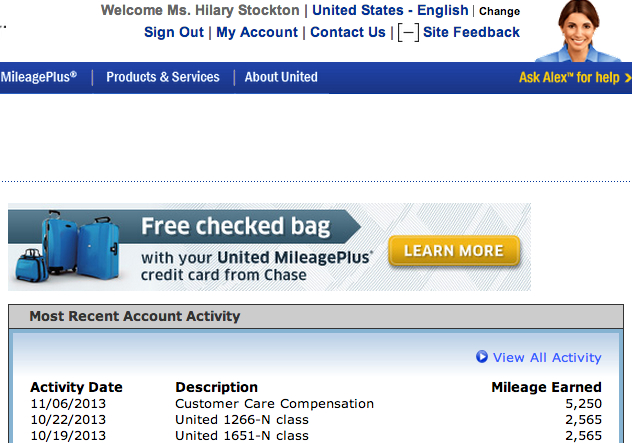 Have you had to request a United Economy Plus refund?
Related Posts
United Award Chart Devaluation: Strategy Going Forward
United Economy Plus Upgrade Tips
Best Premium Economy Airline Seats
Need Award Booking Help? Our fee is as low as $75 per ticket if you book your hotel through us.
If you enjoyed this, join 90,000+ readers: please follow TravelSort on Twitter or like us on Facebook to be alerted to new posts.
Become a TravelSort Client and Book 5-Star Hotels with Virtuoso or VIP Amenities!