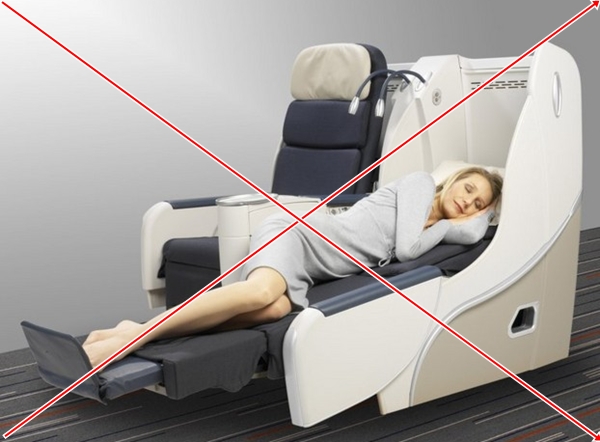 4/3/12 Update: Delta SkyMiles members on FT now report being able to book Air France and KLM awards on Delta.com and using U.S. call centers. Rather suspicious how quickly this got fixed *after* end of reporting numbers for Q1, no?
I don't profess to be a Delta SkyMiles expert of any kind, since virtually all my miles and points are with other programs, but I got an email from a TravelSort reader who asked for help, given problems booking a business class award flight on KLM using SkyMiles.
And though I don't closely follow Delta news, there's been quite a furor (and rightly so) over the impossibility of redeeming SkyMiles for business class award tickets on Air France or KLM and not being able to…wait for it…for the past two weeks.
It's not that there is no award space–there is, at the low level, and it's even visible on the Air France site and, in the case of KLM, on the Delta site–but not bookable, and Delta agents can't even see the space. Infuriating, right? And perhaps the last straw for some SkyMiles members, before matching elite status to United or American and building up some United and American miles with the
Best Travel Credit Cards
.
Delta elites have at least a couple ideas why this may not be an IT glitch, as originally thought, or even if it started as one, is being allowed to go this long without being fixed:
From FT member kwintheair:
"My guess is that the rumored devaluation of skypesos to a new "revenue based system' is imminent, and Delta is already putting in place some preemptive actions to prevent people from trying to burn up their existing miles in advance…"
And from FT member OLYflyer:
"

Delta in their hyper-search to pinch pennies probably encouraged Air France to restrict award space b/c there's no way Flying Blue members were redeeming an equal amount of J tix on Delta as they only had access to "low-level" space, thus DL has to pay out the difference. AF said no thanks DL we prefer to not to dilute our benefit program the way you have and anger our loyal customers plus we already cover our cost on awards by adding massive YQ to the total price. DL said we can't do that b/c it would put us at a competitive disadvantage vs. other US carriers. So DL said to AF; fine keep your availability but drop the price we compensate you or we're cutting off this revenue gravy-train…

…Possible outcomes of this mess:

1) DL restricts AF/KL redemptions until AF caves and lowers the rate for being compensated
2) DL adds a YQ charge to AF flights
3) DL caves and returns to the status quo"
Fortunately, a few folks have managed to successfully book business class on AirFrance using Delta SkyMiles by calling Asia-based Delta agents, specifically those in Hong Kong, Singapore and Taiwan
Why has this worked? Well, although one IT expert did say it was possible that localization of systems might enable the Delta agents in Asia to see and book the space, to me at least, the suspicion that this is tied to a possible standoff between Delta and Air France over the rate at which Delta compensates Air France for the business award bookings made on Air France metal by SkyMiles members seems to fit pretty well. After all, presumably the bulk of these award tickets are being flown ex-U.S. to Europe by American SkyMiles members. Given that there are no problems booking Air France with Alaska Mileage Plan miles, it doesn't seem to be an Air France IT issue, and is Delta's IT really so incompetent that it can't fix this in 2 weeks? Would seem to be something more at stake…
In any case, here are the numbers (preceded by 011, for callers from the U.S.), in case this helps anyone trying to book a business class award on Air France or KLM:
Delta Hong Kong: 011-852-2810-4288
Delta Singapore: 011-65-6336-3371
Delta Taipei: 011-886-2-2772-2188
Are you trying to use your Delta SkyMiles to book a business class award ticket on Air France or KLM? Share your experiences and tips in the comments, and what you think is really going on with the Delta award "glitch"!