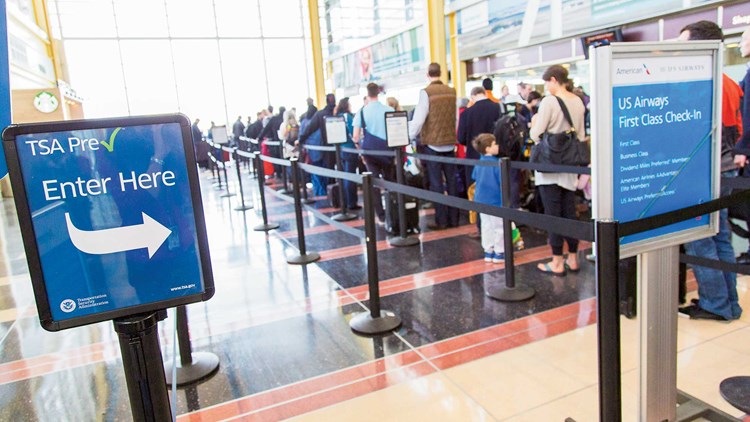 New TSA Screening Requires All Electronic Devices Larger Than a Cell Phone to Be X-Rayed Separately from luggage, per this TSA announcement. It's another reason to have TSA PreCheck, since TSA PreCheck passengers in TSA PreCheck lanes are exempt, and can leave all electronics in their screened luggage.
FAQ
Aren't Laptops Already Required to Be Removed and Screened Separately?
Yes; the new directive will force passengers in regular screening lanes to remove ALL electronics larger than a cell phone from their luggage, and place it in its own bin, with nothing above or below it. This includes tablets such as iPads, ereaders such as Kindles, handheld game consoles, and other electronics larger than a cell phone.
Which Airports Are Already Implementing The New Screening Procedures?
Passengers at the following airports are already required to remove all electronics larger than a cell phone from their bag before screening, and the new procedures will be rolled out to all U.S. airports over the coming weeks and months:
Boise (BOI)
Colorado Springs (COS)
Detroit (DTW)
Fort Lauderdale (FLL)
Boston Logan (BOS)
Los Angeles (LAX)
Lubbock (LBB)
San Juan, Puerto Rico (SJU)
Las Vegas (LAS)
Phoenix (PHX)
I Have TSA PreCheck; Which Airlines Participate in TSA PreCheck?
Most U.S. airlines already participate in TSA PreCheck, and many foreign carriers do as well, although there are some notable exceptions. For example, British Airways doesn't (see
British Airways: TSA PreCheck Needed
) and neither does Swiss or Austrian Airlines (even though they are part of the Lufthansa group, and Lufthansa does participate). Among major Asian carriers, ANA, Asiana, Cathay Pacific, JAL, Korean Air do not participate; only Singapore does. Here's the current complete list; I've put the larger airlines in bold font:
Aeromexico
Air Canada
Alaska Airlines
Allegiant Airlines
American Airlines
Aruba Airlines
Avianca
Boutique Airlines
Cape Air
Copa Airlines
Delta Airlines
Dominican Wings
Emirates
Etihad Airways
Frontier Airlines
Hawaiian Airlines
InterCaribbean Airways
JetBlue Airways
Key Lime Air
Lufthansa
Miami Air
OneJet
Seaborne Airlines
Silver Airways
Singapore Airlines
Southern Airways Express
Southwest Airlines
Spirit Airlines
Sun Country Airlines
Sunwing
Swift Air
Turkish Airlines
United Airlines
Virgin America
Virgin Atlantic
WestJet
Xtra Airways
Credit Cards That Provide Application Fee Credits for Global Entry / TSA PreCheck?
Several credit cards provide statement credits for the $100 Global Entry fee credit; my favorite is the
Chase Sapphire Reserve
, mentioned on our
Best Travel Credit Cards
page, but others include the Citi Prestige, AMEX Platinum, AMEX Business Platinum, and Citi Executive AAdvantage cards.
Are you exempt from these new procedures thanks to Global Entry or TSA PreCheck?
Recommended Posts