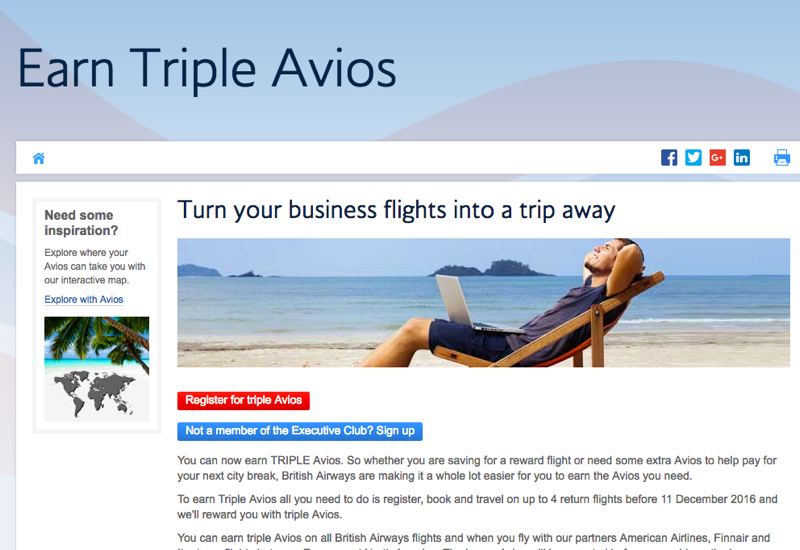 Earn Triple Avios for British Airways, AA, Iberia and Finnair flights booked and flown between September 6-December 11, 2016, after registering. Here are the details:
Must be an eligible participant and pre-register for triple Avios. See the British Airways offer page to register.
After registering, travel must be booked and flown between September 6 and 23:59 GMT December 11, 2016
Travel must be a transatlantic route on British Airways, American Airlines, Iberia or Finnair; no other BA partners or oneworld partner airlines are eligible. See FAQ below for eligible origin/destination countries
Maximum of 8 flight sectors will earn triple Avios
Analysis
Often British Airways offers exclude the cheapest economy fares, so this promotion has the potential to be a good deal even for discount economy travelers, although of course the most lucrative earning will accrue to those booking business or first class travel. The main issue for many is that travel must be booked during the promotion period, so I and other travelers who previously booked flights within the promotional dates won't earn trip Avios for them. But for those who are flying to/from Europe for work this fall and have yet to book their tickets, this promotion will make it more worthwhile for many to credit to British Airways instead of AAdvantage or Alaska Mileage Plan.
FAQ
I Tried to Register and Was Told I'm Ineligible!
Unfortunately this seems to be targeted to UK and U.S. British Airways Executive Club members; although please post a comment if you were able to successfully register and do not have a UK or U.S. address for your BA Executive Club account, or if conversely you were not able to register yet have a UK or U.S. address.
If I Already Have a British Airways Flight Booked for Travel by December 11 Can I Earn Triple Avios?
Not unless you cancel and rebook, after registering for the offer. Unfortunately the offer is very clear that travel must be booked after September 6 and after registering for the promotion.
Is the Offer Only Valid for Flights Between the UK and U.S., Or Also To or From the EU?
Yes, the offer is also valid for British Airways, American Airlines, Iberia and Finnair transatlantic flights between the EU, Norway, Switzerland and North America, Mexico, and Puerto Rico.
What If My Return Date is After December 11, Can I Still Earn Triple Avios for the Outbound?
Unfortunately no, not if this is a roundtrip ticket. If you pre-register and then book and fly a one way during the promotional dates you would earn triple Avios for it.
Can My Child Earn Triple Avios?
Unfortunately not if s/he is under 18, per the offer terms: "An Eligible Participant is a British Airways Executive Club member…aged 18 or over…"
How Do I Calculate the Number of Avios I'd Earn?
Use the
Avios Calculator
to calculate the number of Avios you'd earn (you need to do each segment separately, then add up the points) and multiply by three. For example, if you flew Business Class from NYC JFK to London LHR in I or R fare class, you'd normally earn 5187 Avios one way, or 10,374 Avios roundtrip. With the triple Avios offer, you'd earn 15,561 Avios one way or 31,122 Avios roundtrip.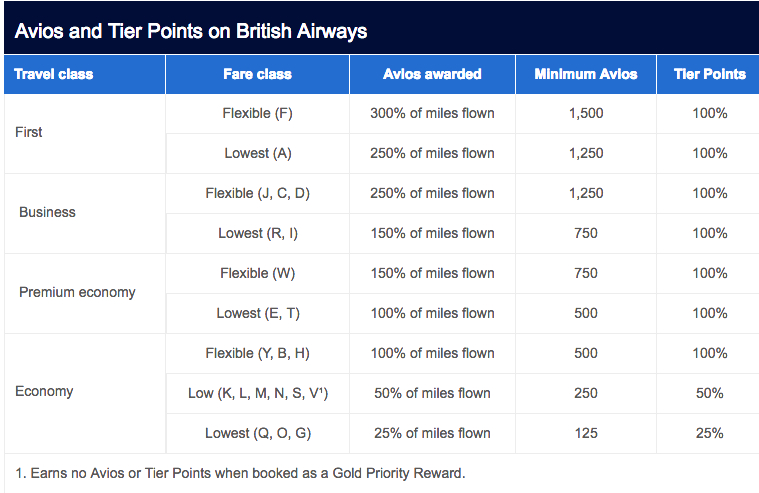 How is a Flight Sector Defined?
BA defines a flight sector as "a single qualifying flight between the point of departure and final destination with no scheduled change of aircraft."
What Are Some Good Uses of Avios?
Avios, particularly after several devaluations, are best used for short, nonstop flights, because long haul first class and business class awards tend to be expensive compared to AAdvantage, even after the 2016 AAdvantage award devaluation (for example,
JAL First Class
LAX-NRT is 100K Avios vs. 80K AAdvantage miles;
JAL Sky Suite Business Class
on the same route is 75K Avios vs. 60K AAdvantage; Cathay Pacific First Class from Hong Kong to Paris CDG is 120K Avios vs. 90K AAdvantage).
Instead, use Avios for intra-regional redemptions, such as Cathay Pacific within Asia, Qantas within Australia, BA within Europe, and American Airlines short-haul flights in North America.
Another use that some of my clients still find worthwhile if they have the British Airways Visa and have earned the 2 for 1 companion ticket is
British Airways First Class
transatlantic to Europe, particularly from the West Coast, since Lufthansa First Class awards are virtually non-existent when booking in advance.
Which Credit Card Should I Use When Paying?
It depends which travel credit cards you have that earn the highest category bonus for flights. If you happen to have the same
Citi Prestige retention offer
I received, 7X for flights/hotels for the next 6 months, I'd recommend using that. Or if you recently got the new Chase Sapphire Reserve, earn 3X Ultimate Rewards points for all travel, including flights.
Do you plan to register and earn triple Avios on BA, AA, Iberia or Finnair flights this fall?
Related Posts