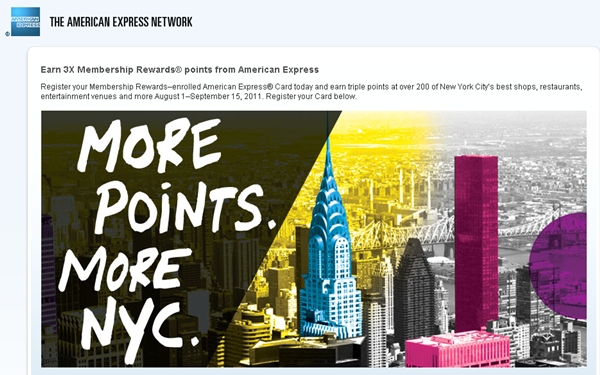 If you're a local New Yorker or visiting NYC over the next month, until September 15, 2011, you can earn 3x American Express Membership Rewards points for spend at select shops, restaurants and entertainment venues, including shows such as Cirque du Soleil and Wicked.
Register your AMEX card, and you'll accrue points automatically after making qualified purchases.
Key Terms:
Open to holders of American Express cards enrolled in a Membership Rewards program (note that this does *not* include the SPG AMEX)
Register via the link above before making purchases
View the list of over 200 eligible merchants at the link below
Offer not valid on online purchases except via ticketmaster.com and telecharge.com
Bonus points credited within 10-12 weeks
While I'm not overly impressed with the list of participating merchants, I do have a few favorites and places I plan to try:
Dining
Aureole: A Charlie Palmer restaurant, Aureole serves new American, French inspired cuisine in a beautiful dining room; service has always been excellent when I've been there. It's pricey, unless you're celebrating you'll probably want to stick with the lunch or dinner prix fixe or order something simple, such as the burger–$19, but fantastic.
Virgil's Real Barbeque is not as strange as you would think–there are a bunch of real bbq places in New York City, and even an annual Big Apple BBQ. While my current favorite is Danny Meyer's Blue Smoke, mainly because I detest the Times Square area so much, Virgil's is an excellent bet if you are stuck in Times Square with its mostly deplorable food options. Try the biscuits and gravy, ribs, and pulled pork.
Zabar's is a true New York institution. I don't even live on the Upper West Side, but I still drop by this upscale grocery periodically for the great cheese selection, fresh baked artisanal breads, imported chocolates and gourmet food items. They also have a cafe next door where you can grab panini sandwiches, blintzes, pastries, frozen yogurt, coffee, etc.
Nobu is well known and hyped for its sushi; I've never tried it, but may–would probably go with something simple to test it out, not a full on omakase which arguably other NYC sushi places do better. Too bad this isn't Japan, where you order tamago (egg omelet sushi), and if it's not up to par, you may leave (no payment necessary) without ordering anything else.
Lure Fishbar is another place from the list I wouldn't mind trying; normally I'm not in SoHo, but I might combine a trip here with picking up some bread or pastries from Balthazar (sadly, not on the list). The oysters, branzino and lobster roll seem to get good reviews.
Can't really get excited by any of the other dining choices; would save your NYC dining dollars for Michelin-starred restaurants via the current British Airways dining promotion $50 credit (up to $100) which we'll analyze soon.
Shopping
I'll admit that unlike the stereotypical New Yorker, I allocate virtually $0 to clothes shopping. Over the years I've invested in a few classic pieces that never go out of style, and have no need to buy any more clothes or shoes beyond things that wear out, such as workout gear, sneakers, etc. If you're a guy that needs professional clothes, the one place I'd recommend from this list is Charles Tyrwhitt. I've bought these classically tailored British shirts for my husband a number of times, and they look so much nicer than the stuff you get at, say, JoS. A. Bank. The one caveat is that I've always bought online, and you only get 3X AMEX points for in-store purchases, so check online to make sure you're not overpaying.
Entertainment
Even after living here for years, I've only gone to a handful of theater performances, mostly plays. But if you've been wanting to see the new Cirque du Soleil show, Zarkana, or Wicked, both will net you triple points. My other picks in this category:
The Cloisters Museum & Gardens On a nice day, you'll be glad you made the trek up to the 190th Street subway station as you meander through Fort Tyron Park where the Cloisters are located. Whether you go inside the museum, with its medieval art collections or not, you'll probably feel far removed from the city and even transported to another time. Admission is by donation, so you'll simply get triple points for the amount of donation you choose to make.
The Metropolitan Museum of Art Note that entrance to the Met is actually donation-based, even though cashiers do nothing to dispel the impression that there is a set admission fee of $25 per person. So if you can only afford a few dollars, that's what you can pay, no matter how askance they may look at you.
New York City Fire Museum since I have a 3-year old obsessed with fire engines. I've also heard that there is very moving memorial to 9/11 on the first floor.
New York City Transit Museum since said 3-year old is also obsessed with trains and most other forms of locamotion. Enough said.
So those are my picks–if you're planning to take advantage of this American Express promotion, where are you headed?
If you enjoyed this, please follow TravelSort on Twitter, like us on Facebook or become a Member to be alerted to new posts.

HT: The Points Guy