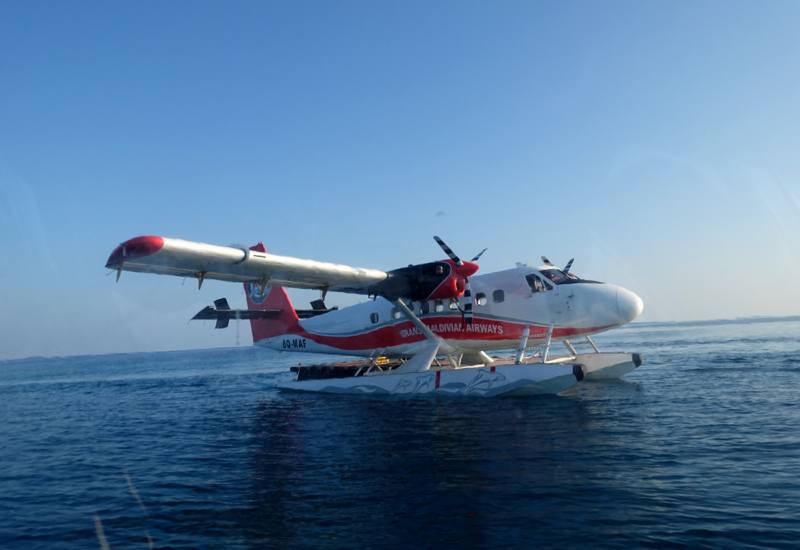 This Trans Maldivian Airways Seaplane Review is part of a trip report including luxury resorts in the Maldives, such as Four Seasons Landaa Giraavaru and Soneva Fushi, as well as Etihad First Class and Business Class.
For the prior posts, please see:
Review of Etihad's Lounge at Washington Dulles Airport (IAD)
Etihad First Class 787-9 Dreamliner Review
Review: Wingtips Lounge JFK for Etihad First Class Passengers
Review: Etihad First Class 777-300ER NYC to Abu Dhabi
Review: Etihad Business Class Lounge Abu Dhabi AUH Terminal 1
Four Seasons Maldives at Landaa Giraavaru Review
Four Seasons Maldives at Landaa Giraavaru Restaurant Reviews and Menus
Four Seasons Maldives at Landaa Giraavaru Activities: Top 10 Things to Do
Interview with Armando Kraenzlin, General Manager of Four Seasons Maldives at Landaa Giraavaru
Review: Four Seasons Maldives at Kuda Huraa
Surfing in the Maldives at Four Seasons Kuda Huraa
Review: Four Seasons Maldives at Kuda Huraa Sunset Water Bungalow
Four Seasons Maldives at Kuda Huraa Restaurant Reviews and Menus
Four Seasons Maldives at Kuda Huraa Activities and Top Things to Do
Soneva Fushi Maldives Activities and Things to Do
Soneva Fushi Breakfast, Ice Cream Room, Chocolate Room and Cheese Room
Fresh in the Garden, Soneva Fushi Restaurant Review
Virtuoso Resorts in the Maldives Served by Trans Maldivian Airways
If you're going to the Maldives, there's a good chance your journey isn't over when you arrive at Male Airport, since many luxury resorts are accessible by Trans Maldivian seaplane flights (or regular Trans Maldivian flights). Here are the Maldives Virtuoso and preferred partner resorts currently served by Trans Maldivian Seaplane:
Four Seasons Maldives at Landaa Giraavaru
Four Seasons Maldives at Kuda Huraa (direct seaplane from Landaa Giraavaru; from Male there is a speedboat transfer)
Soneva Fushi
One & Only Reethi Rah
Cheval Blanc Randheli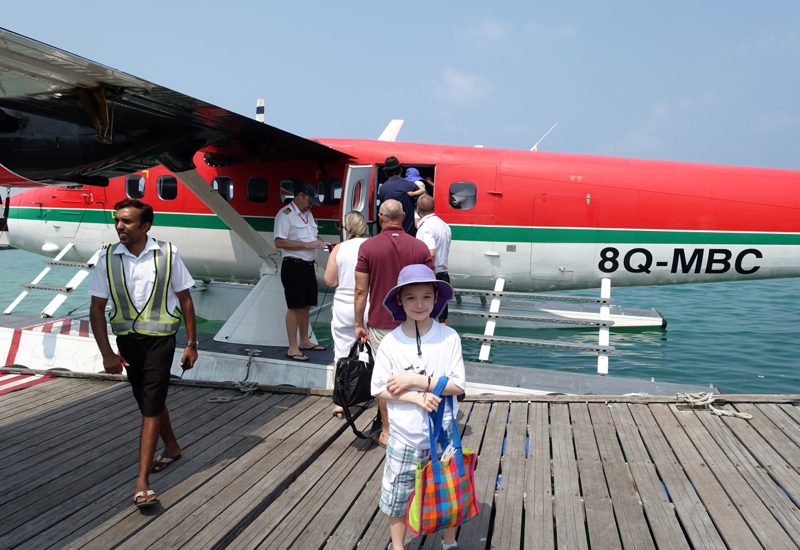 Trans Maldivian Airways
Trans Maldivian Airways started as Hummingbird Island Helicopters and switched to an all seaplane fleet by 1999 to compete with rival company, Maldivian Air Taxi. Blackstone Group bought majority stakes of both companies in 2013 and merged them into a combined fleet of 44 seaplanes, which is the largest single seaplane in the world. Due to the merger, there is no longer any competition for seaplane transfers in the Maldives.
Trans Maldivian Airways Aircraft and Seats
Trans Maldivian flies over 40 Twin Otter Series 400 aircraft. There are about 18 seats on board these unpressurized aircraft, and seats are quite tightly spaced. Fortunately, most seaplane flights in the Maldives are under 1 hour, which is bearable.
What is less comfortable is the heat, especially prior to takeoff, when it can become quite stifling–there's of course no air conditioning. Make sure you're wearing light, breathable clothes. If you're fortunate enough to be on a seaplane departing Four Seasons Landaa Giraavaru, the cool towels were very welcome prior to takeoff, as you can see: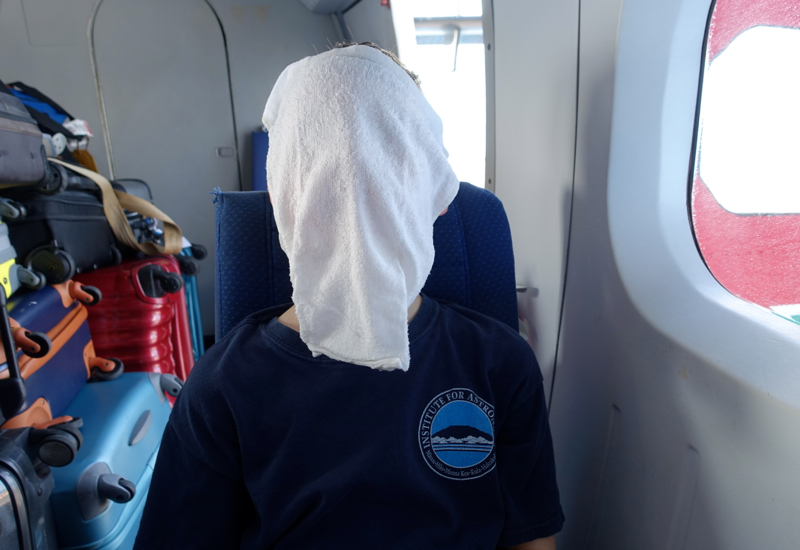 Since noise can be an issue, I recommend bringing effective earplugs with you. Most resorts provide some foam earplugs for the flight, but these often seem to come out, especially kids' ears.
Trans Maldivian Seaplane Landing
Many of the resorts, to minimize the noise disruption of seaplane landings and takeoffs, have a seaplane buoy some distance from the resort where the seaplane lands. Here's one of the buoys as we approach it: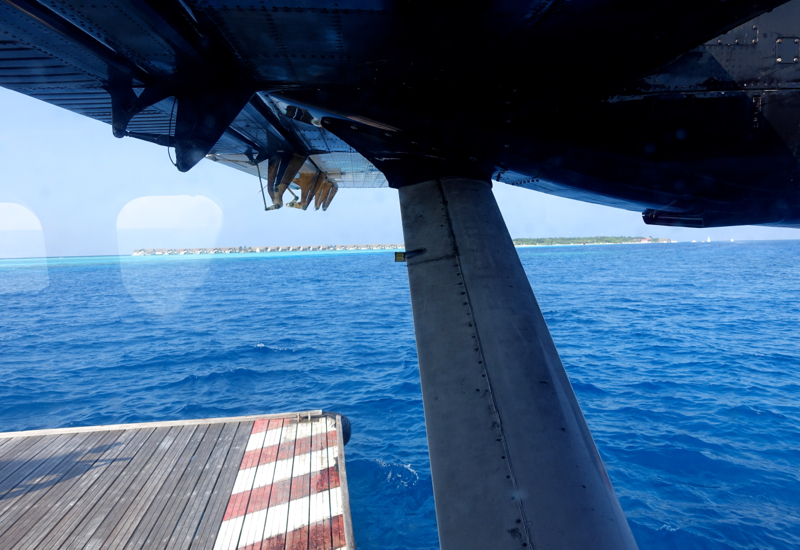 And this short video of our Trans Maldivian seaplane landing at the Soneva Fushi also shows a bit of the cabin:
Trans Maldivian Airways Schedule
While your resort may provide its own Male Airport lounge, the actual seaplane schedule and operations are controlled by Trans Maldivian Airways, and the exact time isn't known to the resorts until the day before, so you may not be given your departure time until 7-8pm the night prior to departure. Even when you are given a time, be aware that it can shift a bit, especially if you are connecting (as we often were) to another seaplane flight to another resort, rather than an international flight from Male.
Just keep in mind that the seaplanes can only fly during daylight hours, sunrise to sunset. So if you don't want to overnight in Male, plan to arrive in Male by 3:30pm, and depart from Male no earlier than 9am.
Trans Maldivian Airways Baggage Allowance
The standard limit is 20 kg. of checked luggage and 5 kg. of hand luggage per person, but we had no issue bringing all of our hand carry luggage directly to the plane (since we never check luggage on our international flights).
Views
The highlight for us of our Trans Maldivian Airways flights were the views of the atolls and resorts. Here are a few of our favorites: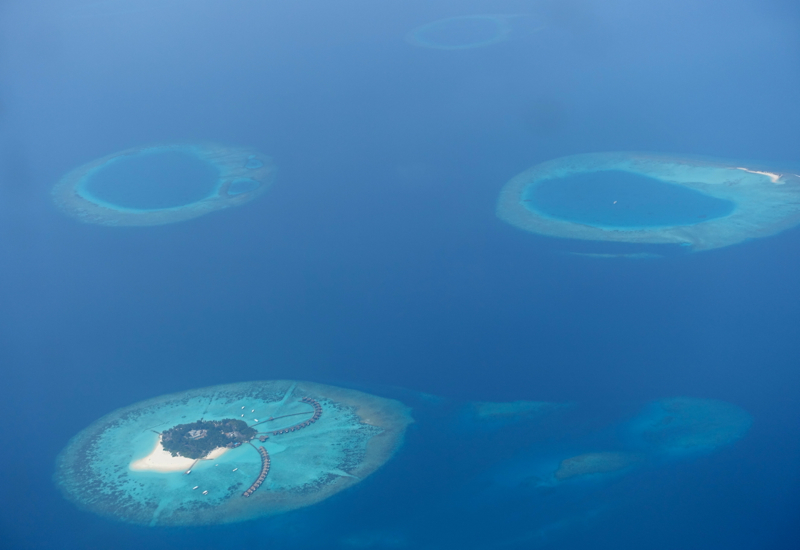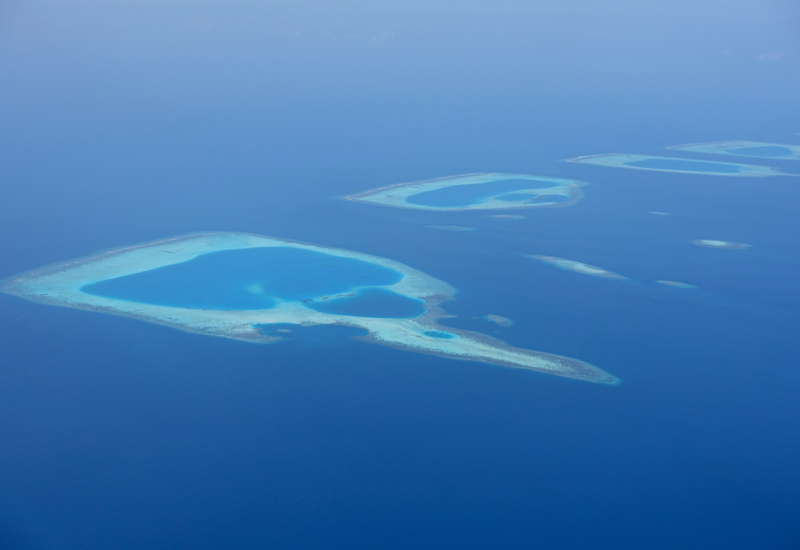 The Verdict: It's not as if you have a choice of seaplane companies any longer, so Trans Maldivian Airways is really your only option to get to a number of resorts. We've taken about 6 seaplane flights now, and with the exception of our departing flight from Conrad Maldives where we had some false starts, the flights felt very safe. The flights aren't very comfortable (but at least they're short) and are quite expensive, so I do wish there was competition for Trans Maldivian to provide a check on prices and a greater focus on the passenger experience, including more advance notice of flight schedules.
If you've flown in a Trans Maldivian Airways seaplane recently, what was your experience?
Related Posts
Four Seasons Maldives at Landaa Giraavaru Review
Review: Four Seasons Maldives at Kuda Huraa
Virtuoso Hotels: Bookings with Upgrades, Complimentary Breakfast and VIP Perks
Disclosure: We paid for all of our Trans Maldivian Airways flights. The views expressed in this post are my own.
Need Award Booking Help? Our fee is as low as $75 per ticket if you book your hotel through us.
If you enjoyed this, join 180,000+ readers: please follow TravelSort on Twitter or like us on Facebook to be alerted to new posts.
Become a TravelSort Client and Reserve Soneva Fushi with Virtuoso Benefits!