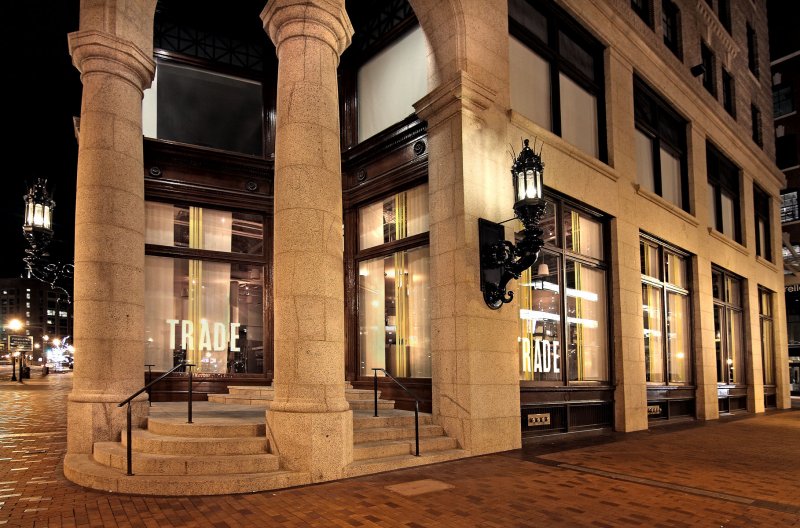 This Trade Boston Restaurant Review is part of a Boston trip report that includes the Mandarin Oriental Boston and Fairmont Copley Plaza Boston. Visiting Boston? See all our Boston reviews and posts.
Getting to Trade, Boston
Trade Restaurant is located at 540 Atlantic Avenue, between Congress Street and Pearl Street in Boston. It's just a 3 minute walk from the South Station T stop, about a 10 minute walk from the New England Aquarium, and about a 15-20 minute walk from Boston Common. It's a convenient place if you're staying near the waterfront, such as at the Boston Harbor Hotel, which is a 6 minute walk away.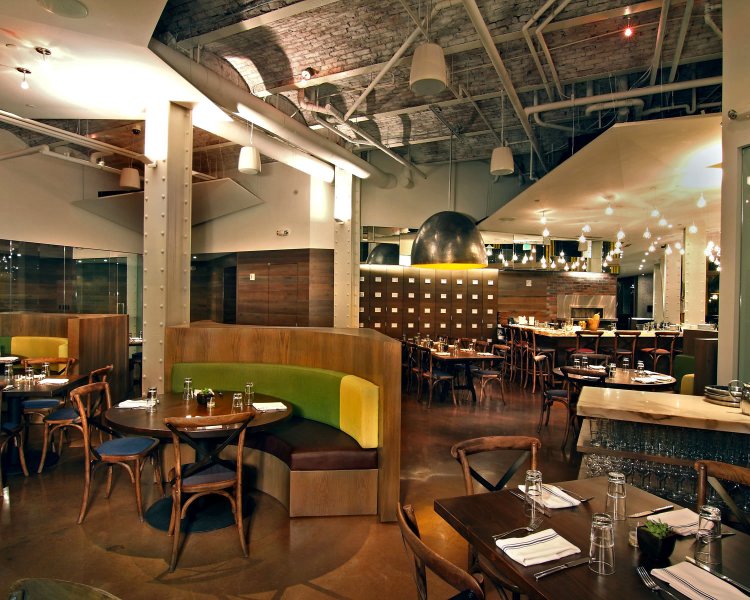 The Scene
Even for our early dinner the day after Christmas, Trade was bustling and busy–good thing we had made a reservation. The crowd seemed to be mainly 20 and 30 somethings, although there was the odd family here and there, so we didn't feel conspicuous, particularly since it was far from quiet. I'd say it's a better place for colleagues, families or groups of friends having dinner, and less a date spot, since it didn't feel romantic in the least.
Trade Menu and Food
Trade is known for its flatbreads and small plates with global influences–a travel-inspired menu that ranges from Mediterranean favorites such as Fried Halloumi and Crispy Polenta Bites to Korean Kim Chi Spiked Crab Sliders, Chinese Scallion Pancakes, Indian inspired Avocado with Mango-Tamarind Chutney and Mexican style Roasted Squash Soup with Poblano Cream and Pepitas.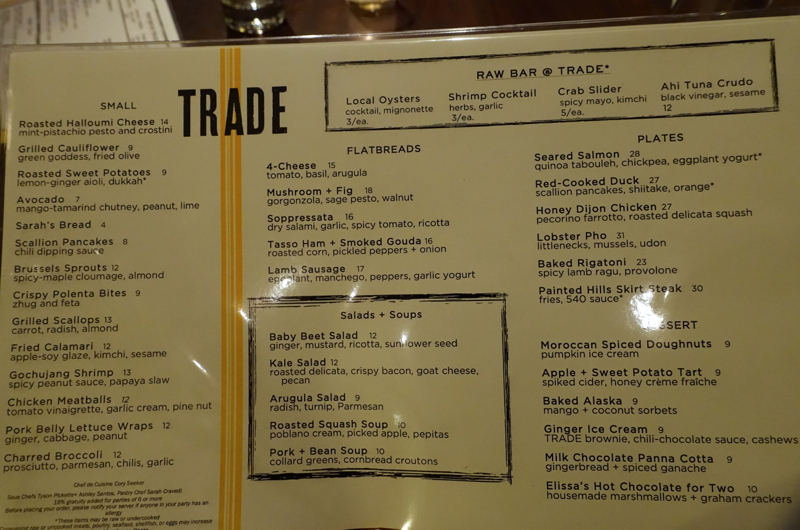 Our son was ravenous, so we quickly ordered some Sarah's Bread to start off with, since Trade unfortunately doesn't provide any kind of complimentary bread basket. It was toasted bread with a bit of olive oil, and given the small size, a bit steep even at $4.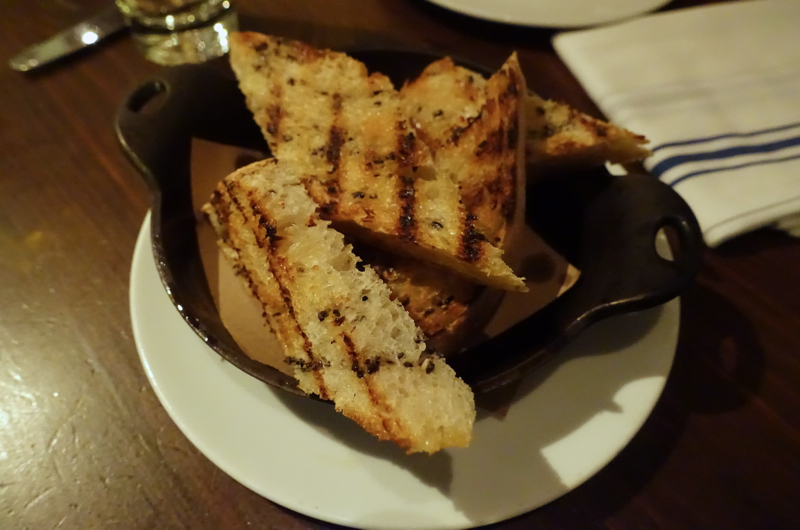 Fortunately most of our other dishes were far more interesting and also better value. The Crab Slider with spicy mayo and kimchi included a generous portion of crab and was delicious, at least if you enjoy spicy seafood. We probably should have ordered another of these.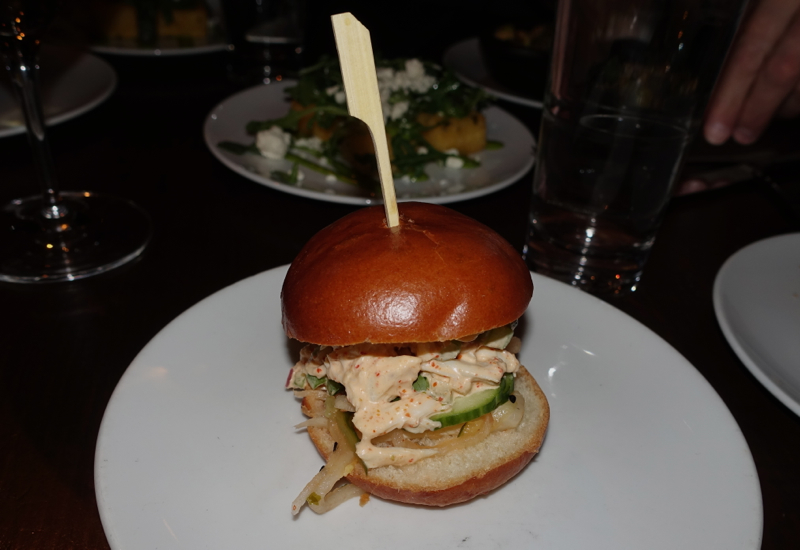 Our server had recommended the Brussels Sprouts, which came with spicy maple cloumage cheese (locally made by Shy Brothers Farm in Westport) and these were fantastic as well: nicely roasted so that the cut sides of the brussels sprouts were caramelized, and bathed in the addictively sweet-spicy creamy cheese sauce, with a finishing touch of slivered almonds for textural contrast. I'd love for the almonds to have been toasted a bit more to enhance their flavor, but that's about the only criticism I can level.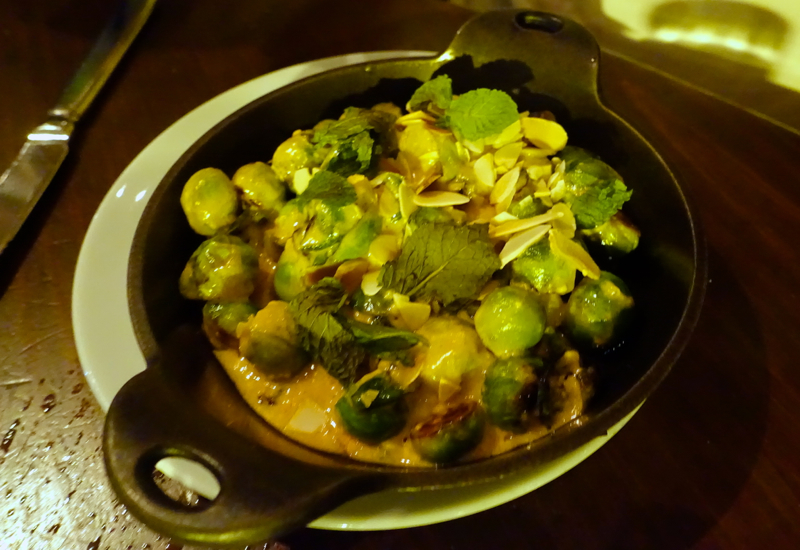 The Chicken Meatballs were ordered mainly for our son, so he'd have something non-spicy to eat, and were good although not distinctive, apart from the nice crispy sage leaves adorning it.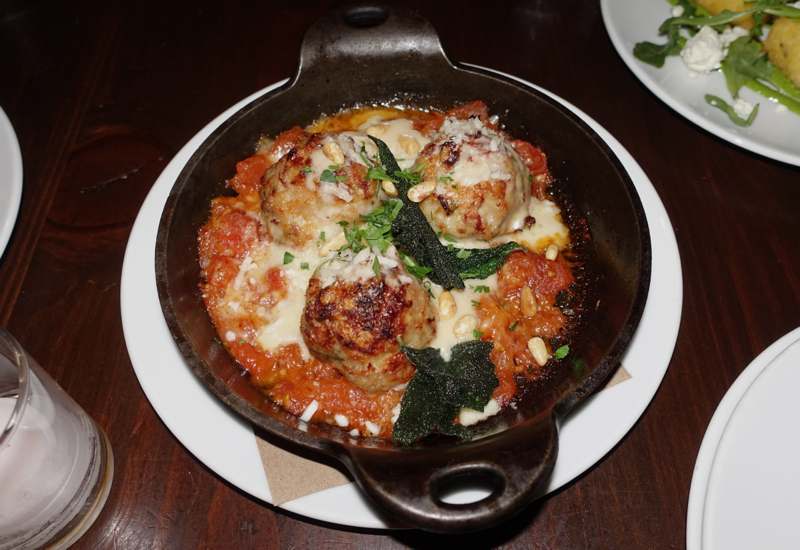 If you don't think you like kale, the Kale Salad with Roasted Delicata Squash, goat cheese, bacon and walnuts just may change your mind. I loved this combination of greens with the sweet, caramelized squash, tang of the goat cheese and the smoky, savory bacon. This would be a great one dish meal at lunch.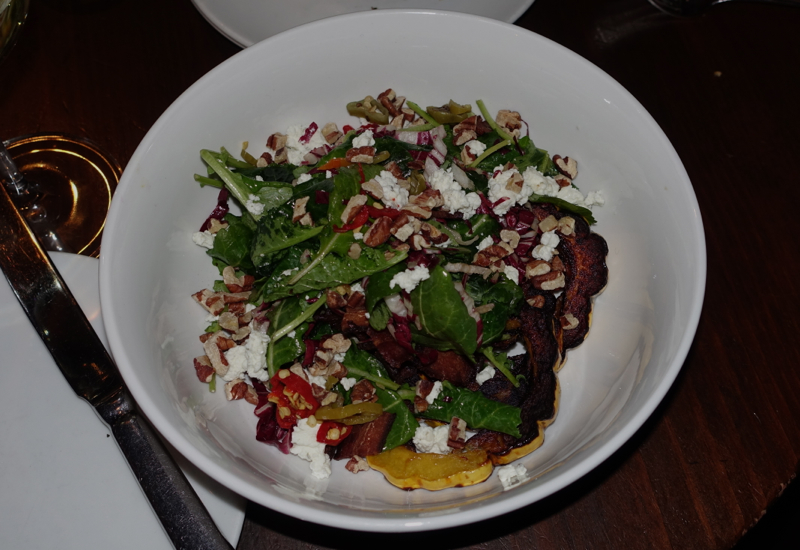 As a main dish, we tried the Red Cooked Duck, and this was excellent as well, and perfectly cooked. The three of us shared this in combination with the other dishes, which is what I recommend, so that you can taste several different dishes.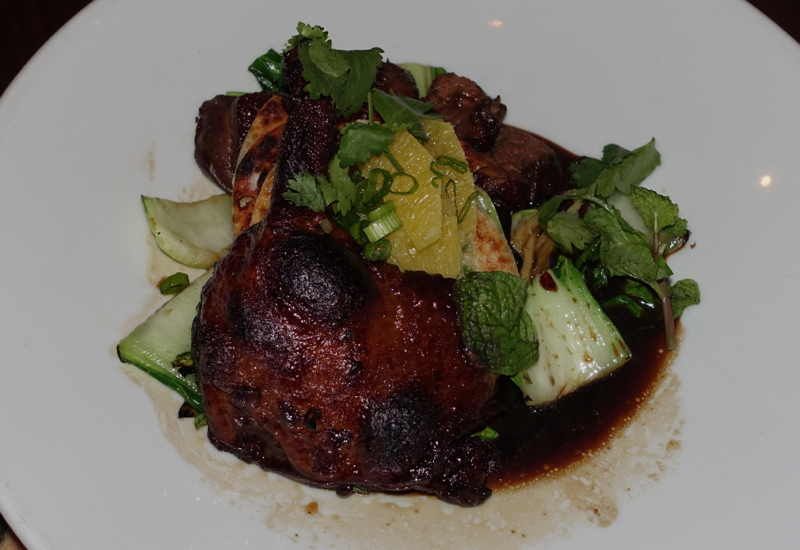 Our relatives ordered the Lamb Sausage Flatbread, and I can see why this has been kept on the menu since Trade's opening in 2012. The lamb sausage, eggplant and peppers took me back to some of the spicy lamb pizza I used to get in Kyrgyzstan, similar to Turkish Lahmacun, and this elevated it with the addition of Manchego, a drizzle of garlic yogurt, and mint leaves.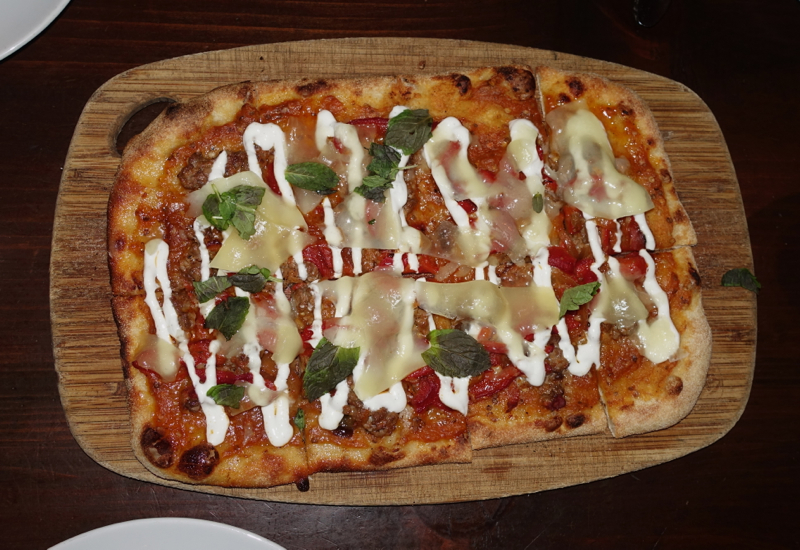 For dessert, we shared the Moroccan spiced doughnuts, which were supposed to come with pumpkin ice cream, but seemingly came with plain vanilla ice cream. The doughnuts were pretty good, but not that memorable, and I do think pumpkin ice cream would have been a better match for them than vanilla. Perhaps the restaurant had run out of it.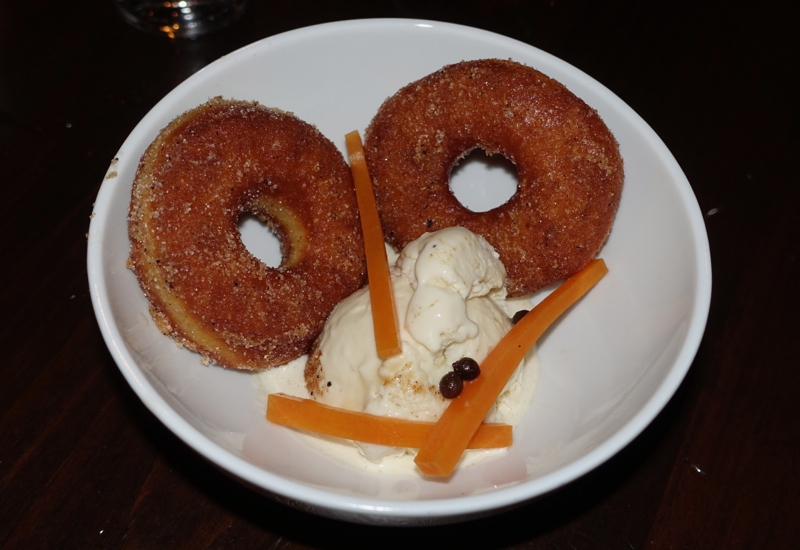 The Verdict
Trade is an enjoyable spot to go with a small group of family or friends if you happen to be near the harbor. It's a bit loud and service, while friendly, can be a bit slow at peak times, so I wouldn't choose it for a couple, plus it's easier to play to Trade's forte in small plates if you have a few people and can order several different dishes to share family style. Highlights for us were the Flatbread with lamb and eggplant, the Red Cooked Duck, the Crab Slider and the Roasted Brussels Sprouts.
If you've dined at Trade, what was your experience?
Related Posts
Island Creek Oyster Bar Boston Review
Review: Mandarin Oriental Boston
Cathay Pacific First Class Awards Available Boston to Hong Kong
Review: Fairmont Copley Plaza Boston
Need Award Booking Help? Our fee is as low as $75 per ticket if you book your hotel or cruise through us.
If you enjoyed this, join 200,000+ readers: please follow TravelSort on Twitter or like us on Facebook to be alerted to new posts.
Become a TravelSort Client and Book 5-Star Hotels with Virtuoso or Mandarin Oriental Fan Club Amenities!