Tracking and managing miles and points from credit card bonuses and spend can be an organizational challenge, and it's one of the biggest objections I hear when I talk to family and friends about miles and points. "You have how many credit cards?!" they'll often exclaim in disbelief. "How in the world do you manage all of them?"
While I'd love to say "Simple–here's the silver bullet," it's not simple. I've found ways that work for me, but there's still some manual work involved, and this is not a one size fits all recipe since I know people often like to organize their credit cards, miles and points differently. But here are my tips, based on what I do:
1. Buy or Create a Card Organizer
I'm not sure what took me so long, but a few months ago I finally bought a business card holder to hold the credit cards I don't use on a daily basis. As I wrote in What's in My Wallet my go-to credit cards when I'm not using the AMEX Prepaid or a gift card are the Ink Bold, Sapphire Preferred, and Freedom, when I'm in the U.S. Abroad, I remove the Freedom (since it incurs foreign transaction fees) and bring the Hyatt Visa, since it has an EMV Chip and no foreign transaction fees.
But at any given time, if there's a new card I'm meeting minimum spend for or a card with a retention bonus or special offer, that will be in my wallet as well. All other cards are in the organizer, with post-it notes on them about other benefits (e.g. expiration date for my Alaska Airlines Companion Voucher). I move cards to the back "Cancelled" section once closed.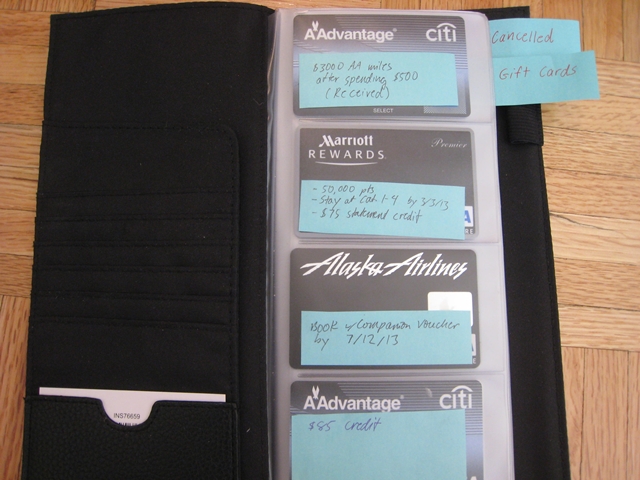 2. When Activating Your New Credit Card, Confirm Card Bonus and Set Due Date
I like to do two things when I activate a new credit card: 1) Confirm the signup bonus and spend requirement, so there are no surprises (and since this info will NOT appear in your card materials) and 2) Change the payment due date so that it's the same as all of my other cards. I do this even though I also enroll in autopay (see below) as it enables me to just think once a month about ensuring I have the appropriate funds to cover payments. That said, if you have a month with very high spend at some point, you may want to pay that off immediately, as soon as it hits your account, in order to keep your credit utilization low. See Understand How Your Credit Score Works to Maximize Credit Card Rewards
3. Enable AutoPay and Ensure Your Account Always Has Ample Funds
When you have cards from several different issuers, it's very handy and a lot less stress to put everything on auto-pay. Then all you need to do is make sure that, given your spend across all cards for a given month, you have enough funds in your checking account to cover all the bills, especially if, as I have, you've set them up for the same day. You could of course also use AMEX Bluebird, with refills bought with the Ink Bold or Ink Plus, to pay some credit card bills. But I definitely wouldn't go overboard there–make sure you're also using Bluebird to pay other things as well, not just for credit card payments and ATM withdrawals.
4. Create and Update a Spreadsheet to Track Bonuses
I use a simple spreadsheet to track when I got a credit card, the annual fee, the required spend to receive the bonus, the credit limit, etc. You can easily adjust to your needs and add additional columns, for example if you need to track recurring billing (handy if you'll be closing a card and need to move these over), retention bonus info, etc. I just use the open date as my single reminder for when the annual fee will come due, and a few months prior, to check any retention bonus offers.

5. Use AwardWallet to Track Miles and Points Balances and Expiring Miles
AwardWallet isn't so handy when tracking progress towards credit card signup or retention bonuses, but it is great for providing a snapshot view of all your current miles and points balances, as well as alerts for miles that are about to expire. Note that AwardWallet is not allowed by American Airlines, Delta or Southwest to track the miles in these respective programs, obviously not AwardWallet's fault, so you'll need to do that separately. See our AwardWallet Review: Track Miles and Points
6. For Freedom 5X, Use Blueprint to Track Category Spend
If you have the Freedom and are trying to maximize the 5X bonuses, it can help to use Chase Blueprint when it matches the 5X categories. True, you'll still need to add in spend from specific vendors (such as Kohl's and Best Buy this quarter), but it can still be helpful to quickly see your progress for the categories that do match up. See Chase Blueprint Review: Manage Freedom 5X Rewards Bonuses
What are your best tips for tracking and managing your miles, points, and credit cards?
Related Posts
My Top Flight and Points Management Tools
AwardWallet Review: Track Miles and Points
Check out and apply for the Best Travel Credit Cards.
If you enjoyed this, please follow TravelSort on Twitter or like us on Facebook to be alerted to new posts.
Become a Member to find your perfect luxury or boutique hotel at up to 50% off: TravelSort Hotels