"Which Paris restaurants are open in August and worth going to?" writes one of my Award Booking Service clients. Since it's been a couple years since our Best Paris Restaurants Open in August post, I figured it's time to update the list. Note that while some top Paris hotel restaurants are open, not all of them are, so don't assume that just because your Paris hotel has an acclaimed restaurant it will be open.
1. Le Cinq at the Four Seasons Paris
No August closure
31 avenue George V +33 1 49 52 70 00
Open daily for lunch 12:30-2:30pm, dinner 7-10:30pm
Le Cinq, helmed by Executive Chef Eric Briffard, is sometimes panned because it has 2 Michelin stars rather than 3. But in my view it is the best splurge lunch deal in Paris, at 95 Euro prix fixe for three courses, not counting amuse bouches, pre-dessert and mignardises. Ask nicely and you may even be able to substitute one of the dishes from the a la carte menu for one on the prix fixe. You can even take your (well behaved) child to lunch–we took our then 3 year old son, who loved it. See our Le Cinq Paris Restaurant Review.
Want to book the Four Seasons Paris George V with VIP amenities, such as complimentary breakfast, upgrade on availability and a $100 spa credit? Become a TravelSort client and let us help you plan your perfect trip to Paris!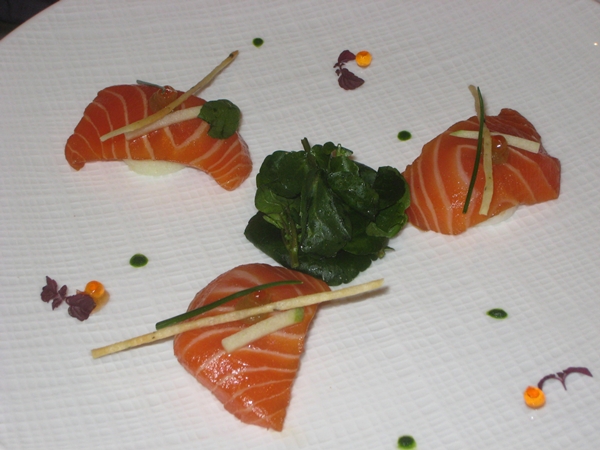 No August closure
112 rue du Faubourg Saint Honoré +33 1 53 43 43 40
Open daily for lunch 12-2 pm, dinner 7-10pm
If a Michelin 3-star Paris restaurant in a lovely setting is a must, consider Epicure at Le Bristol, headed by Chef Eric Frechon. Top menu choices include the famous Bresse chicken in vin jaune sauce for 2, foie gras with Burlat cherries, and most any of the chocolate desserts.
And if you opt to stay at the luxurious Le Bristol, don't forget to book with TravelSort, since thanks to Virtuoso affiliation, we're able to confirm an upgrade at time of booking into a Deluxe or Prestige Room. See Virtuoso Confirmed Upgrade at Time of Booking: Top 10 Hotels.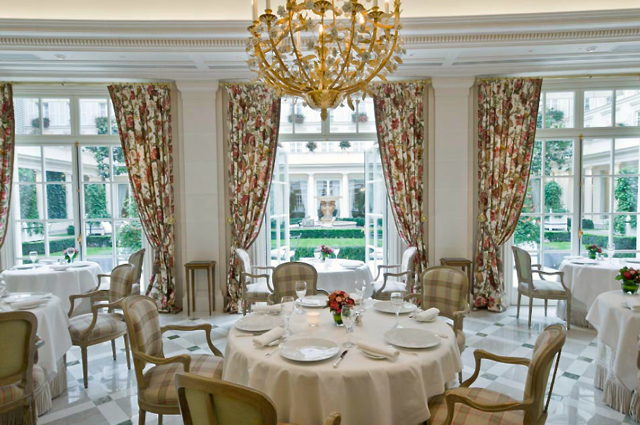 3. L'Arpege
No August closure
84 rue de Varenne +33 1 47 05 09 06
Open daily for lunch 12:30-2:30 pm, dinner 8-10:30pm
I haven't personally eaten here, but even with its 3 Michelin stars I can't say it's high on my list, due to the price level and somewhat mixed reviews. There are certainly plenty of glowing, effusive reviews citing "perfection" and "heavenly" but there are also a number that are disappointed and cite being underwhelmed. But if you have money to burn, you can certainly try it and make up your own mind. Do note that Alain Passard is known for his flair with vegetable preparations, so expect lighter cuisine and less focus on meat. This would also be a good place to treat someone who is vegetarian, although do advise the restaurant in advance since the usual menu, while emphasizing vegetables, isn't vegetarian.
4. Le Galopin
Closed August 20 – September 10, 2013
34 rue Sainte Marthe +33 1 42 06 05 03
Open Tuesday to Saturday for dinner only, 7:30-11pm
Le Galopin is off the beaten track, but is known to many locals since Chef-Owner Romain Tischenko was a Top Chef winner. Thankfully, the restaurant is low key, and if you want to avoid a suit jacket in August and just focus on excellent, locally sourced food, this is a good bet. Note that reservations are only accepted up to 2 weeks in advance.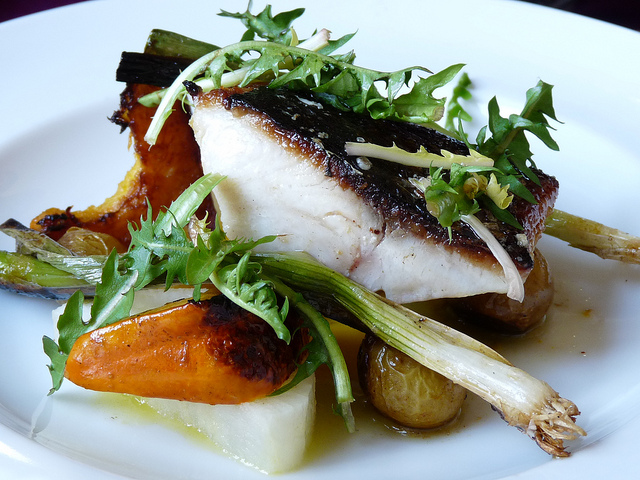 5. La Regalade / La Regalade Conservatoire
La Regalade is closed August 1-16, 2013
49 Avenue Jean Moulin +33 1 45 39 71 54
Open Monday for dinner only, Tuesday – Friday for lunch and dinner, closed Saturday and Sunday
La Regalade Conservatoire is closed August 1-18, 2013
7-9 rue Conservatoire +33 1 44 83 83 60
Open Monday to Friday for lunch and dinner, Saturday dinner only
La Regalade was my personal favorite of Paris bistros for French comfort food from the southwest, years ago when it was run by Chef Owner Yves Camdeborde. One of Camdeborde's chefs, Bruno Doucet, took it over in 2004 and has since expanded it to two locations, La Regalade St. Honore (closed most of August) and the more recently opened La Regalade Conservatoire in modern boutique Hotel Nell.
6. Itineraires
Closed August 11 – 31, 2013
5 rue de Pontoise +33 1 46 33 60 11
Open Tuesday to Friday for lunch and dinner, Saturday dinner only 
It can be challenging to find excellent food at a fair price in the posh St. Germain area, but Restaurant Itineraires from Chef Sylvain Sendra fits the bill with lunch prix fixe menus for 29 Euros (2 courses) and 35 Euros (3 courses) and Tuesday-Thursday 3 course prix fixe dinner menu for 49 Euros. Try the onion tart with foie gras, mushrooms and nutmeg, the roast guinea fowl, and the Grand Marnier souffle with Valrhona chocolate ice cream for dessert.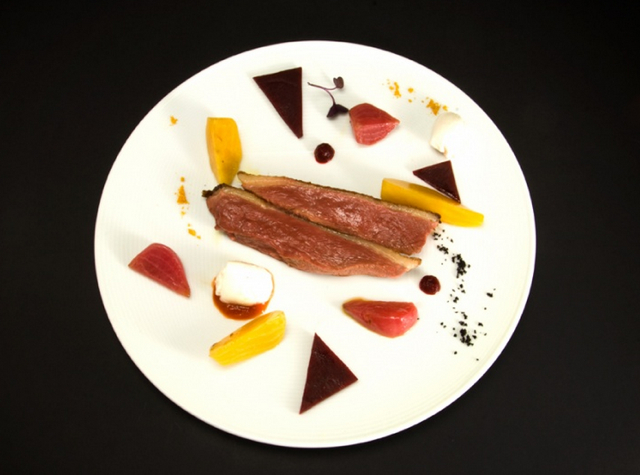 7. L'Ardoise
No August closure
28 rue du Mont-Thabor +33 1 42 96 28 18
Open Tuesday-Saturday for lunch and dinner, and on Sunday for dinner
L'Ardoise is a convenient choice if you happen to be staying at the Park Hyatt Paris Vendome (see Best Park Hyatt to Stay 2 Free Nights with the Park Hyatt Visa) or Le Burgundy, and it's good for hearty homestyle French classics. It can be a bit short-staffed, so I recommend going on the early side, even though you're more likely to see other tourists and visitors there then, since local Parisians tend to dine later. Check out our L'Ardoise Paris Restaurant Review for what to expect.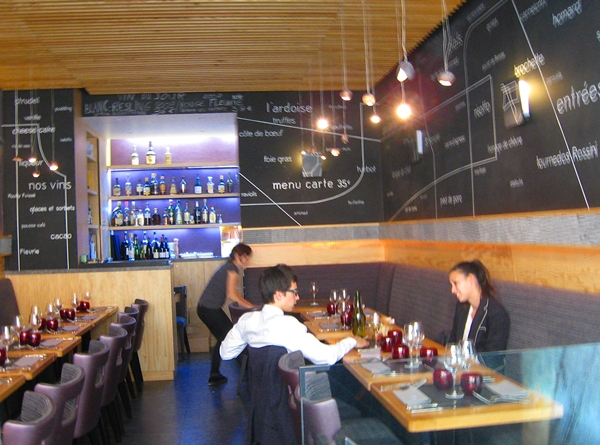 8. Astier
No August closure
28 rue du Mont-Thabor +33 1 42 96 28 18
Open Tuesday-Friday for lunch and dinner, dinner only Monday and Saturday
Another good bet for unpretentious French classics is Astier. While not a budget choice, its "grand menu" of appetizer, main dish, cheese plate and dessert is good value, for 39 Euros. Try the marinated herrings to start, the chateaubriand or pork belly if available, and be sure to leave room for the generous cheese board, which you help yourself to, not to mention the baba au rhum, a house dessert specialty.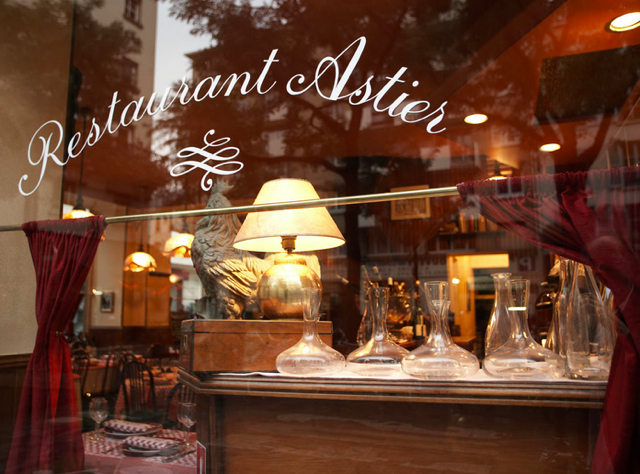 Related Posts
Best Paris Restaurants Open in August
Paris for Foodies: Where to Eat
5 Incredibly Delicious Places You Shouldn't Miss in Paris
Don't Miss These Paris Desserts
Need Award Booking Help? Our fee is as low as $75 per ticket if you book your hotel through us.
If you enjoyed this, join 90,000+ readers: please follow TravelSort on Twitter or  like us on Facebook to be alerted to new posts. 
Become a TravelSort Client and Book Your Hotel with Virtuoso or Four Seasons Preferred VIP Amenities!