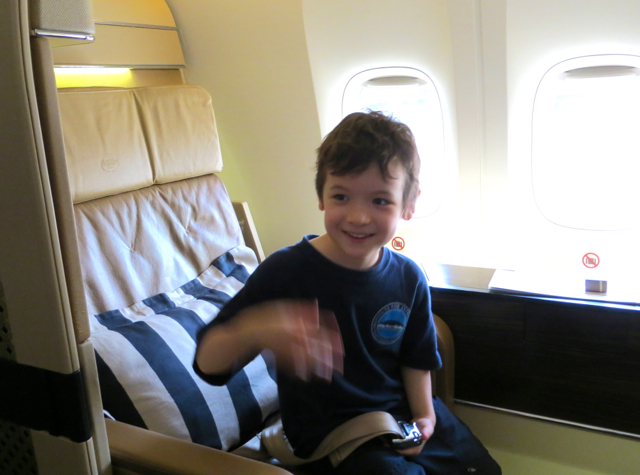 How to find first class or business class awards using frequent flyer miles and points for an entire family? TravelSort reader Caroline writes "How do you manage to find 3 award tickets in business class or first class for your family?"
1. Travel in Low or Shoulder Season, Not Peak Season for the Destination
While this is a hard one for families, since kids' school vacations tend to coincide with peak travel times (especially Christmas and Thanksgiving) if at all possible aim to travel during low season or shoulder season to your destination. For example, we traveled to the Maldives in May, rather than the peak winter holiday season, which helped with securing 3 seats in Etihad First Class and in Qatar Business Class. We picked our current school because it offers 2 weeks of spring break, a nice off peak time to travel (joking! But it's a nice perk…)
2. Be Flexible with Your Dates
Aim to arrange your time off around when you can find first class and business class award availability, if this is important to you, rather than first setting your vacation dates and trying to find availability for specific outbound and return dates for 3-4 people.
3. Book Early, and Start Looking at the Availability Trends Even Before the Award Calendar Opens
I do this for my Award Booking clients, assuming they contact me before the award calendar opens–you want to see what kind of award availability pattern there is, if any, for the dates leading up to your preferred date range. This way you can narrow down the days and flight times that are likely to have the requisite availability.
4. Book in Different Cabins on the Same Flight
While you may be able to secure 2 award seats for Cathay Pacific First Class now and one soon before departure, I wouldn't count on it–many Cathay Pacific routes are only releasing one first class award seat when the award calendar opens, and remember there are only 6 seats total. So book the one or two that are available to you when the award calendar opens, and the remaining seats in business class. When seat assignments open, aim to reserve business class seats close to the first class cabin so you can at least be in close proximity.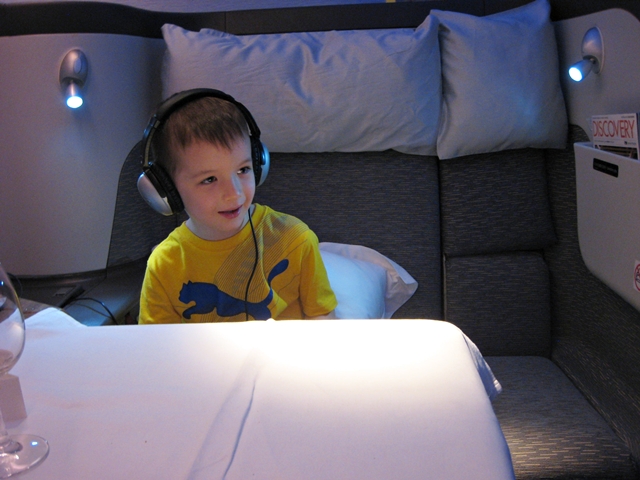 5. Book on Different Flights
On many of our trips we're actually booked on different flights. For example, on our recent trip to Europe, the munchkin and I flew in British Airways New First Class, courtesy of our companion ticket, and my husband's outbound was in Singapore Business Class, with his return in Singapore Suites on the A380.
While of course it's nicer if we can all be on the same flight, being willing to fly on different flights really opens up more award options and enables you to diversify your miles and points redemption, rather than heavily depleting miles in one program. Of course, in light of the massive United Devaluation, you may be looking to deplete your United miles right now, before they devalue.
6. If Needed, Book a Backup Flight and Monitor Availability to Switch to a Better Flight
I always recommend trying to find flights that work for you early on, even if not optimal, and then work on improving them later. It's best to book these backup flights with non-U.S. frequent flyer programs that charge lower change and cancellation fees for award tickets. See Frequent Flyer Awards: Low Fee Backup Options
7. Book with Less Popular Frequent Flyer Programs
Sure, lots of folks want to fly Lufthansa First Class to Europe, but this isn't a conducive award for families since it's only bookable up to 15 days in advance when booking with United miles. On the other hand, you could book Lufthansa first class or business class in advance for a family using Lufthansa Miles & More miles earned with the Lufthansa Premier Miles & More MasterCard and an SPG points transfer.
Similarly, if you're planning a trip where you can fly Korean First Class, there's often plenty of availability if you're willing to transfer Ultimate Reward points to Korean to book, since there's no competition from Delta SkyTeam members (there are no first class awards on partners using Delta SkyMiles).
Or, consider that you can book Air France First Class using Flying Blue miles–I recommend booking that before the end of this month, December 31, 3013, since it's still possible to book one way in Air France first class between Europe and the U.S. for 125,000 Flying Blue miles. The new award chart prices at 162,500 miles, and all awards booked starting in 2014 will have to use the new award chart.
What are your favorite tips for booking first class and business class award tickets for your family?
Related Posts
Transfer Frequent Flyer Miles Between Family Members?
Airline Miles Expiration Policies: Keep Miles from Expiring
My Top Family Vacation Destinations
The Best Airlines for Kids and Families
Credit Cards: Household Income Rule Will Help Stay-at-Home Spouses and Partners
Need Award Booking Help? Our fee is as low as $75 per ticket if you book your hotel through us.
If you enjoyed this, join 150,000+ readers: please follow TravelSort on Twitter or like us on Facebook to be alerted to new posts.
Become a TravelSort Client and Book 5-Star Hotels with Virtuoso or Four Seasons Preferred Partner Amenities!