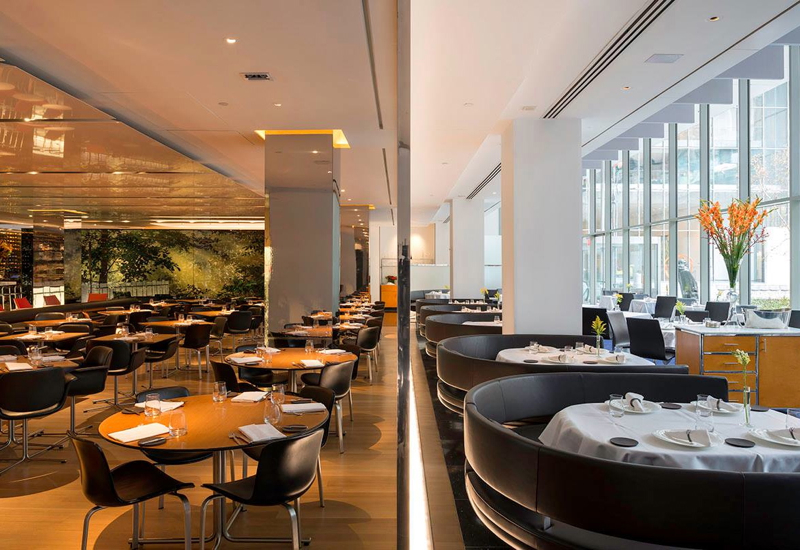 The 2016 NYC Michelin Star Restaurants have been announced, and the 3 Michelin Star restaurants have remained the same: Eleven Madison Park, Per Se, Jean-Georges, Chef's Table at Brooklyn Fare, Le Bernadin and Masa. Likewise there hasn't been much movement among the 2 Michelin Star restaurants, with the notable exception of The Modern, which moved up from 1 star to 2 stars.
What's more interesting for hungry New Yorkers and foodie visitors who can't necessarily afford so many meals at 3 Michelin Star and 2 Michelin Star restaurants are the 1 Michelin Star restaurants. Some of course, especially the Japanese ones, are as or nearly as expensive as higher starred restaurants. But others are more low key and offer great value. Here are my top picks of NYC's best value 1 Michelin star restaurants, based on my own and clients' experiences. My criteria are food (greatest weight), service and ambience.
1. Somtum Der
It's no surprise to regular readers that Somtum Der ranks at the top of my list in terms of value for money of these Michelin star restaurants, if you enjoy Issan / Northern Thai food. A Thai import (the first Somtum Der is in Bangkok), the space is welcoming, with booth tables for smaller parties and wood communal tables in the center. Overhead, the lamp designs are based on traditional woven baskets used for steaming sticky rice, the anchor, along with somtum (green papaya salad), of Issan, Northern Thai and Lao cuisine.
Menu Favorites: Sa Poak Kai Tod Der (Fried Chicken Thigh with Jaew sauce); Tum Thai (Classic Green Papaya Salad); Moo Rong Hai Der + Khao Ji (House Special Grilled Marinated Pork with Grilled Sticky Rice); Pad Ki Mao Pork & Basil (Spice Rice Noodles with Ground Pork and Crispy Basil Leaves)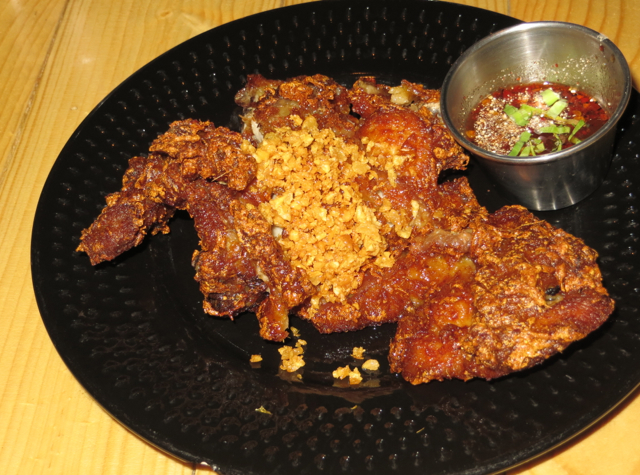 2. Uncle Boon's
Yes, I know this is a trend–Uncle Boon's also specializes in Issan / Northern Thai food. It's priced a bit higher than Somtum Der, so not quite as good value, although friends and clients have loved that the dishes include authentic Northern Thai ingredients, from Betel leaves (when available) to frog legs and sawtooth herb. Expect an eclectic, playful, even kitschy decor, but the quality of cooking is dead serious: chef owners Matt Danzer and Ann Redding (who are married) met while working at Thomas Keller's 3 Michelin Starred Per Se Restaurant.
Menu Favorites: Hai Tok (Green Curry Snails); Roti; Kai Yang (Rotisserie Chicken with Dipping Sauces and Green Mango Salad); Yum Gai Hua Pli (Spicy Chicken & Banana Blossom Salad); Massaman Nueh (Boneless Beef Ribs with Massman Curry); Pla Muuk (Grilled Baby Octopus)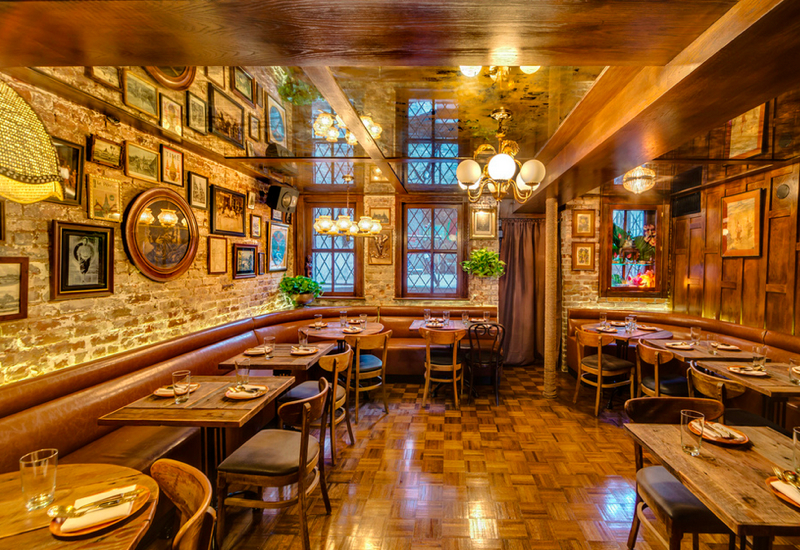 Gramercy Tavern is an enduring favorite of mine, although I actually prefer the Tavern part to the more formal Restaurant side. Generally I avoid restaurants that don't take reservations (the Tavern side is no reservations) but I make an exception for Gramercy Tavern due to the quality of the new American food, service, and value for money. It doesn't hurt that desserts tend towards comfort food and continue to be very satisfying under Pastry Chef Miro Uskokovic, continuing the legacy of renowned Pastry Chef Claudia Fleming, who put Gramercy Tavern's desserts on the map.
Menu Favorites: As you'd expect, the menu is seasonally driven and changes regularly. From the current menu I recommend the Ricotta Cavatelli, Smoked Pork Shoulder, Dutch Apple Pie for Two with Brie Ice Cream and the Warm Plum Clafoutis.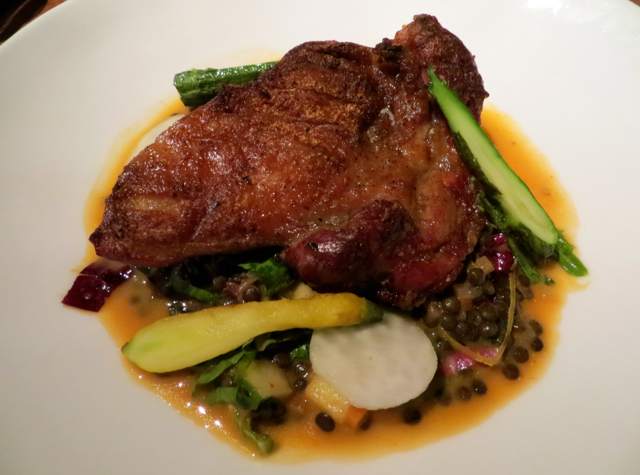 4. The Modern (2 Michelin Stars)
While I haven't been that impressed with The Bar Room at The Modern, friends and clients have very much enjoyed The Modern, particularly under new chef Abram Bissell, who has taken over from Gabriel Kreuther, and has an impressive resume of stints at The NoMad, Eleven Madison Park and Boston's L'Espalier. Meals are of course not inexpensive,
Menu Favorites: Again, the menu is seasonally driven and changes regularly, but of the current menu recommended dishes are the Suckling Pig; Lobster Marinated with Vadouvan Spices; Green Zucchini Gnocchi with Summer Truffles; Roasted Beef and Bone Marrow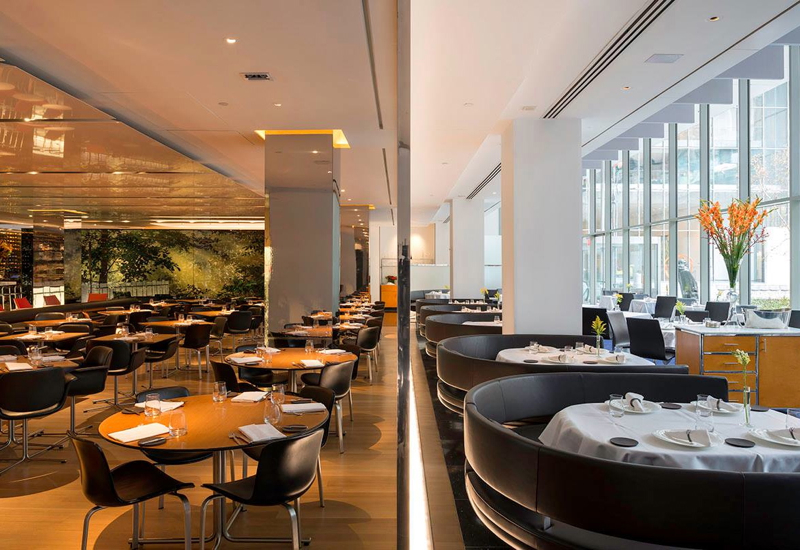 5. Jean-Georges (Lunch Prix Fixe; 3 Michelin Stars)
For years Jean-Georges had hands down the best value prix fixe lunch menu of all NYC 3 Michelin Star restaurants–it was a steal at $29 for 2 courses. Then it went up to $38, and these days it's a more hefty $58 for two courses, with $29 for each additional plate. Still, if you must dine at a 3 Michelin star restaurant in NYC, lunch at Jean-Georges remains the most wallet-friendly option.
Menu Favorites: Yellowfin Tuna Ribbons; Diver Scallops with Caramelized Cauliflower and Caper-Raisin Emulsion ($8 supplement); Roasted Sweetbreads with Baby Artichoke Jam; Seared Beef Tenderloin; Warm Chocolate Cake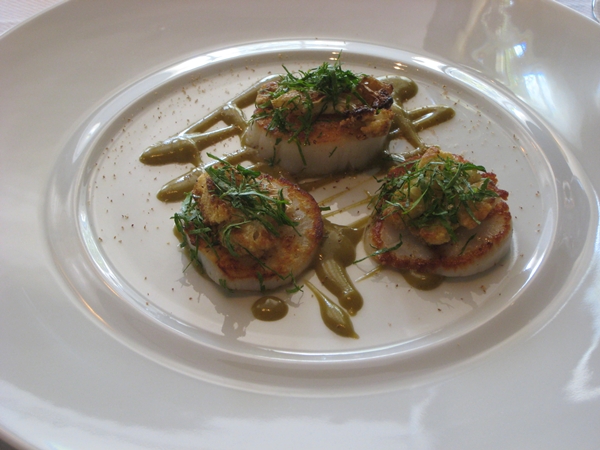 Related Posts
Somtum Der NYC Review and Menu
Jean-Georges NYC Lunch Prix Fixe Restaurant Review
Zabb Elee NYC Restaurant Review
Khe-Yo NYC Restaurant Review: Laotian in Tribeca
Michelin Star Restaurant Reviews
Need Award Booking Help? Our fee is as low as $75 per ticket if you book your hotel through us.
If you enjoyed this, join 200,000+ readers: please follow TravelSort on Twitter or like us on Facebook to be alerted to new posts.
Become a TravelSort Client and Book Your Hotel with Virtuoso or Four Seasons Preferred VIP Amenities!