Has an airline ticket booking error ever been a problem in your travels? You're not alone. Even though most of the international airline tickets I book for clients are award tickets, via my Award Booking Service, I do book some paid tickets as well for clients.
I also hear about all kinds of international airline ticket booking mistakes from TravelSort readers. Here, in no particular order, are some of the top booking mistakes I've encountered or been asked or emailed about. Hope these never happen to you!
1. Misspelled Name When Booking by Phone
A number of frequent flyer award tickets have to be booked by phone, and it's easy for errors to creep in. A big one is when a passenger name gets misspelled, either because the agent mistyped or misheard you.
How to Avoid: I always spell out the passenger's name using the NATO phonetic alphabet: A = Alpha, B = Bravo, etc. and have the agent read the spelling back to me. While it's usually possible to correct a mistake within 24 hours at no cost, it's much better to not have to call back and get it right the first time.
2. Wrong Date and/or Time
Again, this error is more likely with a phone booking, when you're not able to pick your date correctly online, although I have had readers email me about inadvertently selecting the wrong date. I most commonly hear about date problems when it's a very early morning flight (for example, note that US Airways agents generally need to search for early morning flights such as 12:30am, 1:30am, etc. using the date of the preceding day).
How to Avoid: Again, it's helpful to have the agent read back to you the date and flight time of your flight, to help ensure everything is being input correctly before you get off the phone. It's a pain to have to call back, especially for airlines such as US Airways and British Airways which have such awful U.S. call center hold times that most savvy travelers resort to calling an international call center.
3. Switched First Names and Last Names
While you're unlikely to run into this problem if you're simply booking on a U.S. carrier or using an OTA such as Expedia, Orbitz, etc., for certain short-haul international tickets it's cheaper to book directly with the foreign carrier, and that's where this mistake usually arises: the first field is the last name, and the second field is for the first and given names. For example, here's Dragonair's online booking screen: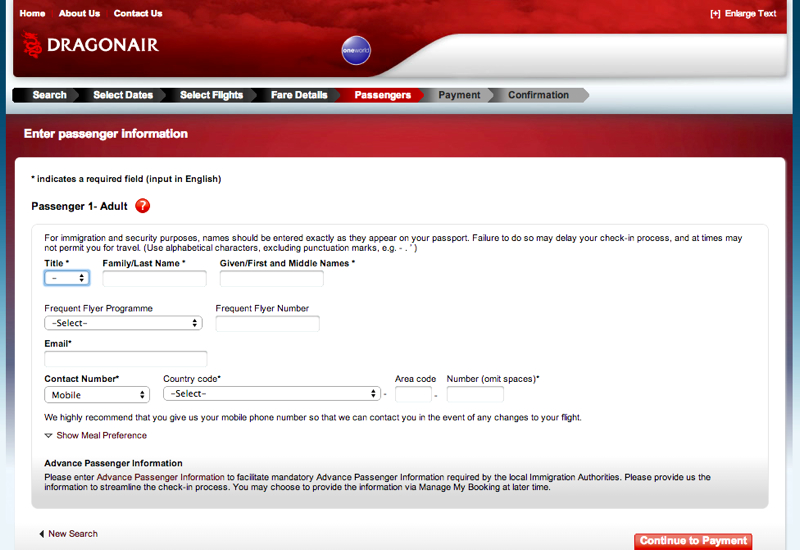 How to Avoid: Have your coffee, or whatever you need to ensure you're alert, and pay close attention to how the various fields are titled.
4. Switched Birthday Day and Month
Again, if you're from the U.S., you're probably used to the MM/DD/YYYY convention; but most other countries use DD/MM/YYYY. While most online pages solve this problem by having a drop down that lists the days numerically, while the months are spelled out: January, February, etc.–occasionally it will just be numeric, and if your birthday day is 12 or under, you need to pay attention to ensure you don't inadvertently switch the day and month of your birth.
How to Avoid: As above, make sure you're alert and pay attention to the order in which you're asked for the day and month of your birth.
5. Not Double Checking the Airport the Airline Departs From
You might wonder how this could happen, but it does–I've had readers write me that they thought they booked a flight from Charles de Gaulle (CDG) but in fact it was from Orly (ORY), or they chose AirAsia from Bangkok and discovered to their chagrin after booking that the airport AirAsia flies from is Don Muang Airport (DMK) and not Suvarnabhumi Airport (BKK).
How to Avoid: Make sure you check the departing airport and that it's the one you intend. This is particularly important for cities that have multiple airports, such as NYC, London, Paris, Tokyo, etc. and when flying low cost carriers, which often use a cheaper and less convenient airport.
6. Not Leaving Enough Time to Secure a Visa or Renew a Passport Before Your Trip
Depending on your citizenship and the country you're traveling to, you may need to secure a visa for your travel. Don't assume that you can get everything you need within a couple weeks, as it may take a couple months, and expedite fees can be very expensive.
How to Avoid: Be sure to leave enough time to get a visa (and while you're at it, make sure your passport won't expire before or within 9 months of your trip, and that you have enough blank pages in your passport).
7. Not Doing the Math to Decide if a Paid Ticket or Award Ticket is a Better Deal
Everyone values their miles and points a bit differently, but a mistake I often see is not figuring out whether a paid ticket or award ticket is a better deal. Sometimes of course, the choice is made for you, if there are no award seats available when you want to fly or the only carrier to fly the nonstop is one you can't redeem for an award using your miles and points.
How to Avoid: Once you know the route you need to fly, check the airlines flying it, their alliances, and award availability for flights that work for you. Know how you value a given mile or point, so that you can decide if an award that gives you 1.9 cents per mile or point, for example, is worth it to you, or if you prefer a paid ticket.
8. Not Providing a Frequent Flyer Number to Earn Miles
This isn't a big deal, as it won't prevent you from flying, but if you're paying for an international airline ticket, you may as well earn frequent flyer miles if the airline is a member of any major alliance (or even if it just has its own frequent flyer program and you fly the route often enough for the miles to be worth it).
How to Avoid: Enter the frequent flyer number of the alliance partner you're most likely to use to make award redemptions. If you're not sure if the airline belongs to an alliance, check the Wikipedia entry.
9. Not Saving a Copy of the Change/Cancellation Policy
Sometimes it's advantageous to book directly with a foreign carrier, as there can be a cheaper or more generous change or cancellation policy than going through Orbitz, Expedia, etc. But the change and cancellation terms are often just a pop up after you click on a link, prior to accepting the terms and conditions of the ticket, and aren't easy to find once you've already booked.
How to Avoid: Make sure you save or print out a copy of the change/cancellation policy before booking and save it for future reference.
10. Not Having a MasterCard or Visa
This comes up surprisingly often–many of my clients put virtually all of their spend on an AMEX card, but many foreign carriers do not accept AMEX (no suprise why–as a merchant, I know all too well that AMEX charges more than MasterCard and Visa for its transactions. How else do you think AMEX is providing those targeted 150K AMEX Business Platinum bonus offers?)
How to Avoid: Always make sure you have a Visa or MasterCard that doesn't charge foreign transaction fees. Which brings me to my next point:
11. Using a Credit Card That Charges Foreign Transaction Fees
If buying a ticket directly from a foreign carrier, the cost will be denominated in the local currency, so you want to book with a credit card that doesn't charge foreign transaction fees.
How to Avoid: For international airline tickets denominated in a foreign currency, always be sure to use a credit card that doesn't charge foreign transaction fees. See Best No Foreign Transaction Fee Credit Cards Note that for U.S. cardholders, ALL American Express cards except for the AMEX Platinum charge foreign transaction fees. And Canadian AMEX Platinum cardholders are charged foreign transaction fees, so be sure to check your card benefits.
12. Not Getting Part or All of Your Ticket Cost Refunded
If you've determined that a cheap paid international airline ticket makes more sense than an award ticket, then, if you have reward miles with the Barclaycard Arrival Plus™ World Elite MasterCard® you could use the card to get part or all of your ticket cost refunded as a statement credit, depending on the number of miles you have.
What to Do: Use your Barclaycard Arrival Plus for the airline ticket purchase (no foreign transaction fees) and after the charge appears on your online statement, redeem Barclaycard miles for all or part of the purchase, in increments of 2500 miles. See How to Redeem Barclaycard Arrival Miles
Have you ever encountered these or other airline ticket booking errors?
Related Posts
Airline Ticket Name Change or Transfer to Another Person?
Airline Passenger Bill of Rights-What Are Flyers' Rights?
Get Mileage Credit Without a Boarding Pass?
Best No Foreign Transaction Fee Credit Cards
Need Award Booking Help? Our fee is as low as $75 per ticket if you book your hotel or cruise through us.
If you enjoyed this, join 150,000+ readers: please follow TravelSort on Twitter or like us on Facebook to be alerted to new posts.
Become a TravelSort Client and Book 5-Star Hotels with Virtuoso or Four Seasons Preferred Partner Amenities!
Disclaimer: Note that some cards in this post offer credit to me if you're approved using my links. The opinions, analyses, and evaluations here are mine. The content is not provided or commissioned by American Express, by Chase, by Citibank, US Bank, Bank of America, Barclays or any other company. They have not reviewed, approved or endorsed any of my articles.