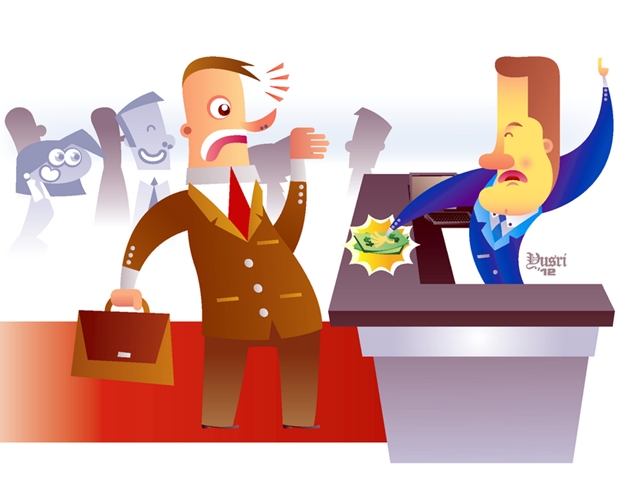 What do you do if you have a confirmed reservation for a suite and a hotel downgrades you? This is exactly what happened with my inlaws, who are visiting us this weekend and staying at a nearby Marriott. Since they have a teenager, they booked a suite. At reception, however, they were given a regular room, with no apology, and when they complained that it was not the room they booked, told that there were no suites available because the guests occuping them had stayed on due to flight cancellations.
While there's always a lot of discussion about hotel upgrades, and I've written about the Top Hotel Upgrade Tips it's just as important to understand what to do if you are subject to an involuntary downgrade for your hotel room. I'll share my tips, then return to what actually happened with my inlaws.
1. Join the Hotel Rewards Program
While there's of course no silver bullet to prevent being involuntarily downgraded, it's always a good idea to join the hotel's frequent guest loyalty program. You'll be behind members with elite status, but you'll still be ahead of those who haven't bothered to join and will also have a sense of how many points a stay at your preferred hotels cost, which will come in handy, as we'll see below.
2. Ensure Your Confirmed Reservation States Your Room Type and Description
Occasionally I run into reservations that don't state the room type–not good. You want to ensure you get a confirmation that states the exact room or suite type you booked, and if there isn't a description on the confirmation itself, make a copy of the hotel's own description of the room or suite type from the Web site. Be aware that many Web sites note that "photos are only representative of the room type and actual room may differ" so I would put greater stock in the text description than on any photos you see on the Web site.
3. Take a Screenshot of the Rates of the Hotel's Cheaper Rooms on the Day of Your Booking
While this can be onerous to do for every single reservation, it's really handy to have this evidence in the event of an involuntary downgrade, because you can show what you should be charged, not what the current rates are for those rooms, which may well be higher.
4. If You'll Be Arriving Late, Note That on the Reservation and Call the Hotel to Confirm They'll Save Your Room Type
You're more likely to be downgraded if you arrive late during a busy period and the hotel has completely sold out of your room type. While you can complain all you want about the fact that you have a confirmed reservation that states your room type, if the hotel physically doesn't have it, you'll either be discussing compensation or being walked to a sister property. So make sure to both note in your reservation if you'll be arriving late, and try to get the hotel to block your room type for you so that it doesn't get given away to those checking in earlier.
If you're celebrating a honeymoon or traveling with children, etc., make sure to state this and how important it is that the hotel block your confirmed room or suite type for you.
5. Before Checking In, Check to See the Room Types That Are Currently Available
If possible, check online right before checking in to see which room and suite types are still being sold at the hotel for that night. That way, if the front desk claims that they are sold out of higher level rooms or suites, you'll have information that either confirms or disproves that.
6. Know What Would Make You Whole if the Hotel Downgrades You
Hotels, even chains, don't usually have set rules for what you're entitled to if the hotel doesn't have your confirmed room or suite type and involuntarily downgrades you. But as with overbooking, you should be made whole. Now, not everyone wants to be overly assertive or spend time haggling at the front desk, but I'd still recommend being firm while remaining calm. Here's what I would recommend asking for in order of preference:
An upgrade to the next higher room or suite type available above the one you booked for the duration of your stay (if you've followed #4, you'll know whether or not this is possible)
An upgrade to the next higher room or suite type available above the one you booked for part of your stay, even if not available your first night
If your confirmed room type is available for all of your remaining nights but not your first night or two, then negotiate paying the rate for whichever room you're initially assigned for the duration of your stay, even when you move up to the room or suite type you booked
If no upgrade is available for any of your nights, then the dollar amount difference between the room you are given and the room you actually booked, in addition of course to just paying the rate of the room you are given as if you had booked it (which will often be a lower rate than if you were to walk in that day and stay).
If the hotel is unwilling to give you a cash amount of the difference between the room you are given and what you actually booked at, negotiate for an equivalent number of hotel loyalty points or a combination of a complimentary first night and points
7. If the Hotel Downgrades You, Do Not Accept Keys for the Downgraded Room
Unless you have to run for a meeting or simply cannot stay to negotiate with the front desk, I would advise NOT accepting keys to the downgraded room or, if you didn't notice until you got to the room, coming right back to the front desk and not leaving your things in the room. Stay at the front desk until you are made whole. In my view you give up some of your leverage by accepting the keys, since the hotel can make the case they now have to clean the room you've been in, they don't want to move you for that first night, etc.
8. Ask to Speak with the Duty Manager or General Manager
Chances are, the front desk clerk will not be empowered to give you the compensation you want and deserve. Ask politely but firmly to speak to the General Manager, or if not available, the Duty Manager.
9. If You Can't Reach Agreement, Reach Out to Customer Service by Phone, Email and/or Twitter
Hyatt and SPG tend to be the best about intervening when it comes to hotels that aren't meeting their obligations to guests. Don't be shy about calling and tweeting to get them to intervene on your behalf when you haven't gotten the room you have a confirmed reservation for.
Hyatt Concierge on Twitter: https://twitter.com/HyattConcierge
Hyatt Diamond Line: 800-400-2261
Hyatt Gold Passport Customer Service: 800 228 3360
Starwood Preferred Guest on Twitter: https://twitter.com/spg
Starwood Platinum Concierge Service: 888-625-4991
Marriott Rewards Customer Service: 801-468-4000 (8:15am – 9:00pm, Monday – Friday, US Eastern time)
Marriott Elite Member Guest Services: 800-321-7396 (8:15am – 9:00pm, Monday – Friday, US Eastern time)
Hilton HHonors Customer Service: 800-548-8690 (5:00 a.m.–1:30 a.m. CST every day)
Hilton HHonors on Twitter: https://twitter.com/HiltonHHonors
10. If You Do Reach Agreement, Get it in Writing
It may seem lawyerly, but for significant compensation amounts I'd aim to get it in writing, so there's no dispute later about the compensation you spent so long reaching agreement on. You can even write it out long hand and have the Duty Manager sign it.
So what happened in my inlaws' case? Well, since there were no suites or higher category rooms available at all in the hotel for their first night, but the suite they were booked in was available for the second night, they negotiated a refund of the difference between a suite and regular room for their second night of stay, plus some points as a goodwill gesture. Could they have been more aggressive with their compensation request? Probably, but they preferred getting a lower rate for their second night to getting a the equivalent of a free night in points, which is what it likely would have been. As with many hotels, the hotel was very reluctant to give an outright refund of a room night, so compensation would have been in points.
Has a hotel ever downgraded you, and if so, what compensation did you receive?
Related posts