Most road warriors avoid checking bags for a reason. Not only is it a hassle to wait at baggage claim after a long day of flying, but there are also lots of risks associated with checking bags, like the airlines losing your bag, having items in your bag stolen, making standing by for another flight more difficult, etc. Nonetheless, I've actually become more of a fan of checking bags recently, largely due to the TSA. When you're only carrying on bags, you can only take very limited liquids, and worse, the checkpoint experience is a total pain. The more stuff you put in a checked bag, the less hassle you have at the security checkpoint.
With that in mind, I'll offer a few tips to ensure your checked bags aren't lost, and also what to do when your bags are lost.
Don't Buy Flashy Luggage
Like many road warriors, I'm a bit of a luggage snob, because I literally live out of my suitcase (more out of habit than necessity). However, being particular about luggage should be limited to carry-ons. Try to avoid checking bags from Tumi, Louis Vuitton, etc. Right or wrong, the rampers assume the contents of those bags are more valuable, so if there's a bag they'll steal from, it will likely be a high end brand. A simple suitcase is always best, especially since it will be cheapest to replace if your bag gets lost.
Don't Pack Valuables In A Checked Bag
Every few weeks there's a story in the news about someone that checked something like 10 iPads in a checked bag and was shocked when the bag didn't show up upon arrival. Back in September Giorgio Gucci (heir to the Gucci brand) even checked $50,000 worth of products in a bad, and to no one's surprise, the bag never showed up. So at all costs avoid checking expensive jewelry, cash, electronics, documents, glasses, medicine, keys, etc., as not only are they more likely to be lost, but the airlines typically won't compensate you for them if they're lost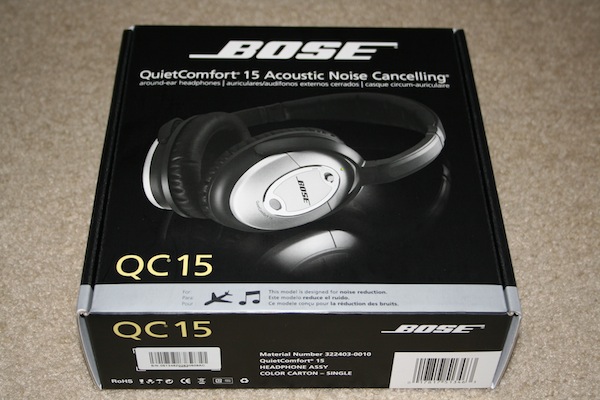 Put A Ribbon On Your Checked Bag
This might sound silly, but a lot of baggage theft isn't even intentional. Many bags do look alike, so it can be an honest mistake that someone accidently takes your bag with them instead of their bag, which may look similar. As a result, put something on your bag that stands out without being flashy. Maybe invest in either a small, colorful ribbon (which will stand out on your typical black suitcase), or a witty luggage tag. Not only will it ensure that other people don't accidentally take your bag, but it will also make the bag easier to spot for you on the baggage carousel.
Make Sure Your Bag Has A Name Tag And Information Sheet
Oftentimes bags are mishandled simply because the tag gets disconnected from the bag. Be sure that you have a tag on your bag with at least your name and phone number (though for privacy reasons it might be advisable not put ALL your personal information on it), and I also suggest putting a sheet of paper in the front pouch of your bag with the same information. It's always possible that the tag gets disconnected or the outside of the bag is damaged, so having a backup inside the bag can prove invaluable.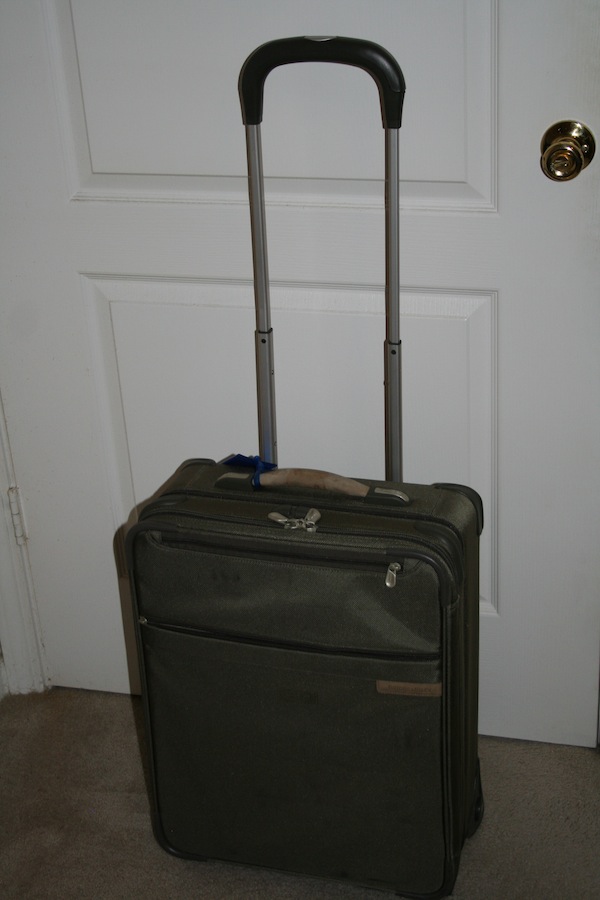 Avoid Checking A Bag If You Have A Short Connection (Or A Complicated Itinerary)
Checking bags when you have an itinerary with a short connection can be very risky, especially when connecting at a hub airport. While you can walk straight to your gate, the path usually isn't quite that straight for bags, so it can take them a bit longer. The same is true when you have an itinerary with multiple connections, especially if you're flying multiple airlines. The simpler your itinerary is, the better the chance that your bag actually makes it.
Know Which Airlines Are The Best About Checked Bags
The Department of Transportation publishes lost luggage statistics for major US airlines (which can be found here), so take a look at where your airline ranks. As you can see based on the most recent statistics, the variability can be huge. AirTran Airways, for example, mishandles only 1.97 out of every 1,000 bags, while the regional airline Atlantic Southeast Airlines (which does contracted flying for several of the legacy airlines) mishandles 8.22 out of every 1,000 bags, or more than four times as many. Interestingly enough for the most recent data, the three airlines with the best records are all low cost carriers (although notably, not Southwest, which is quite poor), while the seven airlines with the worst record are all regional airlines. The legacies all rank in the middle, with US Airways being the best of them and Delta being the worst of them.
Airline

Total Baggage Reports

(January 2011)

Reports per 1000 Passengers

(January 2011)

Airtran Airways

3352

1.97

Frontier Airlines

1555

2.39

Jetblue Airways

4330

2.52

Hawaiian Airlines

2047

2.99

US Airways

11,020

3.04

Alaska Airlines

4137

3.43

Continental Airlines

8185

3.44

United Airlines

11,696

3.67

Delta Airlines

24,615

3.77

American Airlines

22,672

4.33

Southwest Airlines

38,443

4.52

Mesa Airlines

3938

5.81

Southwest Airlines

38,443

5.85

Expressjet Airlines

7240

6.58

Atlantic Southeast Airlines

8205

8.22

American Eagle Airlines

10,982

9.1
Typically foreign airlines are much, much better about baggage, though there's no sort of worldwide regulation that would show us how many bags each international airline loses. Airlines with government regulation regarding passenger rights when bags are lost, like the European Union, are especially good about bags since it costs them dearly if they lost a bag. That said, you might want to avoid Madrid Airport, where the YouTube video below was shot (kidding!)
Consider Purchasing Baggage Insurance
There are lots of companies out there that offer very reasonably priced baggage insurance with great coverage. For example, if you have an American Express card, American Express offers Premium Baggage Protection, which runs $9.95 per trip ($7.50 for residents of Florida and Washington), assuming you make the purchase with an enrolled card. Not only does the insurance offer up to $2,000 if your bag is lost or stolen, but it also offers up to $500 for necessary replacement items if your bag is delay for three hours or more, which can be immensely valuable.
File A Report Right Away And Be Nice!
Hopefully both of those points are obvious, though they're worth reiterating. If your bag does not show up at the carousel, be sure to file a report in the baggage office before you leave the airport. The sooner the airline knows, the more accurately they can trace your bag as they know where they last saw it. If there are necessities that you'll need to buy (toiletries, clothes) while the airline tracks down your bag, get a signed authorization for the reimbursement amount before leaving the airport
Also, be nice to agents in the baggage office. You should always be nice, but it's especially true for agents working in the baggage office. Imagine having a job where dozens of people approach you every day with something along the lines of "YOU LOST MY BAG!" Get the agent on your side by smiling, being friendly, and separating the agent from your problem (in other words, it's not "you lost my bag" but instead "the airline lost my bag").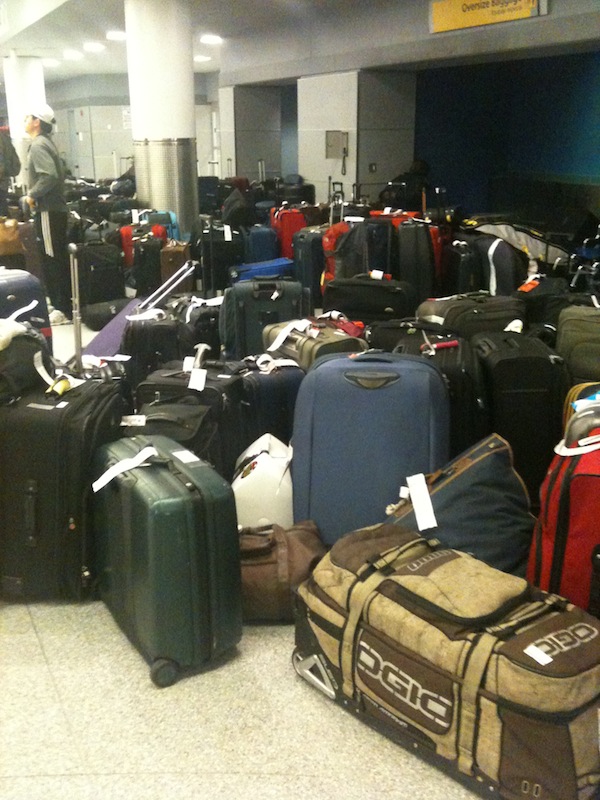 Know What's in Your Bag
Should your bag get lost, it's imperative that you know what was in it. The airlines make you write a detailed report of what was lost, so the more you can recall, the better. It might make sense to create a master list and adjust it for each individual trip, and then print it out and take it with you. Also, it makes sense to take a picture of your bag and even the luggage tag or anything identifiable on it, for easier identification should the bag get lost.
Know What You're Entitled To
The department of transportation limits the liability associated with lost bags to $3,300 each, which is quite generous. There's quite a bit of variability between airlines' individual policies on lost bags, so check your airline's website for details. Keep in mind that when you're reimbursed, it's typically based on the depreciated value of possessions, and not the original or replacement cost.
The issue with delayed bags is that the Department of Transportation does very little to regulate what passengers are entitled to when their bags are delayed. Most airlines have policies that vary by airport, length of baggage delay, whether your bag was lost on your way home or at your destination, etc., though airlines will almost always reimburse for basic necessities.
Be Persistent in Following Up

If your bag isn't found quickly, make sure to remain proactive and keep following up, using the lost bag claim number you received whenever you write or call. Also use Twitter, since some airlines tend to be more responsive that way. Also see my other tips on how to complain effectively and get compensated.
Those are my top tips for ensuring your luggage isn't lost, and recovering as quickly as possible when it is. Does anyone have any other tips they've found especially useful?
Related Posts
How to Avoid Checked Luggage and 6 Reasons to Never Check Baggage
Credit Cards with Best Delayed Baggage Insurance
Is Transaero a Good Airline? Not if You Want Your Baggage to Arrive With You
The Airlines With The Best First Class Ground Experiences
Need Award Booking Help? Our fee is as low as $75 per ticket if you book your hotel through us.
If you enjoyed this, join 200,000+ readers: please follow TravelSort on Twitter or like us on Facebook to be alerted to new posts.
Become a TravelSort Client and Book 5-Star Hotels with Virtuoso or Four Seasons Preferred Partner Amenities!