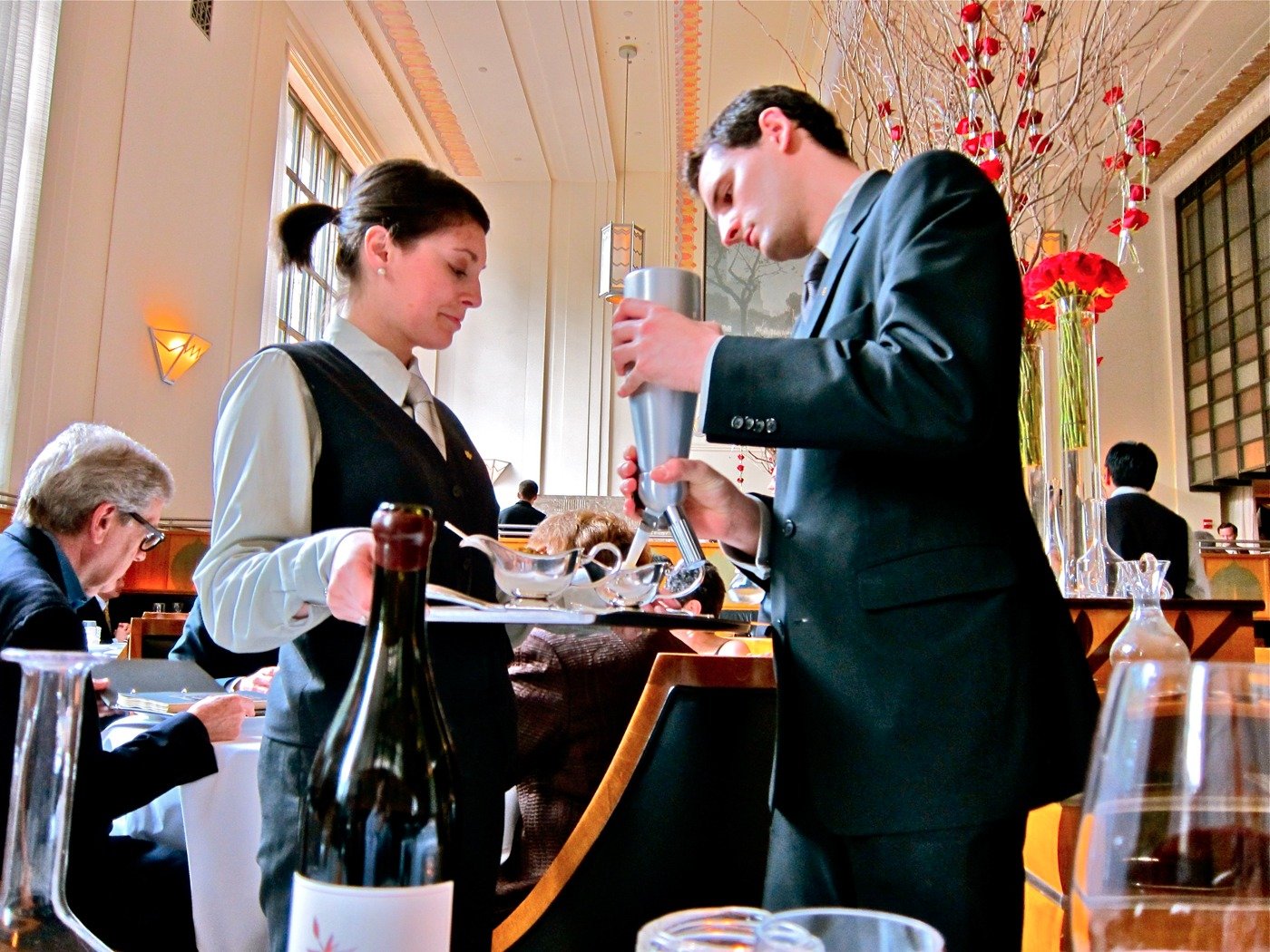 How Much to Tip in NYC? TravelSort reader Louise writes "As an Australian, tipping is not something we're used to, but I do understand that it's expected in the U.S. My family and I will be visiting NYC in a few months, and since you seem to be NYC-based, can you share what kind of tipping is typical and expected for hotels, restaurants, taxis, etc.?"
An article on tipping can be akin to opening Pandora's Box, so let me just state upfront that this post is NOT about whether the U.S. should or shouldn't have its current tipping culture, where employers often pay staff less than minimum wage and staff rely on tips to make their living–that's a discussion for another day–but more narrowly, about tipping guidelines for NYC.
Tipping in NYC Hotels
Hotel Doorman: If the doorman helps you with your luggage, it's typical to tip $1 per bag that s/he helps with. If the doorman helps hail a cab, a $2-3 tip is typical, or a bit more if it's terrible weather or unusually difficult to get a cab.
Hotel Bellhop: Similarly, if the bellhop brings luggage to your room, tip $1 tip per bag, but at least $2-3 even if you have just 1 heavy suitcase.
Hotel Housekeeping: a $2-5 per night tip is very much appreciated–housekeeping is one of the hardest jobs in the hotel. It helps to place it in an envelope marked to housekeeping and put it in a conspicuous place, say on the bedside table, so that your housekeeper knows it's for him or her.
Concierge: Don't feel you need to tip just for obtaining directions or a map to where you're going, or a recommendation. But if the concierge helps you make a dining or show reservation, a tip is appreciated. I'd suggest $5 for a simple restaurant or excursion reservation, but $10 or more for a hard to book table or show.
Room Service: Usually room service orders already include an 18% gratuity and also a delivery charge, but I'd recommend giving the staff delivering your item a couple dollars.
House Car Service: If you're staying at a hotel with complimentary house car service, such as Langham Place New York 5th Avenue (Maserati), Mandarin Oriental New York (Mercedes-Benz S Class), The Peninsula New York (BMW 7 or Mini Cooper S Clubman for Suite guests) or the St. Regis New York (Moonbeam Silver Flying Spur or Bentley Beluga Black Mulsanne) and are able to use the car service, a tip of ~$5-10 is appropriate for a 5-10 minute ride. If you're staying in a suite at The Peninsula New York and have the use of a chauffeured Mini Cooper S Clubman for up to 3 hours a day, then of course a much more generous tip is in order, depending on the duration of your chauffeur service.
Tipping in NYC Restaurants and Bars
Coatroom Attendant: A tip of $1-2 per coat checked is typical.
Restaurant Server: If you received good service that you're happy with, an 18-20% tip is appropriate. If service was mediocre–not good but not bad, tip less–say 15%. If you received poor service, for example long waits for your order, mistakes with your order, poor attitude from your server, only then is it appropriate to tip just 10%.Personally, I can't remember the last time I tipped that little, and only a handful of times in the past year when I tipped 15%. A usual tip amount in a NYC restaurant is about 18%, if all goes well.
And if service was excellent and exceeded expectations, a 22-25% tip is appropriate.
Bartender: A typical tip is $1-2 per drink, or 15-20% of the total bar tab. Note that if you're paying by the round, you'll want to make sure to tip each and every round to be assured of continued and good service.
NYC Taxis
All NYC yellow cabs are required to accept credit cards, and have a card reader machine. I recommend not taking a cab if the driver claims his machine is "broken." You can also leave a tip when paying by credit card, and be aware that often, because of the economics of taxis, this is often the only money the driver actually earns for himself–the actual cab fare goes to the owner of the taxi medallion. An appropriate tip is 20% of the fare.
Tipping at NYC Spas / Nail Salons / Barbers / Hairdressers
A typical tip is 15-20%, depending on how happy you were with the service. Some nail salons or barber shops either don't accept credit cards or tack on a fee for paying by credit card, and the tip for your barber, technician or therapist should be given in cash. If at a hairdresser and a separate staff member shampoos your hair before or after your service, a $2-4 tip is appreciated.
Tipping at NYC Cafes / Coffee Shops with a Tip Jar
While certainly not required, if you liked the way your espresso or cafe drink was prepared it's nice to leave a cash tip in the tip jar.
What are your recommendations for tipping in NYC?
Related Posts
Best NYC Luxury Hotel Rooms for Families
Best of New York: Best NYC Hotels, Restaurants, Things to Do
Best Luxury Hotel House Cars: Rolls-Royce, Bentley, Maserati, Jaguar, Mercedes-Benz
Best NYC Restaurants for Families with Kids
Need Award Booking Help? Our fee is as low as $75 per ticket if you book your hotel through us.
If you enjoyed this, join 200,000+ readers: please follow TravelSort on Twitter or like us on Facebook to be alerted to new posts.
Become a TravelSort Client and Book 5-Star Hotels with Virtuoso or Four Seasons Preferred VIP Amenities!
Photo: djjewelz, Flickr