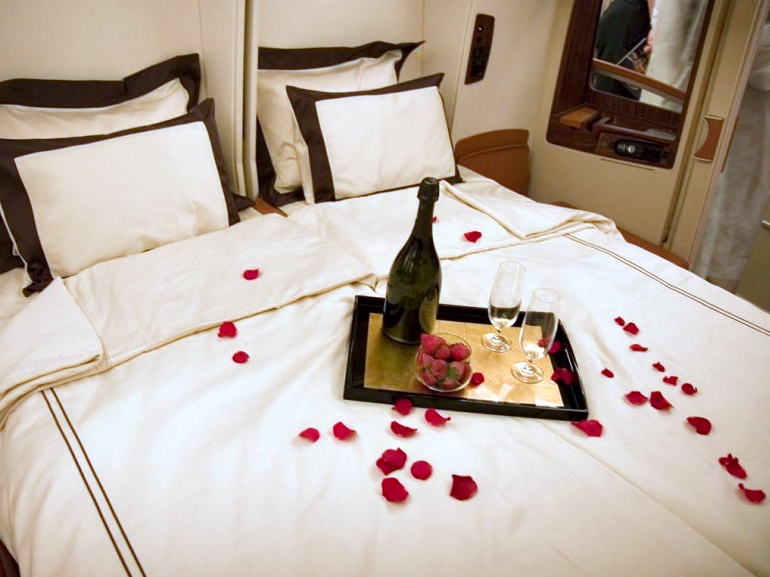 What are the world's best airline first class cabins and experiences? There are so many aspects that go into a great first class airline experience, but the factors that tend to be most important to my clients are seat and bed comfort, privacy, consistently great service, food and drink quality, and lounge quality. While I haven't flown every first class product in the world, these are my top 5 picks, in order, based on the first class products I've flown.
I've given each a score for seat/bed, privacy, service, food/drink, and lounge, and weighted them as follows. Naturally others may have a different weighting and assessment of these factors for each airline, but I figured this explanation of how I evaluated the different first class products would be helpful.
40%: Seat / Bed Comfort
20%: Privacy
20%: Service Quality and Consistency
10%: Food and Drink
10%: First Class Lounge in Airline's Hub City
1. Singapore Suites on the A380: 8.6/10
Seat/Bed: 10/10 Privacy: 9/10 Service: 9/10 Food/Drink: 7/10 Lounge: 5/10
Singapore Suites on the A380 remains my favorite first class product, for the incredible comfort of the bed, thanks to the memory foam-like thick mattress pad, as well as the privacy of the suites, which I find more private, given the higher walls, than Etihad First Apartment on the A380.
Service is also a huge differentiator for Singapore Airlines: on all of my 3 flights it's been consistently great, with the purser personally introducing herself, and each crew member I interacted with pleasant and efficient. Singapore Airlines tends to train their crew longer and more rigorously than other airlines, and it shows. I've even had great service in Singapore Economy Class.
I also love the variety of the Singapore Book the Cook pre-order selections, and champagne lovers will be happy that both Krug and Dom Perignon are offered as choices. I don't rank food higher, however, because I have tended to have more memorable, higher quality meals on Japanese carriers such as JAL and ANA.
Finally, the Singapore Private Room First Class Lounge is the weakest aspect, since it's not a remarkable first class lounge. There's no complimenary massage or spa service offered, nor are there any sleeping rooms such as in the Lufthansa First Class Terminal.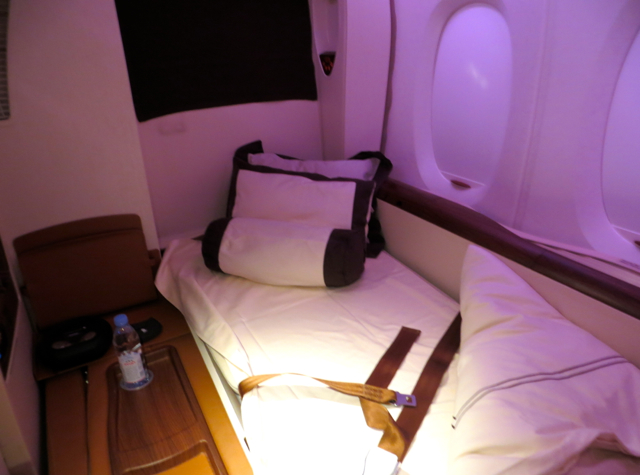 2. JAL First Class: 7.6/10
Seat/Bed: 9/10 Privacy: 6/10 Service: 8/10 Food/Drink: 8/10 Lounge: 4/10
If Singapore Suites is my favorite first class bed, JAL First Class is a very close second, with its airweave mattress and even a choice of a softer or firmer sleep surface. JAL First Class has open suites, so these aren't as private as Singapore Suites, hence the lower privacy rating, but on the other hand, there are just 8 suites in JAL First Class vs. 12 in Singapore Suites, and I find that JAL is less likely to fill its first class cabin, often leading to just half-filled cabin and greater privacy than some other first class cabins with open suites.
JAL's First Class crew has provided excellent service on our flights, willingly allowing us to use one suite as a seat and another open suite as a bed, in cases where there are extra suites available. As with most Asian (non-Singapore Airlines) carriers, service is not usually proactive in style, but as long as you understand the emphasis on privacy and only responding when you request something, it's very good.
I've really enjoyed fantastic Japanese cuisine, as well as the tasting bites I had of my son's Western menu, in JAL First Class.
On paper, the JAL First Class Lounge looks quite good, but my experience the two times I've been there is that it's incredibly crowded, and that you have to get there quite awhile before your flight to have a massage (which is not nearly as relaxing as the ones in the Etihad First Class Lounge Six Senses Spa, let alone the hour long massage in the Thai Airways First Class Lounge Spa) or even take a shower. And the sushi at the sushi bar is really not that great, although I thought the sake on offer was quite good.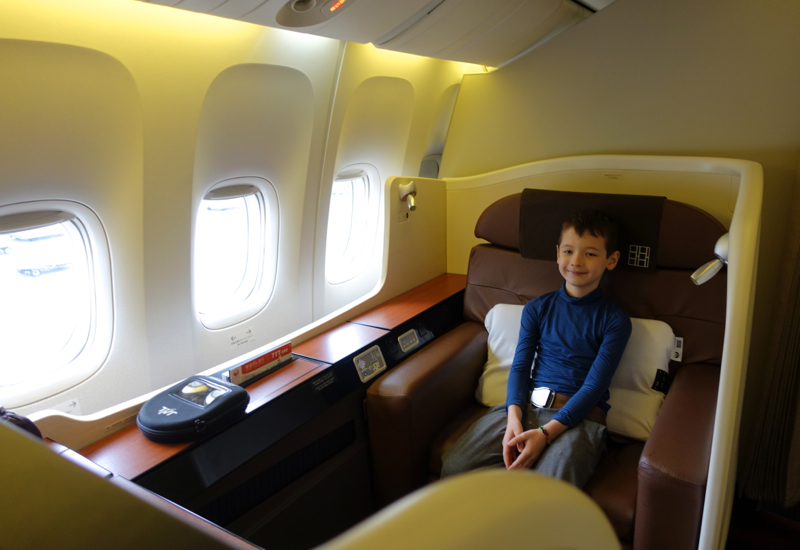 3. Cathay Pacific First Class: 7/10
Seat/Bed: 7/10 Privacy: 7/10 Service: 8/10 Food/Drink: 4/10 Lounge: 8/10
On the one hand, Cathay Pacific First Class has one of, if not my favorite, First Class seat, due to its width. But the bed sleeping surface is simply not that comfortable compared to Singapore Suites, JAL First Class and ANA First Class, due to the mattress pad being quite thin. Even the great width can't wholly compensate for that aspect.
While Cathay Pacific First Class offers open suites, the reason it receives the highest privacy score of the open suite products is that there are just 6 seats in First Class, making the cabin feel more private. This was especially the case on my most recent flight, when I was the sole first class passenger on a flight from Hong Kong to LAX.
Service isn't as consistently good as with Singapore Airlines, but on average matches the quality of JAL and ANA, and I have no complaints.
It's food and drink where, in my view, Cathay really suffers. My favorite thing that Cathay Pacific served was the old caviar presentation, which came with Balik salmon, but that is long gone, and a more simple caviar presentation, without the Balik salmon, is served. I don't find any of the cooked options memorable, and also find that simple things such as the quality of the yogurt and jam has declined over the past few years. And recently, as part of cost cutting measures, Cathay Pacific has eliminated the pre-flight amuse bouche that was previously served.
I do give Cathay Pacific higher marks for its Hong Kong First Class Lounges, The Pier First Class Lounge and The Wing First Class Lounge, than JAL and ANA, in large part thanks to The Pier's complimentary massage service and the cabanas, with soaking tub and day bed, at The Wing.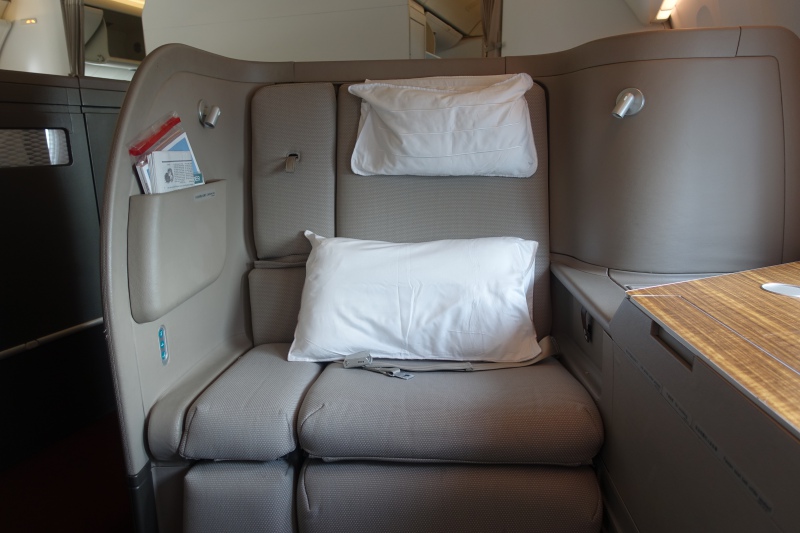 4. ANA First Class: 6.9
Seat/Bed: 8/10 Privacy: 5/10 Service: 8/10 Food/Drink: 7/10 Lounge: 4/10
We enjoyed a great flight recently in ANA First Class. The beds have a quite comfortable foam mattress pad, although it's not as thick as the ones used in JAL First Class or Singapore Suites. As with JAL, there are 8 first class open suites, although my experience and that of my clients is that ANA First Class cabins tend to fly a bit fuller than JAL First Class, so there tends to be a bit less privacy given the fuller cabin.
Service was excellent on my flight, and very attentive to both of us. I enjoyed my Japanese meal about as much as my meal in JAL First Class, but I thought the Western food wasn't quite at the same level of JAL First Class, hence the slightly lower mark.
The weak link from what I've heard (since we have not yet flown ANA from Tokyo) is the ANA First Class Lounge, which doesn't look to be anything special.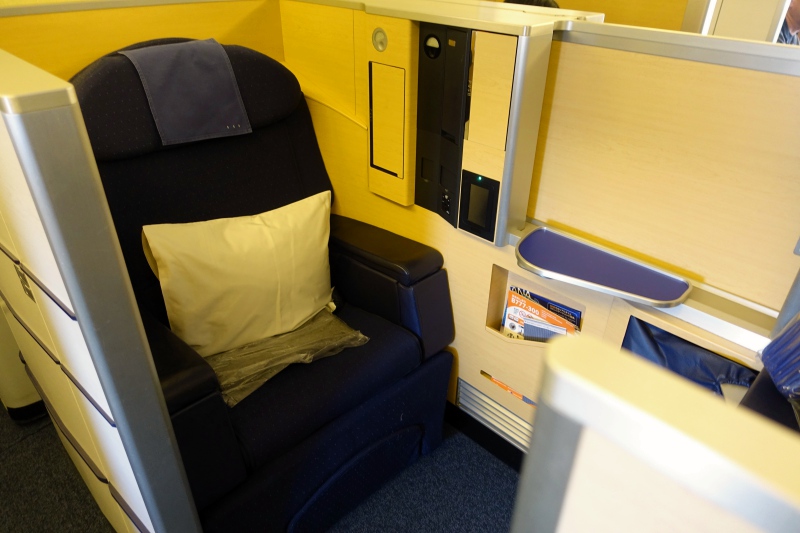 5. Lufthansa First Class: 6.1
Seat/Bed: 5/10 Privacy: 5/10 Service: 8/10 Food/Drink: 7/10 Lounge: 9/10
Lufthansa's First Class seat/bed is a ways behind the above first class seats, because it has a thin mattress pad that doesn't compare well to ANA, let alone JAL and Singapore Suites, and it's also several inches narrower than Cathay Pacific, which doesn't have a good mattress pad but at least is a wider seat. There are 8 first class seats, and it's an open suite design, so not particularly private.
Service on my most recent Lufthansa First Class flight was excellent, as good as the non-Singapore Asian carriers. And food was good, if not that memorable.
Where Lufthansa First Class really shines, however, is its ground service in Frankfurt, namely the First Class Terminal. This was a model of German efficiency, with my being escorted quickly through the dedicated security screening (which eliminates any further screening upon departing the terminal) and an associate noting that he would come find me when it was time depart the terminal. There was no problem gaining access to one of the two sleep rooms, which are blissfully completely dark. And there was a touch of whimsy too: the shower room had a soaking tub, which came with several Lufthansa First Class rubber duckies 🙂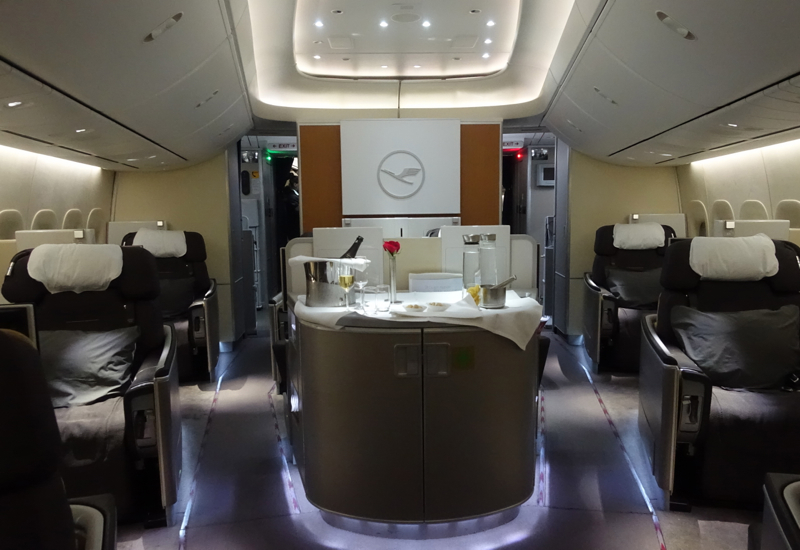 6. Etihad First Apartment on the A380: 6.1 (Tied with Lufthansa First Class)
Seat/Bed: 5/10 Privacy: 8/10 Service: 6/10 Food/Drink: 5/10 Lounge: 8/10
I realize placing Etihad First Apartment so far down this list will be surprising to some readers. And on paper and in photos the Etihad First Apartment looks amazing, particularly the much larger footprint vs. other first class products. But the reality, as my husband's
Etihad First Apartment Review
indicates, is somewhat different. The seat does not actually recline that far, so there's no deeply reclined lounging position available at all. And the bed, for both of us, is far too hard to get any good quality sleep–even when we take sleep aids. The inability to get great sleep on a 12 hour or longer flight is a deal breaker for us.
Privacy, of course, is good, since Etihad First Apartment offers closing suite doors. But it's not as private as Singapore Suites, given how low the walls are. Every time I stood up, I had a view of neighboring apartments.
There is of course a shower, which is a fantastic amenity–if it's working. On one of my flights it stopped working midway through the flight, so I wasn't able to take a scheduled shower. The shower room is also small compared to
Emirates First Class on the A380
, which has a wonderfully large shower room (although the rest of the Emirates First Class experience isn't good enough, in my view, to even make the Top 6).
Etihad is let down by service consistency. Don't get me wrong, I've experienced fantastic service when it was one of the Etihad Butlers who normally service The Residence, but was helping with Etihad First Apartments. But on our most recent flight from Abu Dhabi to NYC in November, the crew really wasn't prompt in responding to our requests, and when reminded some 20 minutes later, seemed annoyed at the reminder instead of apologetic.
If service inconsistency is one problem, the food and drink quality is another. We had some close to inedible fare on the same flight, and the food was significantly worse than on prior flights–and this on a flight departing its hub, Abu Dhabi.
The
new Etihad First Class Lounge
is a bright spot, at least as of our November 2016 visit. Food was much better than on our flight, I had a great Six Senses massage, and the staff allowed us to put a portable inflatable bed in the relaxation area for our son, so he could get some sleep in the wee hours of the morning before our flight departed. I was also impressed by the well equipped fitness room, even though unsurprsingly, at 2am, no one was using it.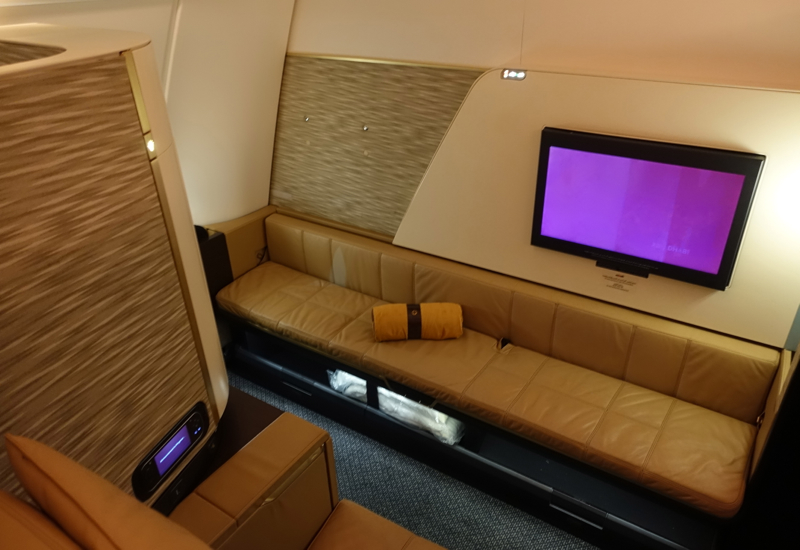 What are your favorite airline first class experiences, and why?
Related Posts
Best First Class Airline Seats for Couples
Best Airline First Class Lounges to Access When Connecting to Business Class
JAL Awards Now Bookable with Alaska Miles
Cathay Pacific First Class: 6 Things I Love and 2 That I Don't
Need Award Booking Help? Our fee is as low as $75 per ticket if you book your hotel or cruise with us.
If you enjoyed this, join 200,000+ readers: please follow TravelSort on Twitter or like us on Facebook to be alerted to new posts.
Become a TravelSort Client and Book luxury hotels with Virtuoso or Four Seasons Preferred Partner Benefits!