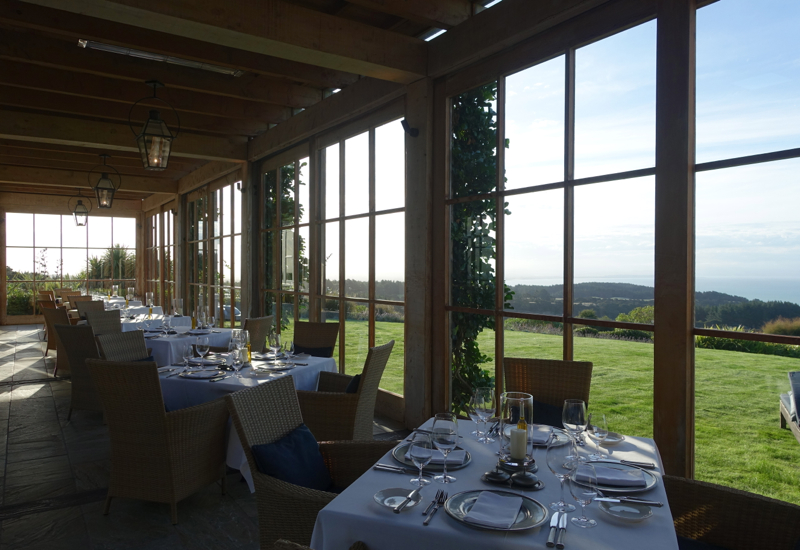 This Review of The Farm at Cape Kidnappers Restaurant and Dining in Hawke's Bay, New Zealand, is from our recent 10th wedding anniversary stay at this gorgeous property. For all our articles on New Zealand luxury lodges and fine dining, please see our posts tagged New Zealand.
The Farm at Cape Kidnappers Restaurant and Dining Overview
The Farm at Cape Kidnappers, similar to its sister properties Matakauri Lodge and Kauri Cliffs, is a Relais & Chateaux property, and the level of cuisine reflects this. As at most New Zealand luxury lodges, pre-dinner drinks, dinner and breakfast are included in the nightly rate.
The Head Chef at The Farm at Cape Kidnappers is James Honore, who started out at Park Hyatt Sydney before joining Kauri Cliffs, helping to open The Farm at Cape Kidnappers, and after another stint at Kauri Cliffs, under the mentorship of Executive Chef Dale Gartland, becoming Head Chef at The Farm at Cape Kidnappers.
While breakfast is very low key, with both a cold buffet and a la carte hot items, dinner is somewhat dressier, with men asked to don a jacket (jackets are on loan in case you didn't pack one). They didn't force our son to wear one, but he decided to dress up to match his dad 🙂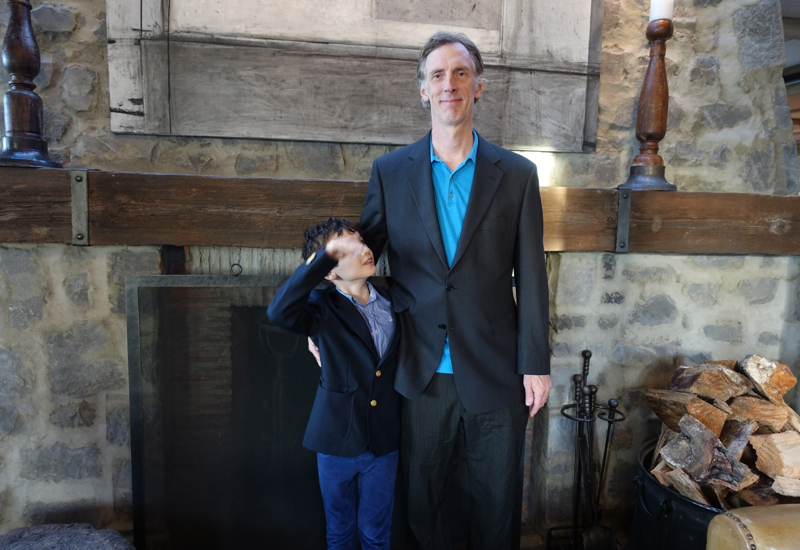 Pre-dinner drinks are served starting at 6pm, in one of the handsome rooms of the main lodge building.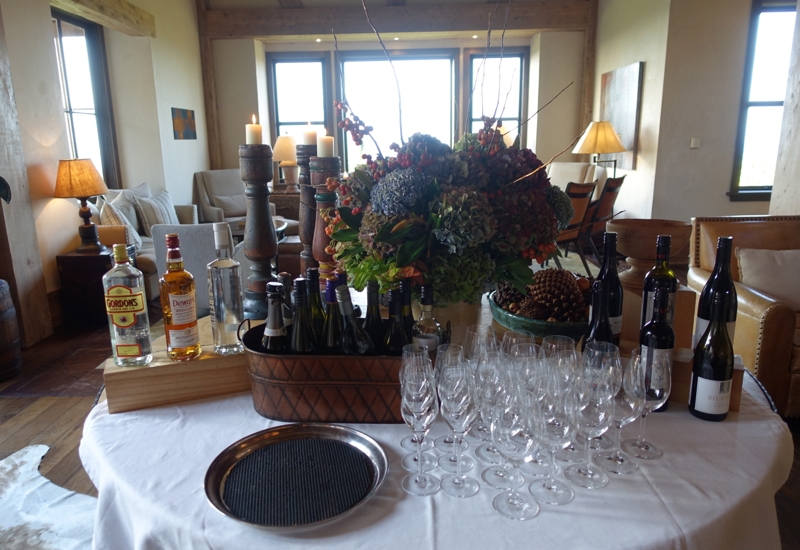 Canapes are also served, and were a tasty accompaniment to our drinks, plus a good way to tide our son over until dinner.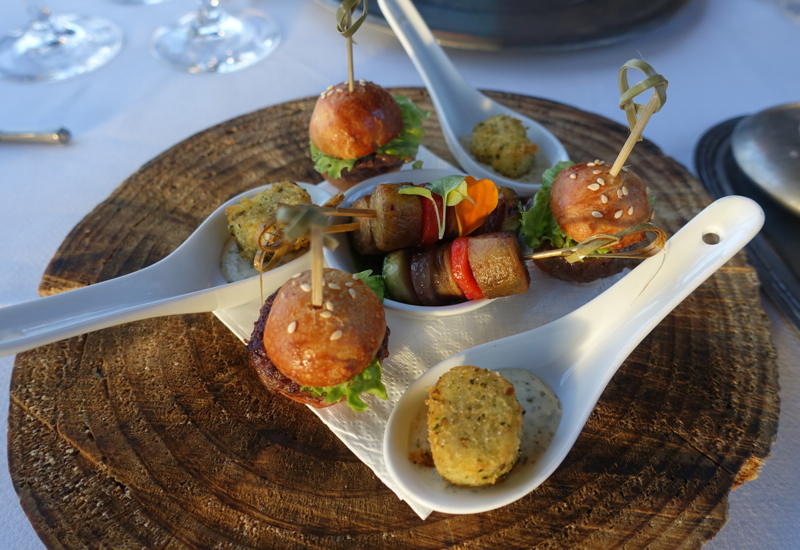 The Farm at Cape Kidnappers Dinner Menus and Dining
Given that there are just 22 guest suites, it's impressive that three gourmet starters and three main dish choices, not to mention children's menu items are offered each evening, and the menu always changes each day. The menu is driven by what is at its peak of freshness, and items marked in bold font on the menu are sourced from the lodge's own vegetable garden (as well as hens, providing fresh eggs).
Here are the dinner appetizer menus on our two nights: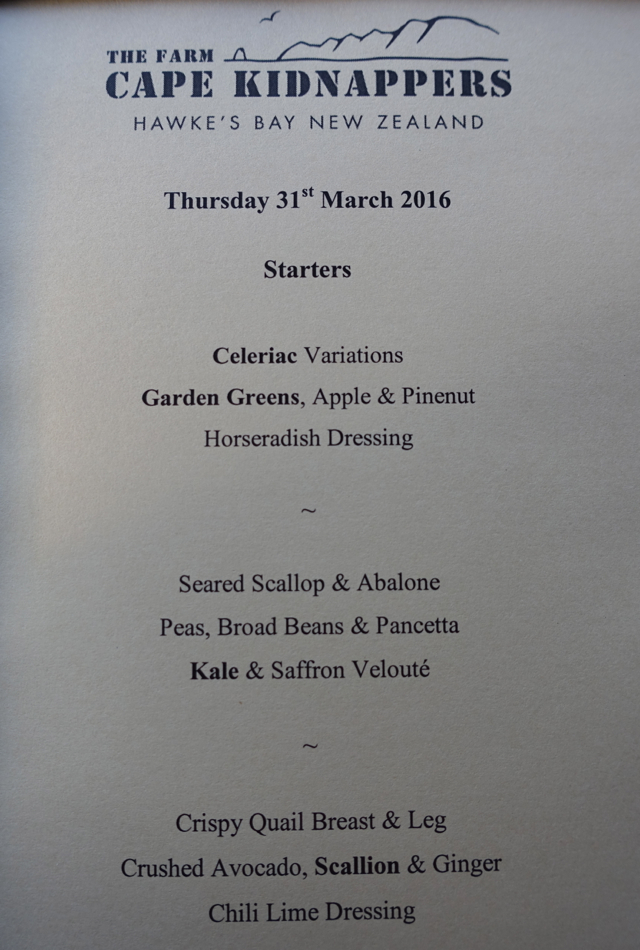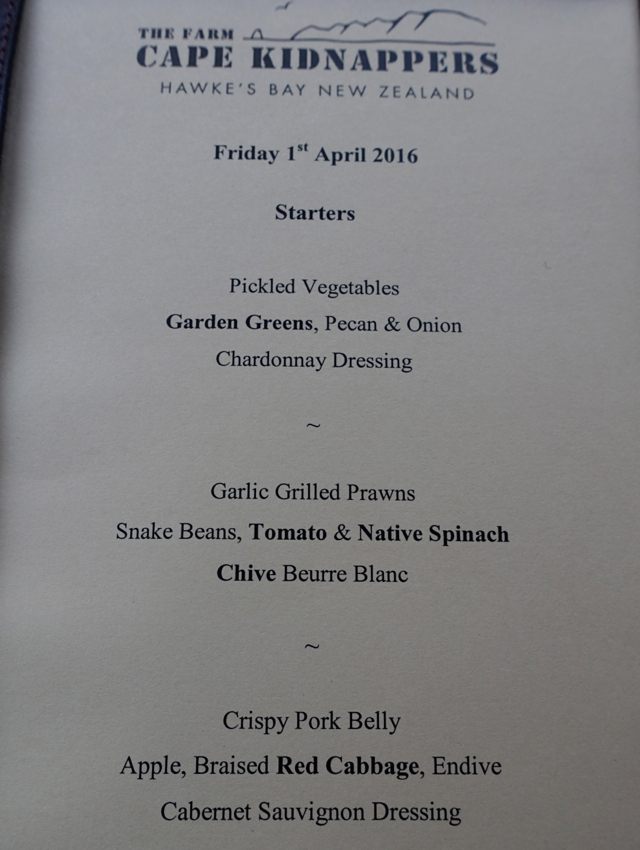 And the dinner menu choices for main dishes, for our two nights: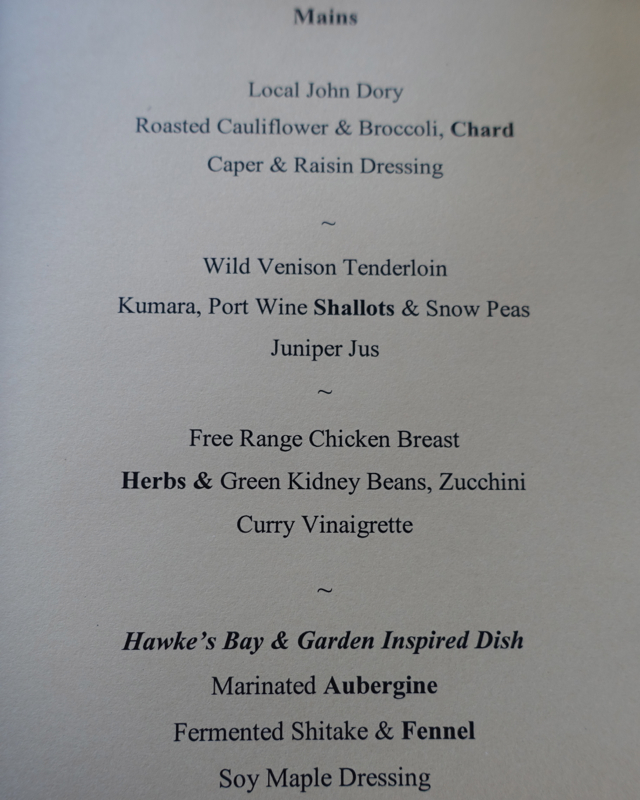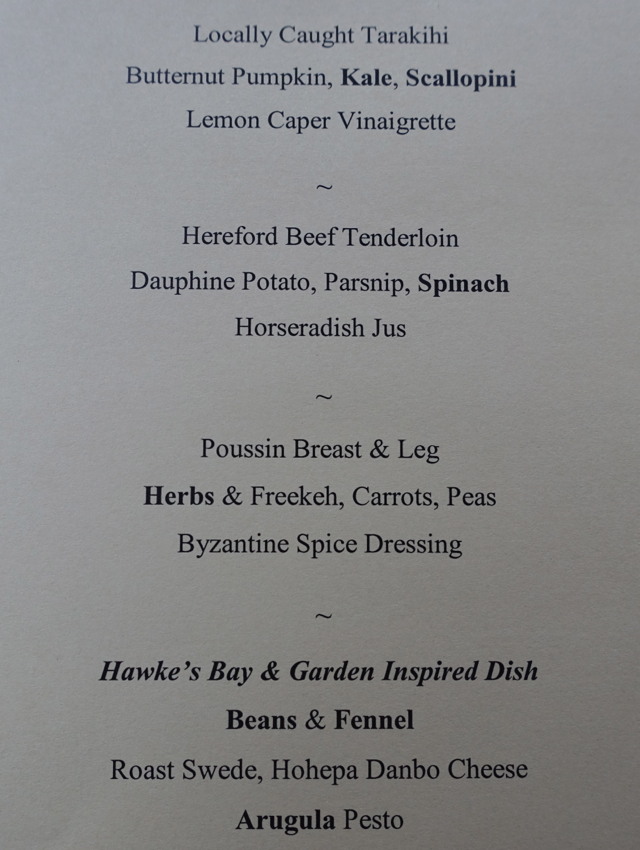 Dinner starts with an amuse bouche, which on our first evening was a delicious pumpkin soup, garnished with toasted pumpkin seeds (note that our late March visit meant it was autumn in New Zealand, since the Southern Hemisphere is opposite to the U.S. in terms of seasons):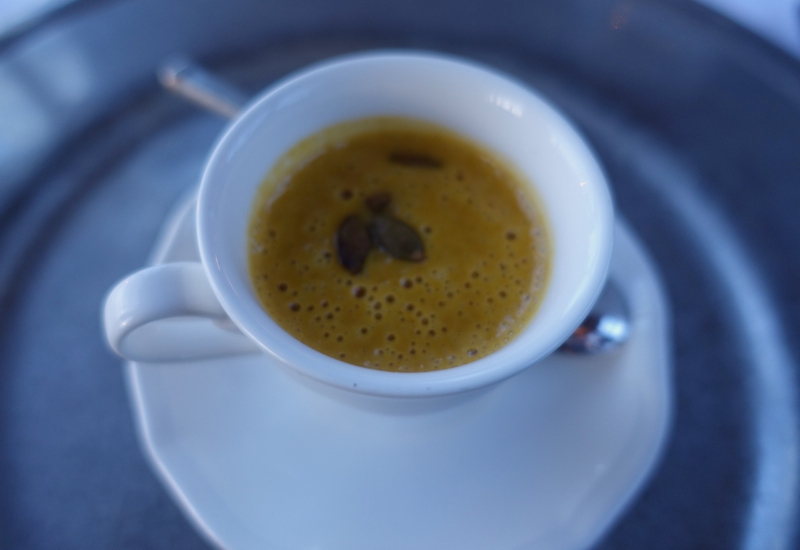 Our second night the amuse bouche was pickled vegetables; a bit too acidic for our son, but I ate his: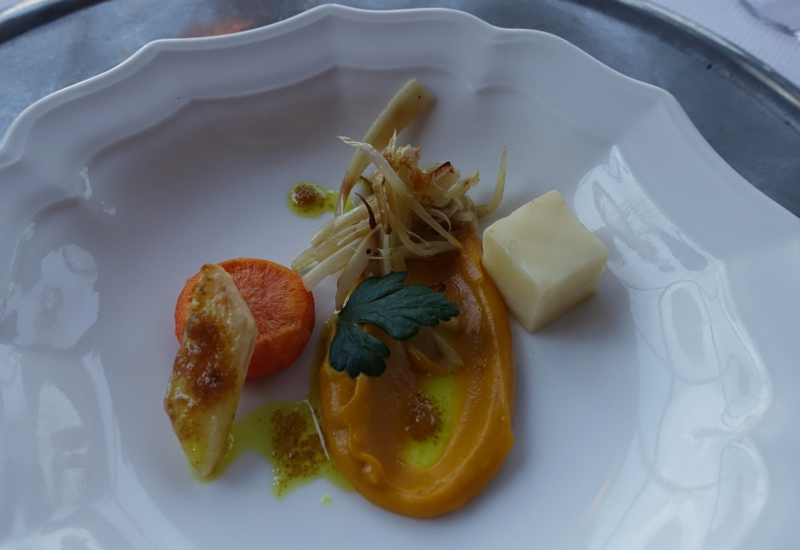 On our first evening we were all quite hungry from our day of traveling, so my husband started with the Seared Scallop & Abalone, with pancetta, kale from the lodge's garden, and saffron veloute. I tried a bite and the combination of the flavors was delicious–perfectly seared scallop, crispy on the outside, but tender inside, with a nice savory and crispy kick from the pancetta and silky saffron sauce.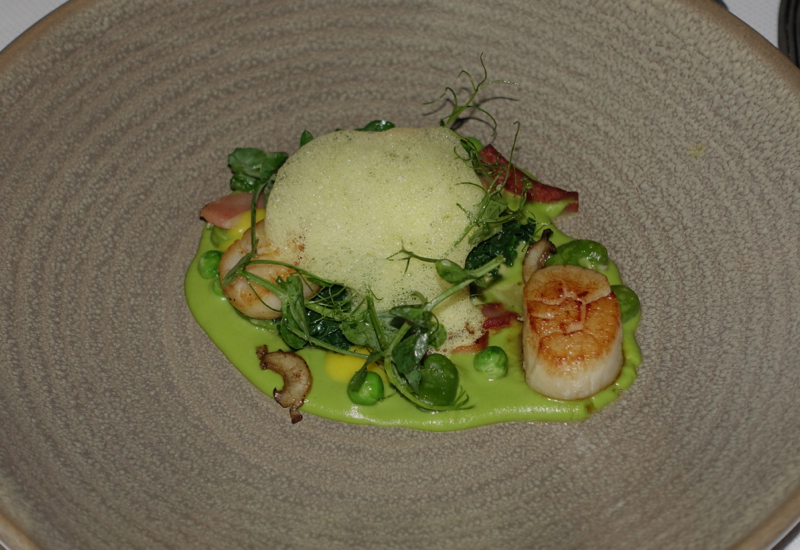 Fortunately I was just as happy with my own appetizer of Crispy Quail with crushed avocado, scallion from the lodge's garden, and a zippy chili lime dressing. Quail is not all that common on menus, so when I see it I order it, and this was a fantastic rendition.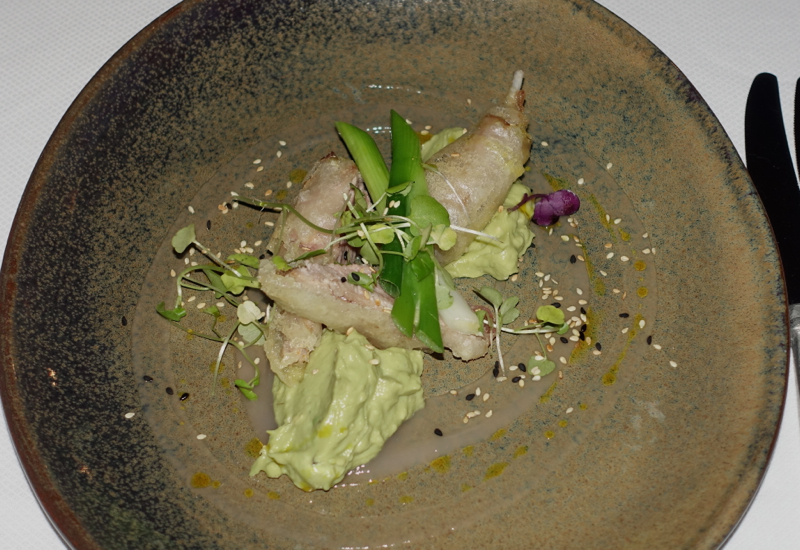 Our son, meanwhile, was busy consuming his burger from the kids' menu. Nothing fancy, but well prepared and it kept him happy.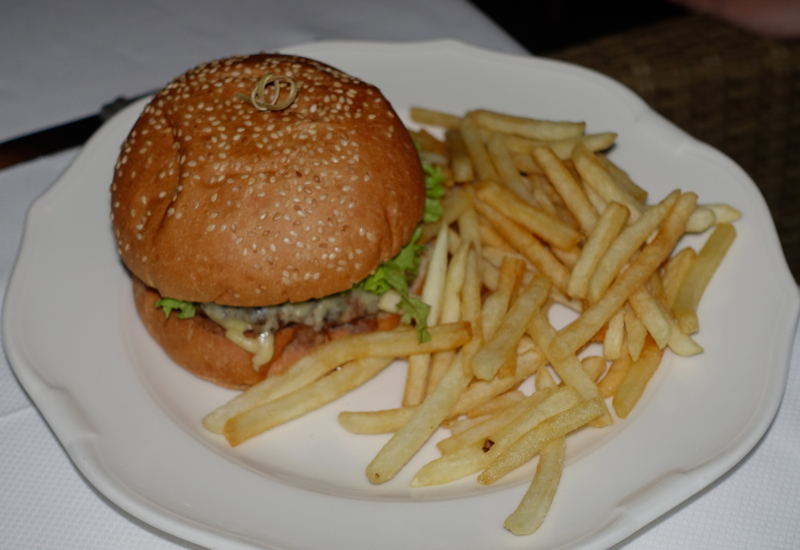 For mains, my husband and I decided to order one main dish and one appetizer and to share them. The Wild Venison Tenderloin was deliciously accompanied by a juniper jus and kumara, a local sweet potato that is a staple Maori food.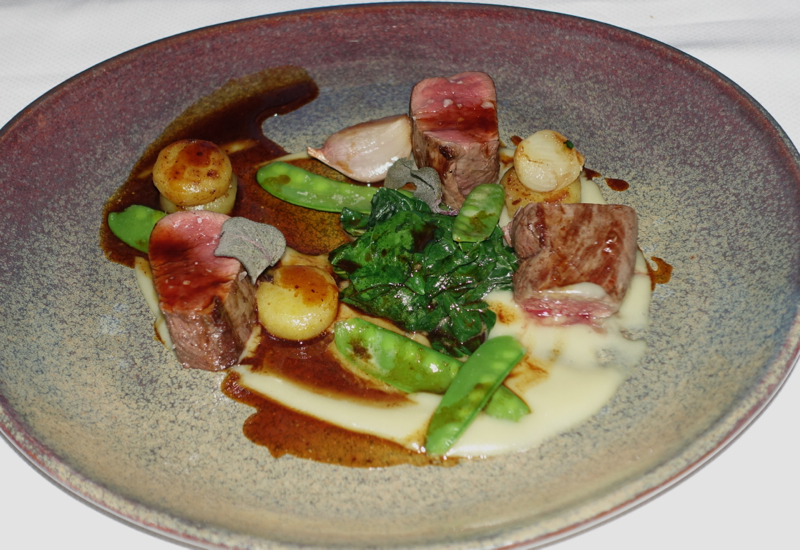 And the Celeriac Variations starter offered a playful take on celeriac, again sourced from the lodge's garden, with savory celeriac puree, pickled celeriac, and celeriac crisps, with fresh garden greens, apple, pinenuts, and horseradish dressing providing additional taste and textural contrast.
On our second evening, my husband started his dinner with the Crispy Pork Belly, with braised red cabbage and slightly bitter endive providing a welcome foil to the pork's crispy skin and richness.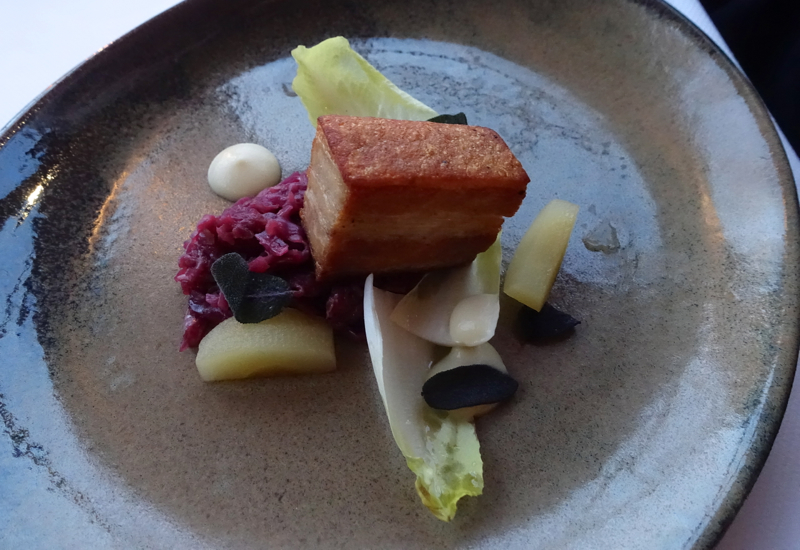 I couldn't have been happier with my Garlic Grilled Prawns, nestled among the lodge garden's tomatoes and local spinach, and finished with a chive beurre blanc.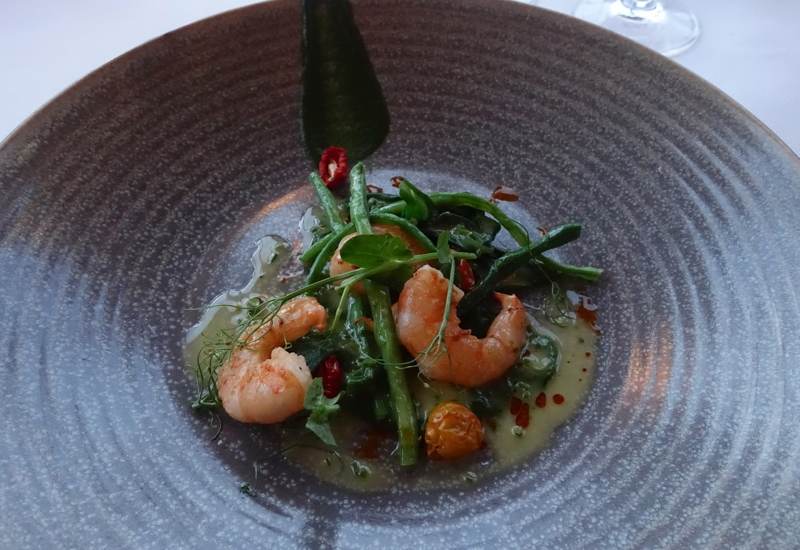 We wanted to save room to try the cheese plate and dessert, so we shared a main of locally caught Tarakihi (a mild white fish), with a bright lemon caper vinaigrette, as well as butternut squash and kale from the garden.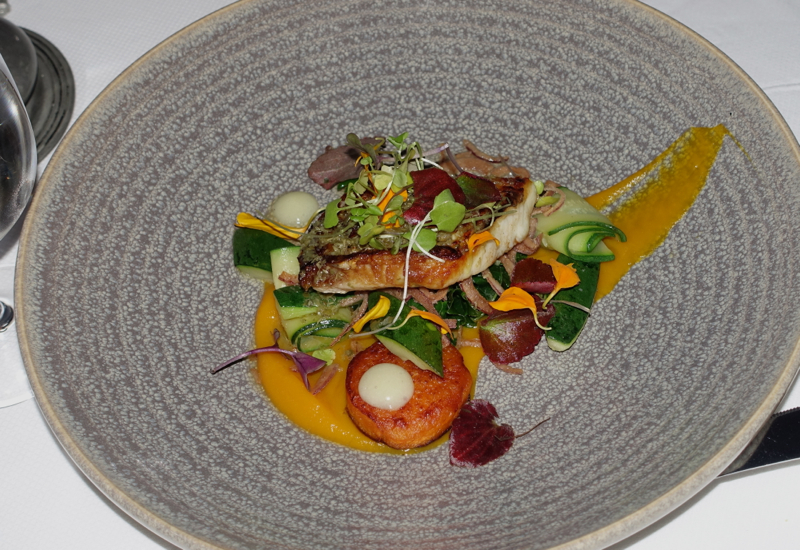 Meanwhile, our son enjoyed his spaghetti with meat sauce from the Kids' Menu: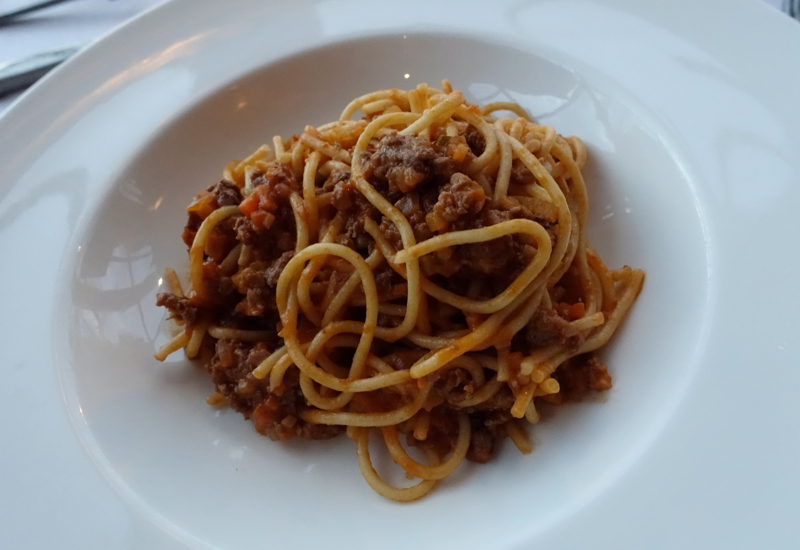 We sampled a cheese plate our second evening, and while good, I thought it would have been nice to have a triple creme or other very creamy cheese, as the Waimata Ash Brie was somewhat aged and not as creamy as a younger brie would have been.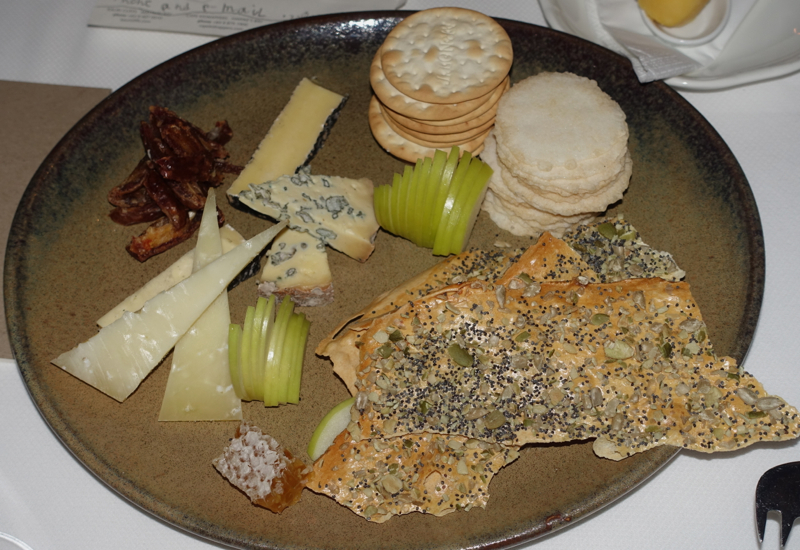 Of the two desserts we sampled our two nights, I preferred the flourless chocolate cake to the hazelnut cake, although overall we liked the homemade ice creams that accompanied them and the passionfruit sorbet even better.
We didn't stay for mignardises our first evening, but our second evening we did, and the chocolate caramel bark was especially good.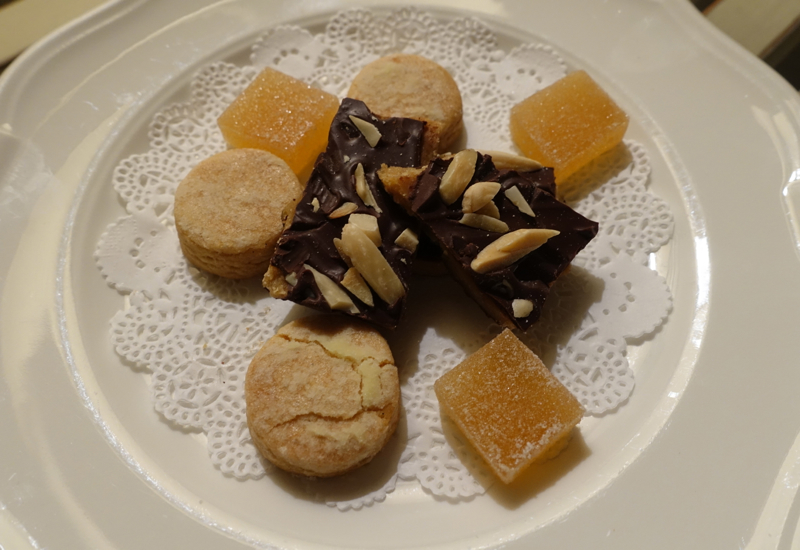 Breakfast at The Farm at Cape Kidnappers
Breakfast is served 7am-10:30am. There's a wonderfully presented small but well curated cold breakfast buffet that includes cereals, yogurts, smoked salmon, fruits, pastries (even a gluten-free variety) and juices, including fresh squeezed orange juice.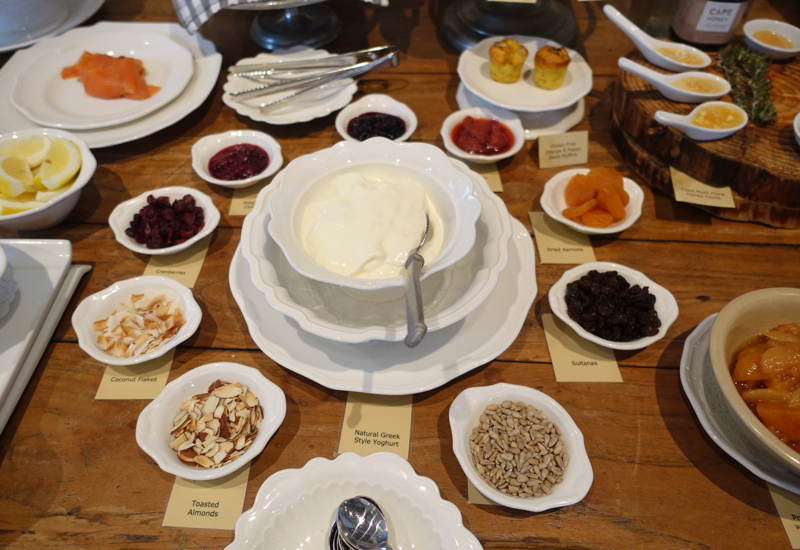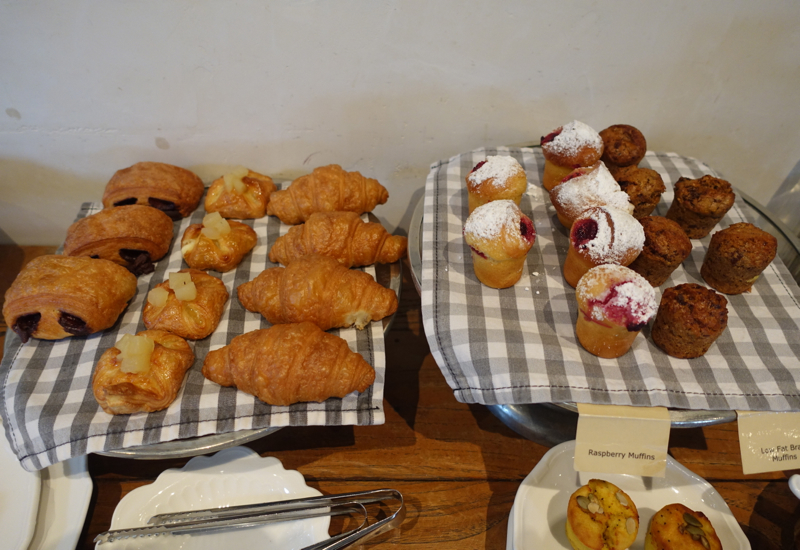 There's also a menu of cooked to order eggs, porridge, pancakes and french toast: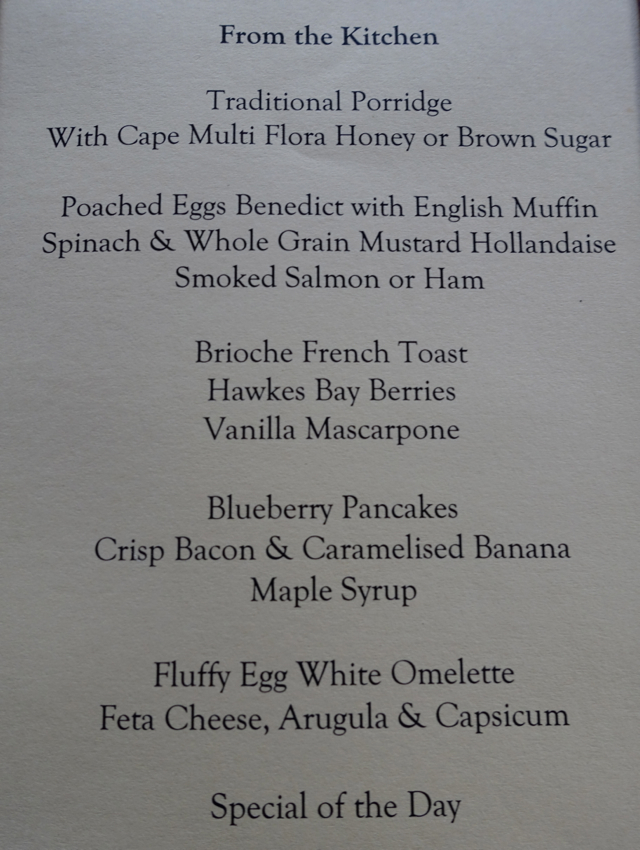 From the cold buffet, my favorite was a bowl of yogurt with berry compote, topped with fantastic homemade granola: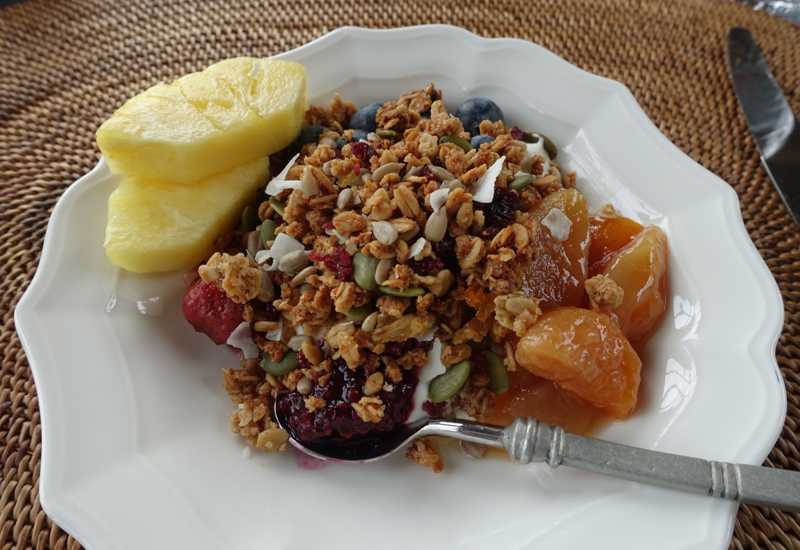 And from the hot made to order items, everything we tried was scrumptious, from the picture perfect omelet: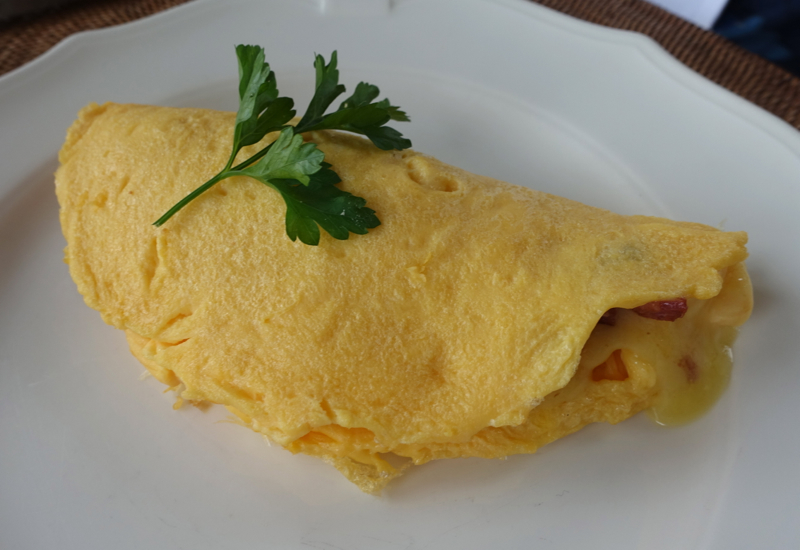 To the ethereal brioche french toast with local berries: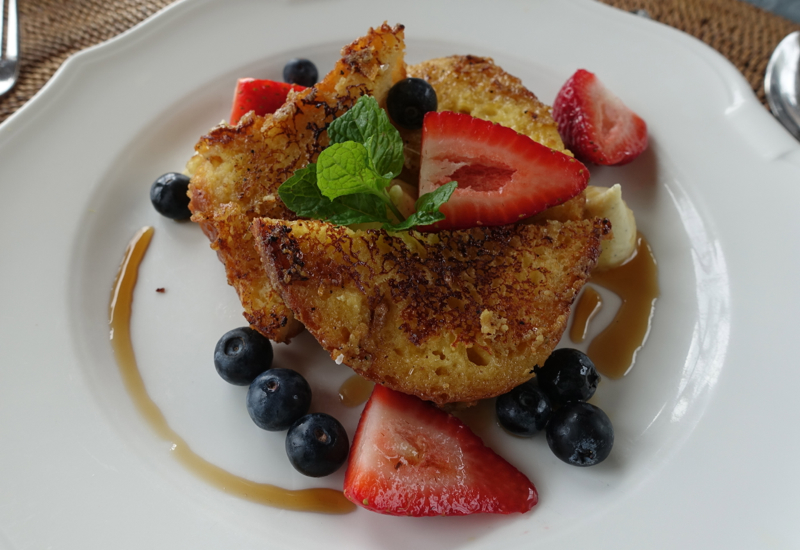 To my personal favorite, the blueberry pancakes with crispy bacon, all topped with caramelized banana and pure maple syrup–best pancakes in recent memory!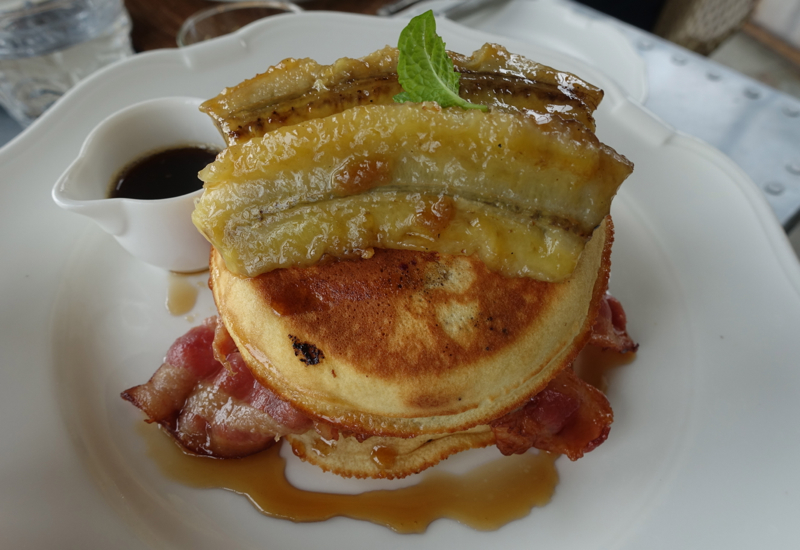 The Verdict
If you're a foodie, in addition to our other favorite New Zealand luxury lodge, Otahuna, you really should make sure you spend a few nights at The Farm at Cape Kidnappers. We enjoyed the dinners just as much as at sister property Matakauri, and I give The Farm at Cape Kidnappers an edge on the culinary front thanks to those amazing pancakes at breakfast and warmer service. Don't get me wrong, Matakauri's service was also great, but the young staff seemed sometimes a little too focused on being professional rather than being warm.
If I had to nitpick, I thought the desserts weren't at the same level as the rest of the meal in terms of taste. They were artfully presented, but in my view the pastry kitchen's strengths lie more with the homemade ice creams and sorbets, the delicious homemade granola and the yummy chocolate chip cookies and brownies that are thoughtfully supplied in each suite, rather than in the formal dinner desserts. If I had to do over again, I would focus on the sublime starters and mains, and not save room for dessert.
Related Posts
Review: The Farm at Cape Kidnappers, Hawke's Bay, New Zealand
Elephant Hill Winery Restaurant Review, Hawke's Bay New Zealand
Review: Matakauri Lodge, Queenstown, New Zealand
Best New Zealand Luxury Lodges
Review: Otahuna Lodge, Christchurch, New Zealand
Disclosure: I was hosted and received two complimentary nights, inclusive of daily breakfast and dinner. The opinions expressed in this post are mine.
Need Award Booking Help? Our fee is as low as $75 per ticket if you book your hotel through us.
If you enjoyed this, join 200,000+ readers: please follow TravelSort on Twitter or like us on Facebook to be alerted to new posts.
Become a TravelSort Client and Book The Farm at Cape Kidnappers with Virtuoso Amenities!