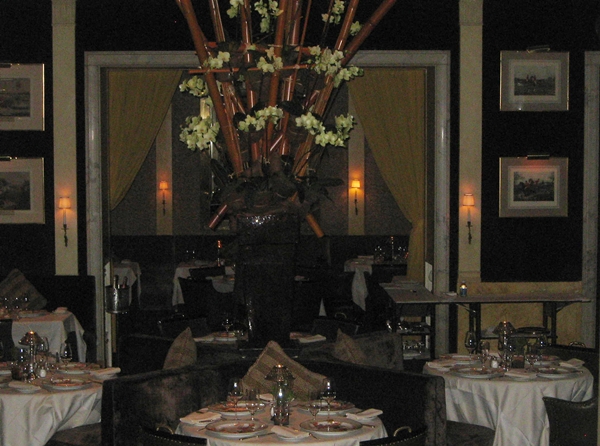 The Carlyle Restaurant is the third of several reviews of restaurants that we recommended booking in our NYC Restaurant Week Summer 2011: Where to Go post. Previously we reviewed Quality Meats, in Midtown West and Tom Colicchio's Riverpark, by the East River.
A landmark grand dame of the Upper East Side, the Carlyle has hosted its fair share of presidents, film stars and celebrities. John F. Kennedy and Marilyn Monroe trysted here, and Tom Cruise and Katie Holmes treated their daughter Suri to a tea party.
The Carlyle Restaurant is the hotel's formal dining room, traditionally appointed in the style of an English manor house and serving decadent French and American classics such as Lobster Thermidor, Tournedos Rossini and Zinfandel Braised Short Rib at equally rich prices. The restaurant is definitely one of the highest priced restaurants to participate in Restaurant Week, and perhaps because of this (or perhaps due to the restaurant saving peak dinner hour tables for its moneyed regulars and hotel guests), I was only able to secure a 6pm reservation on a Thursday, even having reserved before Restaurant Week reservations officially started. We also managed to get flummoxed by having entered through the Carlyle's side door on Madison Avenue, instead of the main entrance, causing me to be a few minutes late. No matter–there was only one elderly couple of ladies actually seated in the dining room when we arrived, although over the next hour and a half the room did start to fill up. The Maitre D' politely showed me to a plush banquette, with an excellent view of a commanding 6 foot tall orchid floral arrangement.
The Captain provided both the regular menu and the Restaurant Week Menu, as well as a Wine List. Although there were a couple of Restaurant Week wines, we opted for a half bottle of chilled 2005 Riesling, in a nod to the 100 degree sweltering New York heat outside. A server brought a basket of bread with butter, which was good, but not on par with, say, restaurants such as Eleven Madison, where there are a few more bread varieties and butter options include both cows milk and sheeps milk.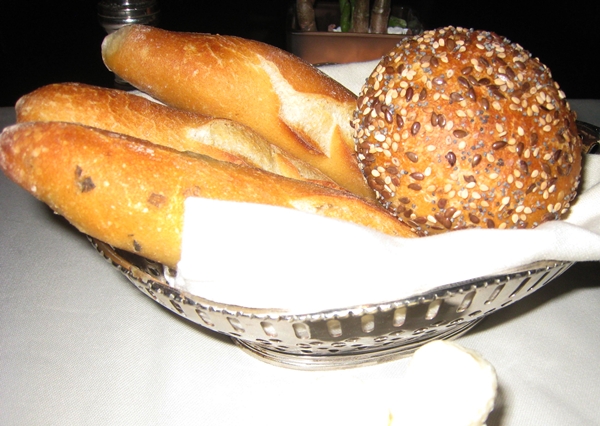 Perhaps unsurprisingly, given that entrees on the regular menu are $29-$55, the 3-course Restaurant Week menu was completely separate, with choices not on the regular menu. This is a pet peeve of many foodies, and I understand why–if the idea is to sample a new restaurant, with a view towards potentially returning, it's hard to get a proper feel for the restaurant from a menu that doesn't have a single regular menu item on it. Mostly, it's surprising to me that a restaurant would not want to showcase at least some of its signature dishes in order to hook new customers. Obviously it's harder for the most expensive restaurants, since they have higher overhead costs to begin with, and their top dishes can contain very expensive ingredients, but there should still be a way of providing a smaller portion or including those dishes as appetizer choices.
In any case, here's what we ordered: for appetizers, Chilled Pea Soup with Mint Cream for me, and Heirloom Tomato & Parmesan Cheese Napoleon for him. The Heirloom Tomato & Parmesan was straightforward and fresh, and the basil oil a nice touch.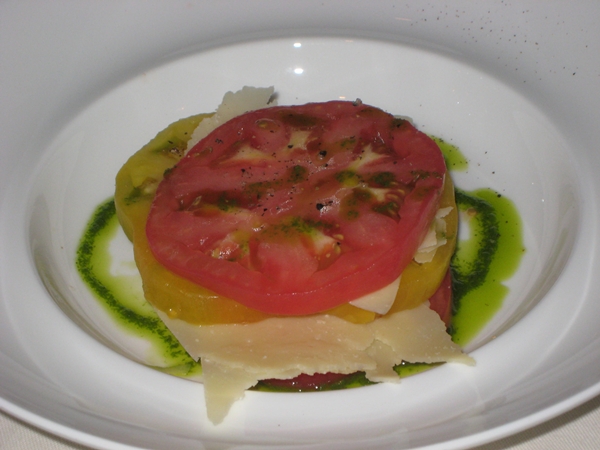 The Chilled Pea Soup was naturally sweet from the peas, but in my view it would have been better if pureed more smoothly, to a velvety consistency, and if the mint cream had had more fresh mint flavor. Nevertheless, it was very good, and my husband preferred it.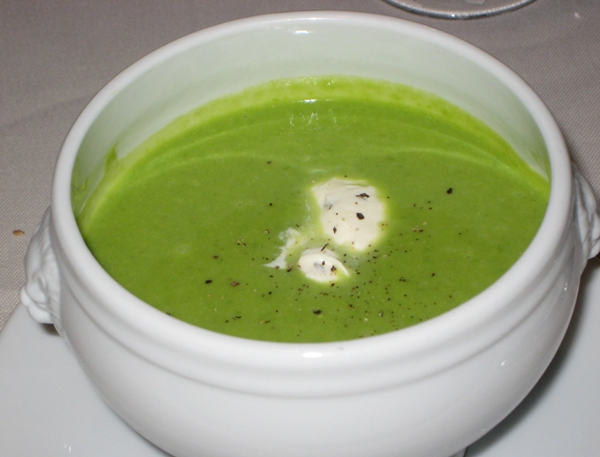 For entrees, my husband chose the Soft Shell Crab Tempura with Arugula. Although utterly plain, with no sauce for the crab, this turned out to be fine as the crabs were pristinely fresh and perfectly fried. Not as light as the best Japanese tempura, of course, but excellent nonetheless.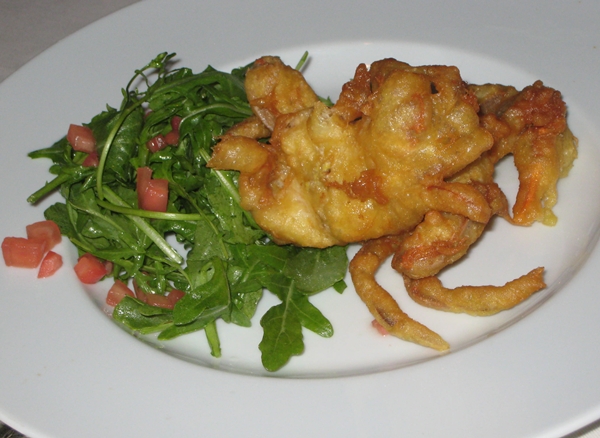 Notwithstanding the undercooked hangar steak I had at Quality Meats, I decided to try again, asking for the Seared Hangar Steak to be cooked more towards medium, and this time was not disappointed. The cut seemed more tender as well, although it could be the way it was cut. While I enjoyed Quality Meat's cherry brandy sauce a bit more, the simpler demi glace sauce the Carlyle's steak came with was well reduced and flavorful.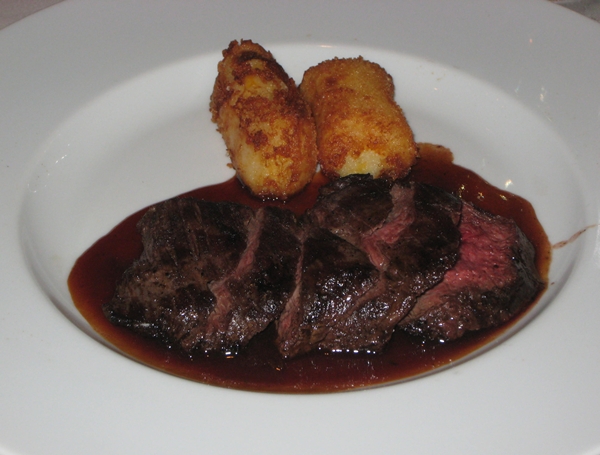 After finishing our entrees, one of the busboys came and neatly swept the table of all breadcrumbs. For dessert, we both ordered the apricot tart; the other choice was creme brulee, but neither of us are big fans of it. I'm going to sound spoiled for saying this, but I have yet to eat a Restaurant Week dessert that I was completely wowed by. And I suppose I was expecting a bit more from the Carlyle, because they must have dedicated pastry chefs. Don't get me wrong, the tart was good, but no better than what one could get in business or even first class on an airplane. And no doubt I've offended some readers who are frequent flyers and will now point out amazing desserts they've had in first class on Swiss or Singapore Airlines, but these still don't compare to the best desserts at top NYC restaurants–unfortunately, these are either not served during Restaurant Week or not served at these restaurants at all.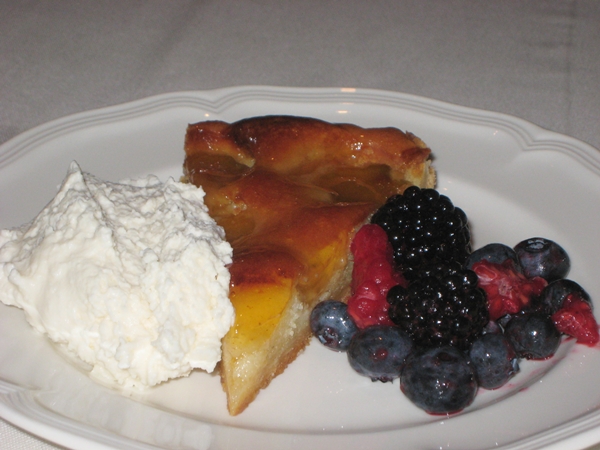 The final verdict: Great to experience for a taste of elegant, moneyed New York and superb service (although in my view, Per Se, Eleven Madison, etc. are in a class by themselves). Entrees were the strongest aspect of the meal, even though neither the hangar steak nor the soft shell crab are on the regular menu. I doubt we'll be regulars, however–it's a very formal place, to the extent of having a separate gratuity line for the Captain, not just the server. I've still no idea whether I tipped the correct amount, and it would be easiest in my view to just keep the single gratuity line and have the restaurant apportion the gratuity between the regular servers and the Captain. We were also among the youngest diners, although that didn't bother us. It was also refreshing to be able to hold a conversation in a more peaceful, relaxed environment than in hipper, but much louder and less romantic, NYC restaurants.
Food: 4/5
Service: 4.5/5
Ambience: 4.5/5
If you enjoyed this, please follow TravelSort on Twitter, like us on Facebook or become a Member to be alerted to new posts.