This review of The Buffet at the Bellagio is part of a Las Vegas trip report for Virtuoso Travel Week. For the prior post please see:
Bellagio Las Vegas Hotel Review: Virtuoso Benefits and Hyatt Points
The Buffet at the Bellagio would normally not be my first pick for breakfast in Las Vegas, but I figured it was time to put the cliche of Las Vegas buffets to the test. Plus, by booking The Bellagio with Virtuoso, I had a breakfast voucher for $20, and this covered much of the $28.99 weekend brunch buffet price.
To get to the The Buffet Bellagio from the main lobby you walk along the left hand side of the casino. Alternatively, and this is what I'd do next time, you could first walk through the pool area to the entrance/exit on the northern side, then walk towards The Buffet from there–that would minimize the amount of time you have to walk through the casino.
There's are separate lanes for regular guests and M Life Members, although I was there so early that there was just one lane open, and 2 cashiers whom you paid before entering. I presented my $20 breakfast voucher and was able to pay the remaining $8.99 + tax and gratuity balance by credit card.
One of the hosts showed me to a table. My first impression was of a college dining hall, although to be fair, the seating was a bit nicer than that. And there was drink service to the table, with my server bringing me orange juice and water, and asking if I'd like coffee or tea. Note that while juice and coffee or tea is included, espresso drinks and of course alcohol are extra.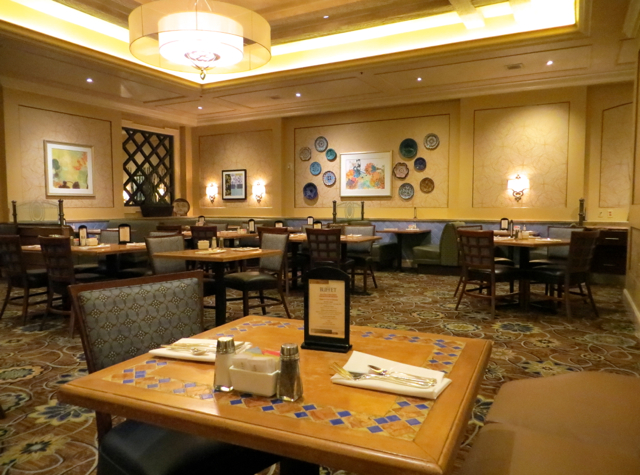 Some of the various buffet stations were still being set up, since I was there within the first half hour of it opening. There were the usual cheese, breakfast meat and egg dish stations: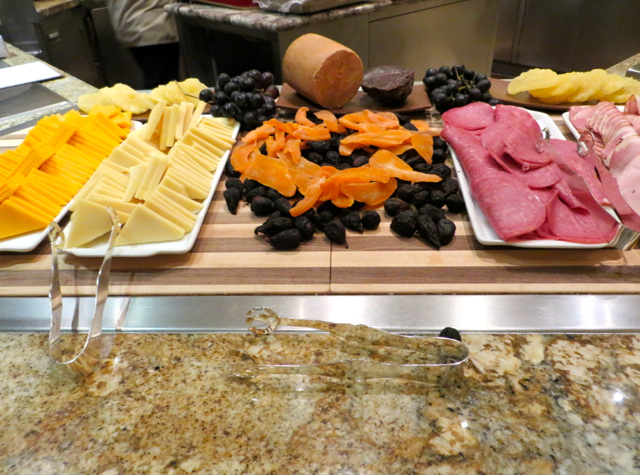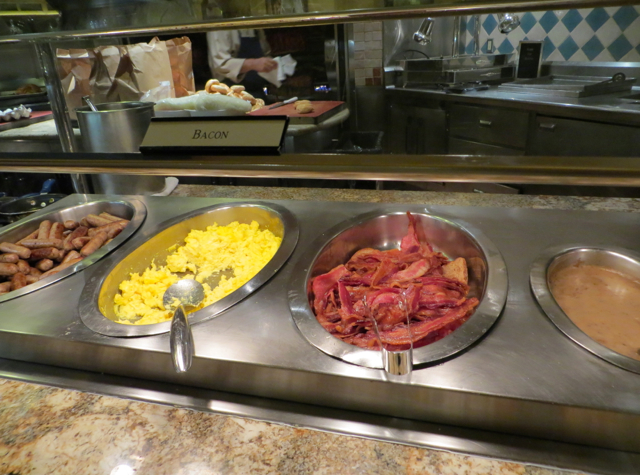 As well as the requisite pancakes, french toast and waffles: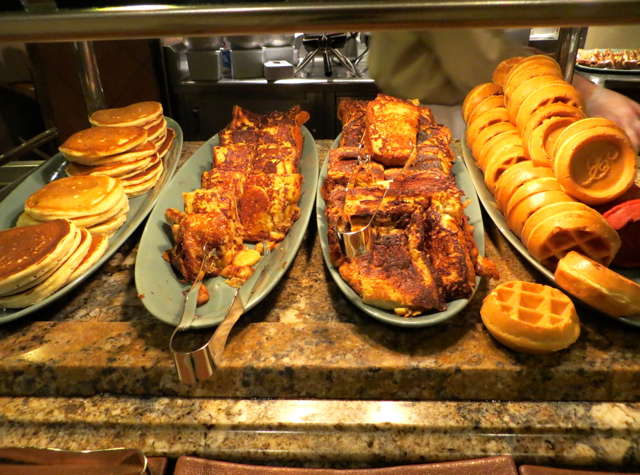 And pastries, including fruit danishes and croissants: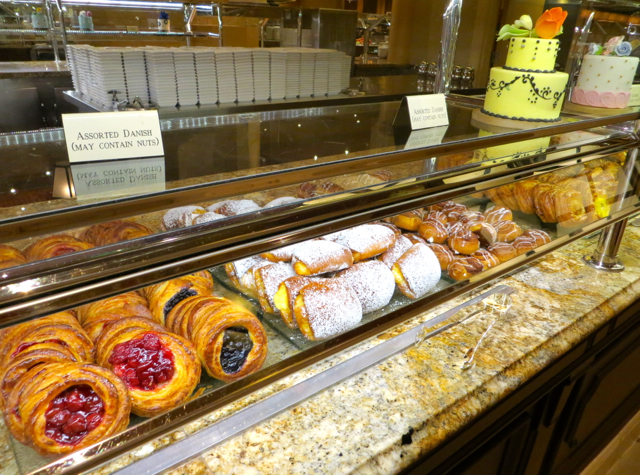 There were also various salads and noodle dishes: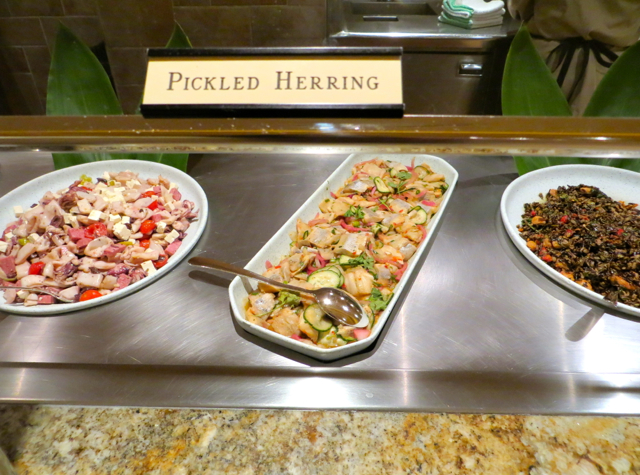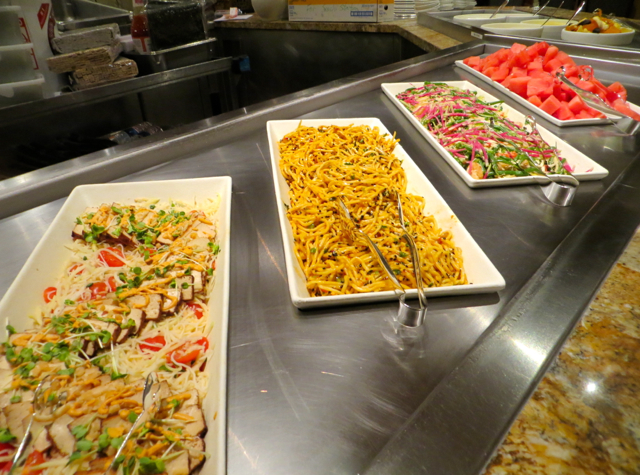 My favorite cold dish was the shrimp cocktail: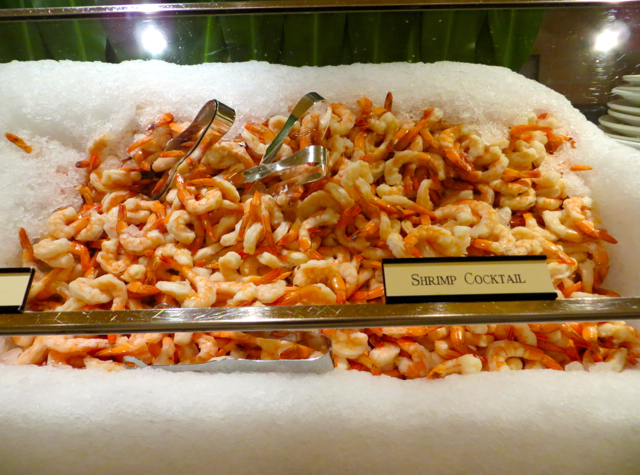 The smoked salmon was passable, but not as good as what I buy from Trader Joe's: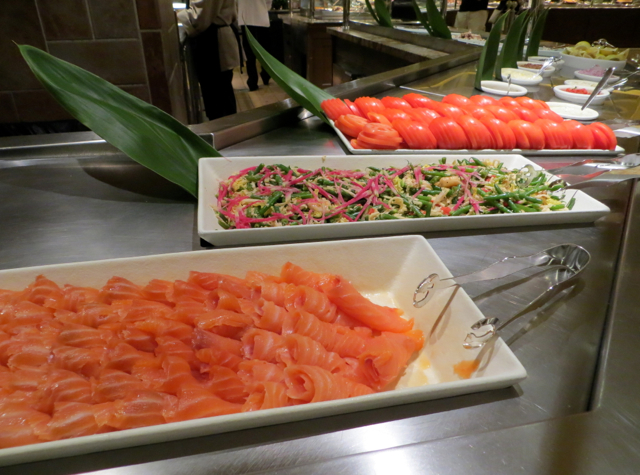 My favorite item of all was actually the wood fired pizza. I got there just as one of the first pizzas was being pulled out of the oven, so it had a nice thin crispy crust. Highly recommended: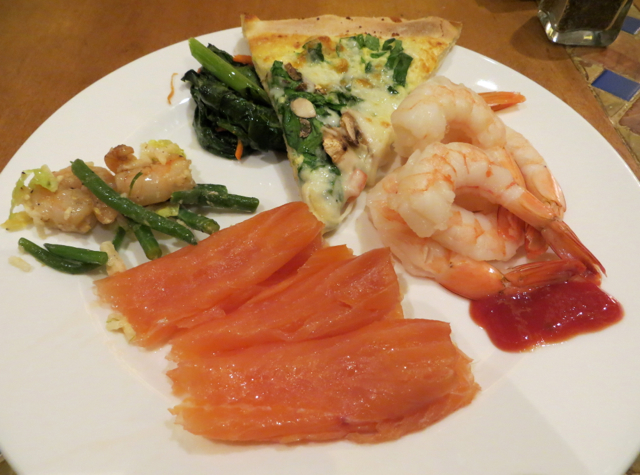 There was dim sum, but it honestly didn't look to be very good quality, so I gave it a miss: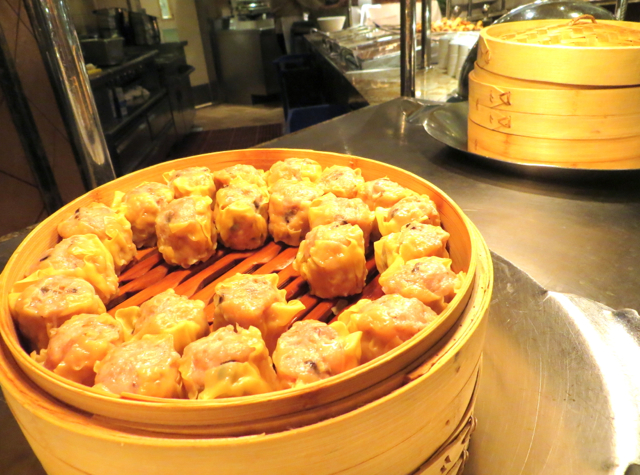 In terms of fruits, there was melon, including watermelon, strawberries, and also some premade dishes with strawberries, raspberries, blueberries and blackberries. Since raspberries and blueberries are quite expensive, I'm not surprised that they chose to pre-serve those, mixed with strawberries rather than allowing guests to help themselves: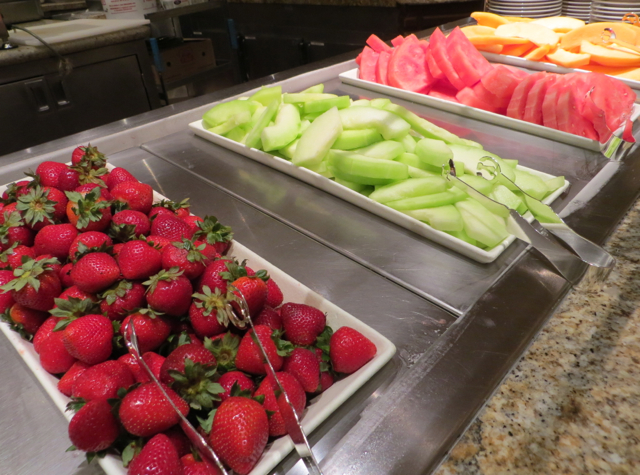 The cheese blintzes were decent, especially with the strawberry sauce, although of course not as good as at my favorite places in NYC: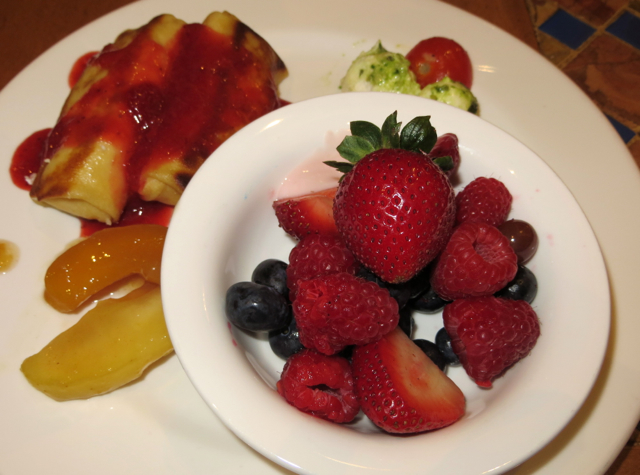 Desserts, at least while I was there, were fairly limited, but pretty to look at. There were blueberry pastries: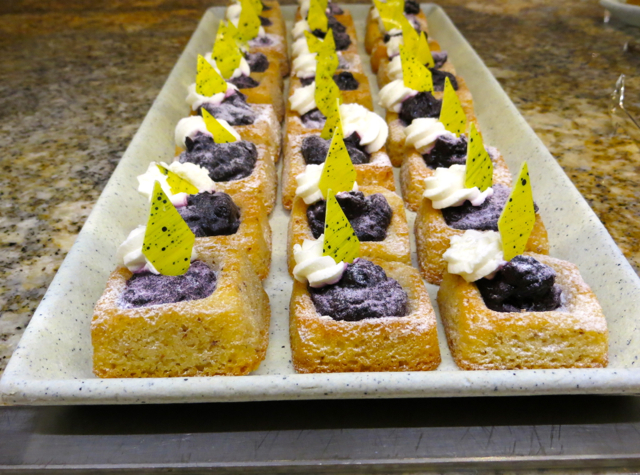 And also mini honey yogurt parfaits and Paris Brest pastries. The parfait was nice, and the Paris Brest was ok but again, not the quality you'd get at my favorite French bakery in NYC, Maison Kayser.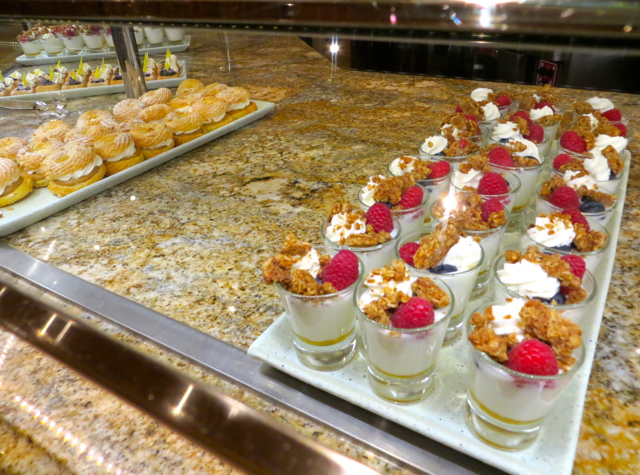 The Verdict: If you're very hungry and need to fill up, or need to fill up your starving significant other, teen or kid, the Buffet at the Bellagio is a good bet for a reasonable price (especially for breakfast with the $20 Virtuoso voucher), and with a good amount of variety. There will likely be something for most everyone. And you can dine quite well if you stick to the best items. For the breakfast/brunch, my favorites were the wood fired pizza, shrimp cocktail, strawberries and yogurt parfaits. I've also heard that the sorbet is quite nice, but it wasn't ready when I was there.
Related Posts
Bellagio Las Vegas Hotel Review: Virtuoso Benefits and Hyatt Points
Todd English's Olives at The Bellagio: Las Vegas Restaurant Review
Vegas, Baby: Las Vegas Hotels with the Best Views
Where Is a Good Place to Have Breakfast in Las Vegas?
Virtuoso Hotels: Bookings with Upgrades, Complimentary Breakfast and VIP Perks
Need Award Booking Help? Our fee is as low as $75 per ticket if you book your hotel through us.
If you enjoyed this, join 90,000+ readers: please follow TravelSort on Twitter or like us on Facebook to be alerted to new posts.
Become a TravelSort Client and Book The Bellagio with Virtuoso Amenities!