As I mentioned in last week's column, there are two major reasons I mileage run. First of all, and most importantly, to be able to see parts of the world I otherwise couldn't afford to visit. But a nice perk that comes along with that is the ability to fly some of the best international first class products around the world. The constant strengthening of the three major airline alliances (OneWorld, SkyTeam, and Star Alliance) presents an amazing opportunity for consumers, even if you only typically fly one airline. While I mostly fly United, I can use those miles I earn to fly one of the 20+ airlines that belong to the Star Alliance. I actually think the alliances, which have only been around for the past decade or so, are the best development the airline industry has seen in a very long time.
So while I haven't flown all of the world's best airlines, I do nonetheless have a few favorites. While all of my "picks" excel in just about every category, I've broken them down by the four major categories as I see them: best service, food, seat, and entertainment. So here we go:
Best Service: Singapore Airlines
While I wasn't traveling (or alive, for that matter) three decades ago, I would imagine this is what travel was like. The iconic "Singapore Girls" still have the same uniforms as they did back then, and more importantly, have the same passion for great service I would imagine they had back then.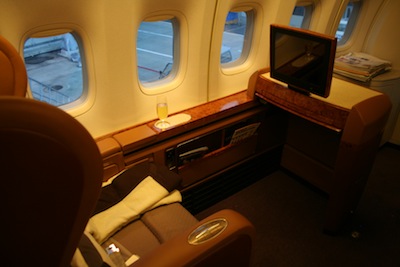 Some like to call Singapore Airlines service robotic. I simply like to call it consistent. I've never had a bad experience with them. Every single time I've flown Singapore First Class, I've been addressed by name before I could even reach my seat. As a matter of fact, I remember once flying business class on Singapore Airlines, and as we were taxiing out to the runway, one of the flight attendants came up to my seatmate, and asked her whether she'd prefer to be referred to as "Ms., Miss, or Mrs."
While there are lots of airlines with great service, it's the level of precision with which Singapore Airlines flight attendants do everything that makes the experience so great. For example, the way they ask questions – they don't ask "would you like something to drink?" Instead they'll ask "Mr. Schlappig, how about a beverage to get your flight off to a good start?" If you fancy a glass of champagne, you'll be faced with the toughest decision you'll have to make the whole flight: whether you'd prefer Dom or Krug, which the flight attendants always ask with a proud smirk on their face.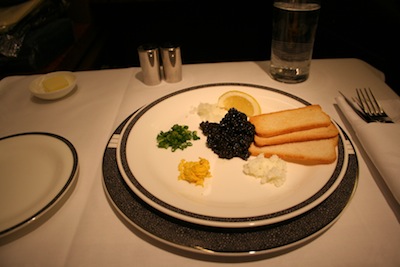 Whenever I wake up from a nap on Singapore Airlines, even if it's in the middle of a 12 hour flight and the cabin is dark, a flight attendant is always cheerily standing next to my seat within minutes with water, juice, and snacks, asking me how my nap was.
You'd think with that level of service the flight attendants would seem overbearing. But that's exactly what impresses me the most: they don't! While they'll make constant passes, you never feel like you're being watched. I once mentioned to a flight attendant how carefully she was watching the cabin without actually making me feel like I'm being watched, and she simply responded with "Mr. Schlappig, I have x-ray vision."
Best Seat: Turkish Airlines (also available on Jet Airways)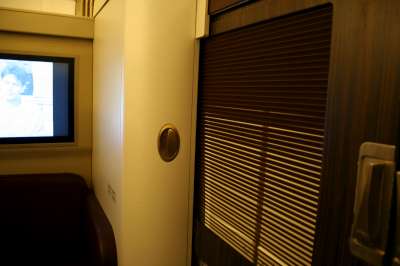 Turkish on the whole isn't one of the world's best airlines. But they do "lease" some Boeing 777s from Jet Airways, the premier Indian airline, which have some spectacular first class suites. Turkish operates the 777s on their flights from New York to Istanbul and Istanbul to a few places in Asia, and the suites are simply incredible. There are eight suites, and each of them has a huge TV and flat bed, and even a door for the ultimate level of privacy. The pillows and blankets are great, and at night after a nice meal, the ceiling lights up with artificial stars, which adjust throughout the night to get you adapted to the new time zone you're heading to. It really is impossible to beat the level of privacy afforded on Turkish Airlines and Jet Airways.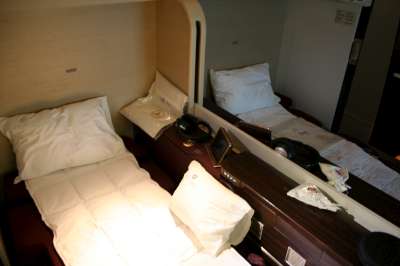 While the service and on-time record of Turkish is very hit or miss, the food is also top notch. And while I don't think I've ever gotten off an international first class flight hungry, Turkish takes "feast" to a whole new level. They also happen to have some of the best ground services for first class passengers in Istanbul, as I'll cover next week.
Best Food: Asiana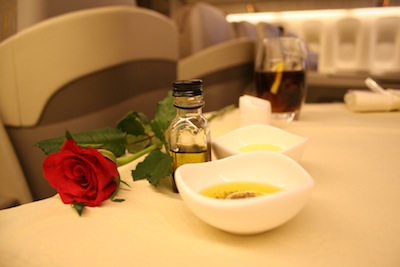 While it goes without saying that Asiana has great Korean food, I was shocked by how good their western options were. I can honestly say the meal I had on Asiana was the best I've had on any airline, ever, from start to finish. I find that a lot of airlines try to overcomplicate meals and get too creative, which has the potential to flop because food just tastes different at altitude than on the ground, not to mention food is prepared hours (or often even a day) before it is served.
But Asiana executes every dish perfectly. There are even two main courses. The first is a pasta dish, which could rival the best pasta I've had in Italy. On my most recent flight I chose steak as the second course, and they even asked me how I wanted it cooked. Any airline that asks me how I want my steak cooked is a winner in my book!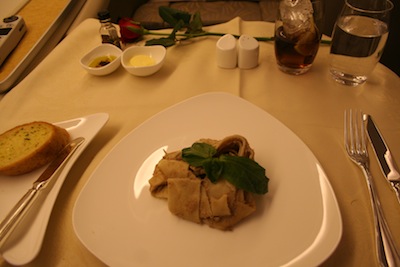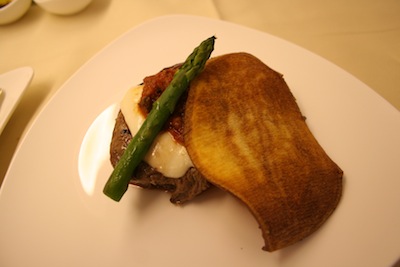 Best Entertainment: Cathay Pacific
I'll happily acknowledge I'm not doing Cathay Pacific justice by just giving them the "best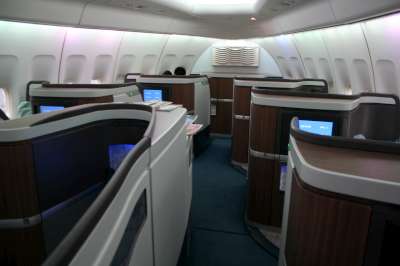 entertainment" category. The food, service, and seat are all excellent. Cathay Pacific First Class ranks all around as probably my second favorite airline after Singapore Airlines. But I do think they deserve some credit for their great entertainment system, Studio CX. This system features hundreds of movies, TV shows, and CDs. As someone that doesn't watch any TV or movies on the ground, I'm pretty sure I'm all caught up after my Cathay Pacific flights. I even watched "Keeping up with the Kardashians" on my most recent Cathay Pacific flight… probably an experience I could have lived without.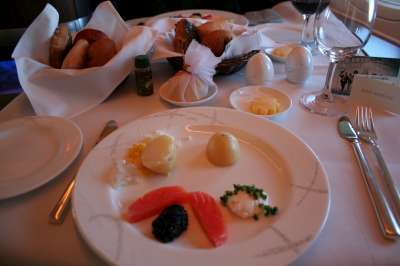 I also see no reason that entertainment has to be limited to the traditional video monitor. Cathay Pacific's first class seat has a "buddy seat" and table extender, so you can have "dinner for two," which is a rare treat in the sky. What better way to spend a couple of hours than enjoy a nice, five course meal, flying seven miles above the Pacific at 500 miles per hour, all while sitting across from a friend or loved one.
And if that's not enough, Cathay Pacific is also the only airline I can think of that makes egg dishes fresh aboard. What could be more fun than watching a flight attendant crack eggs?
And those are probably my four favorite airlines. You might notice a pattern: yes, they're all Asian airlines (Turkey is at the crossroads of Asia and Europe, but cut me some slack). They're just a cut above, thanks mostly to their excellent service culture. But there are several other airlines that should have made the list and are basically as good as the ones I mentioned. ANA is another Asian airline that's excellent, while Lufthansa and Swiss are both excellent European airlines.
Airlines really have taken first class products to a whole new level in recent years. While food has always been great in first class, it's the amazing entertainment and flat beds that are revolutionary and really make me wonder how far premium travel will advance in the coming decade.
Stay tuned till next week for my picks for some of the best airport ground experiences…
Related Posts
Best First Class Airline Seats for Couples
Cathay Pacific First Class Review
Lufthansa New First Class Review
Need Award Booking Help? Our fee is as low as $75 per ticket if you book your hotel through us.
If you enjoyed this, join 200,000+ readers: please follow TravelSort on Twitter or like us on Facebook to be alerted to new posts.
Become a TravelSort Client and Book Your Hotel with Virtuoso or Four Seasons Preferred VIP Amenities!