This Review of Thalys First Class, Comfort 1, covers our recent experience from Brussels to Paris and also from Paris to Brussels. Most of our time this trip was spent in Paris, but our award flight was on Brussels Business Class to Brussels. Fortunately, the journey on the Thalys high speed train is just 1 hour 20 minutes between Brussels and Paris Nord, thanks to a maximum speed of 186 miles per hour (300 km per hour).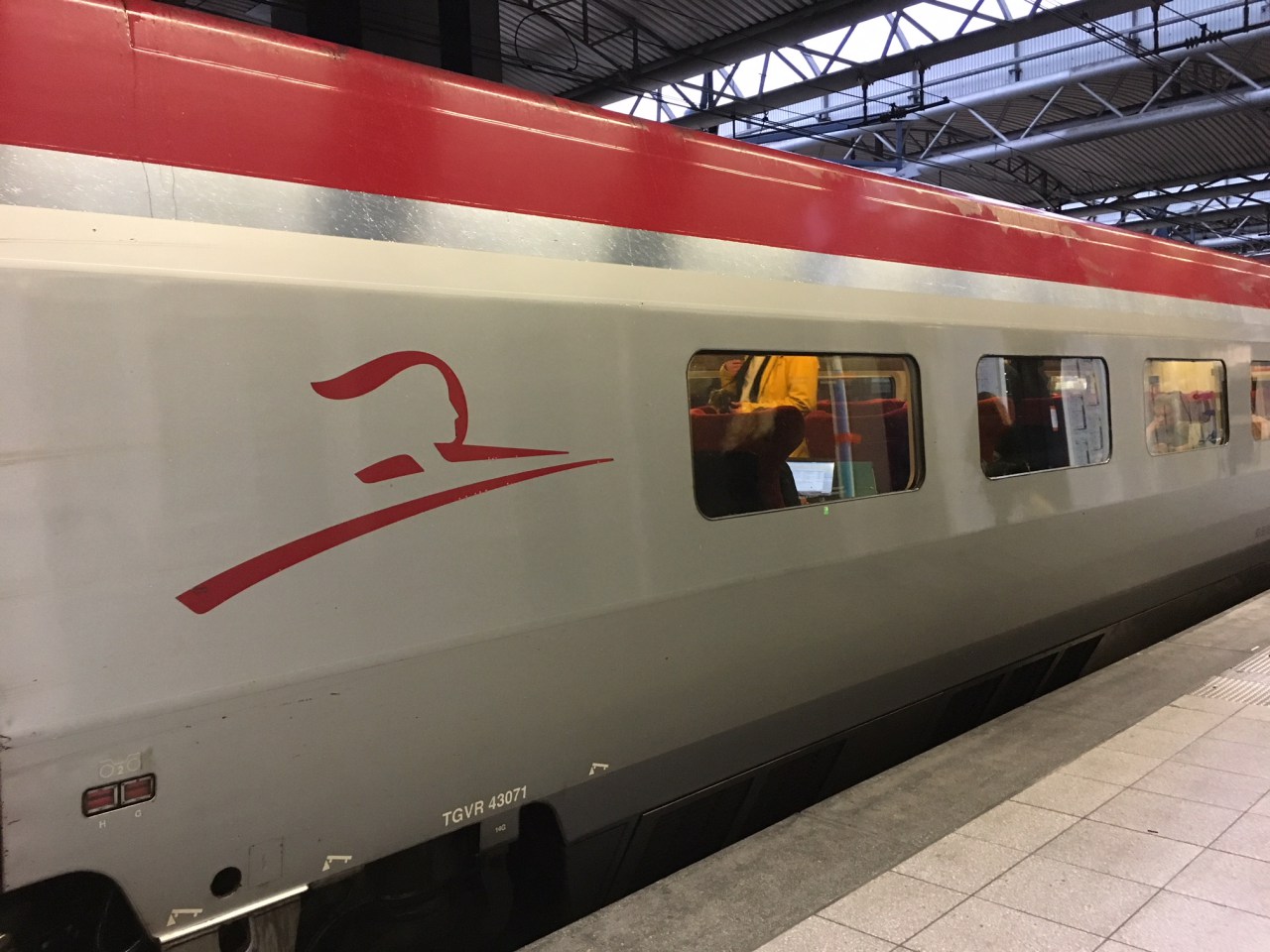 Booking Thalys First Class (Comfort 1) and Selecting Seats
You can reserve Thalys train tickets 4 months prior to your travel date, at thalys.com. Prices vary; often Comfort 1 is only about EUR 25 more than Comfort 2, and sometimes it's even less expensive, for example below the 9:13 Brussels departure is EUR 75 in Comfort  but EUR 55 in Comfort 1. You can print out your ticket and bring it with you.
Note that when booking Thalys to or from Brussels Midi, your ticket includes free connecting train travel to/from other Brussels train stations, such as Brussels Central, Brussels Nord and Brussels Luxembourg.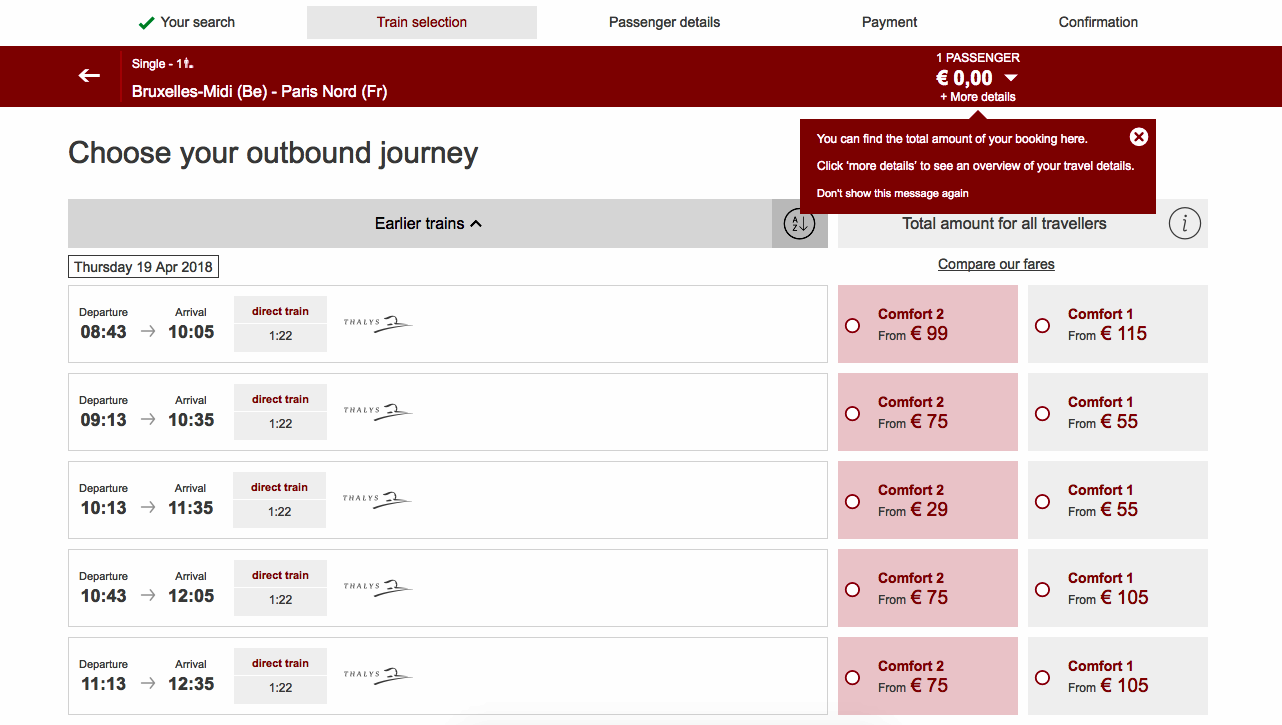 Thalys First Class (Comfort 1) Seat and Benefits
The Thalys Comfort 1 cars have seats in a 1-2 configuration, instead of 2-2 across as in Comfort 2.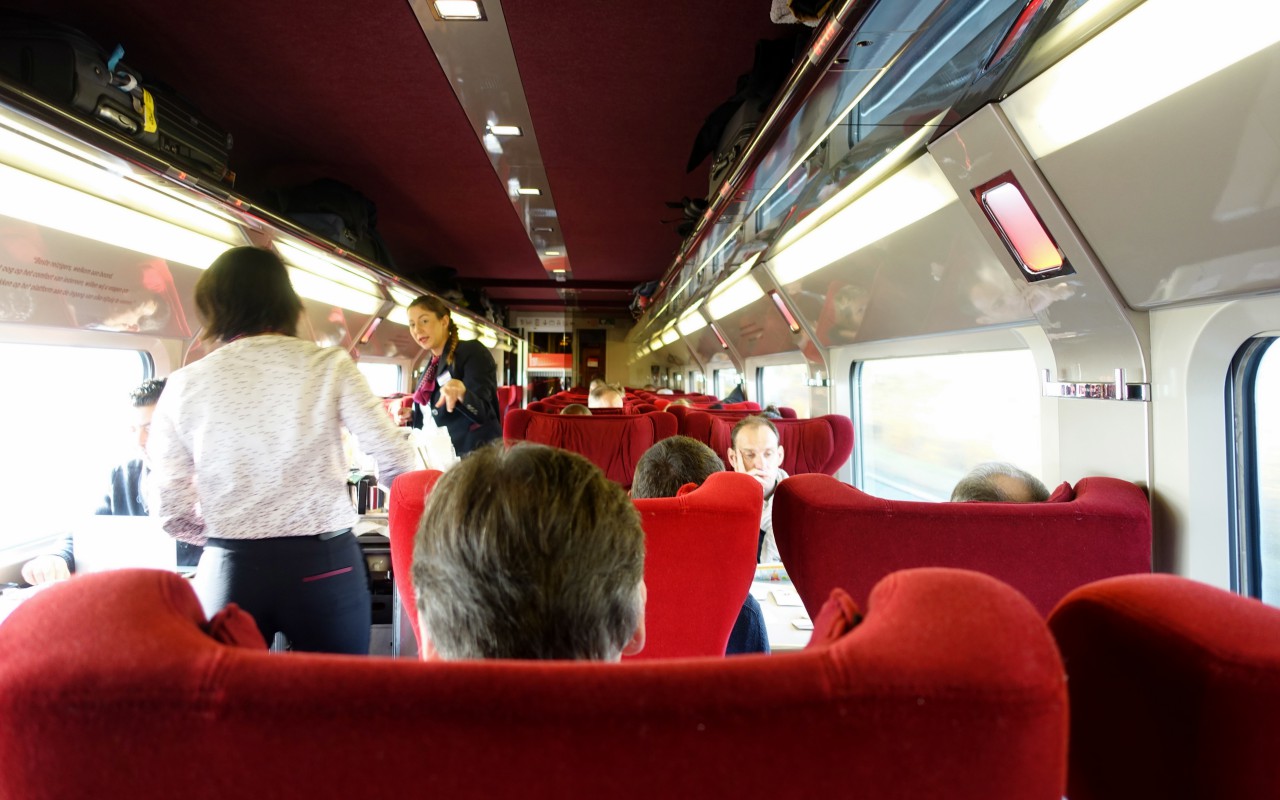 The Comfort 1 Seats are upholstered in plush red fabric, and are comfortably wide, but don't recline.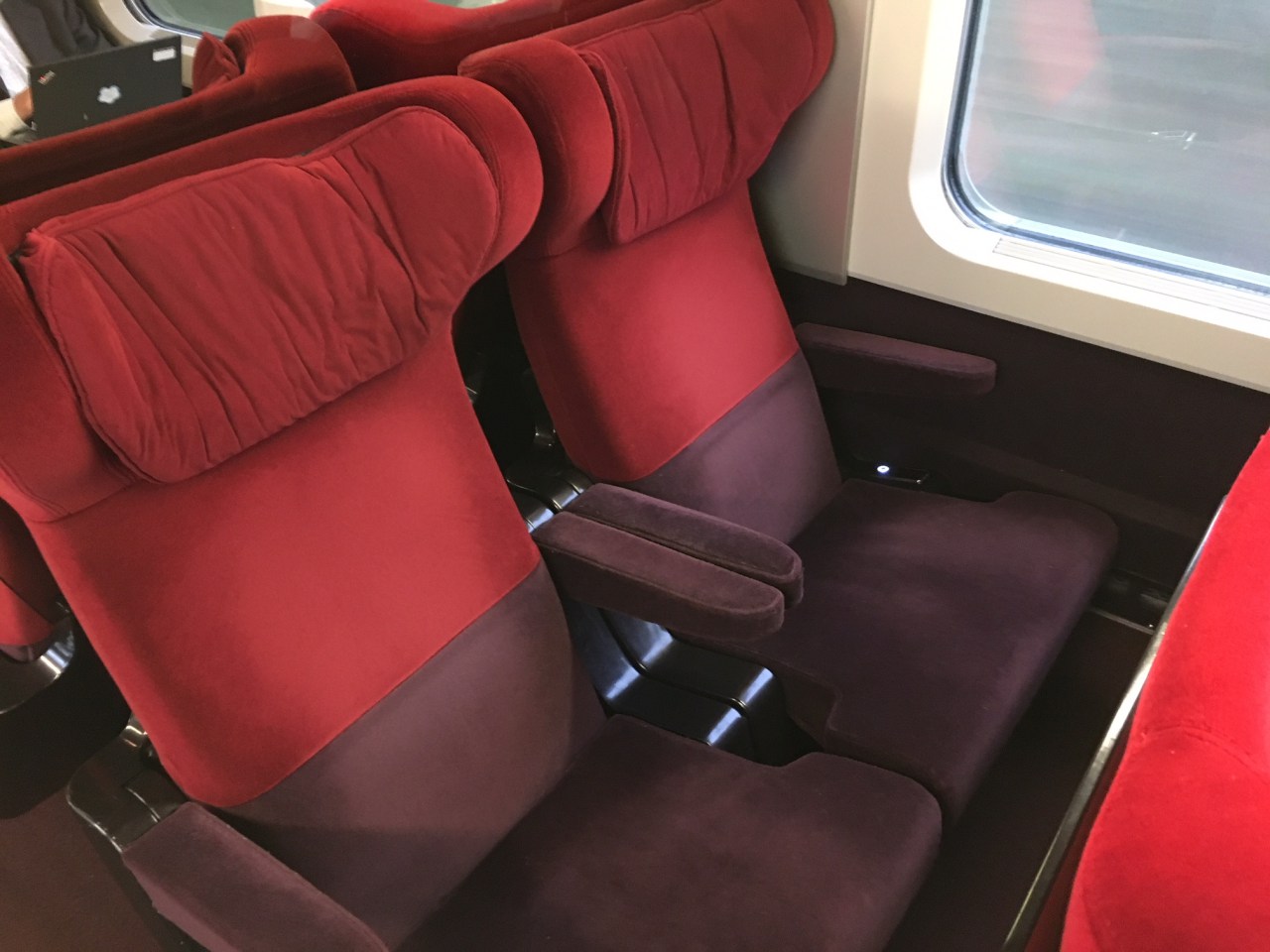 While we chose side by side seats because my experience with table seats is that there's not enough leg room, couples often do prefer the "Club Duo" seats across from each other, at a table.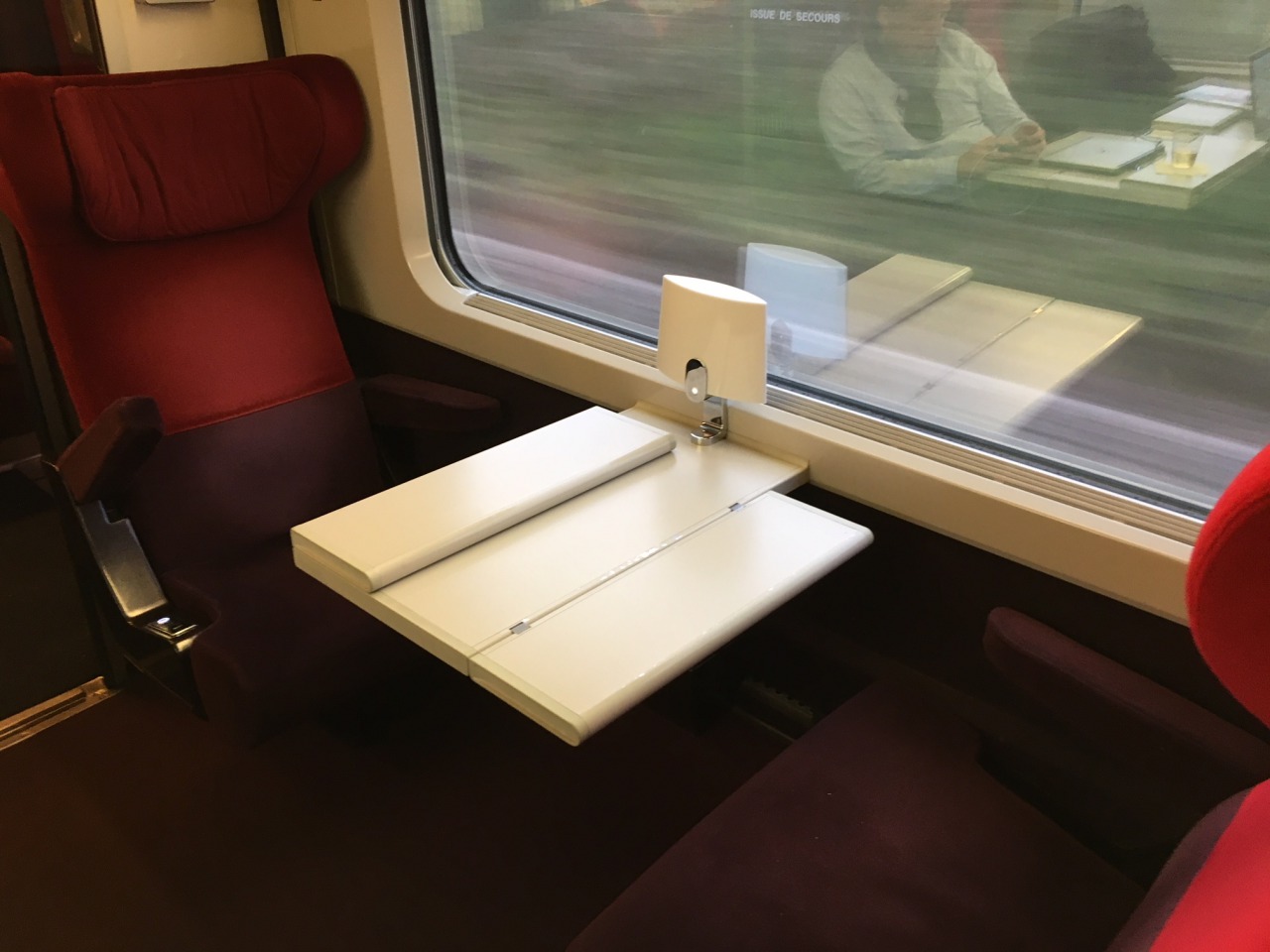 I liked that there was a reminder (albeit in French only) above the seats to exit the car to make phone calls. True, there was an Italian on our first journey who disregarded it and had a rather loud conversation in Italian, but everyone else on both journeys was quiet and didn't make any loud phone calls from their seat.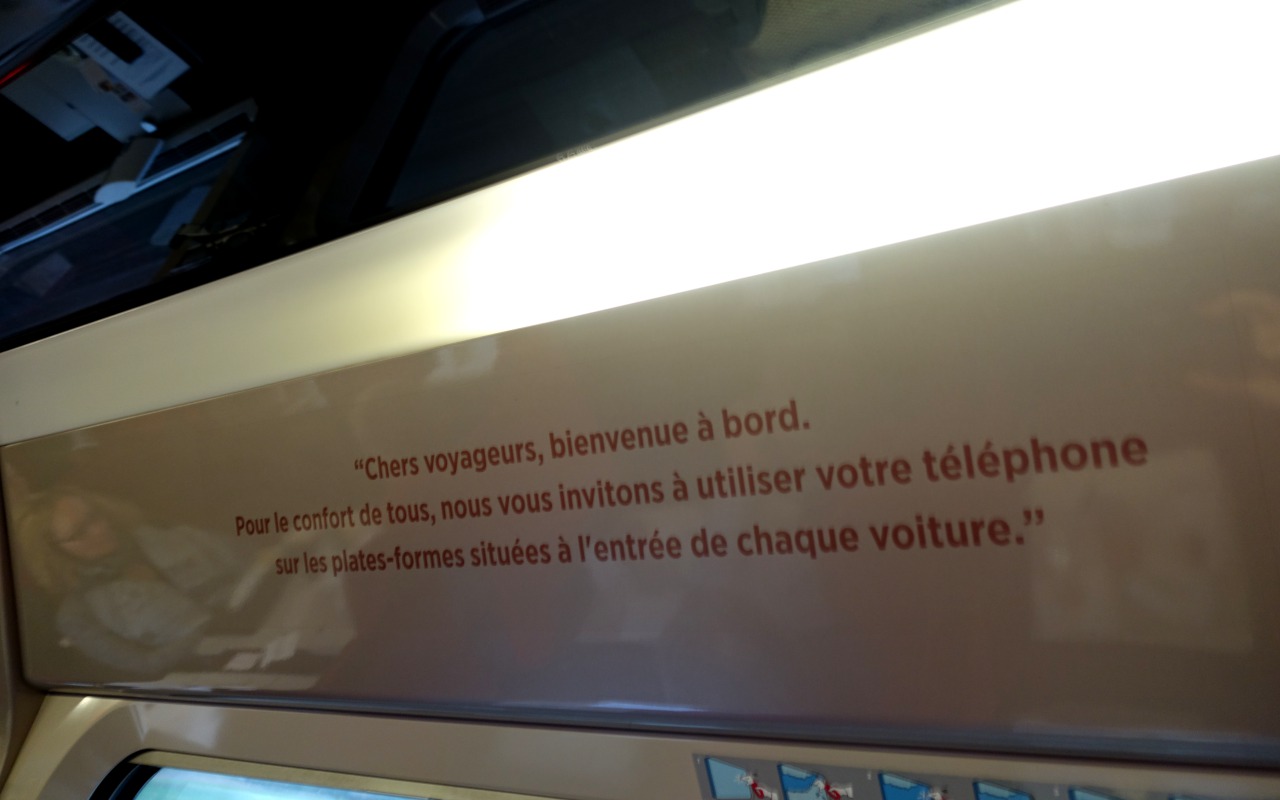 Comfort 1 seats at the time of our trip included a complimentary snack and drinks served at our seat. On our morning outbound from Brussels to Paris, we were served a choice of either pastries, or fruit and a small muffin, which we had with juice.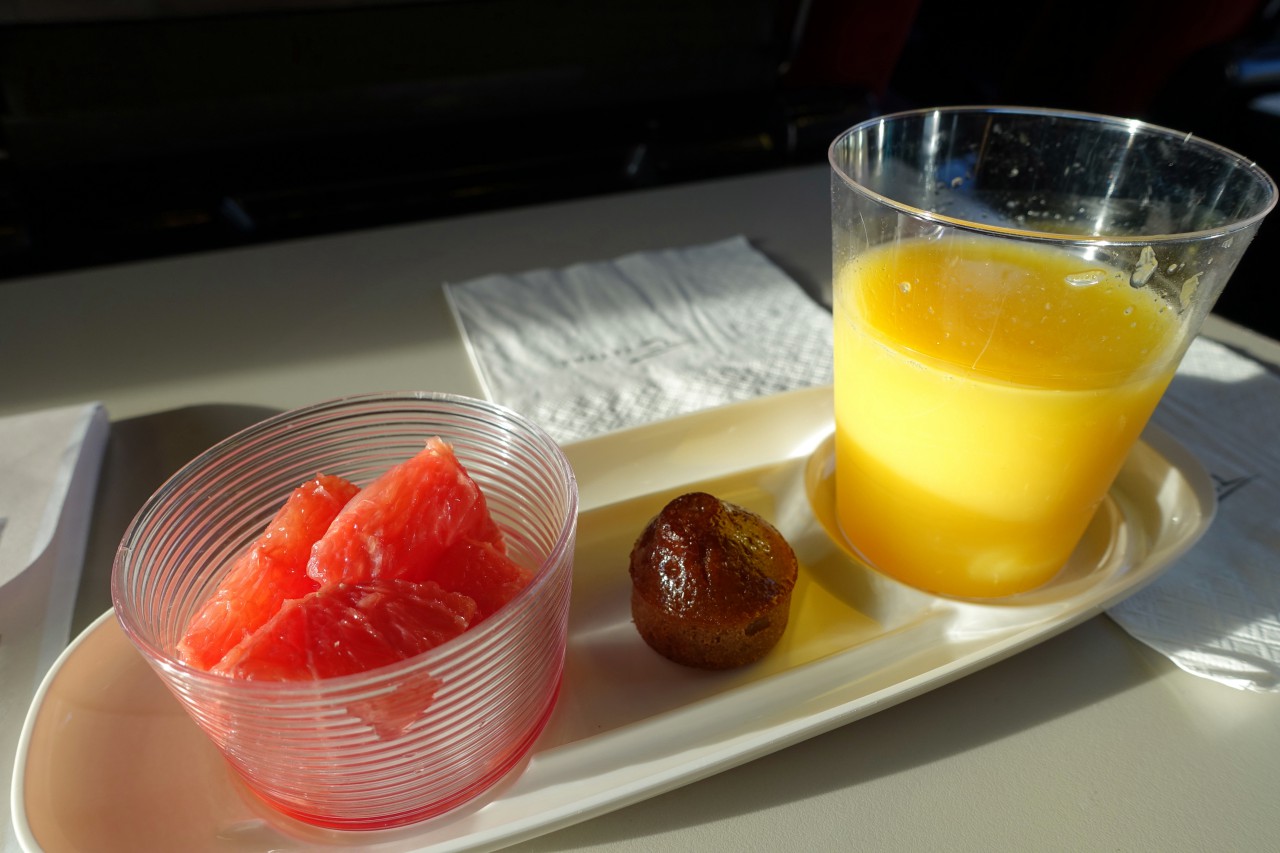 On our afternoon return from Paris to Brussels, we were served a choice of small sandwich or a pastry, and we chose the smoked salmon sandwich.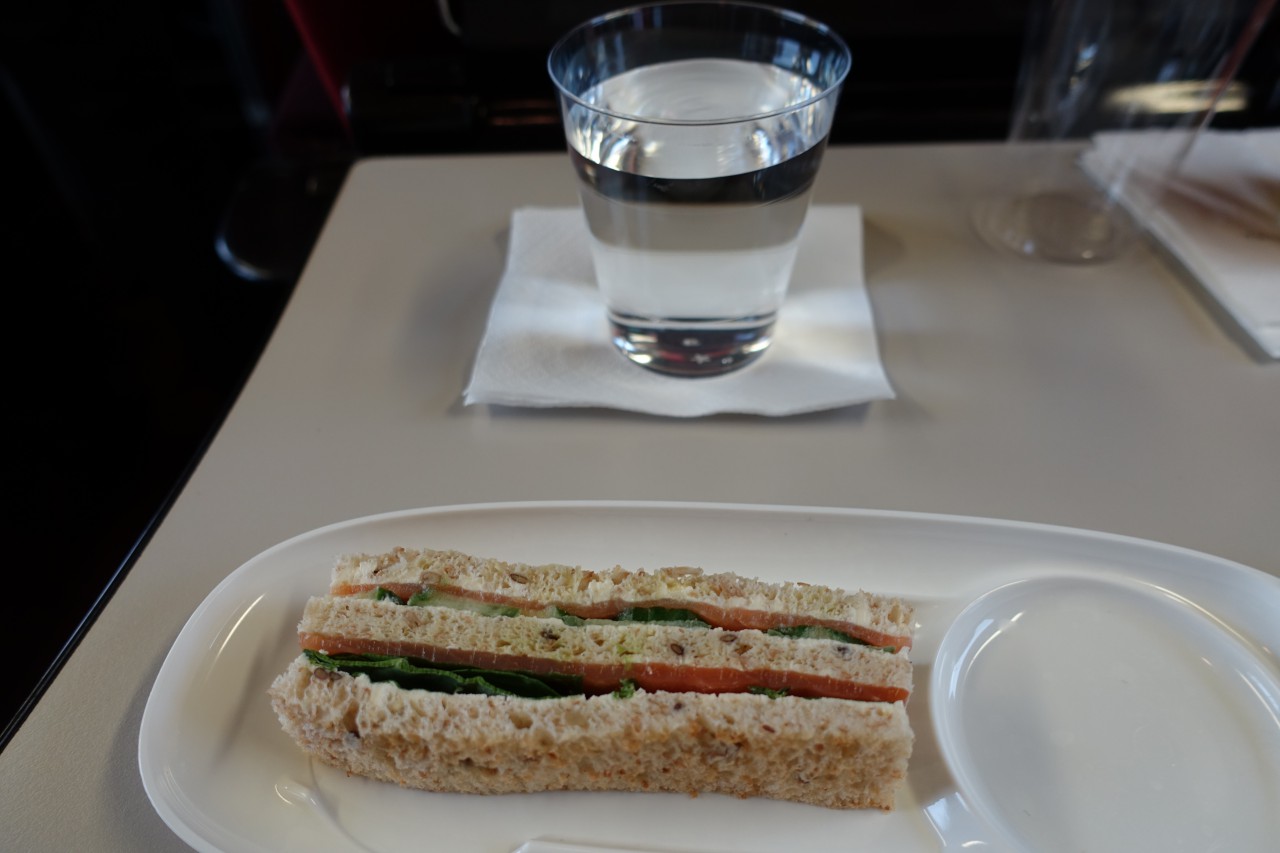 There's free WiFi throughout Thalys, and this worked fine for emails, although, at least in my experience, the speed wasn't sufficient to do any significant file uploading.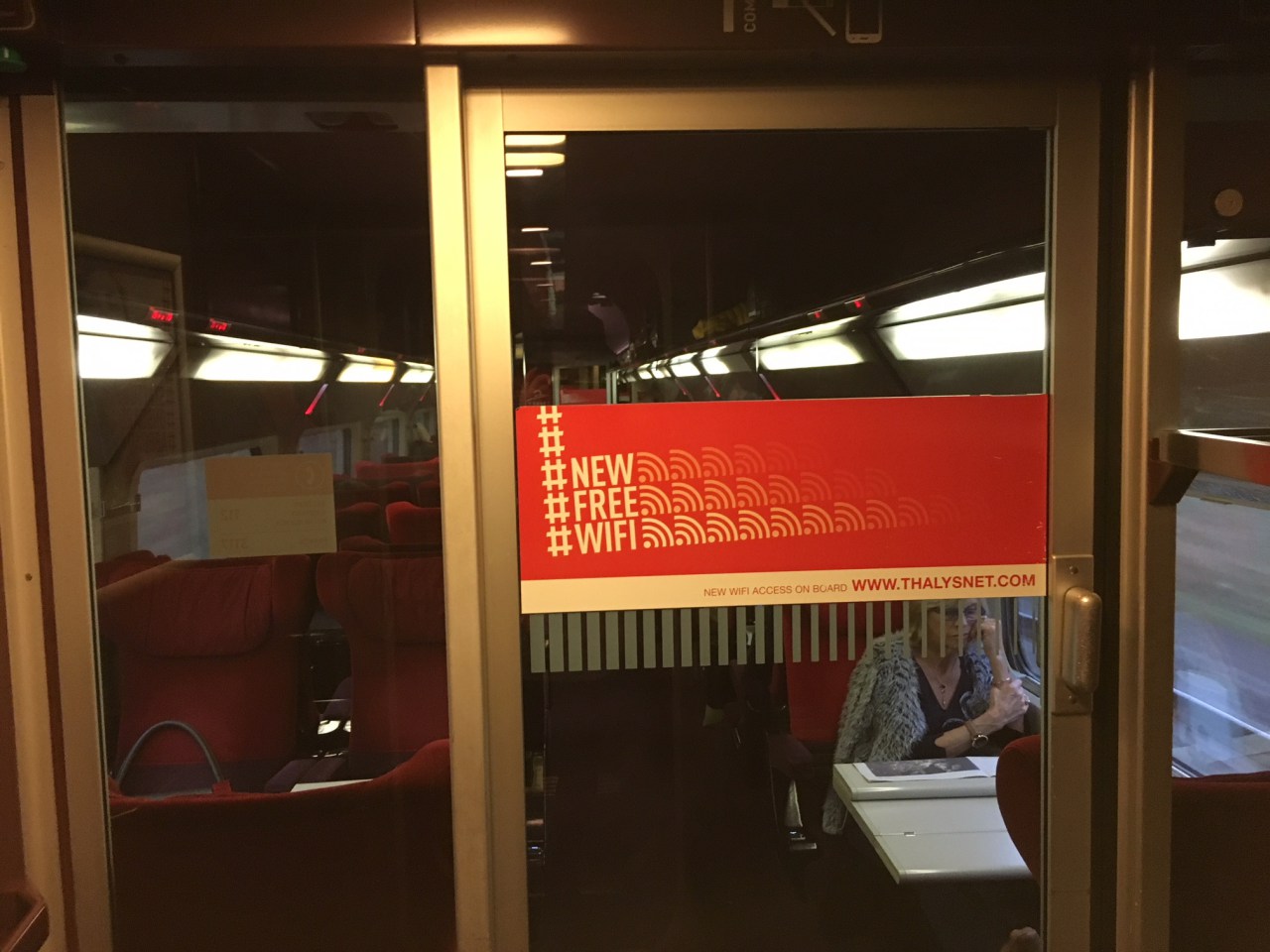 Thalys Welcome Bar
Since on our return we were still a little hungry and thirsty after the small sandwich snack and drink, I visited the Thalys Welcome Bar / Dining Car. Here's the menu: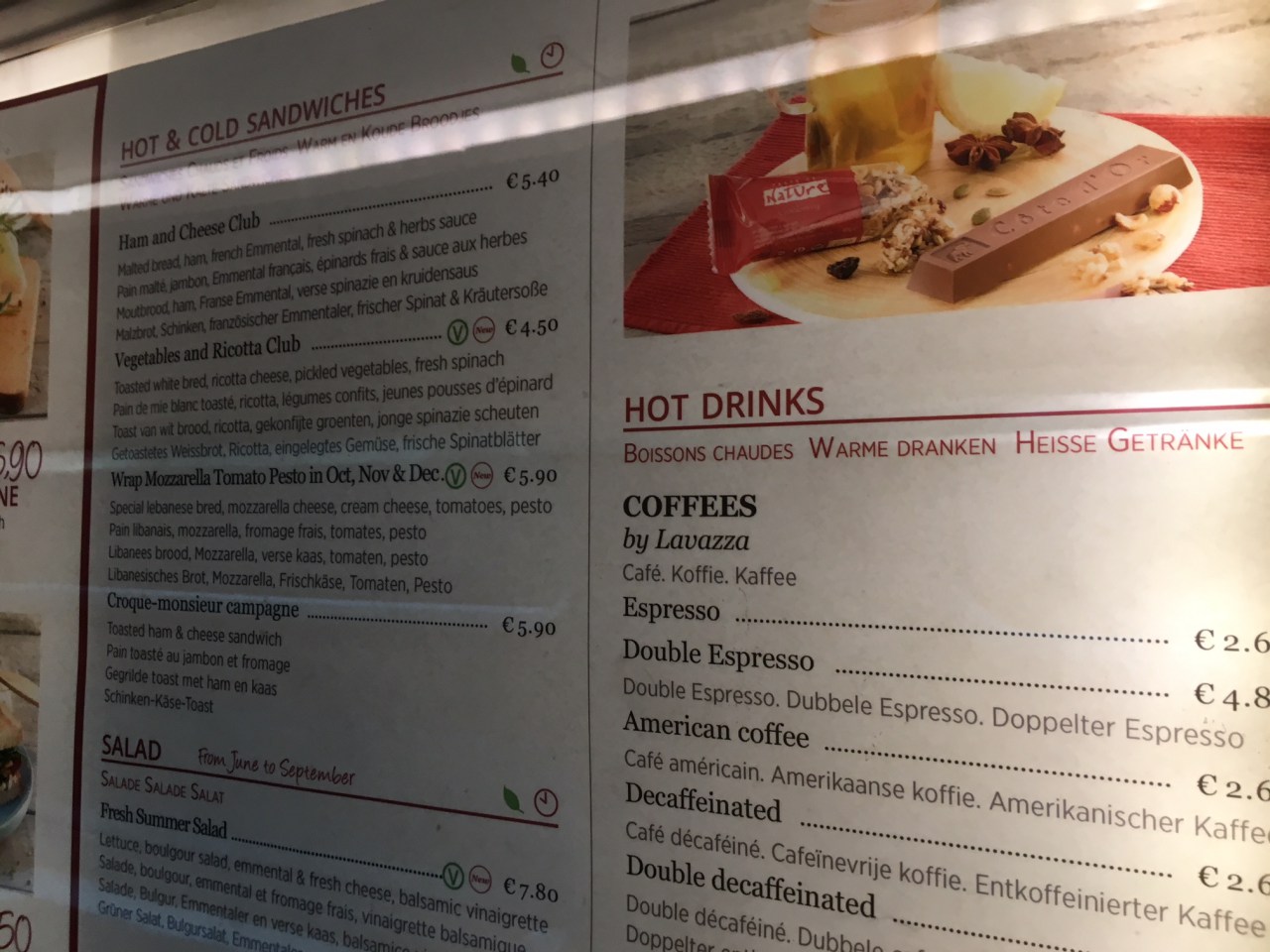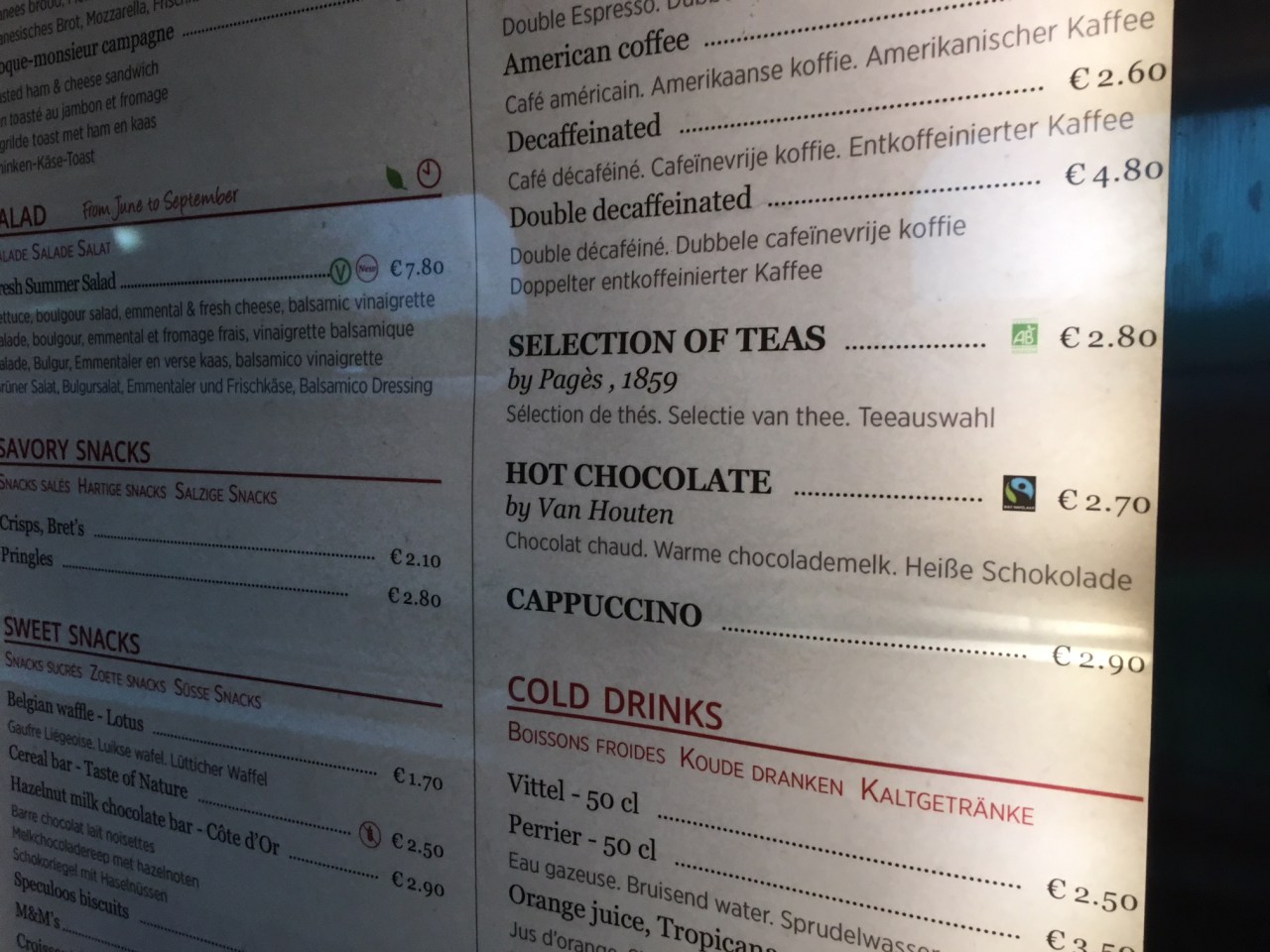 I chose a mango banana bottled smoothie; the brand was Froosh, but it was similar to an Innocent smoothie, and hit the spot.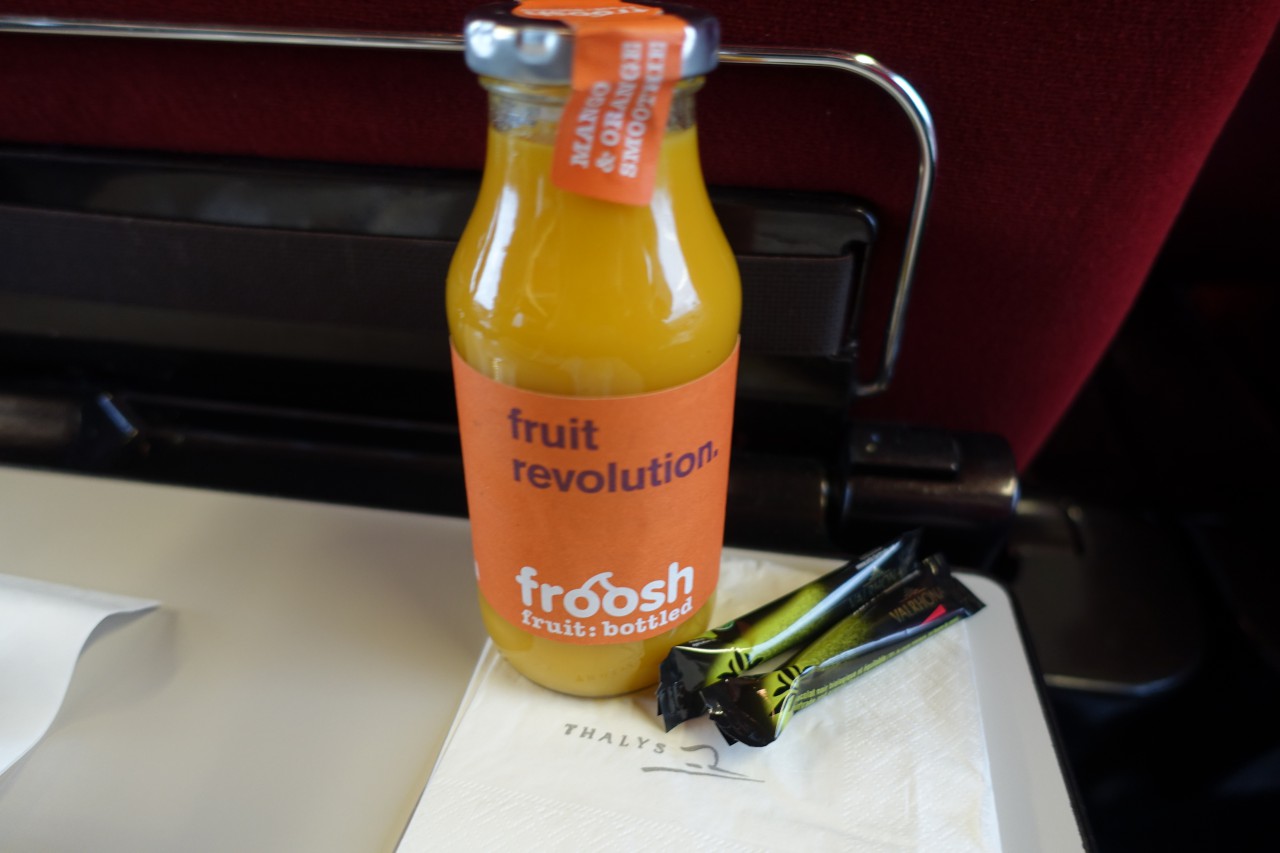 The Welcome Bar staffer even gave me a couple of complimentary Valrhona chocolates, which were excellent.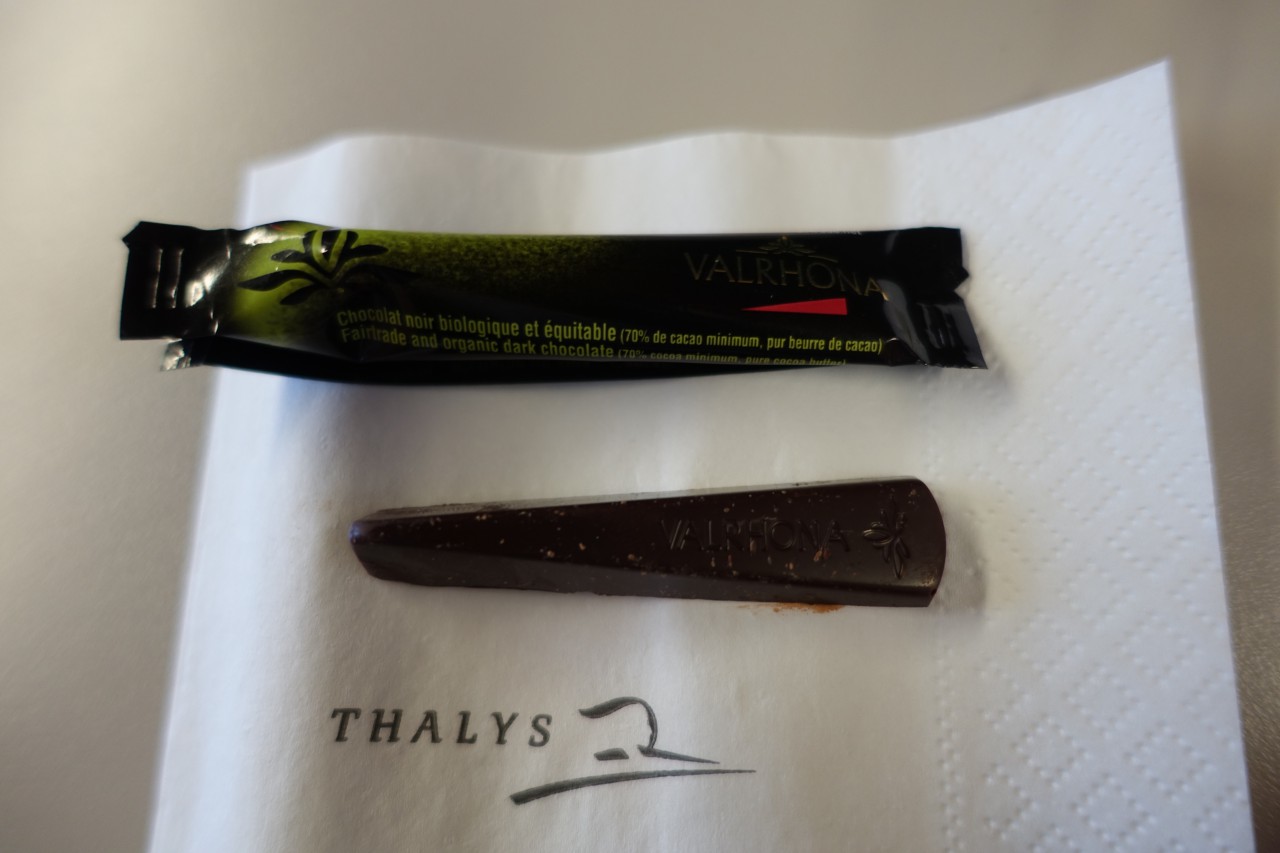 The Verdict
Thalys is what I wish the Amtrak Acela was–high speed, yet a smooth ride, quiet, and good quality drinks and snacks in the cafe car. And when purchased well in advance, it's reasonably priced, even for Comfort 1.
If you've taken Thalys Comfort 1 First Class, what was your experience?
Recommended Posts
Review: Sapsan Train Business Class, St. Petersburg to Russia
Paris Luxury Hotels: 5 Things They Excel at and 1 Thing They Could Improve
Top 10: Best Four Seasons Hotels in the World
Cheval Blanc Samaritaine Paris to Open 2018
If you enjoyed this, join 200,000+ readers: follow TravelSort on Twitter or like us on Facebook to be alerted to new posts.
Subscribe to TravelSort on YouTube and TravelSort on Instagram for travel inspiration.
Become a TravelSort Client and Book 5-Star Hotels with Virtuoso or Four Seasons Preferred Partner Benefits