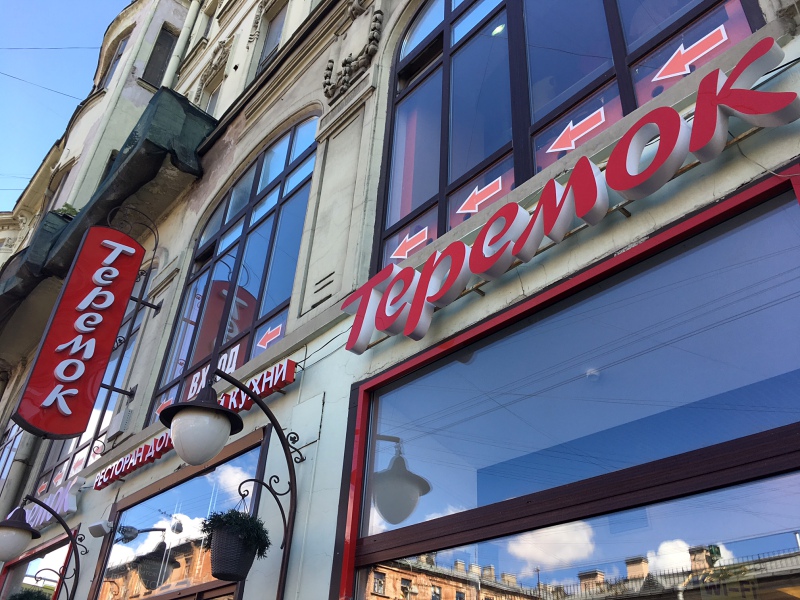 Update: Teremok is apparently also in NYC now, which I noticed from the two Twitter accounts. I'll have to give the NYC branch a try when I'm back in the U.S.
I'm not a fan of fast food. While it's true we do occasionally go to Shake Shack in NYC, I don't care for the regular burgers and always wind up getting a mushroom burger. But there is one fast food place I enjoy, which is in Russia: Teremok. There are a number of locations in Moscow and St. Petersburg, and while no one will confuse its offerings with high end Russian cuisine or even the best homemade versions, there's a lot to like about it.
1. Made to Order Blini with Many Fillings
You don't have to worry about any pre-made blini here; it's made to order in front of you. My favorites are with smoked salmon, sour cream and herbs, or with mushrooms, but you can also choose from fillings of ground beef, cabbage and egg, mozzarella, red caviar, and other savory and sweet blini fillings. You can pretty much design your own from the option to add various fillings.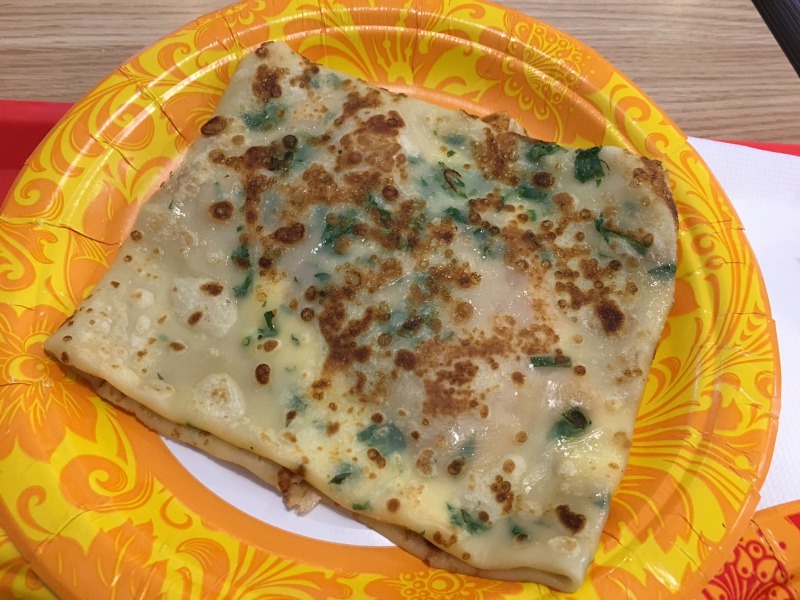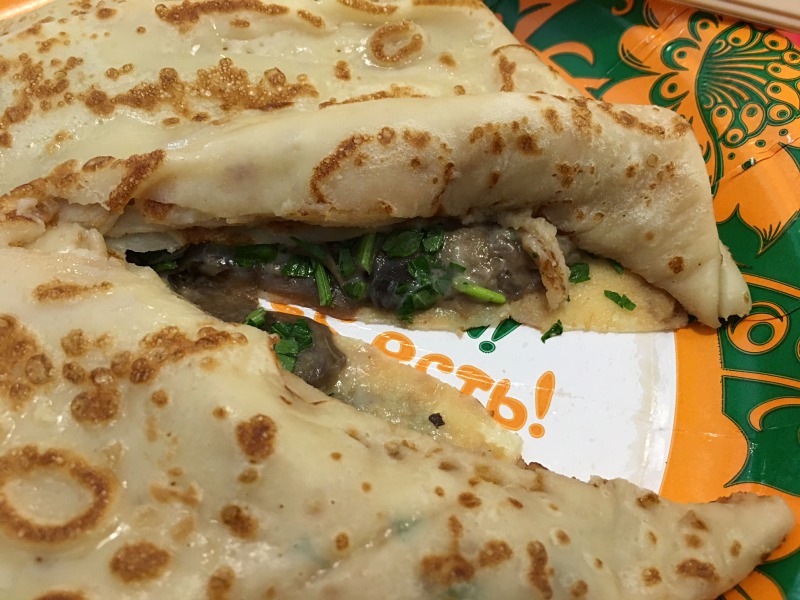 2. Quintessentially Russian Comfort Foods
In addition to blini, Teremok offers Russian comfort foods such as borscht, pelmeni and my own favorite, syrniki (thick farmers cheese cakes). While you'll undoubtedly taste better versions of these in higher end restaurants, Teremok offers value, with all of these in the $3-4 or less range.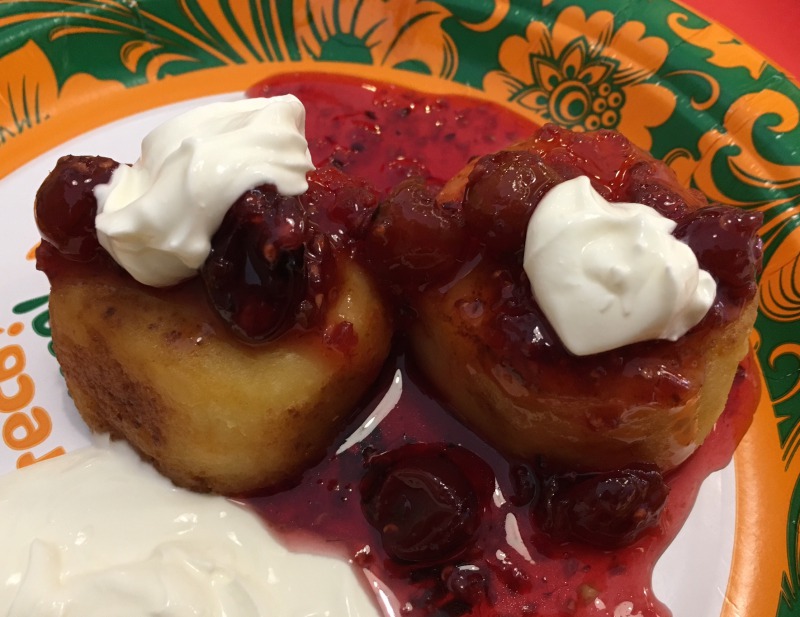 2. Healthy Salads and Buckwheat
I haven't personally tried the salads because I'm always tempted to go with one of Teremok's core offerings, blini, but the salad offerings include one with beets and smoked salmon, a "vitamin" one with tomatoes, cucumbers, pinenuts and herbs, among others.
And you can order a plain side of buckwheat, or make it a main course with the addition of cabbage and egg, chicken, pork, ham and cheese, etc.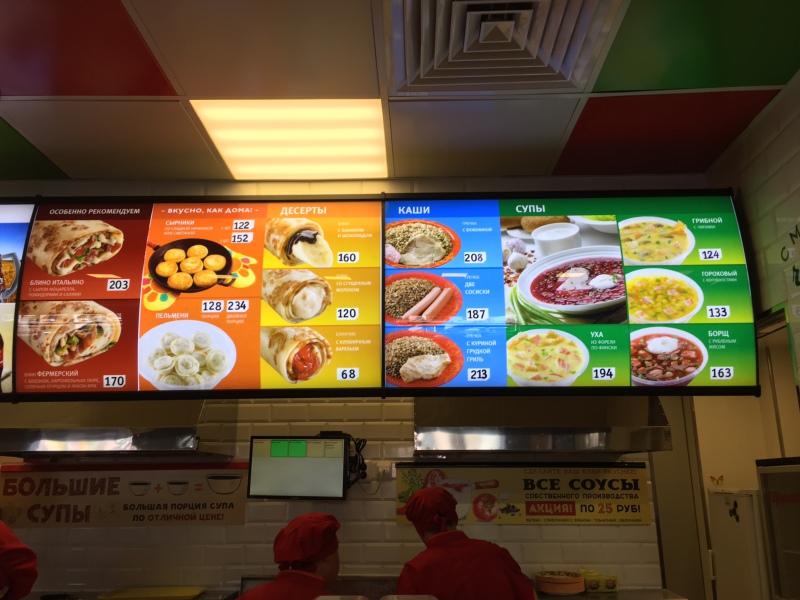 3. Gluten-Free Offerings
While I don't have a gluten allergy, I have clients and friends who do, and it can be hard to find enough variety at many fast food restaurants. Buckwheat is naturally gluten-free, and Teremok has several options, as well as salads.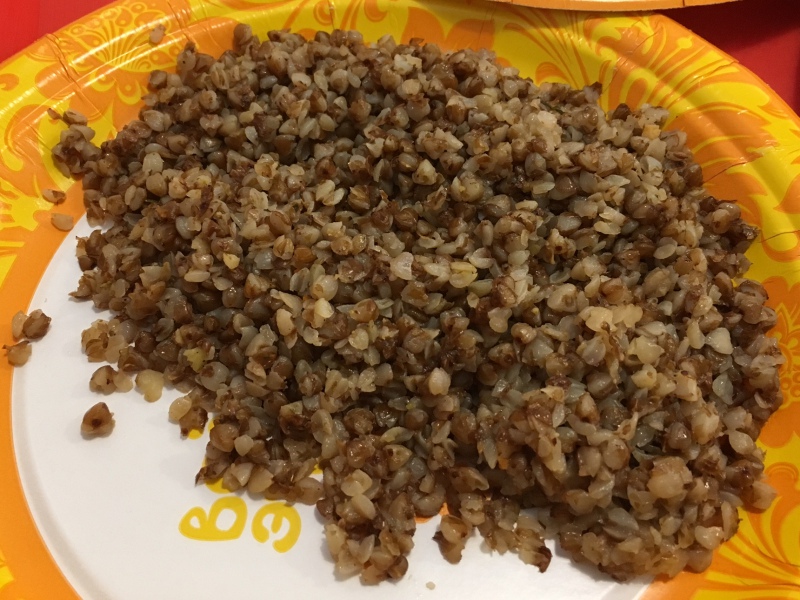 4. Clean and Nicer Decor Than the Average Burger Joint
At least all the Teremoks I've been in have been very clean, and the one I've been to a couple times this past week has a nicer decor than Shake Shack, let alone the average McDonalds or Burger King.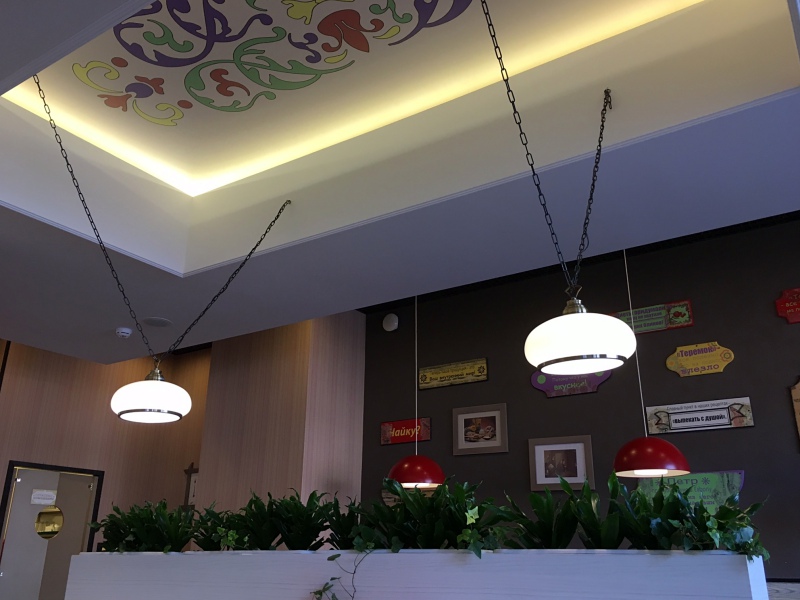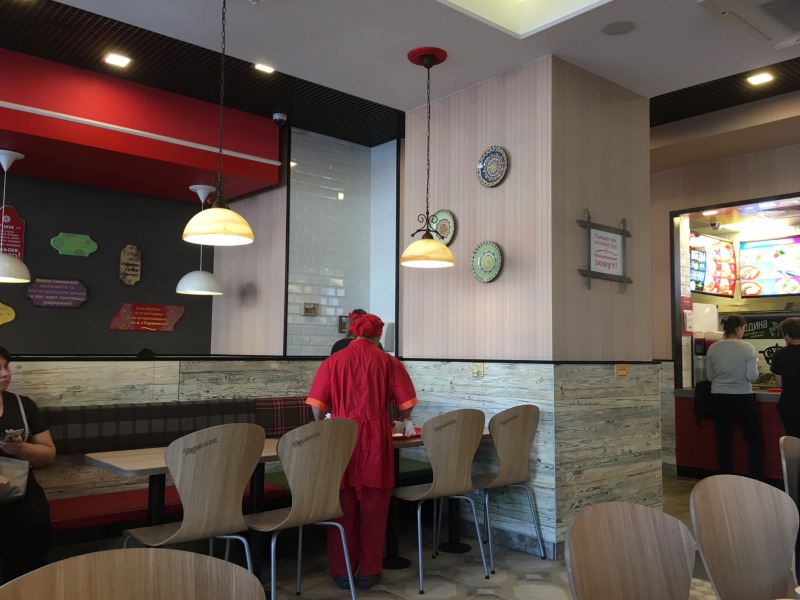 5. A Sense of Humor
If you read Russian, check out the message on the plate below: "Stop! This is a plate! No need to eat it! Better to order something more!"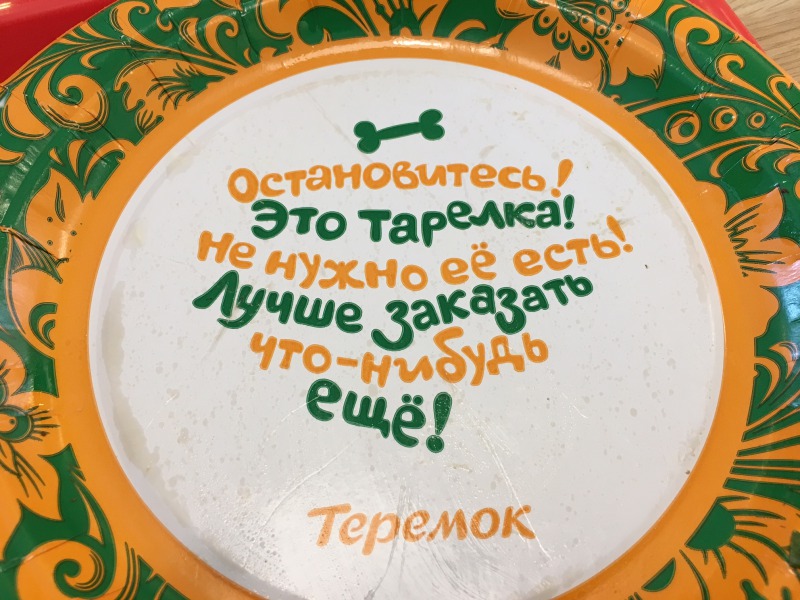 Or some of the text on the wall as you enter:
"Life is too short to not eat what you like"
"While you're reading this, someone is taking your blinchik!"
"Diets were invented by those who haven't had enough of our blini!"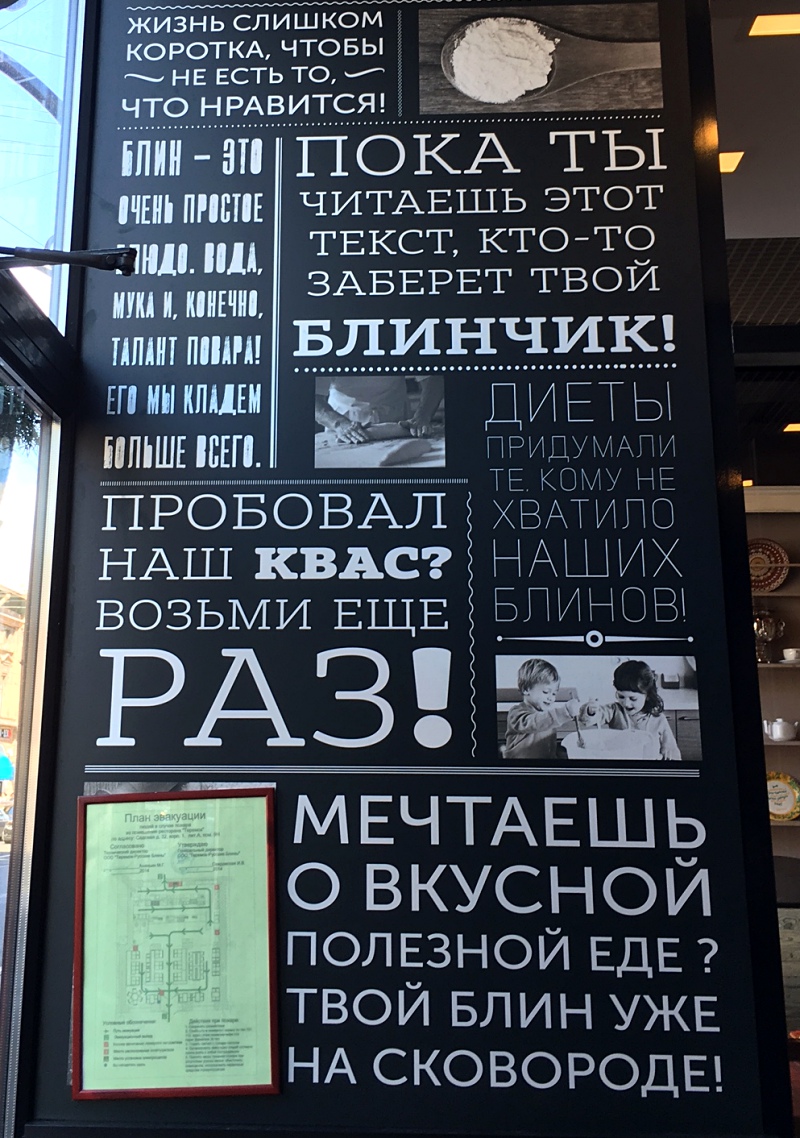 Have you visited a Teremok while in Russia?
Recommended Posts
Review: Hamlet + Jacks, St Petersburg Russia
Vkus Est (Taste to Eat) Review, St. Petersburg, Russia
Volkonsky Bakery Cafe (Пекарня «Волконский») St Petersburg, Russia Menu and Review
Review: Four Seasons St. Petersburg, Russia
10 Travel Tips for St. Petersburg, Russia
Need Award Booking Help? Our fee is as low as $75 per ticket if you book your hotel or cruise with us.
If you enjoyed this, join 200,000+ readers: please follow TravelSort on Twitter or like us on Facebook to be alerted to new posts.
Become a TravelSort Client and Book 5-star hotels with Virtuoso Perks and Four Seasons Preferred Partner Benefits