This Takho Bangpo (Bang Por Seafood) Koh Samui review is part of a trip report including Singapore Suites, Cathay Pacific First Class, Emirates First Class, Asiana First Class and luxury resorts and dining in Southeast Asia. For the previous posts, please see:
Singapore Suites A380 Review: New York JFK to Frankfurt
Review: Lufthansa Senator Lounge Frankfurt
Singapore Suites A380 Review: Frankfurt to Singapore
Singapore Airlines Private Room Lounge Review
Cathay Pacific First Class Review NYC JFK to Hong Kong
Singapore Suites A380 Review: Singapore to Hong Kong
Review: Grand Hyatt Hong Kong Club Harbour View Room
Tin Lung Heen Hong Kong Dim Sum Review
Review: Grand Club Lounge, Grand Hyatt Hong Kong
Emirates First Class A380 Review: Hong Kong to Bangkok
Review: Novotel Bangkok Suvarnabhumi Airport Hotel
Conrad Koh Samui Zest Restaurant Review, Menu and Prices
Koh Taen Snorkeling with Tours Koh Samui Review
Conrad Koh Samui Jahn Restaurant Review, Menu and Prices
Bang Por Seafood (Takho Bangpo) in Koh Samui is hardly a tourist destination, and that's a good thing. While the focus of Koh Samui from a work perspective were site inspections at three luxury resorts, I love getting off property to check out some of the favorite local eateries. There are many similar casual fresh seafood spots right on the beach, but I'd heard good things about Takho Bangpo, and as it was between two of our resorts, it was a convenient stop.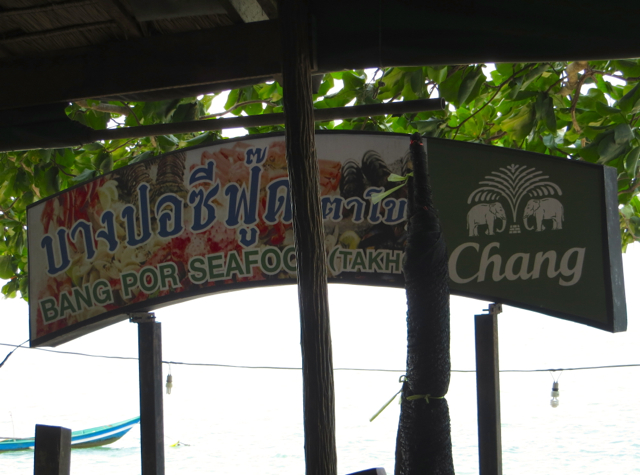 Getting to Takho Bangpo
Takho Bangpo is located right on Maenam Beach, at 56/4 Moo 6 Maenam. We didn't rent a car in Koh Samui, but instead booked a transfer with Mr. Samui from the Four Seasons Koh Samui (where he once used to work, before starting his own business) to our next resort. We asked if he would be able to take us to Takho Bangpo, since it was on the way, and he graciously agreed.
The Scene
One great thing about Takho Bangpo is that it's most definitely not "a scene." It's super casual, and primarily Thai locals, with a few expats and visitors in the mix. We were there for lunch and opted to sit in the shade, as did others (we're very sun protective in my family) but there were also tables and chairs right on the beach for sun lovers. The first photo of the post is a view of the beach from our table.
Takho Bangpo Menu and Food
The menu is more extensive than you'd expect, but fortunately for the most part very simple preparations. If the seafood is fresh, you don't want to do too much to it. There are a couple pages of shrimp dishes, a description of the types of fish they prepare, ranging from pomfret to snapper to sea bass and others, some salads and soups.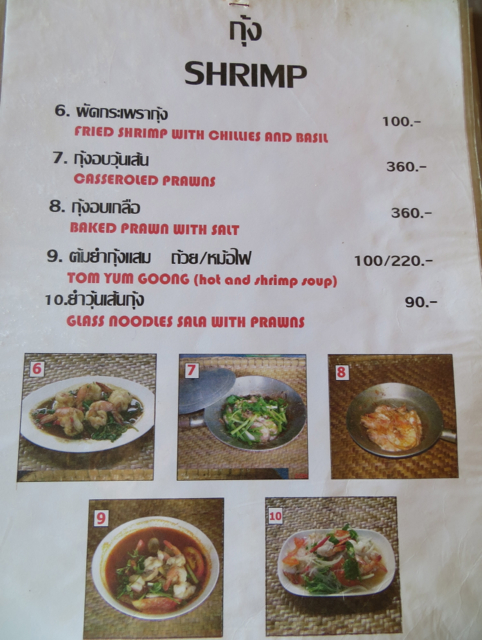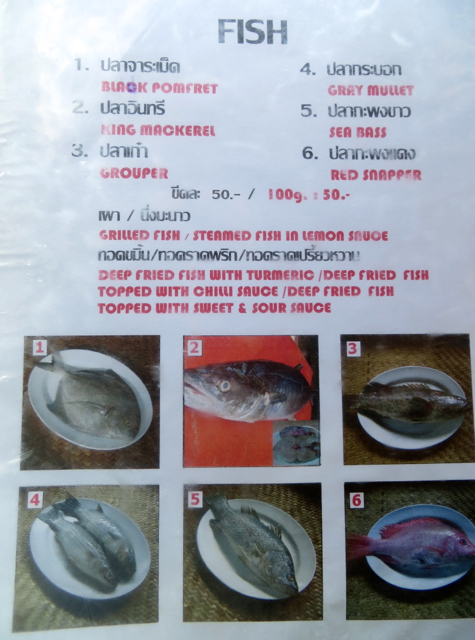 The complimentary appetizer was traditional: fresh cut vegetables served with a spicy paste baked on a coconut husk. I enjoyed it, even though it was a touch too spicy for my husband.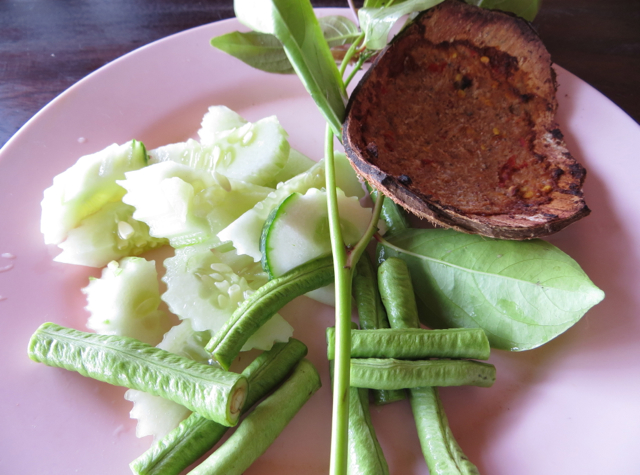 The first dishes to arrive were our coconut rice and shrimp sautéed with chili and basil. I would have liked a bit more coconut flavor in the rice, but it was good nonetheless and the munchkin ended up eating most of it.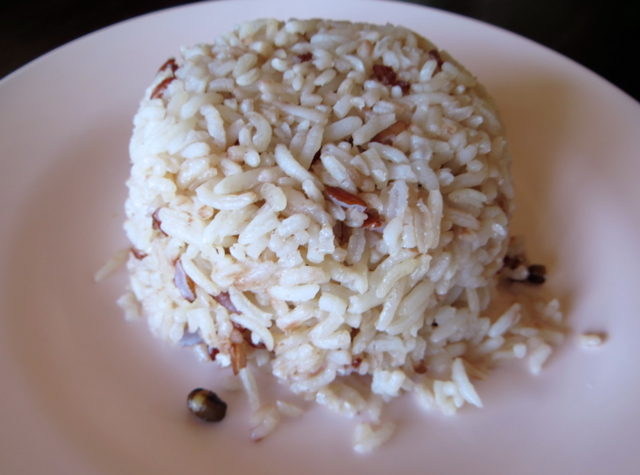 The shrimp were fresh, plump and succulent, perfectly cooked with plenty of fresh red chili peppers that my husband picked out and that I ate whole (when in Rome…)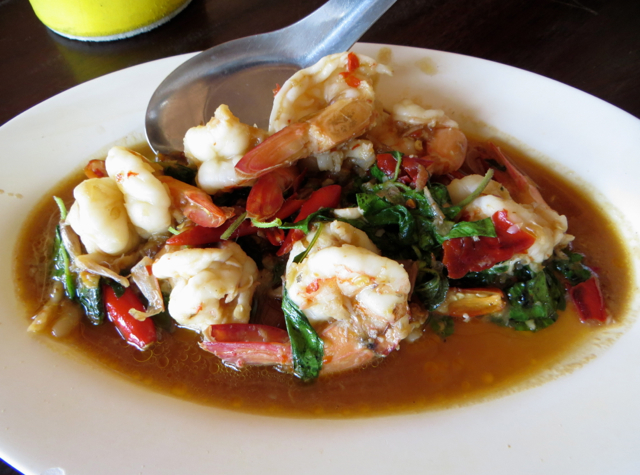 My husband was intrigued when I ordered the stir fried morning glory, and when it arrived and we sampled it, he agreed that it was a fantastic dish, and great vegetable foil to the seafood.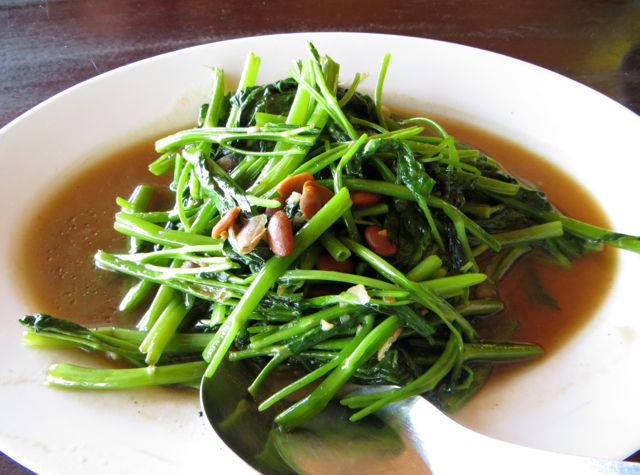 While it took some time, our grilled fresh sea bass finally appeared and was worth waiting for: super fresh, tender and nicely grilled. We all agreed that we probably should have ordered a second fish, given how quickly we polished it off. Yes, it's grilled whole, with the bones (more flavor that way), but it wasn't a big deal to lift most of them out with the backbone, and pick the other small ones out.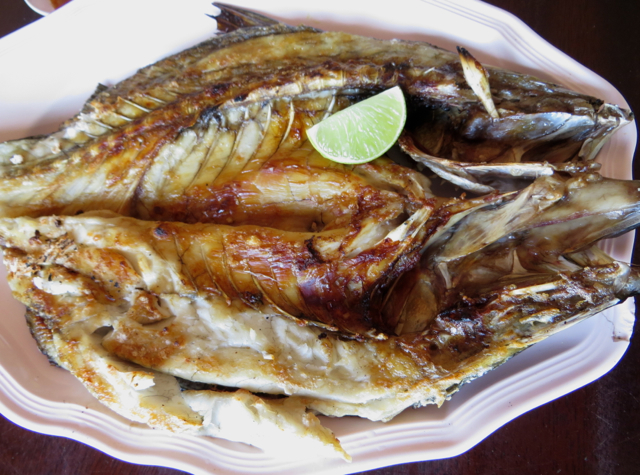 It was accompanied by a nice spicy mango salad, which I pretty much ate all of, since it was too spicy for the munchkin and my husband isn't a huge fan of mango. Such a great side dish, and the perfect place for heat, since you don't want to mar the fresh fish by over spicing it.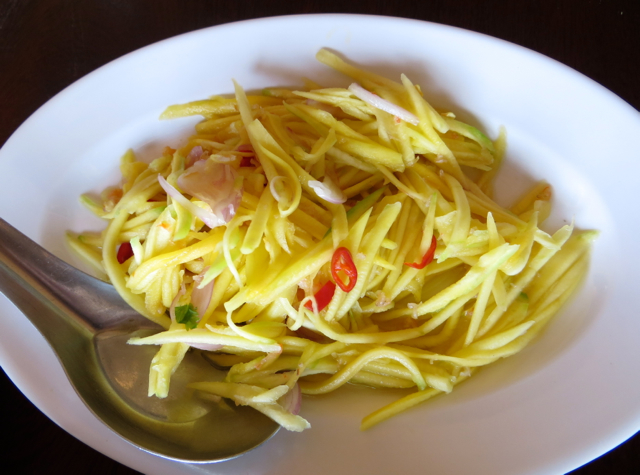 The Service
Although I wasn't sure if it would be a point to the picture to order kind of affair, our server (perhaps one of the owners?) spoke basic English, so there were no problems even communicating a food allergy and getting assurances that the ingredient wasn't in any of the dishes we ordered.
The Verdict
Takho Bangpo was a great find for us, and the most local of the places we ate at on this trip. Highly recommended if you enjoy fresh seafood in a no frills place, and great value. Our lunch for three came to less than $20, including a beer for my husband.
Have you been to Takho Bangpo or a similar seafood place on the beach in Koh Samui?
Related Posts
Conrad Koh Samui Zest Restaurant Review, Menu and Prices
Koh Taen Snorkeling with Tours Koh Samui Review
Need Award Booking Help? Our fee is as low as $75 per ticket if you book your hotel through us.
If you enjoyed this, join 100,000+ readers: please follow TravelSort on Twitter or like us on Facebook to be alerted to new posts.
Become a TravelSort Client and Book 5-Star Hotels with Virtuoso or Four Seasons Preferred Partner Amenities!