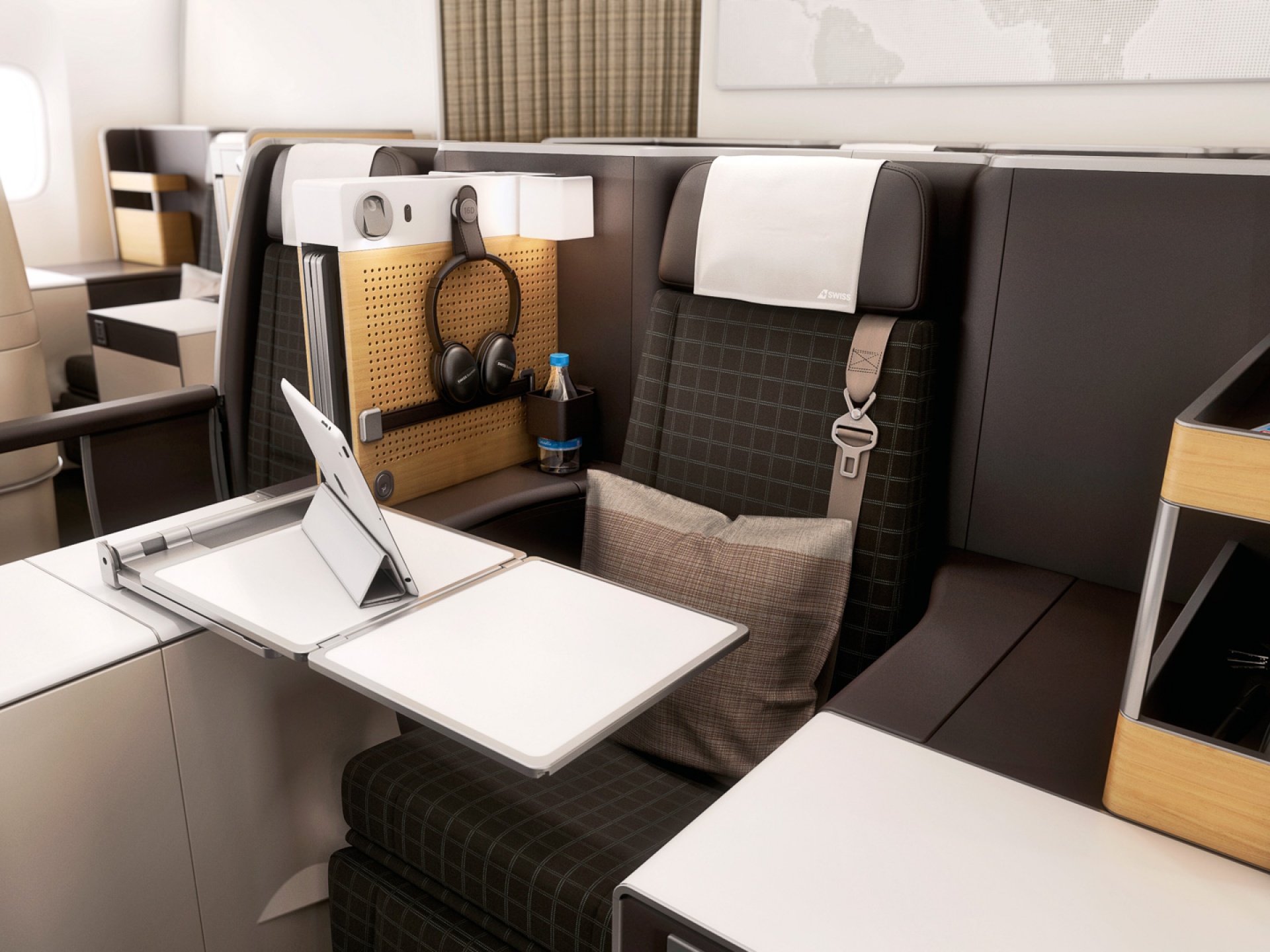 Swiss Air Lines Now Charges $149-$199 to Select "Throne" Seats, with higher or lower fees depending on the flight length. This change is probably not too popular with Miles & More elite members who previously were the only ones who could select these seats in advance. But for those without status who used to not be able to select such seats in advance at all, it's a qualified positive, assuming they're willing to pay for it. I have clients now that are willing to pay the fee to select these more private seats, and otherwise wouldn't have been able to as they have no elite status.
If you booked your Swiss Business Class flight with United MileagePlus or Aeroplan miles, you'll see the fees charged for selecting these solo "throne" seats on the left side of the aircraft, after going to "Manage My Booking" on the Swiss Airlines site and entering your Swiss record locator. The throne seats, 4A, 6A, 8A, 10A and 12A, are marked in blue.
These seats are still available to select, free of charge, if you're a Miles and More Senator or HON Circle member, but it's a bit of devaluation in frequent flyer privileges since these highly coveted seats are now also being sold to non-elites.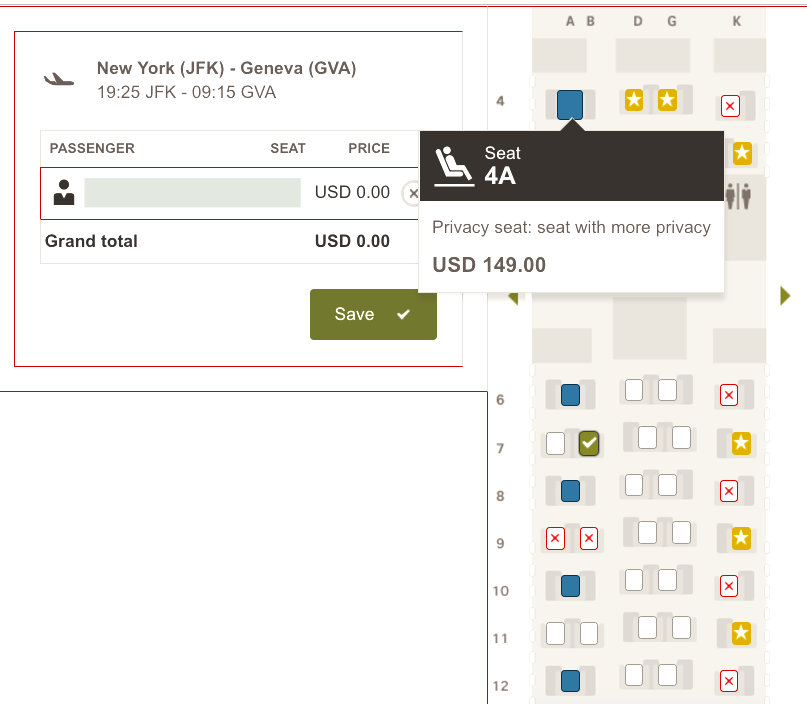 On the right hand side, you'll see that all the solo seats by the window are reserved for Miles and More elite frequent flyer members: HON Circle and Senators.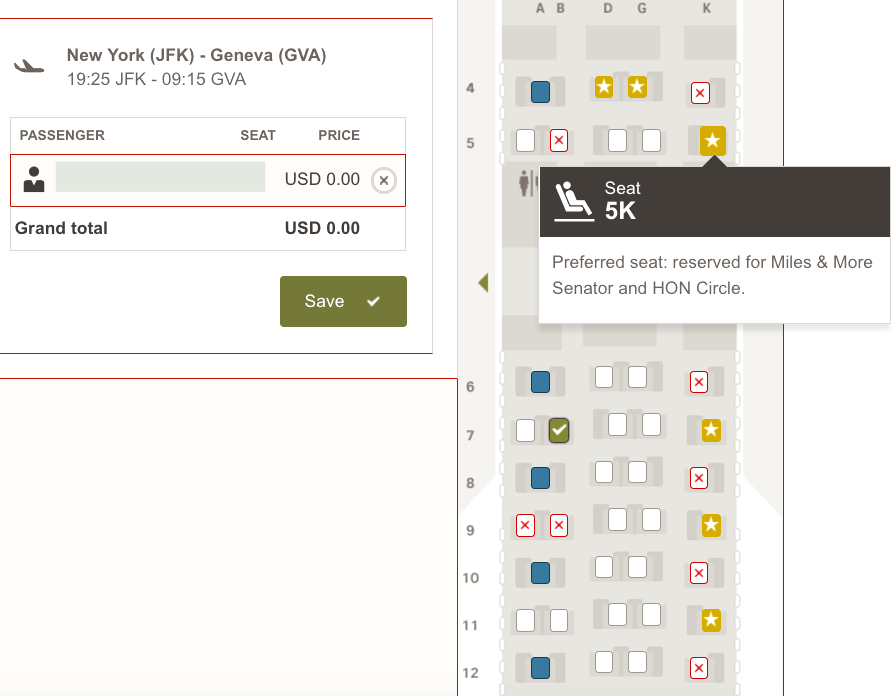 This change went into effect at the end of March 2017, per Flyertalk, announced via this letter from Swiss Airlines to its Miles and More elites:
"…we have introduced exclusive single seats that are marked by more space and discretion. Due to the overwhelming demand concerning these "Privacy seats", we will be giving our guests the opportunity to reserve these seats for a fee starting at the end of March.
As a token of our appreciation, we are delighted to continue offering these seats to you at no charge, as long as they are still available at the time of booking…"
FAQ
Which Other Airline Charges You to Select a Business Class Seat?!
British Airways has long charged business class passengers to select a seat, also with the fee depending on the length of the route. In fact, you have to pay to select any British Airways Club World seat; for SWISS, the paired seats are still free to select in advance.
What's So Great About the Throne Seats?
The "throne" seats 4A, 6A, 8A, etc. are great for solo travelers and offer more personal space, as they have an arm rest on each side. That provides some separation from the aisle and additional space to place your personal items. The most desirable is 4A, which is also in the mini-cabin right behind First Class.
Is Swiss Charging to Select These Seats Only on Award Tickets, or Also for Paid Business Class Tickets?
Swiss is charging to select "throne" seats both for award tickets and paid Swiss Business Class tickets. Flyertalker Darlox reports that he was monitoring for better seats to open up for an upcoming paid flight, and the seats changed from being blocked for Miles and More elites to being available for a $199 fee.
If I Cancel My Award Ticket After Paying the Seat Selection Fee Will I Receive a Refund of the Seat Fee?
No, if you cancel the underlying flight you won't receive a refund of the seat selection fee. You also won't receive a refund of the fee if you later change your seat to a seat that doesn't require a fee, or if you're upgraded to First for operational reasons, or if you gain Miles & More elite status such that the fee wouldn't be charged.
Under What Circumstances Would I Receive a Refund of the Seat Selection Fee?
You would only receive a refund if SWISS changes your seat for operational reasons, such that you're not able to be seated in the seat you paid to reserve.
Would you pay $149-$199 to select the better seats in Swiss Business Class, if you're not a Miles & More elite?
Recommended Posts
Aeroplan: SWISS Awards Bookable Again
Swiss Airlines Business Class Review: Bangkok-Zurich
Review: SWISS Lounge JFK Terminal 4
Best Business Class Airline Seats for Couples
Need Award Booking Help? Our fee is as low as $75 per ticket if you book your hotel or cruise with us.
If you enjoyed this, join 200,000+ readers: please follow TravelSort on Twitter or like us on Facebook to be alerted to new posts.
Become a TravelSort Client and Book luxury hotels with Virtuoso or Four Seasons Preferred Partner Amenities!