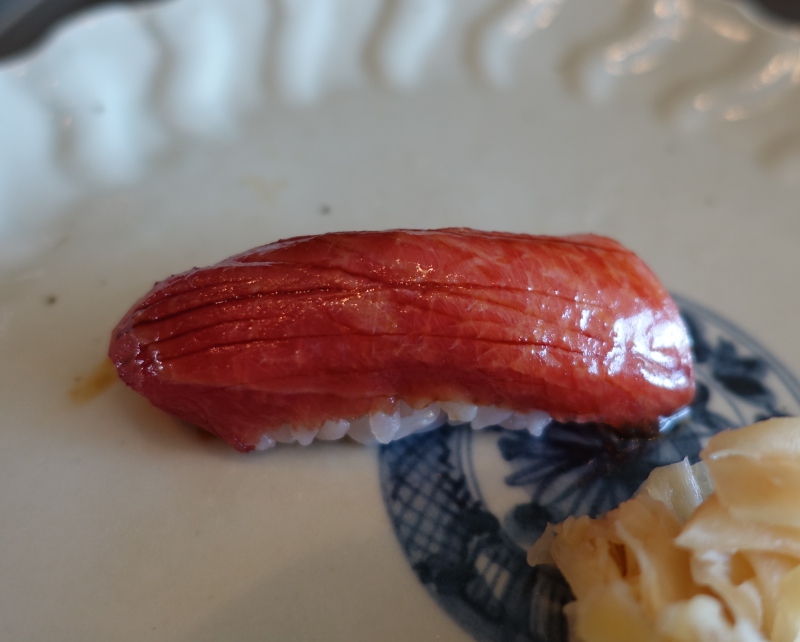 Sushi Sora is the Japanese sushi bar at the Mandarin Oriental Tokyo, with just 8 seats, helmed by Chef Yuji Imaizumi. I had a chance to try it for lunch during our recent stay at the Mandarin Oriental, although my husband and son had pizza, for reasons I'll explain below.
Visiting Tokyo? See all our posts tagged Tokyo.
Sushi Sora Location, Hours, Reservations and Cost
Sushi Sora is located on the 38th floor of The Mandarin Oriental Tokyo, which is at 2-1-1 Nihonbashi Muromachi in Chuo-ku. You'll take the elevator up to the 38th floor, and Sushi Sora is tucked into a corner on the opposite side, near the elevators that go to the guest rooms.
Lunch is served 11:30am-2:30pm, and dinner from 5:30pm-10pm. But don't try to walk in; there are just 8 seats, so you'll need a reservation. If you're not staying at the hotel, you can make a reservation about 2 months in advance, but you can reserve earlier than that if you're a hotel guest.
Lunch set menu prices range from 6000 JPY for 7 pieces of sushi plus a small rolled sushi, soup and dessert, to 20,000 JPY for the most extensive lunch. Dinner set menus range from 15,000 JPY to 26,000 JPY. As at most sushi bars, you're asked at the time you make your reservation of any true food allergies, but the set meals are omakase, or "chef's selection" so you can't just request a different sushi piece simply because you don't care for a particular kind of fish.
Note that you can't bring children under 12 to Sushi Sora, no exceptions. Because of this, my husband and son dined at the Pizza Bar on 38th, a few steps away, and apparently had some great pizza–they'll write their impressions in my upcoming review of K'Shiki, the Italian restaurant that the Pizza Bar is located in.
The Scene
At lunch, I seemed to be the only foreigner, everyone else was Japanese–a younger couple, as well as an older couple there with a younger family member. I was seated nearest the entrance, but got a glimpse of the great view of the Tokyo skyline, and asked after lunch if I could take a photo by the window to capture the view.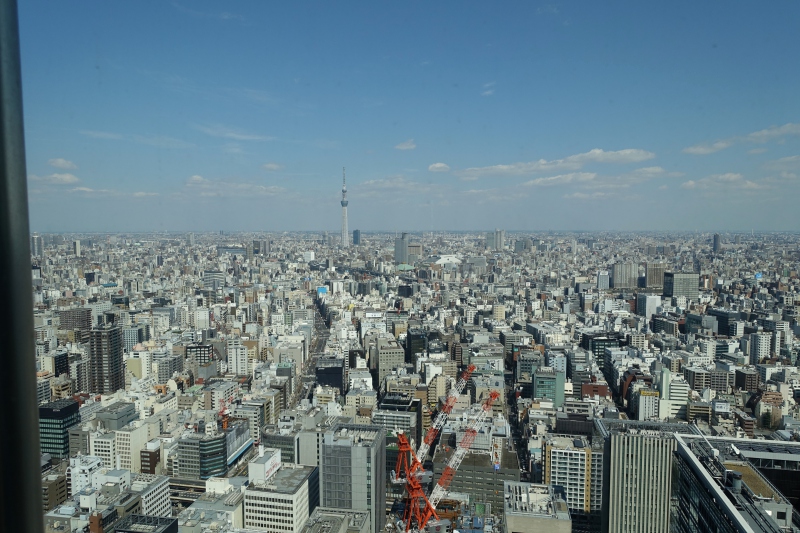 Sushi Sora Omakase
I opted for the Akane menu, with 10 kinds of sushi, a small roll, soup and dessert. Before starting, I unwrapped my napkin, which was prettily wrapped up like a present: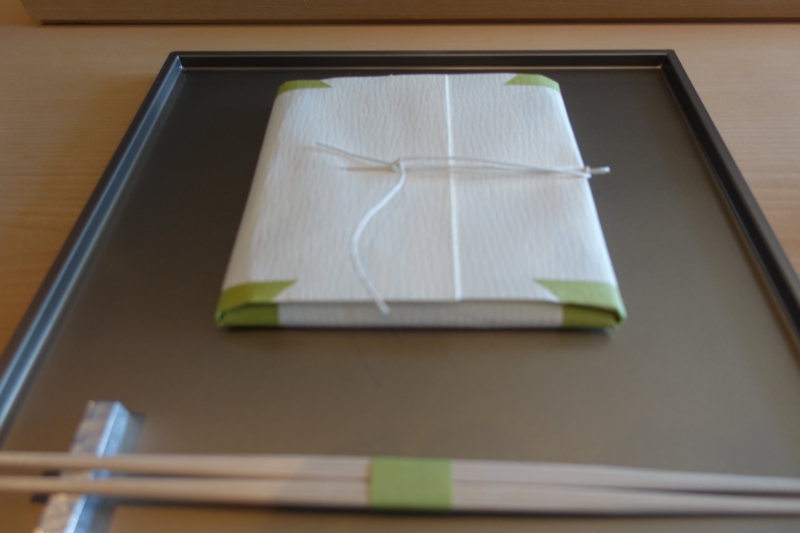 There was also an oshibori, and right before the sushi I was brought a small hand wipe, since it's as traditional (if not more so) to eat nigiri sushi with your hands as it is with chopsticks.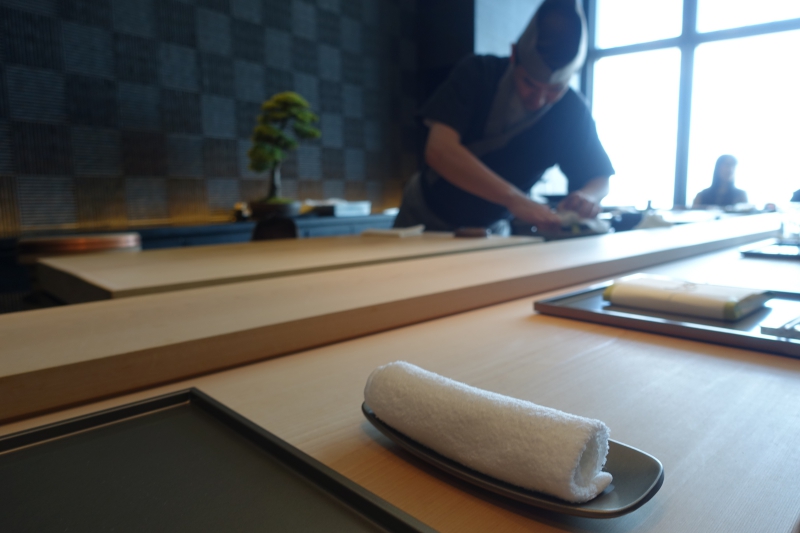 The meal started with a couple types of blanched vegetables, a kind of broccoli, then a new potato and pieces of green bean. Good to have some vegetables, but I was looking forward to getting to the sushi.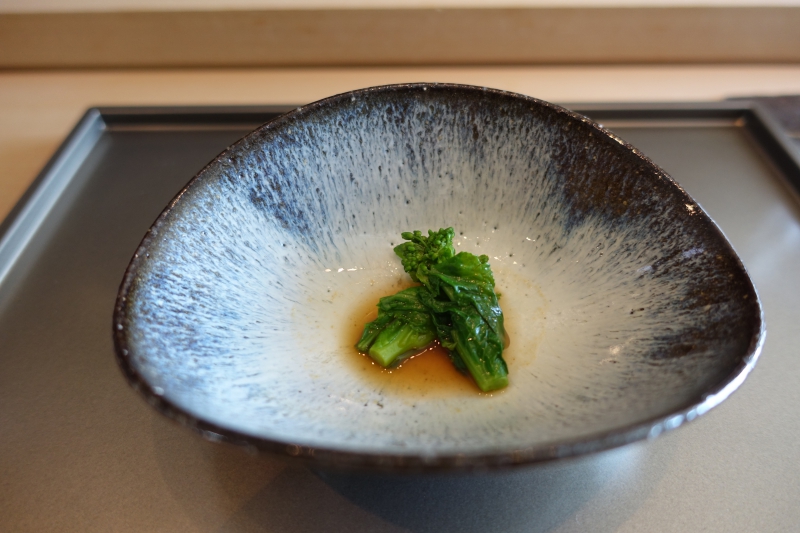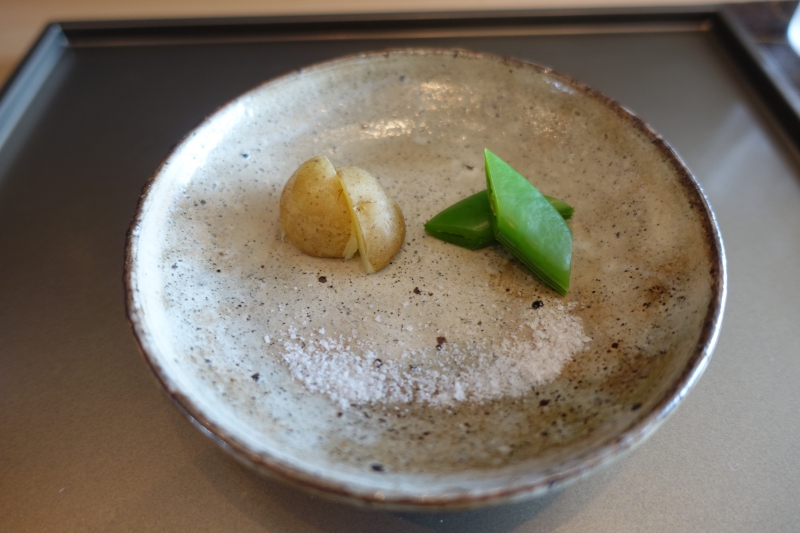 The first nigiri was flounder, hirame, which was just ok. I've definitely had better.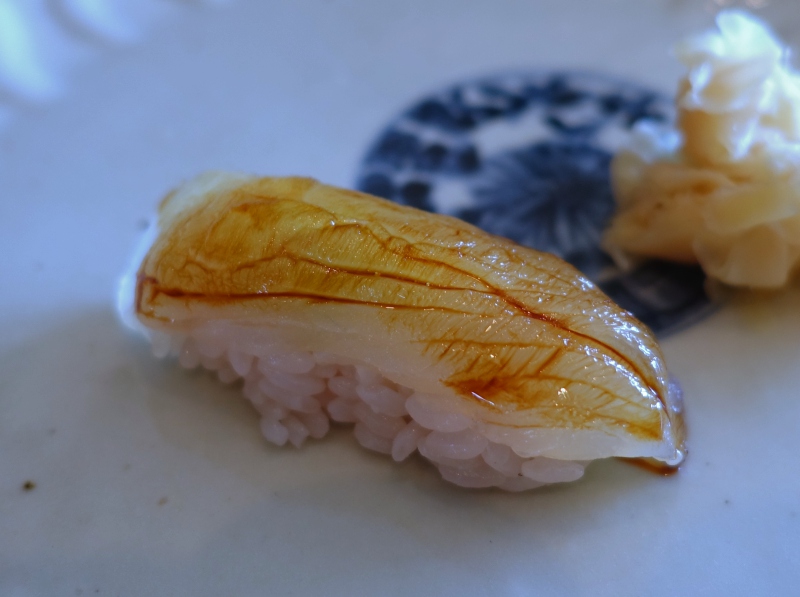 The bonito and shrimp were both good, if not comparable to Sushisho Masa from the night before. If you haven't had fresh bonito but like Japanese food, you've almost definitely had it in dry form, since the dry flakes are used in making the soup stock for miso soup and other Japanese soups. The flakes are also sprinkled atop Japanese comfort foods such as okonomiyaki and takoyaki.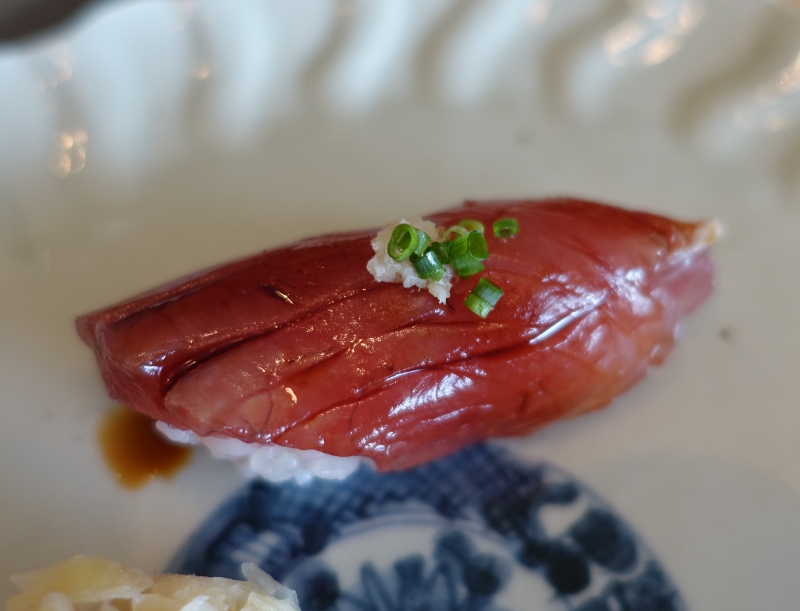 The scallop was sweet but not as succulent as I'd have wished.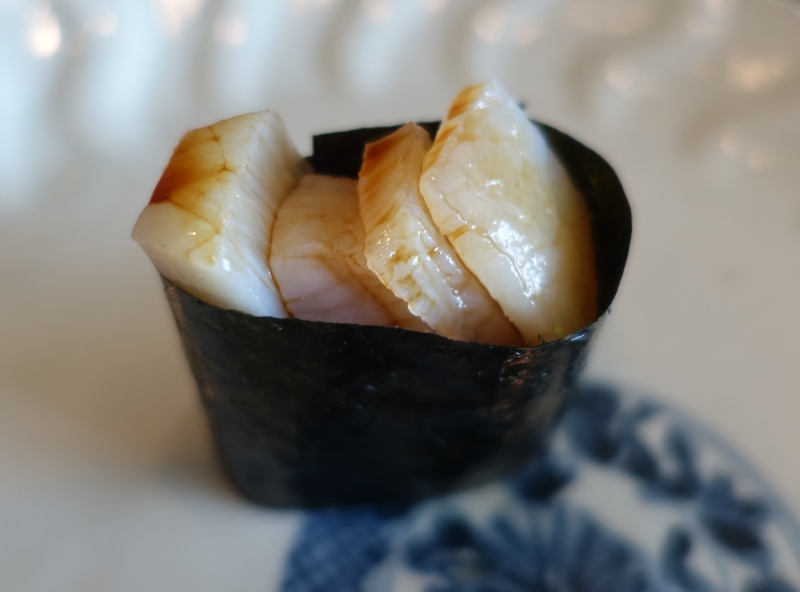 The red snapper was fantastic–my favorite piece, together with the O-toro that came later.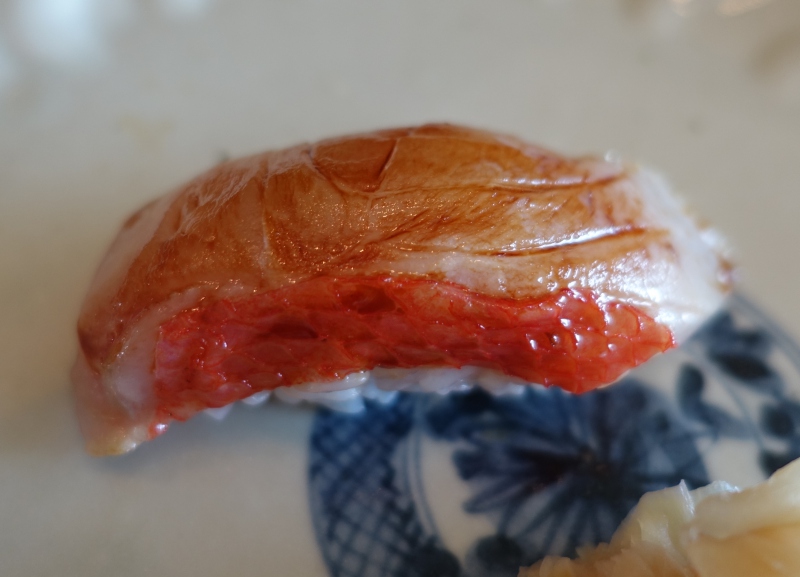 The squid was ok, but this trip has really confirmed for me that I'm just not a fan of squid sushi.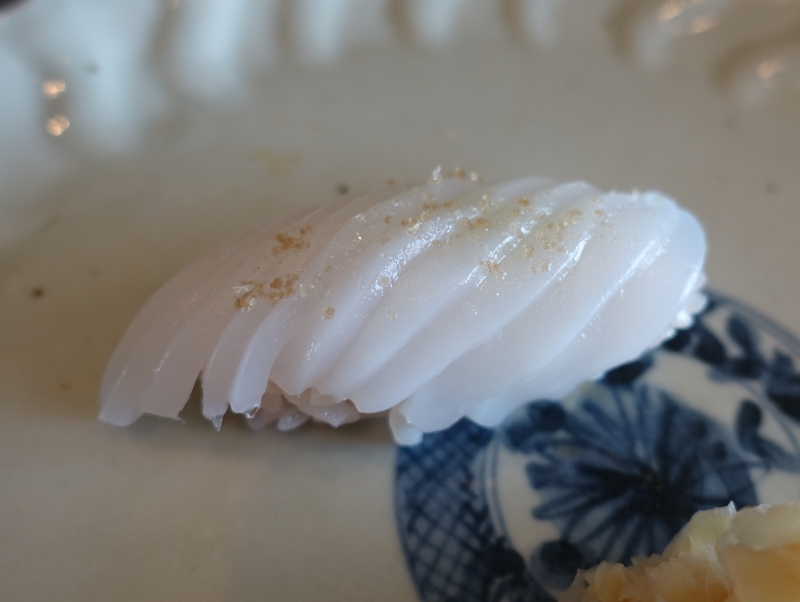 Sayori, or needlefish, was very good.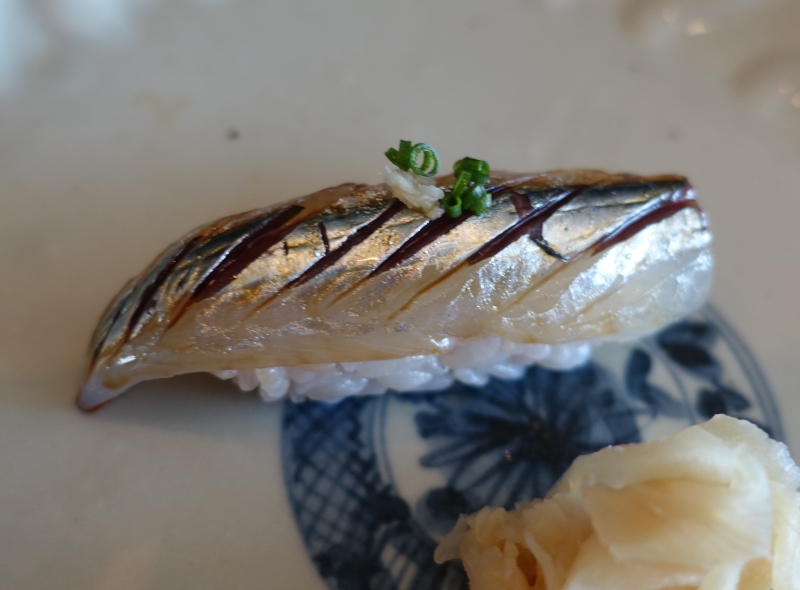 Here's the O-toro, fatty tuna, which was my favorite piece, together with the red snapper.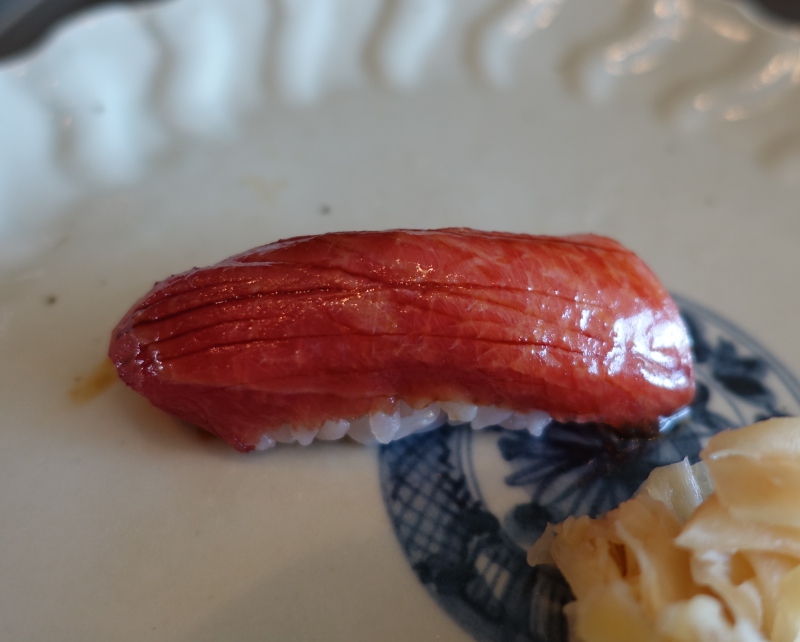 Kohada (Gizzard Shad), which I don't often have in the U.S., is a nigiri I'm coming to appreciate, as strong flavored as it is. This was very good, although suffered slightly again by comparison with the version we'd had at Sushisho Masa.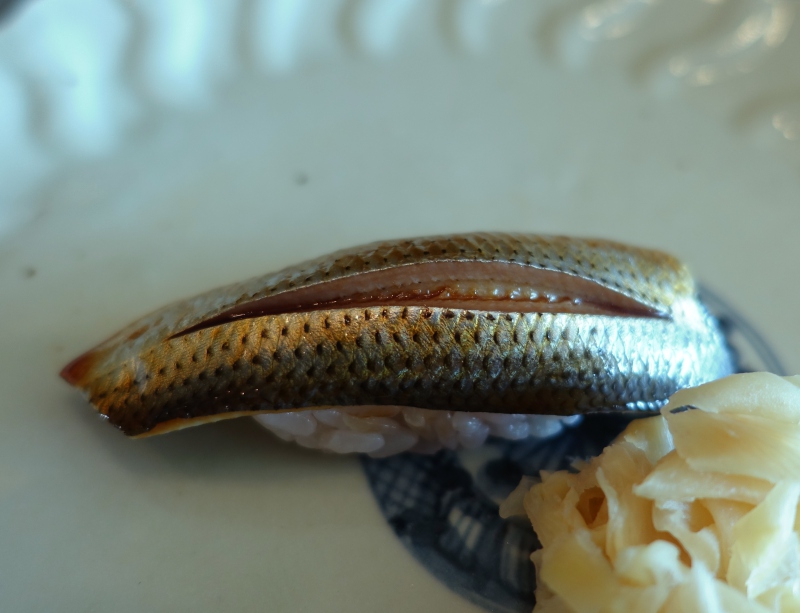 The Anago (saltwater eel) was also excellent.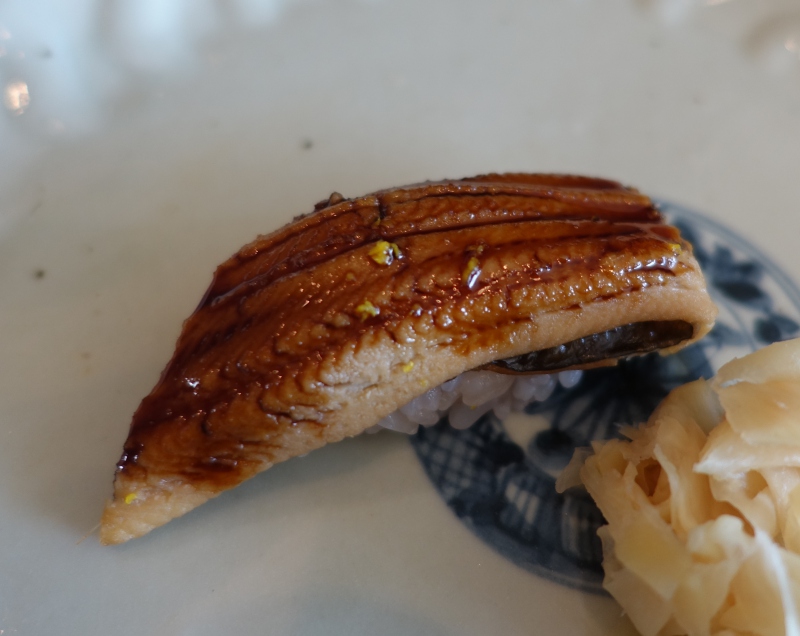 A Kanpyo hand roll followed; kanpyo (gourd) is a very traditional Edo-mae (Tokyo style) sushi, and has been familiar to me from childhood, since it is also favored in certain Hawaiian style sushi.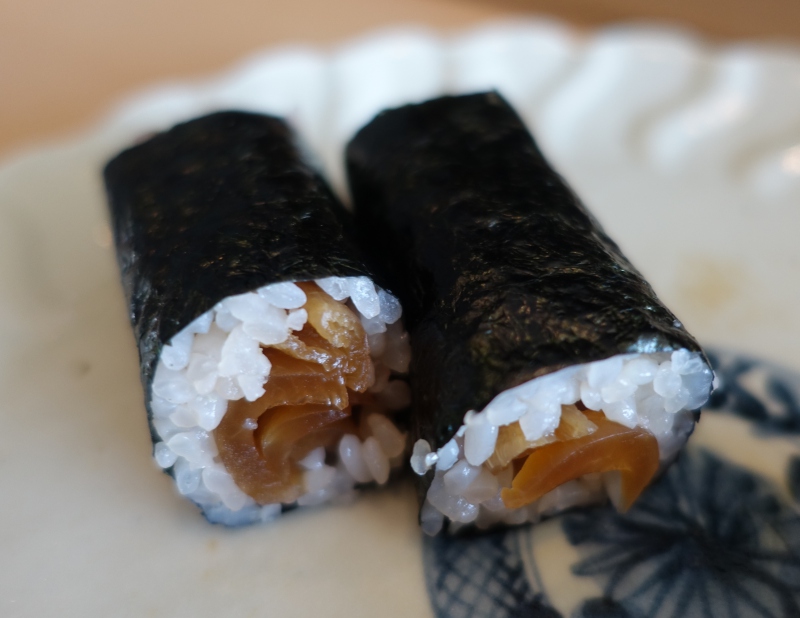 The clear broth was a nice way to conclude the savory courses, and, together with the pickled ginger, acted as a palate cleanser before dessert.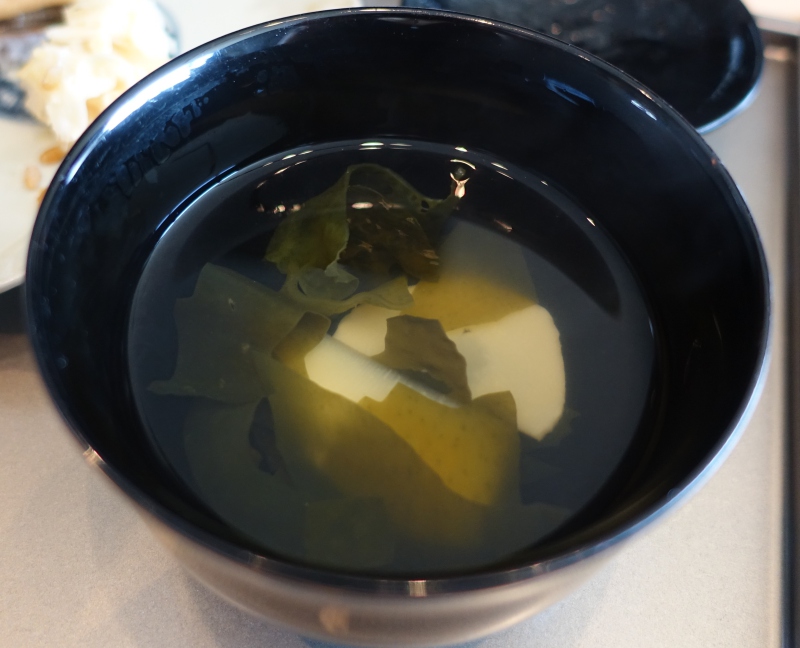 I'm not much of a fan of Asian desserts, but the Sakura (cherry blossom) mochi was beautifully presented, with a sprig of cherry blossom, strawberry, and perhaps freeze dried strawberry powder. And the mochi filling of bean paste and cherry blossom wrapped in very soft mochi was tastier than I expected.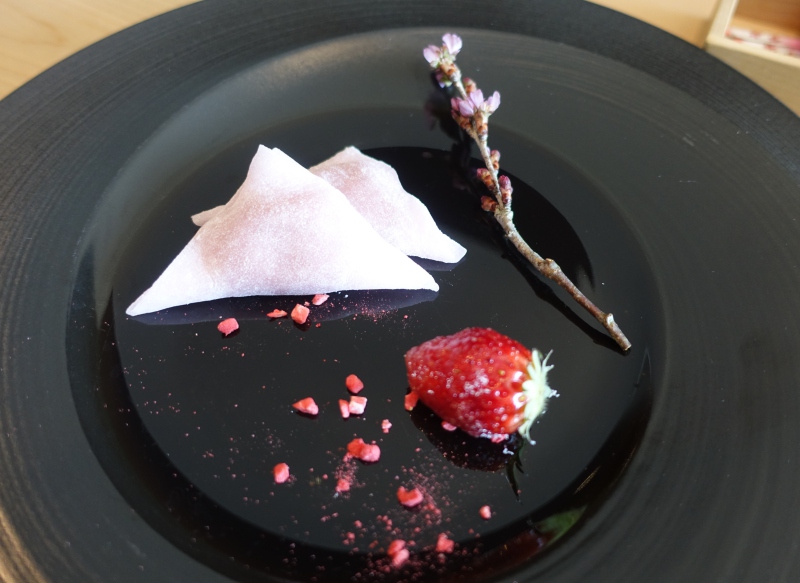 The Verdict
If you're not willing to splurge on a great Tokyo sushi bar such as Sushisho Masa, or don't have time to venture out from the hotel due to work, Sushi Masa is both convenient and a very good sushi bar, even if the selections seemed a little too standard compared to the wide ranging variety we'd tried at Sushisho Masa. Lunch is a relative deal, since you can enjoy a similar menu for roughly half the price of the least expensive dinner. The issue for families is that you won't be able to bring even a well behaved under 12 year old here, which seems ironic, given that it's not even Michelin rated, whereas we've brought our son to 2 and 3 star Michelin restaurants without issue.
If you've been to Sushi Sora, what was your experience?
Recommended Posts
Hotel Review: Mandarin Oriental Tokyo
Sushisho Masa, Tokyo Review: Our Favorite Sushi Bar in Tokyo
Review: Four Seasons Tokyo at Marunouchi
Review: ANA First Class 777 New York JFK to Tokyo Narita
Disclosure: I paid for my own meal at Sushi Sora.
Need Award Booking Help? Our fee is as low as $75 per ticket if you book your hotel through us.
If you enjoyed this, join 200,000+ readers: please follow TravelSort on Twitter or like us on Facebook to be alerted to new posts.
Become a TravelSort Client and Book the Mandarin Oriental Tokyo with FanClub or Virtuoso Benefits!