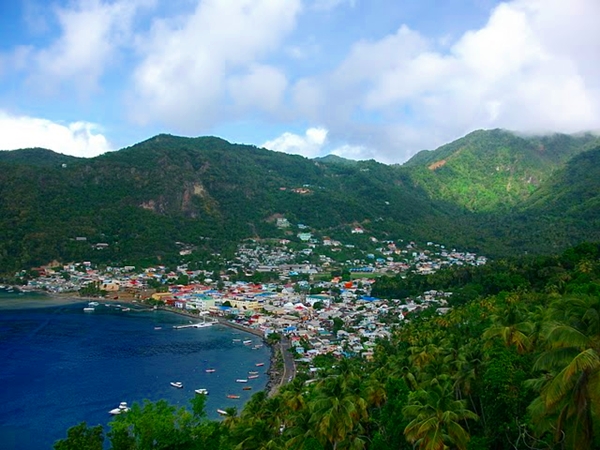 Why Go
With 28 islands in the Caribbean, choosing the best fit for your ideal vacation can be daunting, especially when you throw kids in the mix. Is it just fantasy to hope for a tropical spot with soft sand, dense foliage, lots of activities, away from the hard-partying college crowd—in a reasonable price range? Not if you head to St. Lucia. This small island in the Lesser Antilles has a reputation as a romantic getaway—it was featured on a recent season of ABC's The Bachelor—but it also offers plenty of low-key fun for families.
Insider Tips
Temperatures in St. Lucia tend to stay between the low-70s to mid-90s ºF; December and January are the mildest months. The dry season lasts from December to May, and the wet season runs from June to November. But rain is possible at any time, and you might get a brief shower at some point on any given day. The sun rarely stays hidden for long, though. If you book through a travel broker, be sure to ask about their rain policies. Some companies provide rain guarantees that promise discounts on future vacations if rain disrupts your fun.
Castries is the capital city, and has the highest concentration of tourist activity. It is a stop on many cruise ship itineraries, and hosts many international visitors.
Soufriere, Marigot Bay, Gros Islet, and the coast near Vieux Fort also offer beautiful scenery and comfortable lodgings.
There are two airports in St. Lucia: George Charles Airport in Castries on the north end of the island, and Hewanorra International Airport in Vieux Fort on the south end. Confirm your hotel/resort's location and plan your arrival accordingly. While the road system is well maintained, it can still take almost two hours of drive time to get from one end of the island to another. Transfers across the island can be expensive, as much as $110 per person, depending on the company and type of service. Try to book in advance.
The west coast of the island faces the Caribbean Sea; the east coast faces the Atlantic. If you are really yearning for the calm, crystal blue water that everyone associates with the islands, choose an accommodation closer to Castries. This side has the best conditions for snorkeling, scuba, and just splashing around. If you have younger children, however, give some serious thought to an all-inclusive resort in the south near Vieux Fort. The area is quieter, and several properties have wonderful children's activities that leave you free to lounge in the sun all day. The water is rougher on that side, and the beachfront is thin, so ocean activity consists mostly of sunbathing and wading. The resorts make up for this with beautiful pools and supervised water parks that are probably a better choice for little ones—and they can still build sand castles! Most hotels can arrange excursions to the rest of the island.
The south and east coast are also the best spots for windsurfing, if you, or your teenagers, want to give it a try. Novices will need to plan for a two-day set of lessons before going out on their own.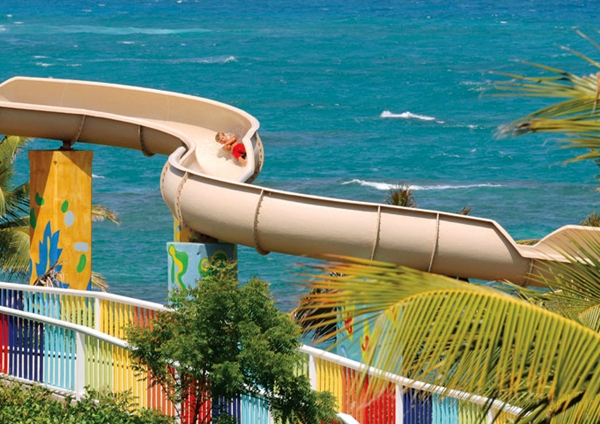 Where to Stay
When traveling with a family group, whether it's just you and the kids or if the grandparents and cousins tag along, all-inclusive resorts have many advantages. There are usually a variety of food options, so you don't have to spend hours finding restaurants where everyone is willing to eat. Most have activities and equipment for those who enjoy playing outside, host of lounge chairs where you can sit with a book and a beverage, and spa services if mom needs a little "me time." Everyone can stay busy doing exactly what they feel like doing, and no one gets stuck doing the dishes.
On the south coast, Coconut Bay Resort and Spa is especially well suited for families with younger children. The property is divided into areas for all ages and areas for adults only: you won't have to worry if your youngsters' games are bothering the singles next door, or what your kids might overhear. The family pool area includes a water park with lazy river, wading pools, waterslides, and a swim-up bar with a special selection of non-alcoholic mixed beverages. The kids can have a "mocktail" while you sip your mai tai. The beachfront is small, and the Atlantic waters choppy, but if you want snorkel or body surf, the activities desk can arrange day trips to the Caribbean side. Best of all, the Coconut Bay features a kid's club where children can be dropped off for a large part of the day. They can enjoy games, crafts, and a large playground in a supervised environment while you swim, shop, or nap. The property features four restaurants: a grill and a buffet that are open all day, and two sit-down eateries that require reservations. The food is intended to appeal to the general public, so you won't find much exotic spice, but the staff does prepare most items from scratch.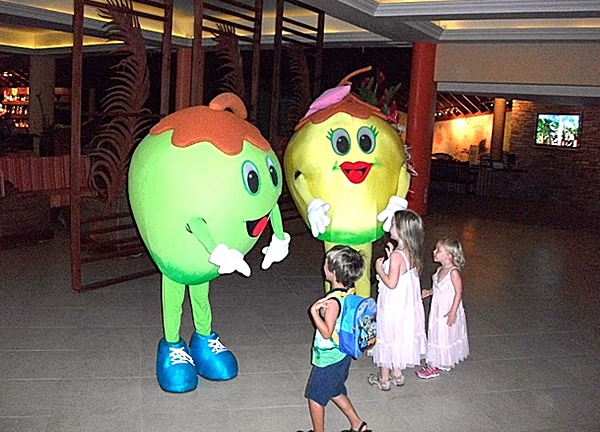 On the north coast, Smuggler's Cove Resort and Spa should appeal to families with older children and teenagers. The property has well-maintained gardens and pools—also divided in to family-friendly and adults only categories—as well as beach access and water sports equipment. They provide lessons in snorkeling, scuba, and kayaking, among other things. In addition to a kids club with programs similar to Coconut Bay, Smuggler's Cove has teen lounge areas and activities that include archery, cooking classes, and water polo. Their excursions (these are an additional cost) include whale watching and a forest canopy zip line. They offer a choice of four dining areas, including a buffet with kid-friendly fare as well as Creole and Italian with more formal service.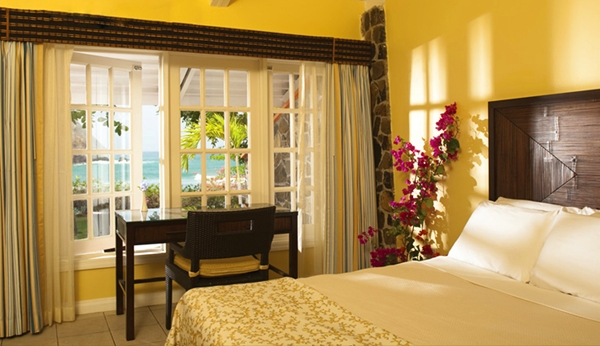 If you prefer to book a standard hotel, St. Lucia has many beautiful properties. The Jalousie Plantation is a former working sugar plantation with a beautiful white sand beach. They provide supervised children's activities, with an emphasis on rainforest and marine education. Jalousie offers all-inclusive packages, but you can opt for an accommodation only booking.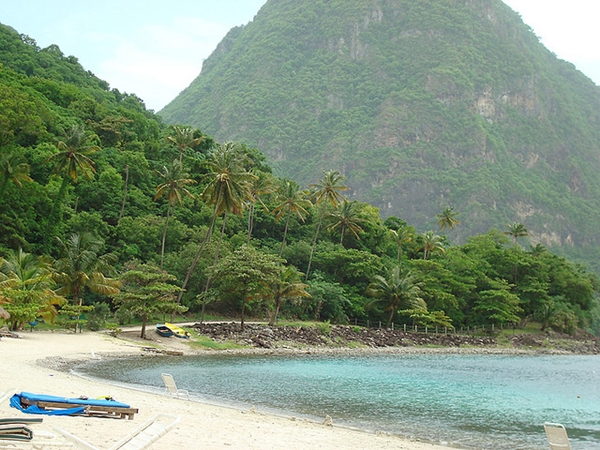 Coco Palm, a boutique hotel, is located in Rodney Bay Village, an area that caters specifically to tourists with beach access, shopping, a casino, and other popular amenities. This small property welcomes children (where many cater to adult couples or singles) and has small program of activities for them.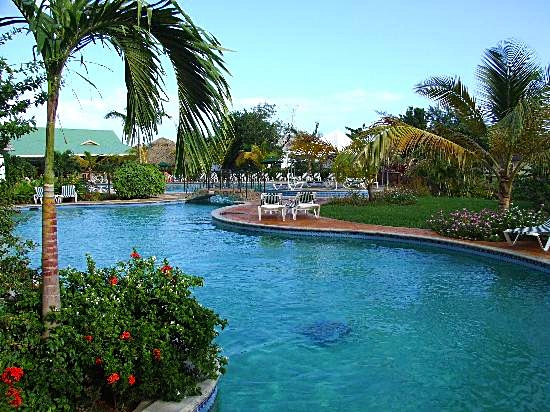 Where to Eat
St. Lucian food, as with much Caribbean cooking, features quantities of fresh fruit and vegetables, grains, protein from poultry and fresh seafood, and aromatic spices. The kids can enjoy fresh squeezed juices or fruit-flavored water; adults should take the opportunity to sample the local cocoa tea, as well as island-produced rum.
The hotels and resorts, especially the all-inclusives, will have plentiful food available at all hours. There's nothing wrong with that, to be sure. You will find a variety of safe choices….after all, kids will always eat French fries. But for a real taste of Caribbean cooking, you've got to get out and get to town. If you take any guided excursions, and feel adventurous, ask your driver to take you to one of the many small, no-name restaurants where the locals eat. There you can sample dishes like fried plantain and breadfruit, curried chicken or fish, and a side of mixed grains. Put a dash of the local peppah sauce on top if you like spice (go easy on it)! Take the kids to one of the open air markets in Castries, Soufriere, or Vieux Fort for tropical fruit, freshly extracted coconut juice, and sweets made with locally grown cocoa. Remember to take cash, as these kinds of small vendors rarely take credit cards.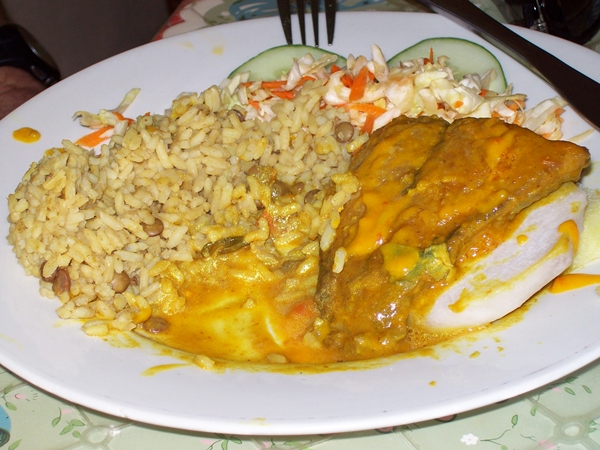 Rodney Bay Village in Gros Islet features a variety of restaurants from fast food to Creole, Indian, and seafood. You will want to plan ahead, especially if you intend to eat out for dinner. While there are plenty of low cost options, you will want to know the average cost per plate, as well as whether reservations are required. Many higher end restaurants have dress codes—pants for men, dresses or skirts for women—and may hold the kids to these standards, as well. The same is true for dining all over the island.
For spectacular views and fresh, local delicacies, make a trip to Le Haut Plantation Restaurant in Soufriere. Breakfast and lunch are the best times to take advantage of the restaurant's three balconies that overlook the city and ocean, including a stunning vista of both peaks of the Pitons. Try the daily fish specials—much is fresh caught, and delicious grilled or fried. The chicken roti are also a St. Lucian favorite and recommended.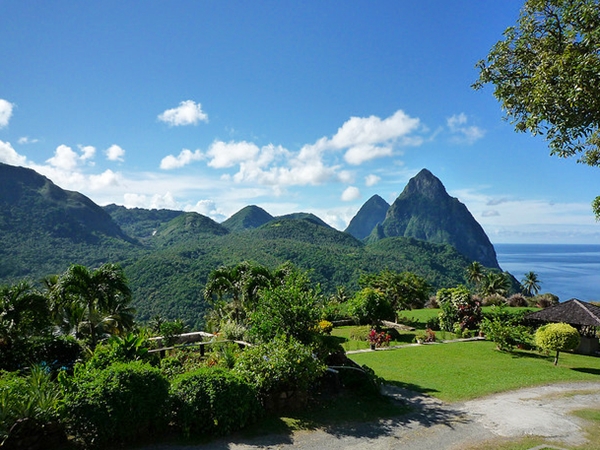 What to Do
Snorkel in the Caribbean Sea: In shallow water, this is a fun activity for even small children if they are confident swimmers. There are dozens of colorful fish species, turtles, and other marine life to experience, and the crystal water makes for excellent viewing. The Caribbean side of the island has much calmer water and more sheltered inlets. Consequently, most of the outfitters for water sport are on the north and west side of the island. There are a number of different companies providing equipment, transportation, and other services. If you stay in a resort or hotel, it is likely you can book a day trip through their activities desk. Private vendors, many of whom station themselves on the beaches, offer less expensive packages. But ask around before contracting with any of them, and make a special point of talking to other visitors, as some of vendors are more conscientious and safety-oriented than others.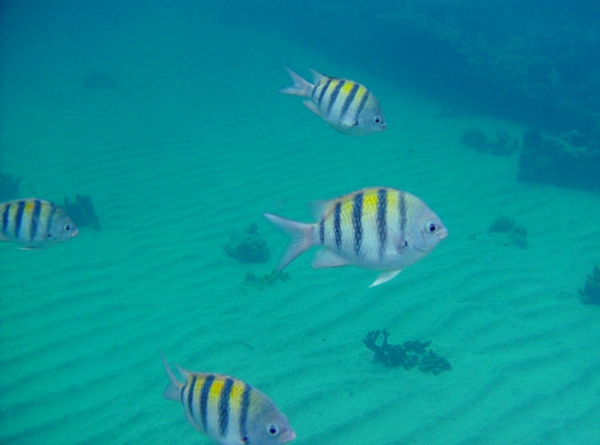 Walk Through Diamond Falls Botanical Gardens: Located on the privately owned Soufriere Estate, this preserve is a verdant and vibrant haven for the island's many plant and bird species. The grounds are carefully landscaped with local trees, plants, and flowers—all of which are available for close viewing from carefully groomed paths. There are some inclines and slightly slippery spots, but the majority of the park is easily navigable for adults and children. Island residents serve as guides for an informative, restful nature hike among multicolored blossoms, jewel-toned birds, and towering rubber trees. Entry is $5 for adults, and half price for children. For an extra $4-6, you can soak in natural mineral baths dating back to the French occupation of the 1700s. Have one of the island guides accompany you for a wealth of useful information about the flora and fauna; your family will enjoy the gentle humor and warmth of the St. Lucian temperament. The guides do work for tips, so keep that in mind at the end of your visit.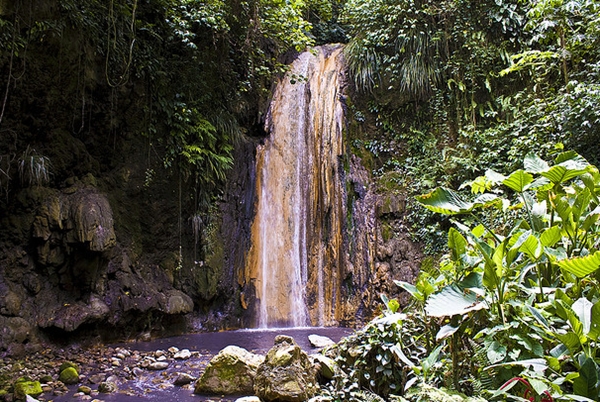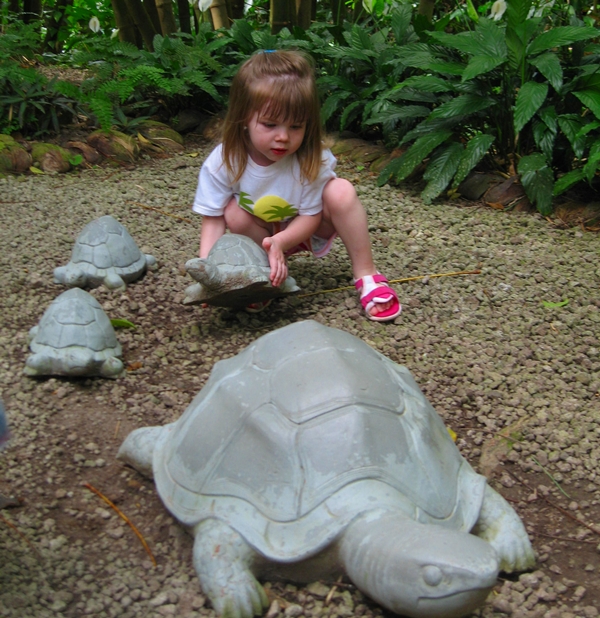 Ride a Zipline Through the Rainforest: At least two different outfitters, Rainforest Adventures St. Lucia and Treetop Adventure Park, provide canopy tours for adrenaline junkies. A gondola carries you up to the treetops…then you explore the forest via a series of high-speed rides on ziplines (with proper safety equipment, of course). These tours are appropriate for adults and older children. Rainforest Adventures excursions start at $69, and have a minimum age of 12. Treetop Adventures asks for a minimum height of 50", and fees range from $49-59. For families with children as young as 3, Treetop provides a "Treetop Adventure Tour" that skips the zipline, but includes a mini-course with suspended bridges and safety equipment.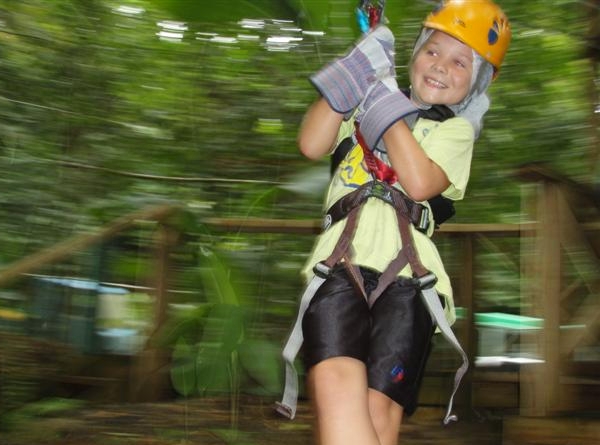 Drive into the Volcano: Much of St. Lucia's geography, including the Grand and Petit Piton mountains, was created by volcanic activity. The island is one of the few places in the world where visitors can get up close and personal with an active volcano. Don't expect to see red-hot magma or flowing columns of melted rock, but the sulfur springs and park will allow you to walk quite close to open fields of bubbling sulfur and steaming pits. The area is still active, and quite dangerously hot. So visitors are limited to observation decks in close proximity to the pits, where the acrid tang of sulfur permeates the air. Before driving down into the volcano, visitors stop at a small information center with displays on the island's geological and social history. After observing the sulfur pits, you can request a stop to soak at the mud baths and hot springs. A number of local companies will schedule visits to the area; prices vary depending on the vendor and length of excursion. This visit is best for adults and teenagers, who will find nature's raw power fascinating. Small children will find less to interest them in the simple facilities and pungent atmosphere. For more information, visit the Soufriere Foundation's website.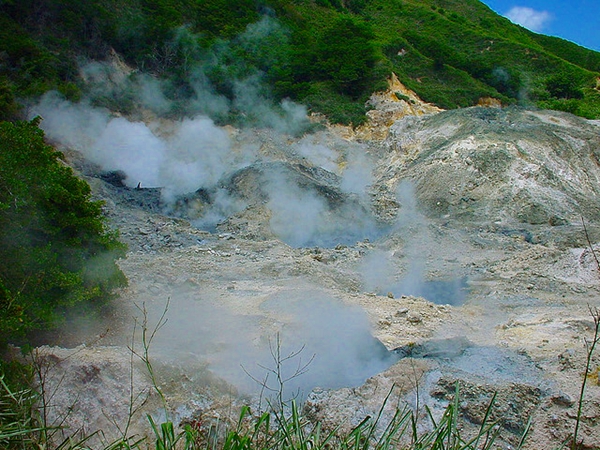 Related Posts
Beaches, Haute Cuisine and Creole Delights in Sunny St. Martin
Need Award Booking Help? Our fee is as low as $75 per ticket if you book your hotel through us.
If you enjoyed this, join 150,000+ readers: please follow TravelSort on Twitter or like us on Facebook to be alerted to new posts.
Become a TravelSort Client and Book Your Hotel with Virtuoso or Four Seasons Preferred VIP Amenities!
Photos: Carolyn Roark, Coconut Bay Resort, se71, Neil Chatfield, kduclos, Orbital Joe, IrishMBO, ScubaBear68