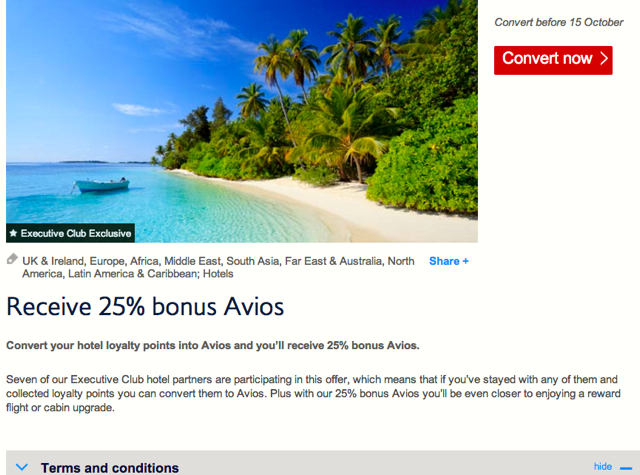 British Airways Avios is offering 25% bonus Avios when you transfer SPG points and certain other hotel loyalty points to Avios by October 15, 2013. There was a similar 25% bonus Avios transfer bonus from hotel partners offered last December.
You can already transfer SPG points in increments of 20,000 points with a 25% bonus to many airline partners (see Starwood Preferred Guest Airline Transfer Partners: Turn SPG Points Into Miles) and this 25% Avios transfer bonus stacks on top of that, so that 20,000 SPG points become 31,250 Avios. You'll want to transfer in increments of 20K SPG points to ensure you get the built-in 25% transfer bonus, then the promotional extra 25% transfer bonus on top of that:
20,000 SPG points = 31,250 Avios
40,000 SPG points = 62,500 Avios
60,000 SPG points = 93,750 Avios
First, the details and terms:
7 participating hotel loyalty programs: Club Carlson, Hilton HHonors, Hyatt Gold Passport, Priority Club, Marriott Rewards, Shangri-La, Starwood Preferred Guest (but only SPG is worth it, due to the poor transfer ratios of the other hotel programs; for example, Hyatt points only transfer at the ratio of 2.5 Hyatt points to 1 Avios)

Transfer hotel points to British Airways Avios between September 1 to October 15, 2013

Must transfer a minimum number of points; for SPG, a minimum of 2500 points must be transferred

Receive 25% bonus Avios

Bonus Avios can take 4-6 weeks to appear in your account from the date of conversion
Is Transferring SPG Points to British Airways Avios with the All-In 56% Transfer Bonus a Good Deal?
Even after the SPG Cash & Points Devaluation, SPG points can still be valuable if you can:
Transfer them to airline partners in increments of 20,000 points, to get the 25% transfer bonus;

Transfer them sufficiently in advance, since the transfers are not instant and in some instances take over a week
While I realize many folks do still make good use of SPG Cash & Points even post-devaluation and free night awards, I only rarely spend my SPG points this way due to how expensive the truly great SPG properties are. As I recently posted in my Prince de Galles Paris Hotel Review, there's opportunity cost in spending 15,000 SPG points + $275 to stay there, when you can book a room at the Park Hyatt Paris-Vendome for only 22,000 Hyatt Gold Passport points (which are much easier to earn, thanks to instant points transfers from Ultimate Rewards and 5X bonus categories, including 5X on all Amazon Spend, Ultimate Rewards Mall Deals, etc.). While my husband and I preferred the bed and service at the Prince de Galles, it's quite a price differential taking into account how much easier it is to earn Hyatt points.
But back to the question–is the Avios transfer bonus worth it? For most people, with limited numbers of SPG points, probably not, unless there's a very specific Avios redemption that you plan to make in about 6 weeks, say, and you want to ensure you get a better transfer deal in case there's no Avios transfer bonus from AMEX Membership Rewards points by then. Otherwise, see our Top 10 Best Ways to Use SPG Points
Or, if you have more SPG points than you know what to do with, it could make sense to transfer some number of them to Avios if you have a sense of what you might do with them sometime over the next year.
What Are the Best Avios Award Redemptions?
The best uses of Avios if you wish to avoid expensive award prices and high fuel surcharges are shorter, nonstop flights within a given region, such as flights within the Americas, West Coast to Hawaii flights, flights within Asia, flights within Australia, etc. Here are some sample redemptions:
NYC to Montreal on American for 4500 Avios each way
NYC to Miami on American for 7500 Avios each way
Hong Kong to Bangkok on Cathay Pacific for 7500 Avios each way
Miami to Guayaquil (Ecuador) on American for 10,000 Avios each way
Chicago to Las Vegas on American for 10,000 Avios each way
West Coast to Hawaii on American for 12,500 Avios each way
Easter Island to Tahiti on LAN for 12,500 each way
Dallas to Honolulu on American for 20,000 Avios each way
Miami to Buenos Aires on LAN for 25,000 each way
One of my favorite award redemptions used to be 37,500 each way for NYC to Vancouver (YVR) in Cathay Pacific First Class but unfortunately Cathay has gotten a lot stingier, and is pretty much not releasing First Class award space in advance on this route. If you can be spontaneous, however, you may well be able to pick up first class awrad tickets for the next day. Take a look at tomorrow, Sept. 17, when there are 4 first class award seats available: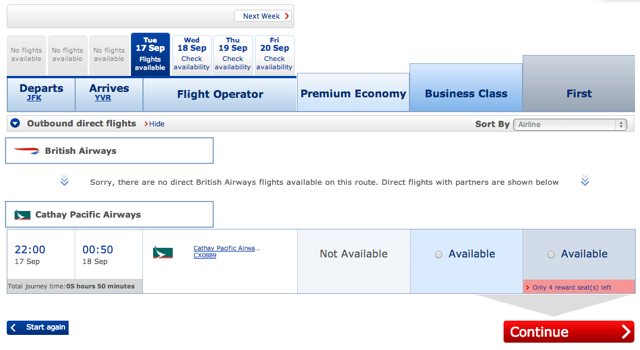 Unfortunately if you look further out, there's either no first class award seats or only 1 available, so this is very much a last minute type of award as of now.
Will There Be an AMEX Membership Rewards Transfer Bonus to British Airways Avios Later This Year?
While I'm not AMEX and don't have any inside information, I believe there will be an AMEX Membership Rewards transfer bonus sometime before the end of this year, perhaps in October or November. I'm not holding my breath for a 50% transfer bonus however; I'm guessing it will be 30% or 35%.
Do you plan to transfer any SPG points to British Airways Avios with the effective 56% transfer bonus (when transferring in increments of 20K points)?
Related Posts
Starwood Preferred Guest Airline Transfer Partners: Turn SPG Points Into Miles
Starwood Cash and Points Devaluation and FAQ
Starwood Luxury Privileges: Top Hotels to Book
Top 10 Best Ways to Use SPG Points
Need Award Booking Help? Our fee is as low as $75 per ticket if you book your hotel through us.
If you enjoyed this, join 90,000+ readers: please follow TravelSort on Twitter or like us on Facebook to be alerted to new posts.
Become a TravelSort Client and Book 5-Star Hotels with Virtuoso or Four Seasons Preferred Partner Amenities!
HT: Dan's Deals