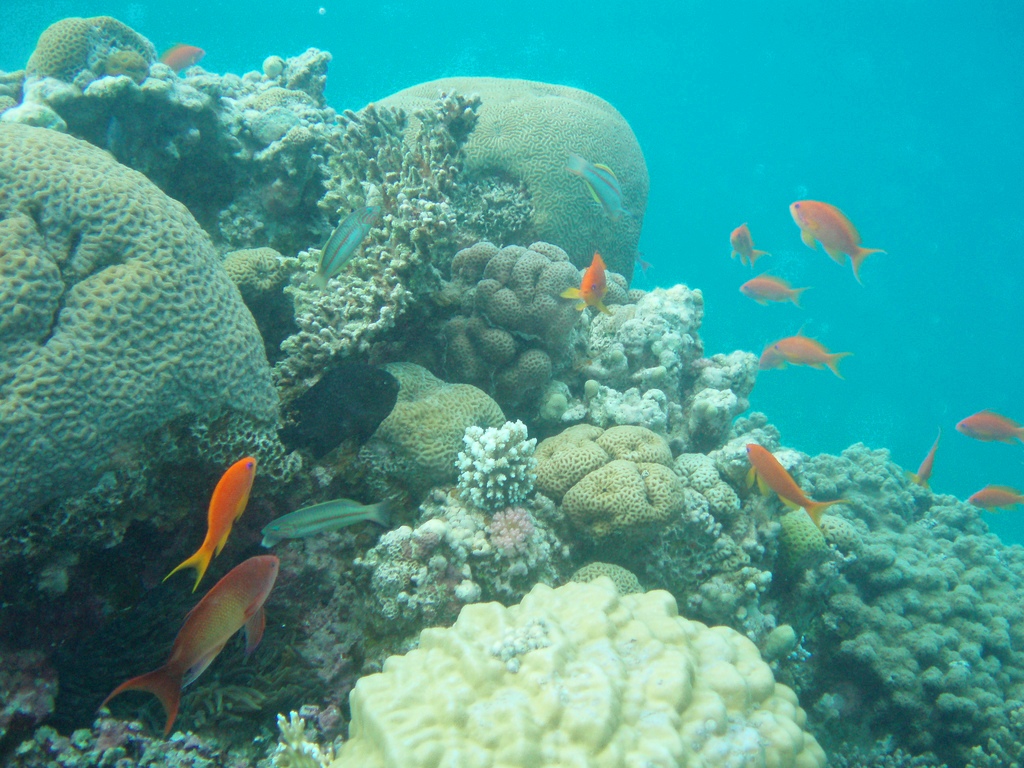 Why go

Milkshakes, fruity sheesha, banana pancakes, and a cup of tea that I have still not been able to replicate over a year later – these are just some of the delicious treats Dahab has to offer. Of course there are also the sandy beaches met by the craggy mountains and a couple of world-famous dive sites.
Situated in southern Sinai along the Gulf of Aqaba, part of the Red Sea, Dahab, meaning "gold" in Arabic, is a haven from the modern world. You can sip a cold Stella beer in a bikini, gazing across the gulf at Saudi Arabia. You may want to book only a one-way ticket to this locale, for you will almost certainly spend more time here than you had planned.
Insider Tips
Whether you want to plan your own trip or let someone else plan it, there are many means of arranging transportation to Dahab. Flights travel every day from Cairo to Sharm el-Sheikh and buses and taxis travel between Sharm el-Sheikh and Dahab. Buses travel directly from Cairo to Sharm el-Sheikh and then Dahab (approximately nine hours total), and you can cut an hour off your trip by leaving from the outskirts of Cairo rather than from the bus depot. If traveling in a large group, it is simple to arrange a shared minibus through a travel agent in downtown Cairo. You can also rent a car and drive yourself. The Western hotels in Cairo are helpful in arranging trips as well.
If at all possible, it is advisable to avoid traveling at night outside the major cities in Egypt due to the condition of the roads and the ongoing conflicts between local Bedouin tribes and the Egyptian government (the latter being a greater concern in northern Sinai).
If traveling on a budget and leaving from Cairo, purchase sunscreen and other beach items at one of the Alpha Market locations in the capital, as these items can be expensive in Dahab.
If staying anywhere other than an upscale hotel, pack your own towels for the shower and the beach, as well as flip flops for the shared showers.
Less expensive food, especially seafood, can be found if you venture a block inland from the beach and on the blocks perpendicular to the beach in Masbat.
Many of the restaurants do not serve alcohol, but do allow you to bring your own at no charge. Beer is quite inexpensive if purchased at the convenience stores and is a nice way to enjoy a drink with dinner before spending much more money at the bars.
If you plan on snorkeling or diving for several days, purchase your own mask and fins in town. It will save you money over time and you can avoid the hassle of finding a mask that fits every time you enter the water.
While Dahab is one of the more authentic Bedouin towns, its standards of dress are still those of a Westernized resort town. Bare arms and legs are the norm among guests and bikinis are perfectly acceptable.
For runners and outdoor enthusiasts, pack sneakers. You will be pleased to breathe in the fresh air here, compared to Cairo, and will feel compelled to run or walk on the boardwalk.
Even for the traveler extraordinaire, do not drink the tap water in Dahab because it has not been desalinated; simply buy an abundance of bottled water from any of the little convenience stores or the grocery store in the center of town.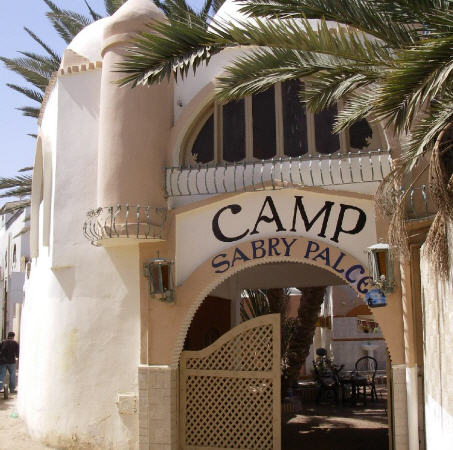 Where to stay

Unlike Sharm el-Sheikh, an hour further south on the peninsula, Dahab's most common accommodations are not flashy hotels such as the Four Seasons, but rather quaint Bedouin camps and small hotels with open-air courtyards from which you can walk onto the boardwalk. There are, however, a handful of more upscale hotels, such as the Hilton in the southern part of town along the bay, and Le Meridien.
Located right off the boardwalk in Masbat, Sabry Palace Camp is a pleasant hostel/camp (palace would be a misnomer). Rooms are arranged in rectangle around an open-air courtyard, similar to the other properties in town. When we arrived, the rooms were swept out and clean sheets put on the beds. Sheets were not changed, however, throughout our one-week stay. Our room, with two twin beds, had no closets or drawers, only a small nightstand. Rooms with double beds are also available. There is no air conditioning in the rooms, but there are swiveling fans on the walls. For ten of the rooms, the bathrooms and showers (only two of each) are shared and for both genders. They were kept generally clean during our stay. Three rooms do have private bathrooms. The staff were friendly and made certain our needs were met, but for only about $6 per night, our needs and expectations were minimal.
If luxury resorts are more your style, consider Le Meridien Dahab. It offers spectacular sea views, stunning architecture, 5 pools, a private beach, and all the comforts you would expect of an upscale property. Do note that food and service probably won't be of Four Seasons standard, as Dahab isn't Cairo or even Sharm el Sheikh, but that's not why you came to Dahab, is it?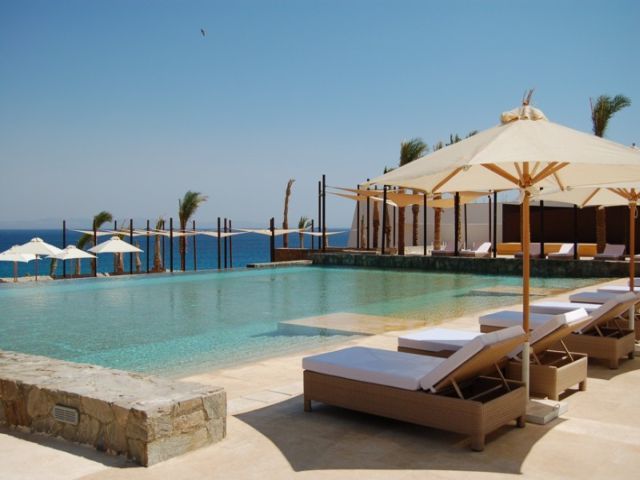 What to eat
I still cannot replicate the cup of Bedouin tea sipped every afternoon at Jay's Restaurant. Rosemary is a key ingredient, but no one can identify the mélange of other herbs. You can eat at one of the wooden tables here or take your meal on your lounge chair. In either spot, the sea is only a stone's throw away. Jay's has the best crepes: banana pancakes or lemon and sugar ones. The menu is said to change weekly, but fresh juices and teas are always abundant. Service is prompt and the food is delivered hot. Prices are reasonable and comparable to most other places around.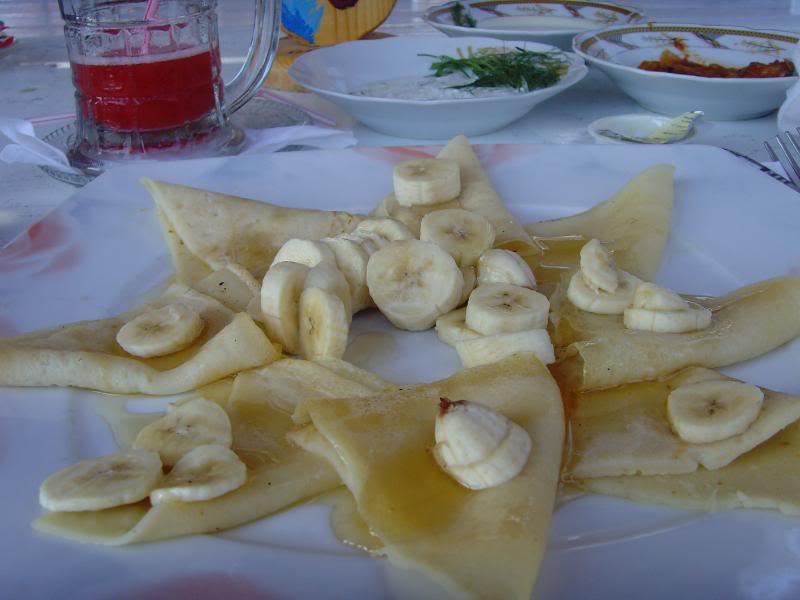 The best milkshakes and sheesha are served at Funny Mummy. With a dynamic atmosphere, you may seek shade under the roof, find a pillow or lounge chair around the perimeter in the sun, or take in a greater perspective from atop the roof under sun or stars. Funny Mummy is a popular restaurant located just outside the Sphinx hotel. Its menu is diverse, offering, among other items: various breakfasts, seafood, burgers, Egyptian mezzes, fresh fruit juices, and, of course, milkshakes. Funny Mummy is a place where you can have your eggs and coffee, spend the day sipping a lassie in a lounge chair, smoke a sheesha at sunset, and stir from your nap in time for dinner. This is a great place to handle large groups of people.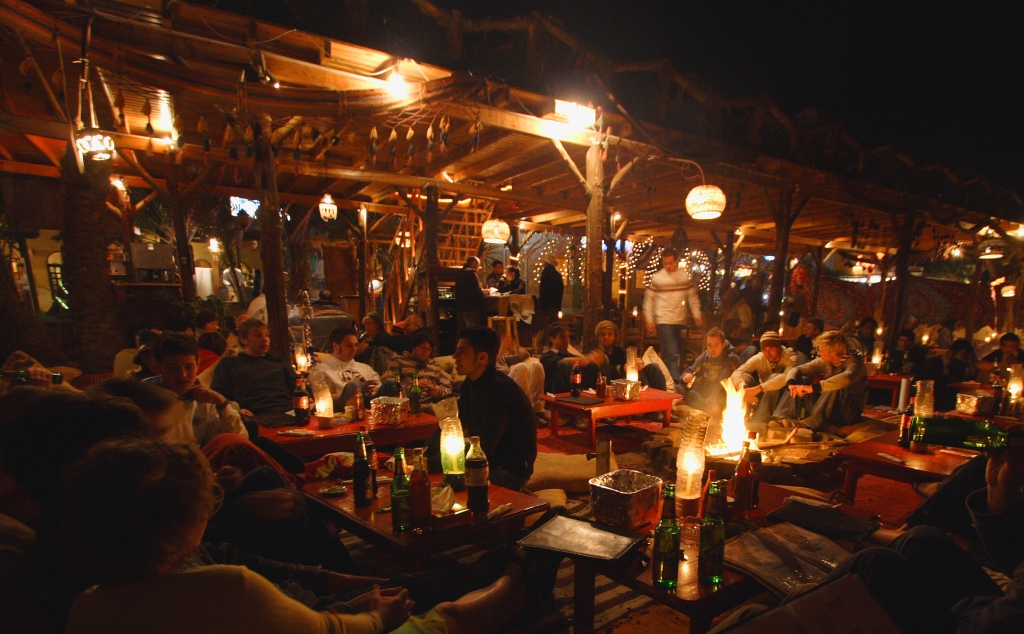 Al Hussein (Sharia Al-Mashraba) is one of several places with fresh seafood on ice at dinner. Located on Sharia Al-Mashraba, perpendicular to the waterfront, it is less expensive that the boardwalk restauarants, which are already a fraction of the cost you would pay in Europe or the U.S.. For seafood lovers, you can handpick your own fish and choose how you would like it cooked. Its spacious upstairs dining room holds parties of all sizes, including our party of twenty. We ordered half as many fish as we had people, as well as a couple mixed seafood platters, and no one left hungry or emptied their wallets.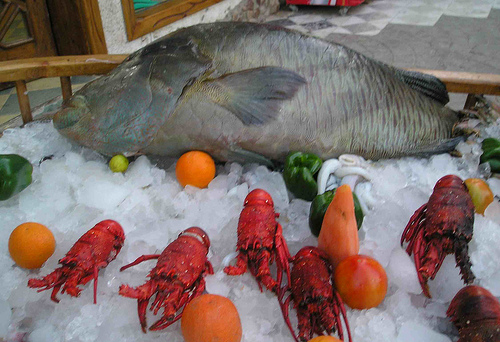 What to do
Dahab is known for snorkeling and diving, but it's also great for windsurfing with over 300 days of wind a year. The Laguna (also called "New Dahab" and Dahab South) is a good place for it.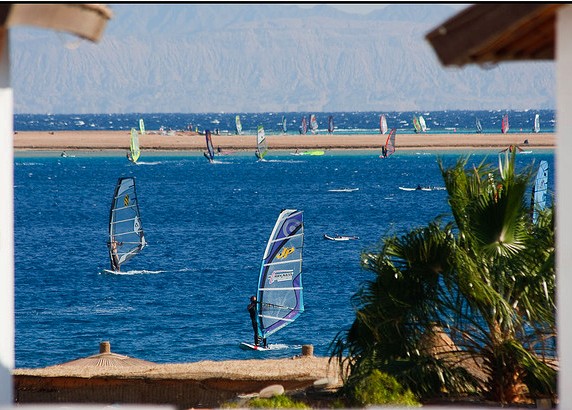 A 20-minute drive north of Dahab, the Blue Hole is one of the most famous dive sites in Egypt. Trips can easily be arranged through your hotel or one of the many dive shops in Dahab. It is a great location for both snorkeling and SCUBA diving, but to dive the deeper sections of Blue Hole, one has to be an advanced, technical diver. On the way to Blue Hole is Canyon, another great dive site. Arriving at Blue Hole, you will feel like you are on the set of a country western film, with the wooden restaurants and lounges directly fronting on the sea. Enter the water from the beach and follow the current along the wall of the reef, swimming outside the hole itself. This is not the place to test your limits, as many fatalities have occurred among divers. In whichever capacity you choose to view the reef, you will surely not be disappointed at any depth.
A 25-minute drive south of Dahab, Gabr el Bint is frequented less than many of the other dive sites nearby, and thus is well preserved. It, too, is a place where you may SCUBA or snorkel. Gabr el Bint is a great afternoon trip to escape the mass of population at other sites. The mountains here come right up to the water, creating a breathtaking landscape to take in from the water or the shore. Spend some time in the water and then relax ashore with a sheesha and fruit juice.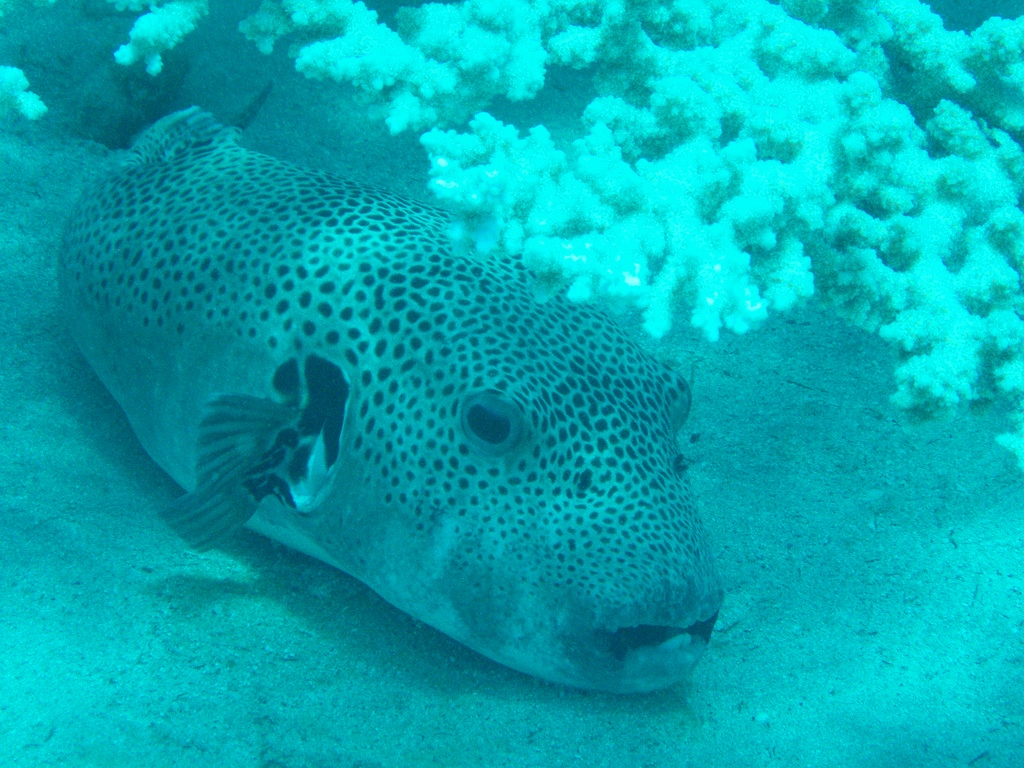 Mount Sinai and Saint Catherine's Monastery are a two-hour drive from Dahab. A trip here is easily arranged to or from your beach vacation, or in the middle of it. We arranged our trip from the Penguin hotel and paid 100 Egyptian Pounds per person for a private minibus. We left Dahab at 10pm in the evening and, after paying and arranging our goods, began our ascent of Mt. Sinai by 1am in the morning. If you are diving in Dahab, be sure to allow at least 24 hours between SCUBA and hiking due to the change in altitude.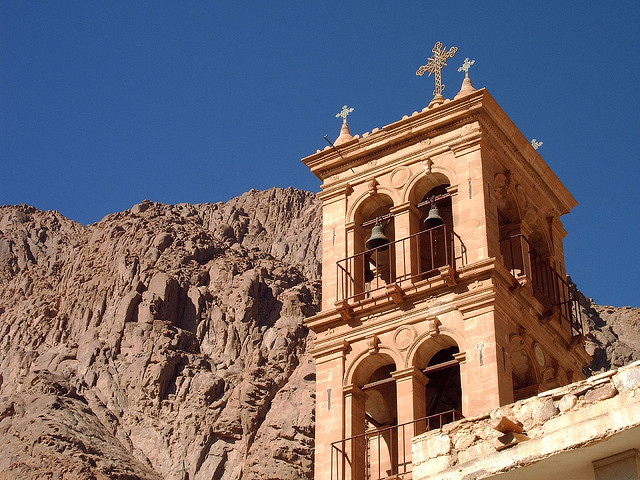 It is possible to take the camel path or the stairs of ascension to the top of the mountain. The Egyptian guards at the base of the mountain encourage you to take guides, but the path is so well worn, it would be difficult for a hiker to become disoriented on the climb. Having added many layers of clothes along the way, we reached the summit by 3am, almost in solitude, and awoke from a brief nap to a very crowded mountaintop. Climbing in early autumn, we were able to see far across the mountains at sunrise. In winter, we would have been above some of the clouds and seen only the peaks. At any time of year, it is a trip for the outdoor adventurer and the religious pilgrim alike.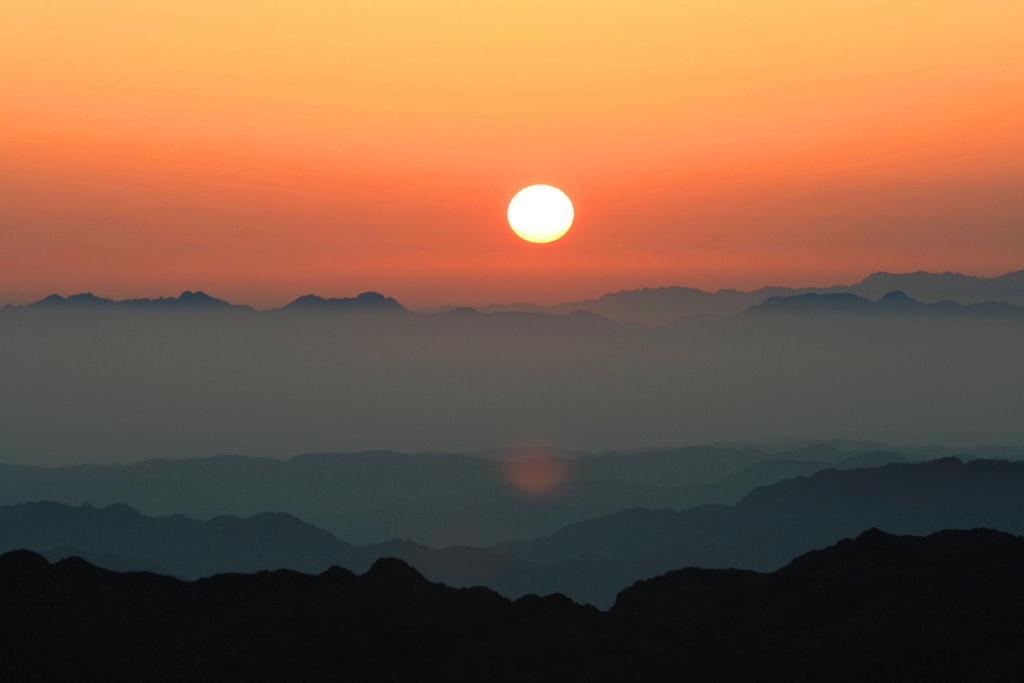 Photos: SarahDepper, Sabry Palace Camp, Le Meridien Dahab, Shearwater, Igor Klisov, piddy77, Karl Karl