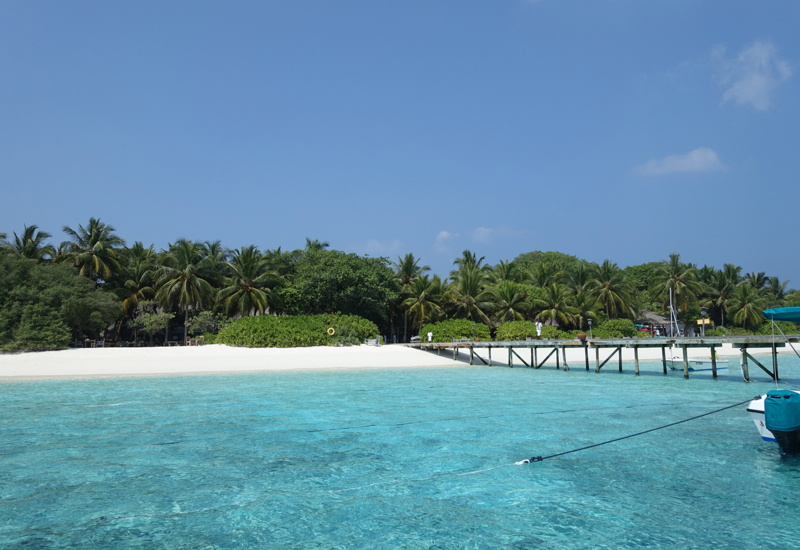 This Soneva Fushi Maldives Review is part of a trip report including luxury resorts in the Maldives and Etihad First Class and Business Class. Soneva Fushi is one of the original Maldivian luxury resorts, and one of the most distinctive, with its early emphasis on sustainability and barefoot luxury.
For the prior posts, please see:
Review of Etihad's Lounge at Washington Dulles Airport (IAD)
Etihad First Class 787-9 Dreamliner Review
Review: Wingtips Lounge JFK for Etihad First Class Passengers
Review: Etihad First Class 777-300ER NYC to Abu Dhabi
Review: Etihad Business Class Lounge Abu Dhabi AUH Terminal 1
Four Seasons Maldives at Landaa Giraavaru Review
Four Seasons Maldives at Landaa Giraavaru Restaurant Reviews and Menus
Four Seasons Maldives at Landaa Giraavaru Activities: Top 10 Things to Do
Interview with Armando Kraenzlin, General Manager of Four Seasons Maldives at Landaa Giraavaru
Review: Four Seasons Maldives at Kuda Huraa
Surfing in the Maldives at Four Seasons Kuda Huraa
Review: Four Seasons Maldives at Kuda Huraa Sunset Water Bungalow
Four Seasons Maldives at Kuda Huraa Restaurant Reviews and Menus
Four Seasons Maldives at Kuda Huraa Activities and Top Things to Do
TravelSort Clients receive these Virtuoso benefits, when reserving Soneva Fushi:
Upgrade on arrival, subject to availability
Daily Buffet breakfast, for up to two in room guests
Champagne and Maldivian Tapas
Original handcrafted arrival and departure mementos
A complimentary lunch for up to two people once during stay, excluding alcohol, taxes and gratuities
Early check-in/late check-out, subject to availability
With a minimum 5 night stay guests also receive:
Shoreline Beach dinner
Private sunset sailing by Dhoni at Baa Atoll
Flavorful Six Senses cuisine (organic vegetables) cooking class for two
Soneva Fushi Male Airport Lounge
After arriving in Male by speedboat, we were met by a Soneva Fushi representative who escorted us to check-in for our seaplane flight, then to the upstairs Soneva Fushi Lounge. As you'd expect for a resort with just 57 villas, the lounge is small, and there was only one other family in the lounge when we arrived.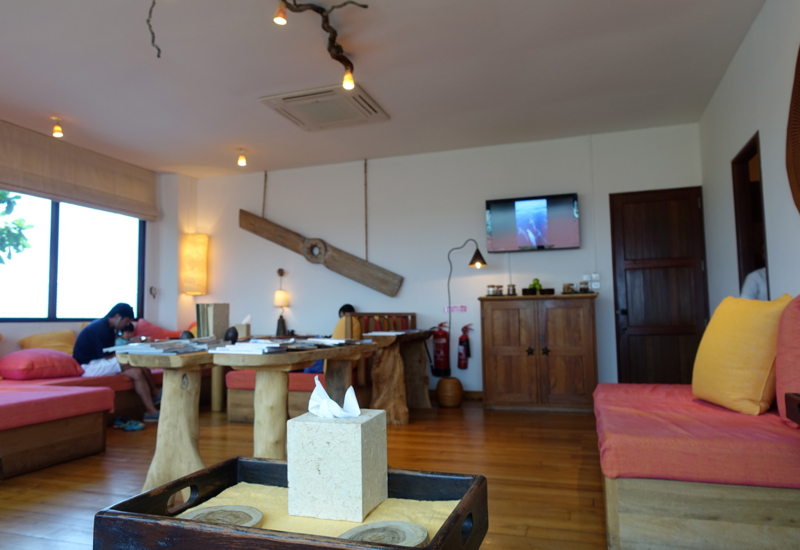 We were offered refreshing towels and fresh squeezed juices, served in Soneva Fushi's distinctive asymmetrical glassware: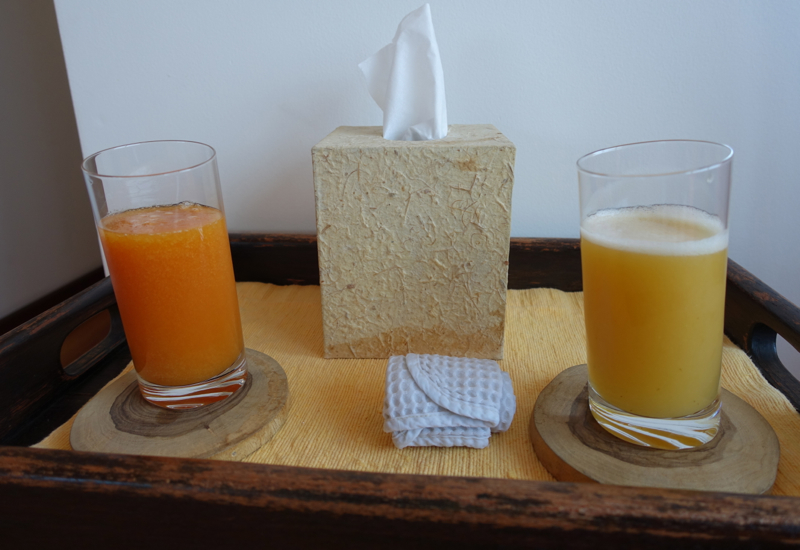 There was also an assortment of fresh apples, dried fruit, nuts and homemade cookies: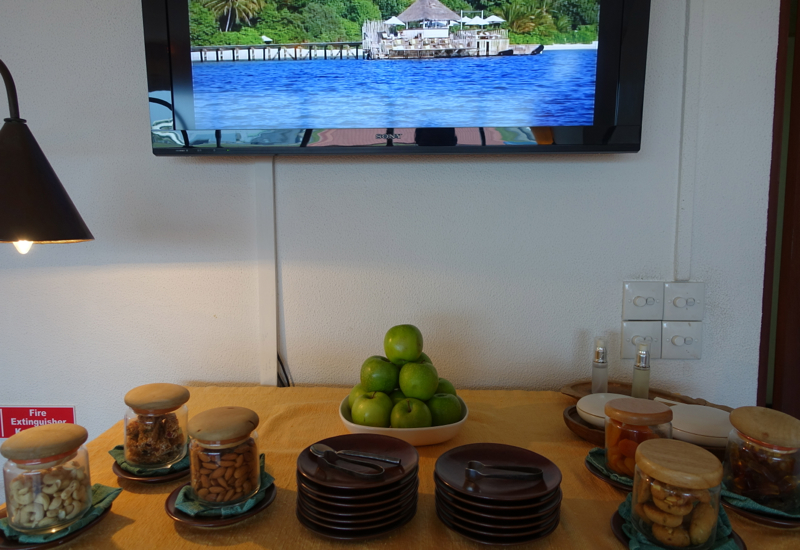 Soneva Fushi Welcome and Check-In
After our seaplane flight, we were met at the landing buoy by our Mr. Fridays. Since Soneva Fushi's signature villa is a [Robinson] Crusoe Villa, it's only fitting that instead of butlers or personal assistants, you're assigned a Mr. Friday or Ms. Friday, to help with any dining or activity reservations or special requests. Here's our Mr. Friday, Aravind: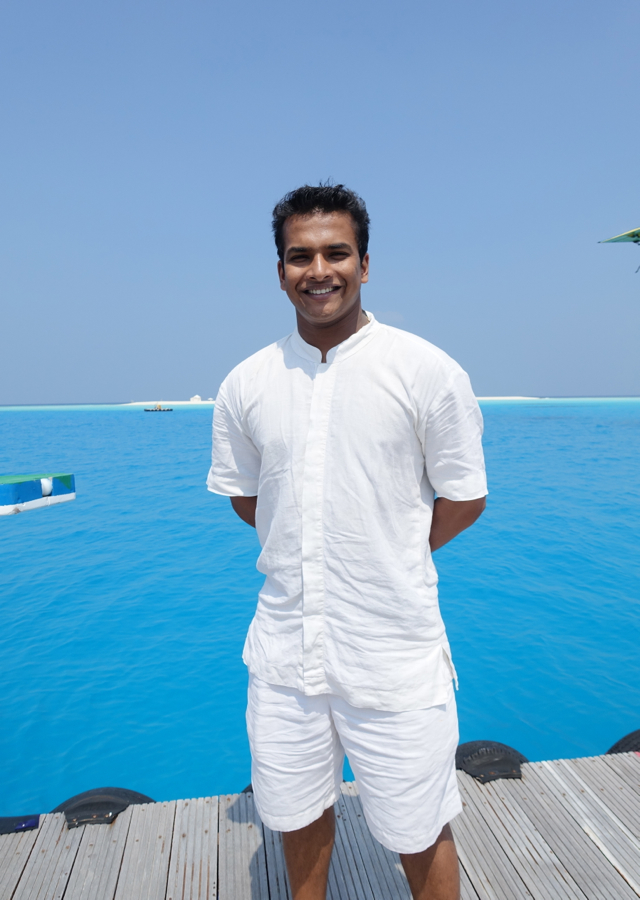 He and the other Mr. Friday, who was Russian speaking and was assisting the Russian family who had arrived with us, offered refreshing towels to all of us: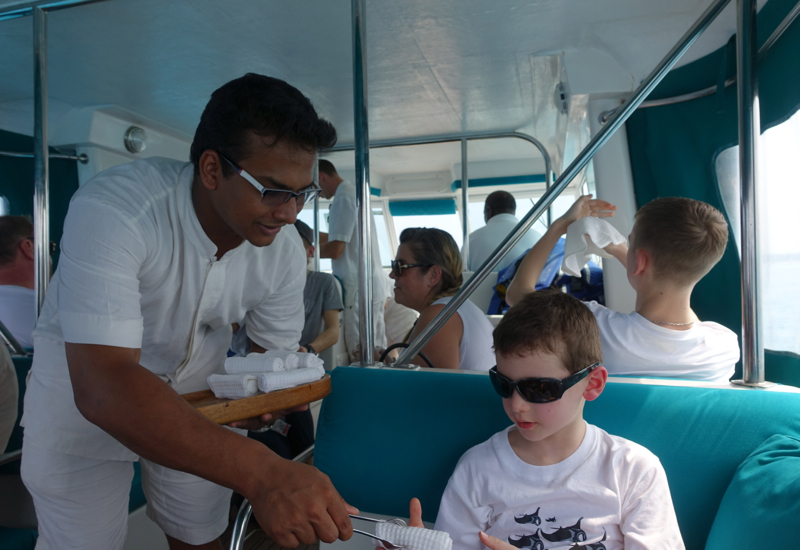 And then a choice of young coconut water or fresh squeezed juice: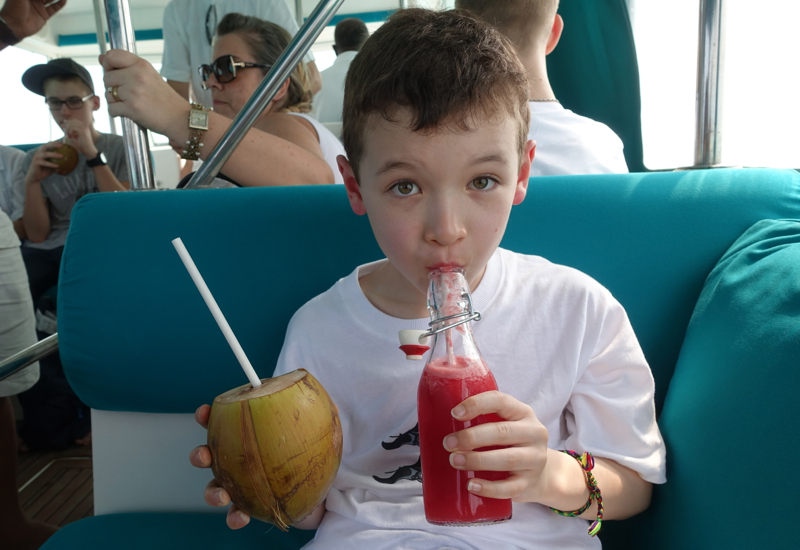 Aravind also offered us shoe bags, with Soneva Fushi's castaway theme: "no shoes, no news." Perfect for those who truly want to get away from it all and go back to being barefoot, which, needless to say, isn't something most of us living in cities get to do all that much.
Soneva Fushi Crusoe Villa 2 Bedrooms with Pool
My son and I arrived earlier than my husband, whose flight from Abu Dhabi to Male was slightly delayed, so we had time to explore our 2 Bedroom Crusoe Villa, which was far more spacious than our NYC apartment. We were very happy to have been upgraded from our original 1 Bedroom Crusoe Villa to a 2 Bedroom Crusoe Villa with a Pool on the sunrise side, since even though my husband and I love swimming in the ocean, it's easier to keep an eye on our son in the pool, without any worry of riptides, and there's no communal pool at Soneva Fushi (although there will be two pools for kids as part of the new kids' club that will open later this year). Here's a photo of the pool from the upstairs deck: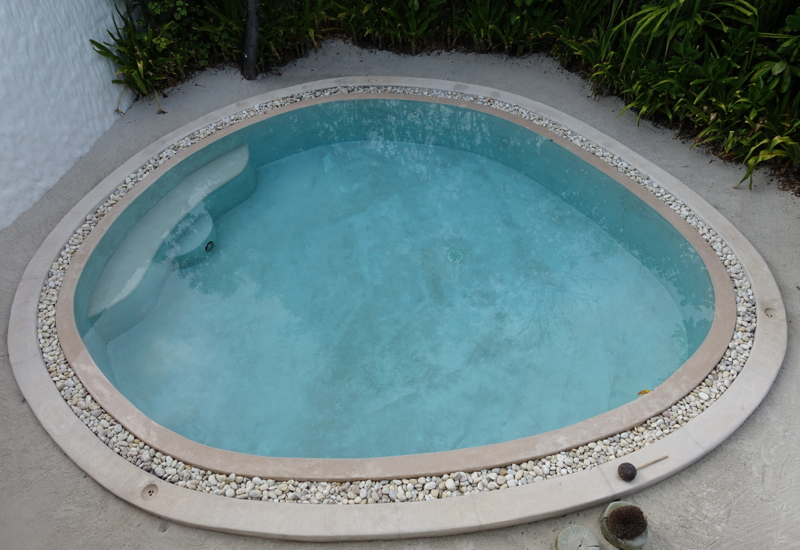 Little details were thought of, such as bicycle pedals wrapped with cloth so as to be comfortable for bare feet, and the adorable hedgehog foot brushes used to brush sand off before going into the villa or the pool: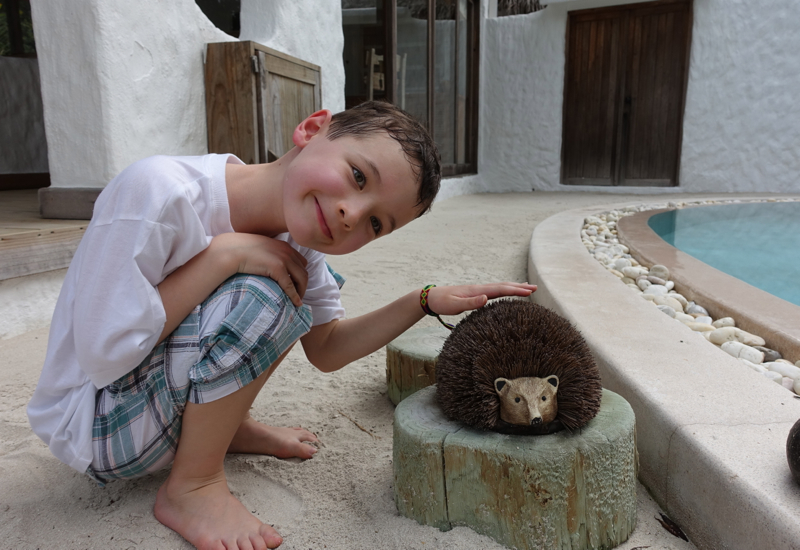 You enter into the living room, with a couple comfortable couches and a coffee table that doubles as a chessboard. In keeping with the sustainability ethos the AC was not on when we arrived, so it was quite hot, but Aravind immediately picked up on our discomfort and turned it on.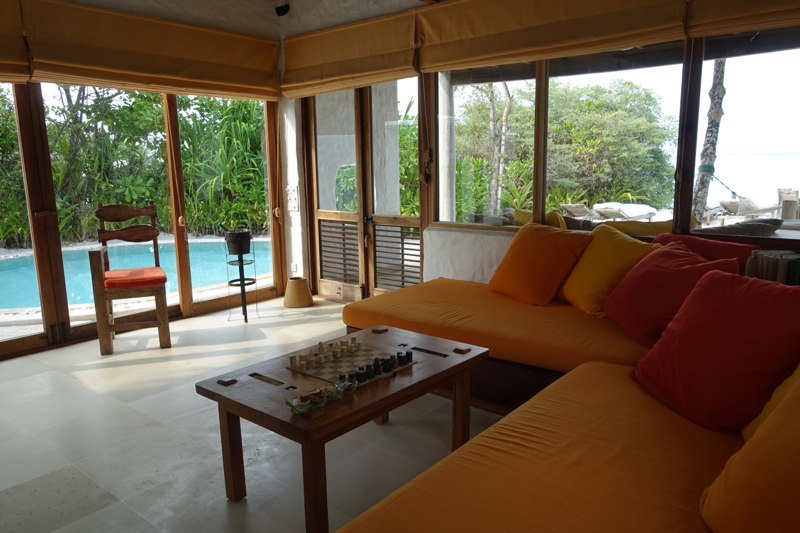 The munchkin's bedroom was also on the ground floor, and featured his own huge bed, swathed in mosquito netting, although fortunately it was the dry season and we had no issues with mosquitoes.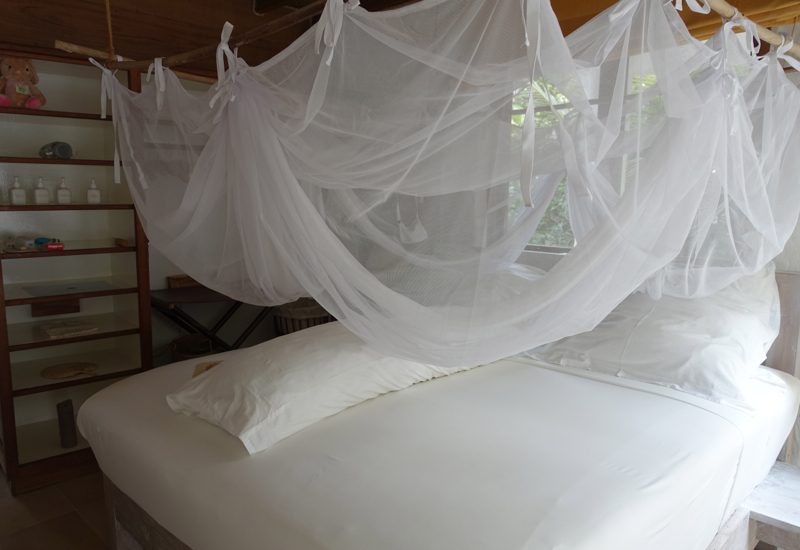 He even had his own full size bathroom outdoors, with separate bathtub and shower: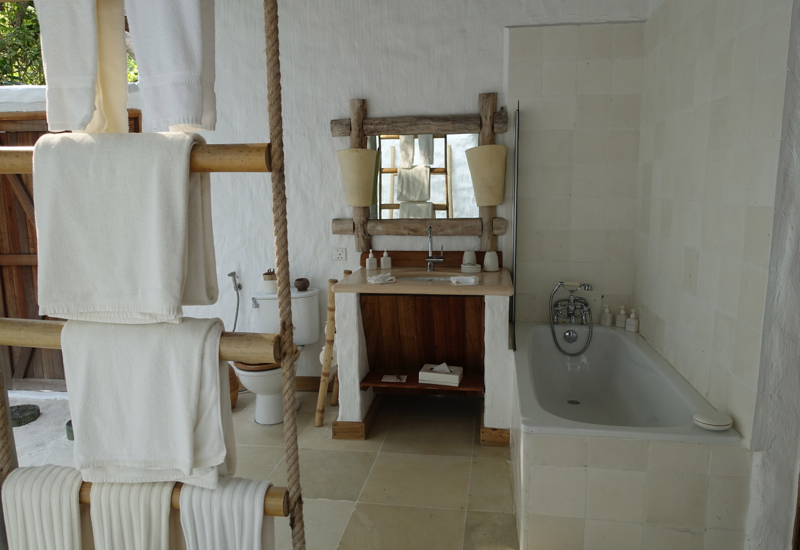 The main master bathroom was also outdoors, and featured two vanities (one on either side of the central mirror), bathtub, a huge two person shower, and even a porch swing: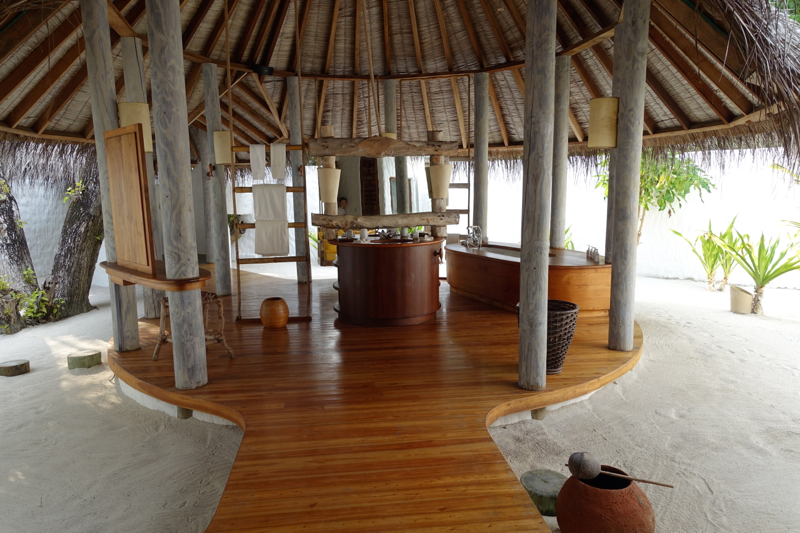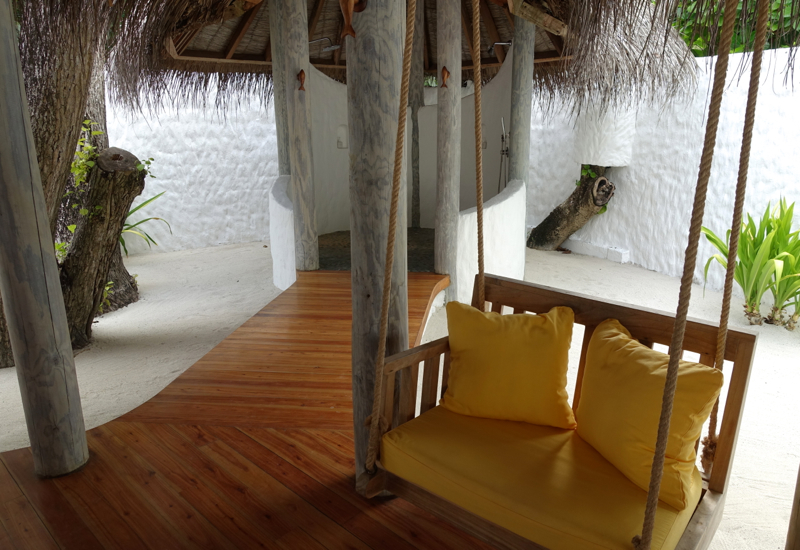 Back inside the villa, a spiral staircase led to the second floor with the Master Bedroom, and the alcove below the spiral staircase was cleverly used for a wine cooler, with the most extensive selection of wines I've seen offered. As you'd expect, prices for the wines were high, given their quality as well as high taxes on alcohol in the Maldives, a Muslim country.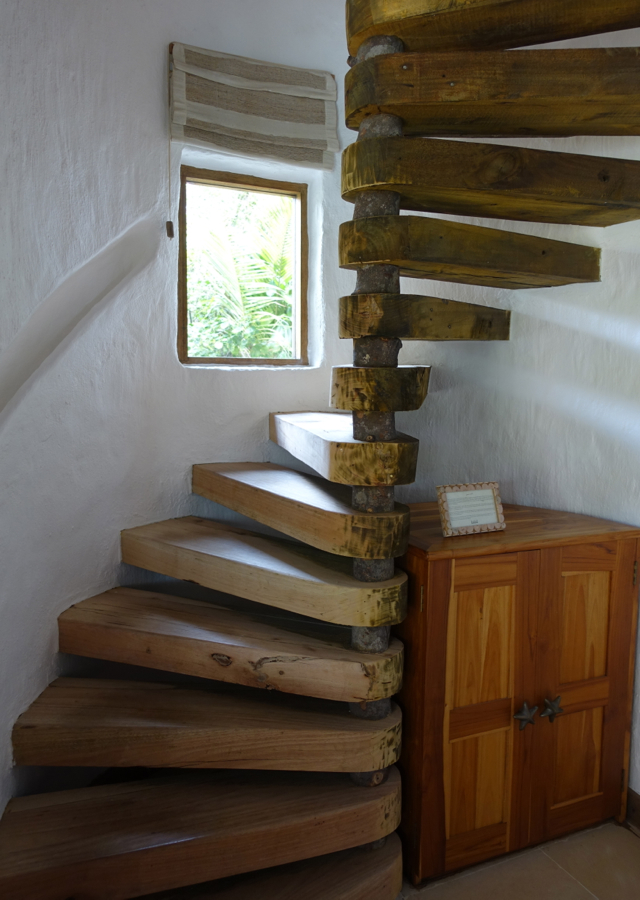 That made it Soneva Fushi's choice of welcome drink, for which I chose a chilled Riesling, all the more welcome. It was waiting for us already chilled in a bucket of ice, along with the munchkin's choice, fresh squeezed watermelon juice.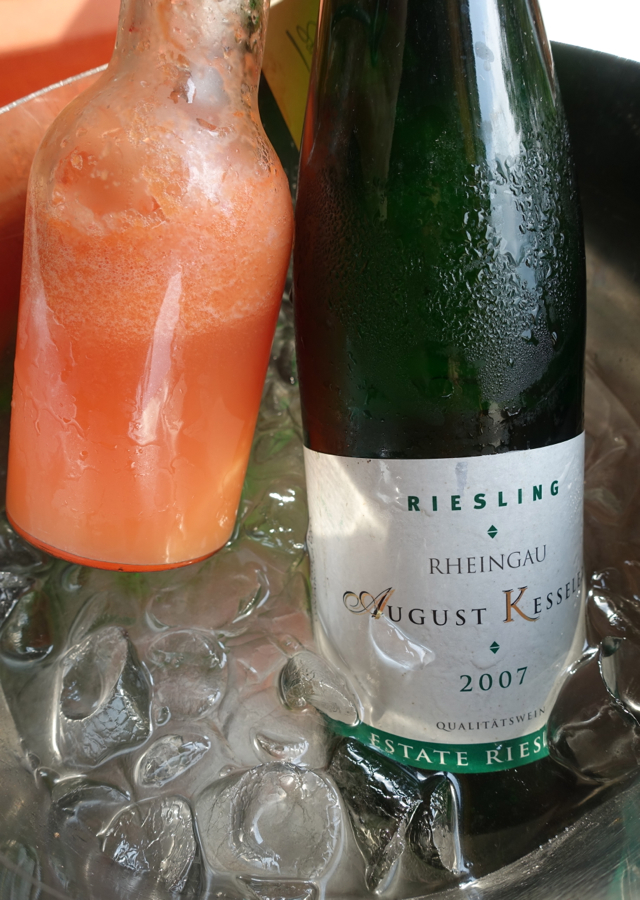 The upstairs Master Bedroom featured a king bed, which was quite comfortable, although firmer and not as plush a mattress as the Four Seasons, and again had mosquito net curtains that were always let down during nightly turndown.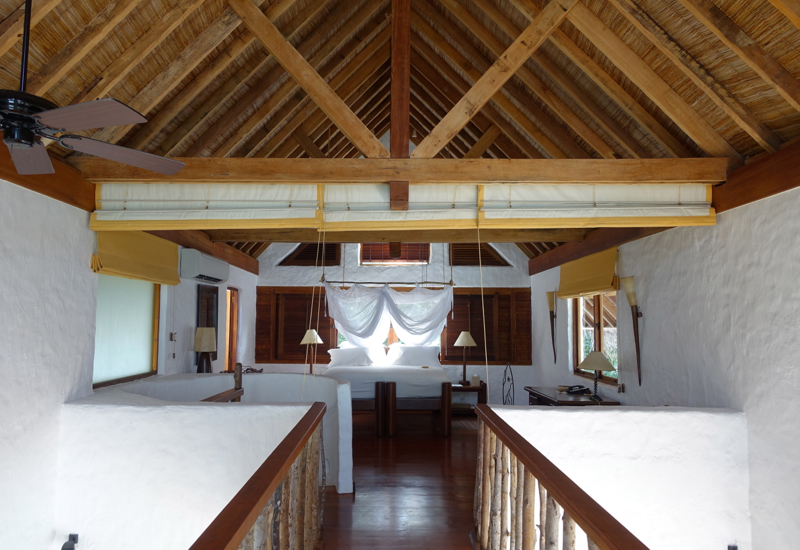 I was glad to see that there was an indoor half bathroom, so you didn't have to traipse down the spiral staircase. It let in loads of natural light thanks to skylights, although did, by the same token, also get quite hot during the day.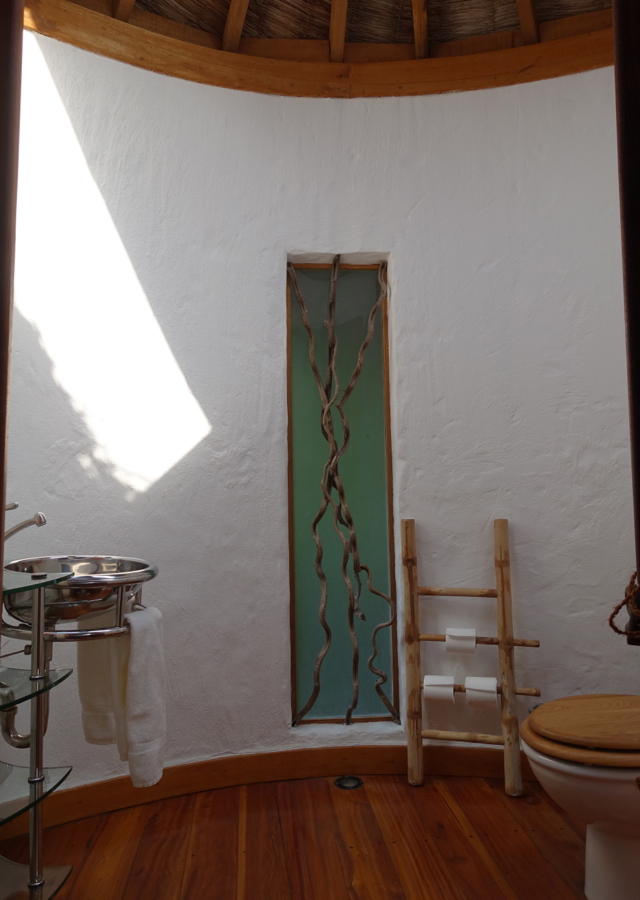 There was a cool narrow walkway from the Master Bedroom out to an upstairs deck, even though we never actually used it.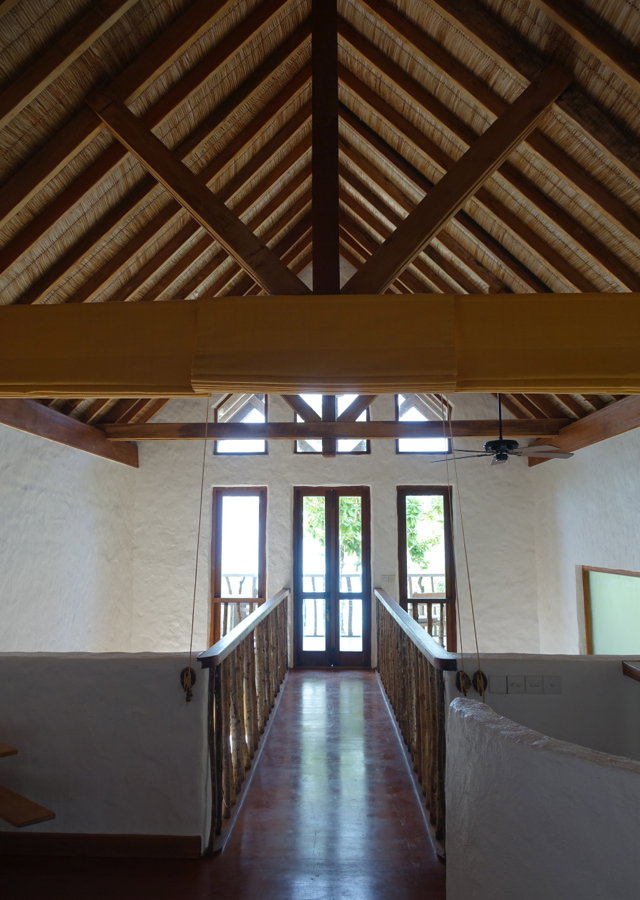 Soneva Fushi's villas are meant to be very private, so foliage secludes you from neighbors. We never heard sounds from neighbors during our entire stay there. The privacy does mean that the view from some villas is somewhat impeded, but there was a good ocean view from the upper deck of our Crusoe Villa: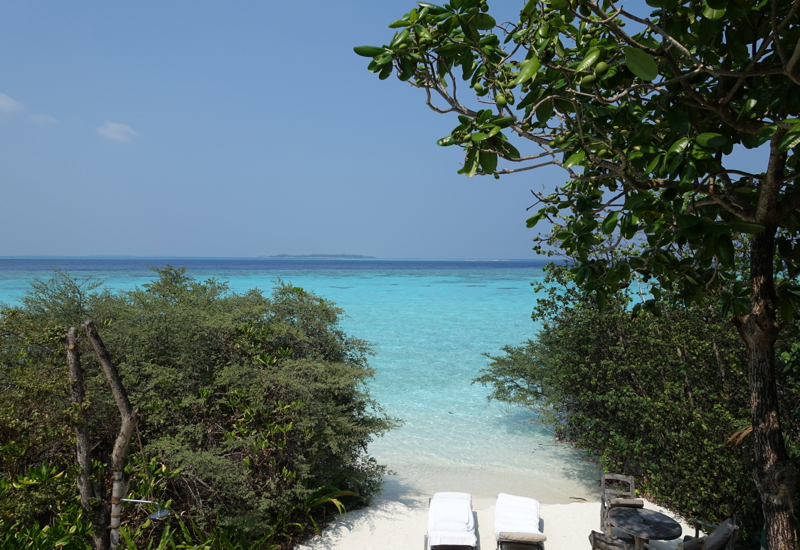 Soneva Fushi Beach, Resort Map and Villa Selection
Soneva Fushi's beach is wider on the sunset side, where the sunset pier and Bar(a)baru is located and where snorkeling and dive boats depart from. That would seem to make a villa on the sunset side a natural, since many couples prefer the sunset, a wide beach and easy access to the reef and snorkeling, but the wrinkle is that many sunset villas also look out towards Eydhafushi, the capital of Baa Atoll, which does somewhat dispel the feeling of being a castaway on an island. That's why many returning guests prefer the sunrise side, which just looks out to the ocean, even though generally the beach is narrower.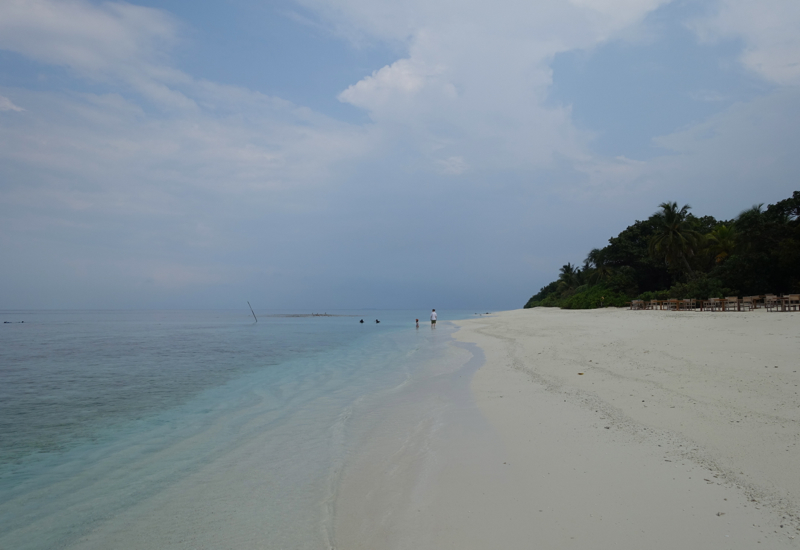 Here's a map of the resort; villa numbers aren't very visible, but low numbers are on the sunrise side, which is the top right of the page. Note that as part of its eco-conscious commitment, Soneva Fushi does NOT offer over-water villas, due to the damage their construction causes to the coral. All villas are beach villas.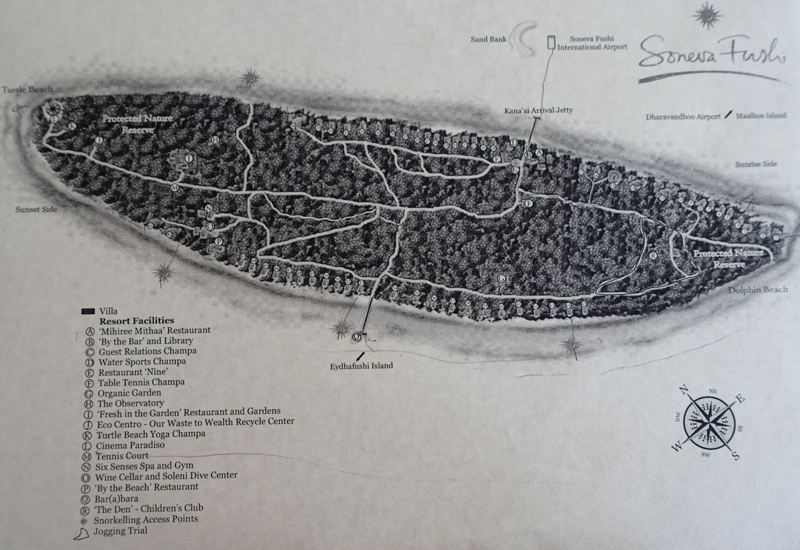 Soneva Fushi Restaurants and Dining
Soneva Fushi offers an amazing range of dining options for an island of just 57 villas, from an extensive breakfast buffet and all day dining at Mihiree Mitha to the very popular organic cuisine at Fresh in the Garden and several other restaurants plus in-villa dining and special buffet evenings. I'll cover dining in a separate post.
Soneva Fushi Activities and Things to Do
I'll also write about the many activity options at Soneva Fushi in a future post.
The Verdict
Soneva Fushi was my husband's and son's favorite of all the Maldivian resorts we've been to, and I loved many aspects of it, even though my overall favorite is Four Seasons at Landaa Giraavaru for its more comfortable bed and, in my experience, higher quality service. Aravind was a fantastic Mr Friday, so this is no knock against him, but there were some little things that went awry, for example in my pre-communication with the resort I asked if I needed to make advance dining reservations for any of the restaurants, and that we especially wanted to dine at Fresh in the Garden, but I was told that advance reservations were not necessary. In point of fact, after getting to the resort, I discovered that there were waiting lists for Fresh in the Garden and that in fact you DO need to make advance reservations to be ensured a spot. A special birthday cake for my husband one night was never brought out. And the resort's little astronomical observatory, which is such a fantastic asset, was unfortunately out of service our entire stay, and this was never communicated to us prior to our stay.
But back to the positive: Soneva Fushi's "back to nature" aspect and Crusoe "castaway" elements really appealed to both my husband and son, who love adventure, treehouses, lots of space, going barefoot, and yet also appreciate all the luxury touches Soneva Fushi offers.
For example, what other resort in the Maldives offers, complimentary, an ice cream room with 35 or so different homemade ice creams and sorbets; a chocolate room with all kinds of chocolate confections and chocolate fondue, and a cheese/charcuterie room with delicious cheeses, bread and chutney/honey selection, anytime you feel like it? It was also easier for my son to get to know kids at the kids' club, and he became especially good friends with a boy just a year older than him.
I can understand why Soneva Fushi has many repeat guests who come year after year, as its smaller size, long-time staff who are like family, unpretentious luxury, and fantastic food and dining make it a special place. The munchkin is begging me to go back, so he can see his friend again and explore the brand new kids' club when it opens…
If you've stayed at Soneva Fushi, what was your experience?
Related Posts
Virtuoso Hotels: Bookings with Upgrades, Complimentary Breakfast and VIP Perks
Four Seasons Maldives at Landaa Giraavaru Review
Park Hyatt Maldives Hadahaa Review
Review: Four Seasons Maldives at Kuda Huraa
Disclosure: We received 1 night complimentary and the other 3 nights at a travel professional rate. The views expressed in this post are my own.
Need Award Booking Help? Our fee is as low as $75 per ticket if you book your hotel through us.
If you enjoyed this, join 180,000+ readers: please follow TravelSort on Twitter or like us on Facebook to be alerted to new posts.
Become a TravelSort Client and Reserve Soneva Fushi with Virtuoso Benefits!