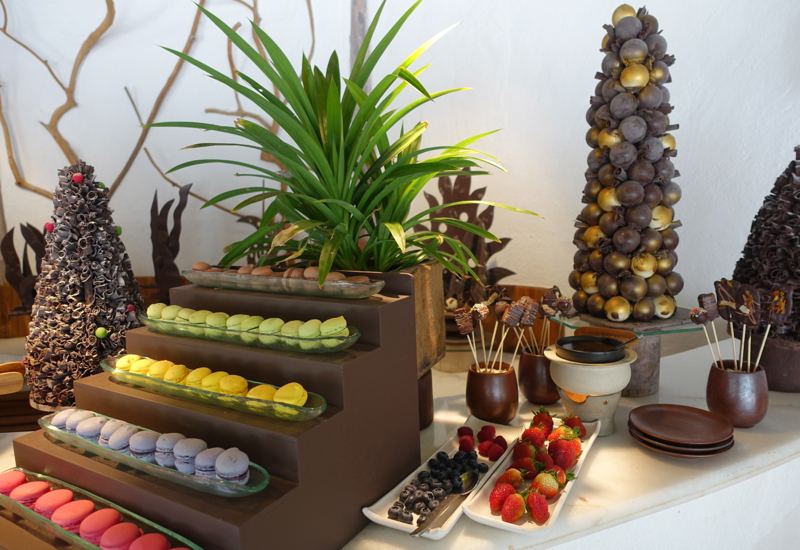 This Soneva Fushi Maldives Breakfast, Ice Cream Room, Chocolate Room and Cheese Room post is part of a trip report including luxury resorts in the Maldives and Etihad First Class and Business Class. Food and dining is a highlight at Soneva Fushi, so a future post will cover our dinners at the resort, including Fresh in the Garden Restaurant.
For the prior posts, please see:
Review of Etihad's Lounge at Washington Dulles Airport (IAD)
Etihad First Class 787-9 Dreamliner Review
Review: Wingtips Lounge JFK for Etihad First Class Passengers
Review: Etihad First Class 777-300ER NYC to Abu Dhabi
Review: Etihad Business Class Lounge Abu Dhabi AUH Terminal 1
Four Seasons Maldives at Landaa Giraavaru Review
Four Seasons Maldives at Landaa Giraavaru Restaurant Reviews and Menus
Four Seasons Maldives at Landaa Giraavaru Activities: Top 10 Things to Do
Interview with Armando Kraenzlin, General Manager of Four Seasons Maldives at Landaa Giraavaru
Review: Four Seasons Maldives at Kuda Huraa
Surfing in the Maldives at Four Seasons Kuda Huraa
Review: Four Seasons Maldives at Kuda Huraa Sunset Water Bungalow
Four Seasons Maldives at Kuda Huraa Restaurant Reviews and Menus
Four Seasons Maldives at Kuda Huraa Activities and Top Things to Do
Soneva Fushi Maldives Activities and Things to Do
TravelSort Clients receive complimentary daily breakfast for two, among these Virtuoso benefits, when reserving Soneva Fushi:
Upgrade on arrival, subject to availability
Daily Buffet breakfast, for up to two in room guests
Champagne and Maldivian Tapas
Original handcrafted arrival and departure mementos
A complimentary lunch for up to two people once during stay, excluding alcohol, taxes and gratuities
Early check-in/late check-out, subject to availability
With a minimum 5 night stay guests also receive:
Shoreline Beach dinner
Private sunset sailing by Dhoni at Baa Atoll
Flavorful Six Senses cuisine (organic vegetables) cooking class for two
Mihiree Mitha
Mihiree Mitha is Soneva Fushi's all-day dining restaurant, and is where the bountiful breakfast buffet is served, as well as lunch. It's also near the Ice Cream Room, Chocolate Room and Cheese Room, so needless to say, we came here quite often 🙂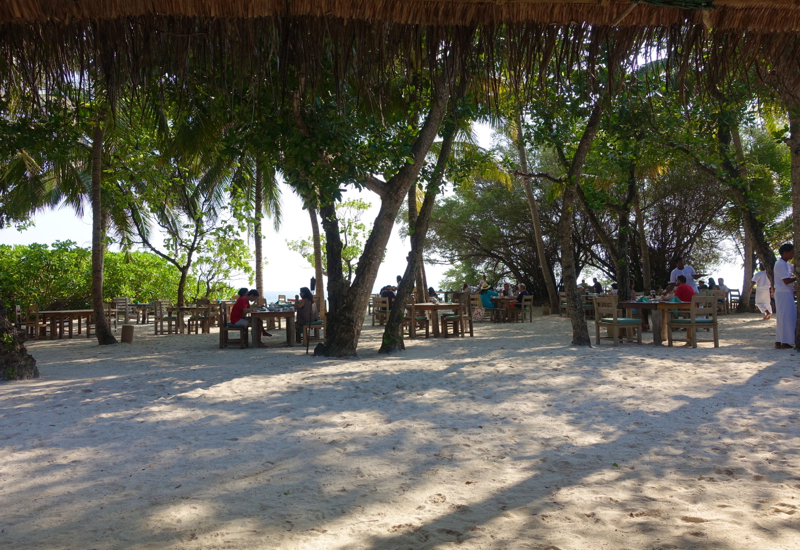 Soneva Fushi Breakfast Buffet
Soneva Fushi's breakfast was an amazing spread, especially for an island with just 55 villas. Breakfast is served 7:30am-10:30am, and in addition to the extensive buffet, eggs benedict, omelets, pancakes, waffles and the like can be made to order. Here's the menu for made to order eggs and other specialties: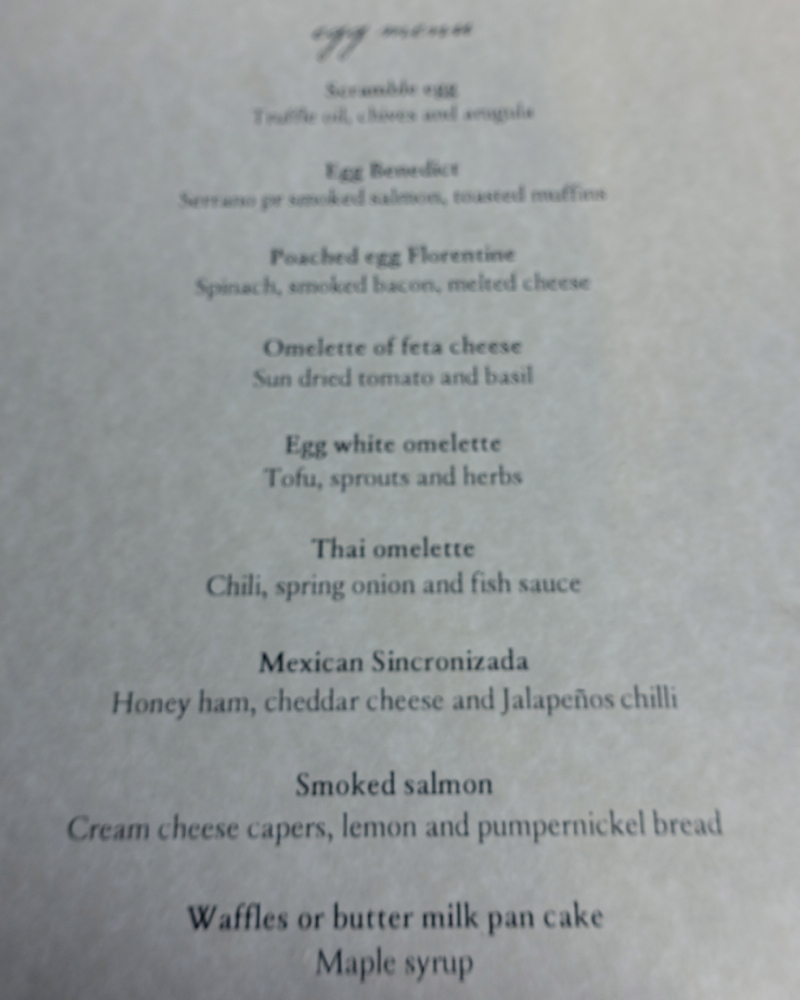 Our favorite breakfast foods were:
1. Fresh Fruit
Soneva offered the widest array of high quality fresh fruit we saw in all of our stays in the Maldives–everything from fresh pomelo to fresh pomegranate seeds, dragon fruit to passionfruit. I loved starting my breakfast with passionfruit, pomelo, mango and pomegranate: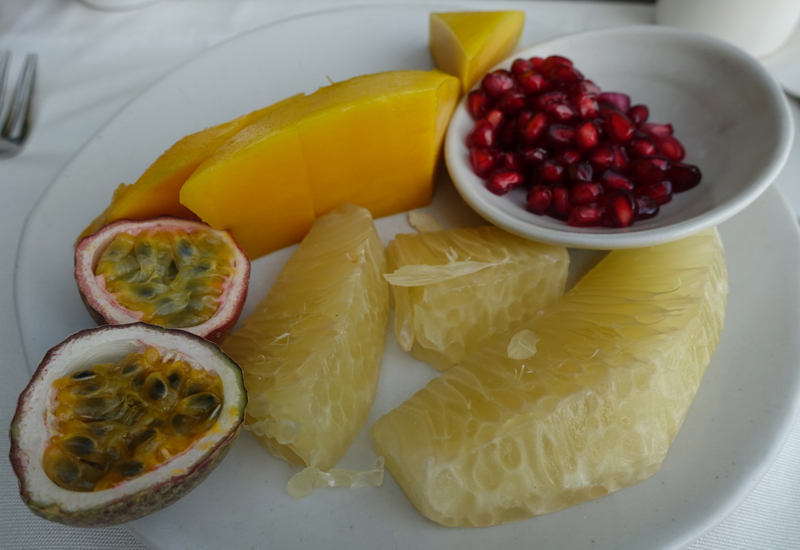 2. Fresh Squeezed Juices
Fresh squeezed juices aren't all created equal; here too, Soneva Fushi shone, and no one blinked at our requested combinations of orange, pineapple and passionfruit or my son's watermelon apple request. Plus, a combination juice shooter was always served as well, adding to the variety on offer.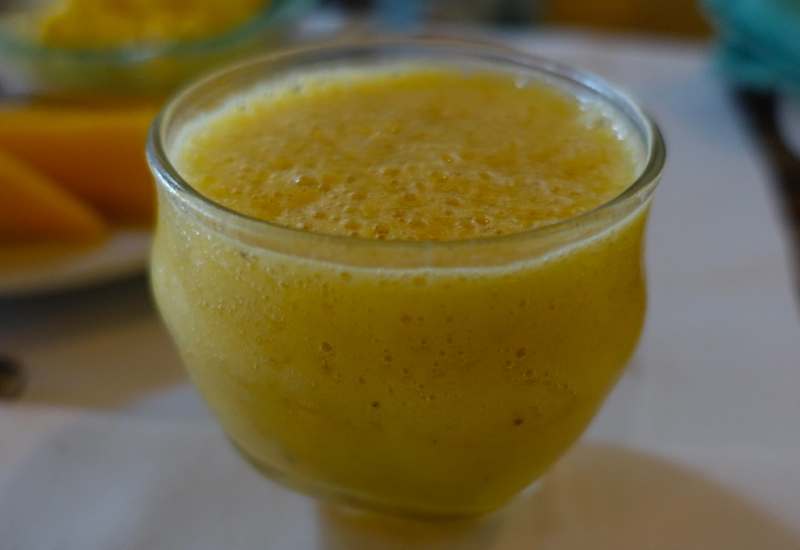 3. Eggs Benedict with Smoked Salmon
I don't normally order eggs benedict, but after trying some of my husband's, I ordered one for myself the next day. The eggs were poached perfectly, the smoked salmon was delicious, and the hollandaise was freshly made.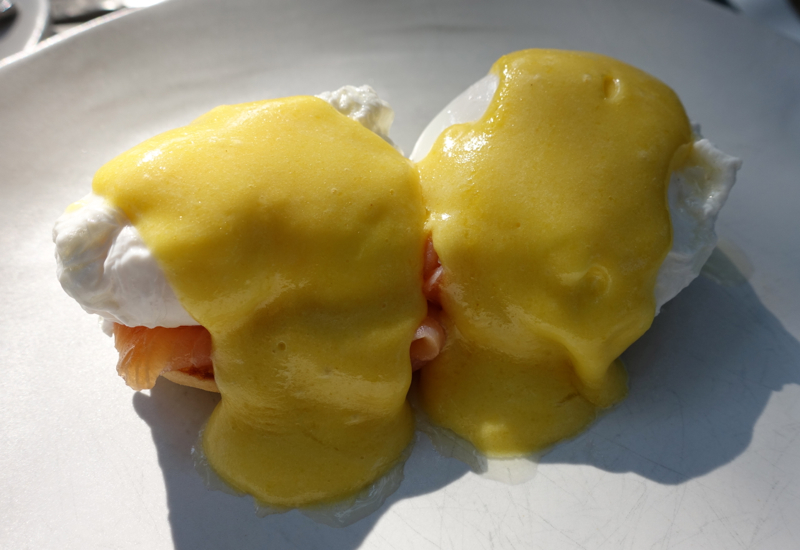 4. Yogurt with Fruit Puree and Homemade Granola
I liked that Soneva offered both whole milk and lowfat plain yogurt, and provided fruit purees that you could add to make your own fruit yogurt. I like fruit yogurt that is creamy and not too sweet, and this allowed me to make it to exactly my desired creaminess and sweetness. The homemade granola was wonderfully crunchy and great paired with the yogurt.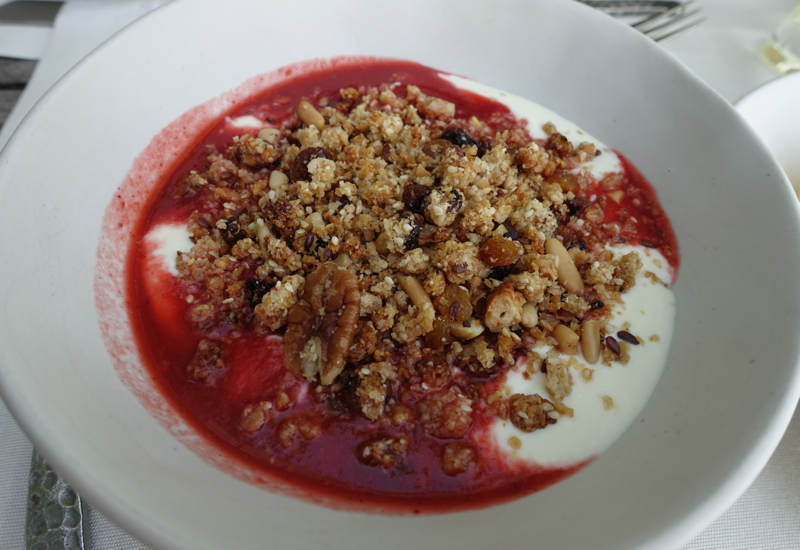 5. Almond Croissant
There was a huge variety of baked goods, although I'd say the quality wasn't as strong as at the Four Seasons resorts, hence my lower ranking for this baked good. It looked beautiful, but it couldn't really compare with the Four Seasons ones, in my opinion.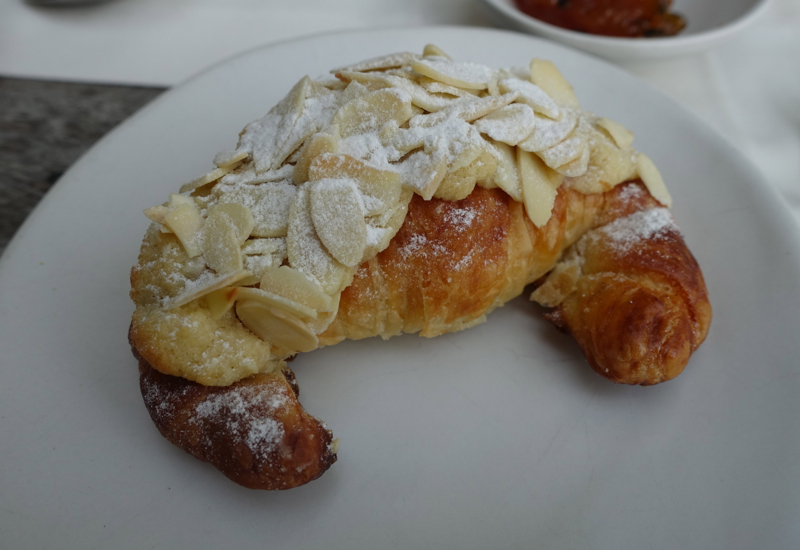 6. Cappuccino
Since I don't make my own cappuccinos at home, a well-made cappuccino is something I enjoy as a treat at hotels and restaurants. I liked that Soneva Fushi's was clearly hand made, not from an automatic machine, and even had some foam art.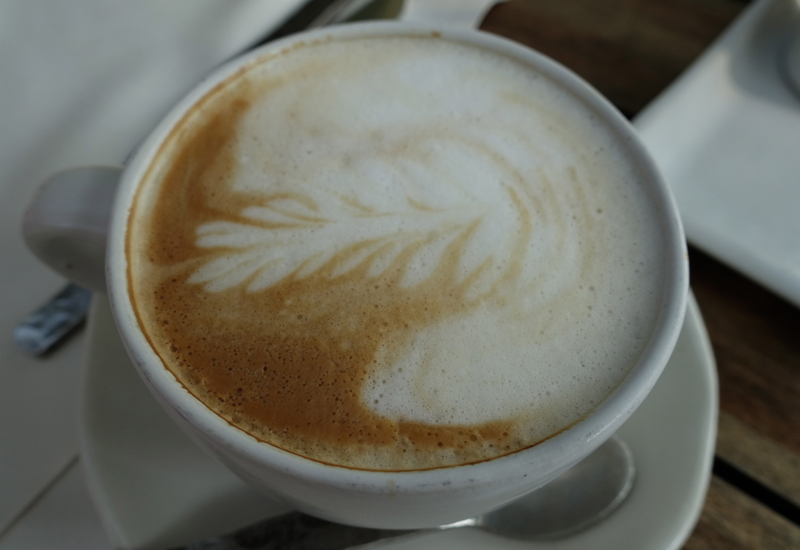 7. Waffles
Soneva Fushi served surprisingly good waffles, which my son ordered his first morning. Not as tasty as the Belgian waffles we make ourselves at home some weekends, but quite light and crispy.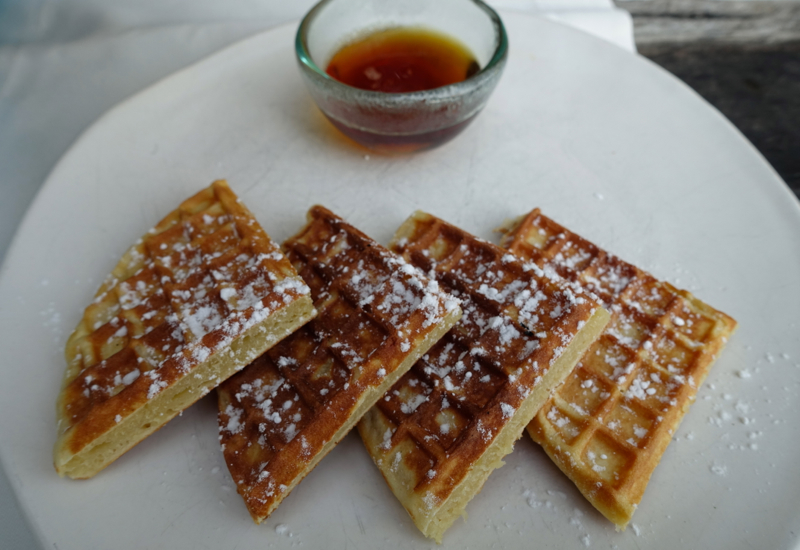 Ice Cream Room
Soneva Fushi's Ice Cream Room was a hit with all of us–I would have happily had ice cream at every meal, if I hadn't been concerned about calories or setting a bad example for the munchkin. My favorite flavors were passionfruit sorbet, pandan ice cream and salty caramel; my husband's favorites were raspberry sorbet, limoncello sorbet and mint chocolate chip; and my son's favorite flavors were watermelon sorbet, mango sorbet and vanilla ice cream.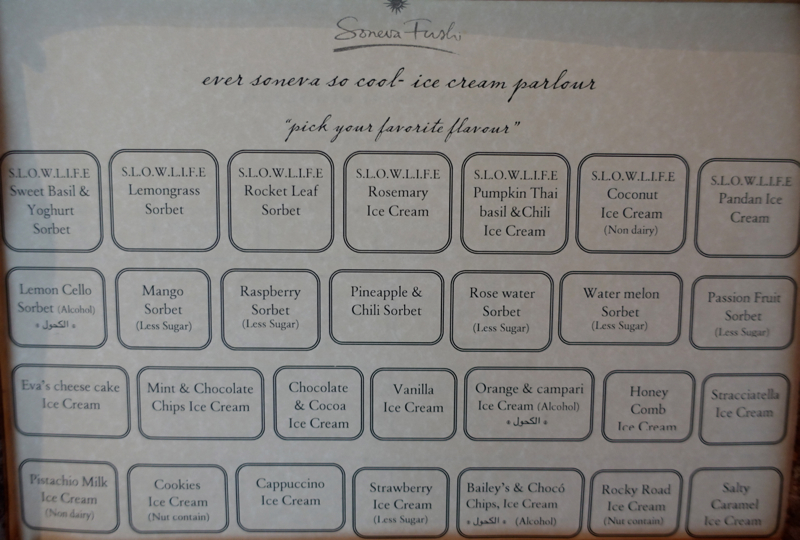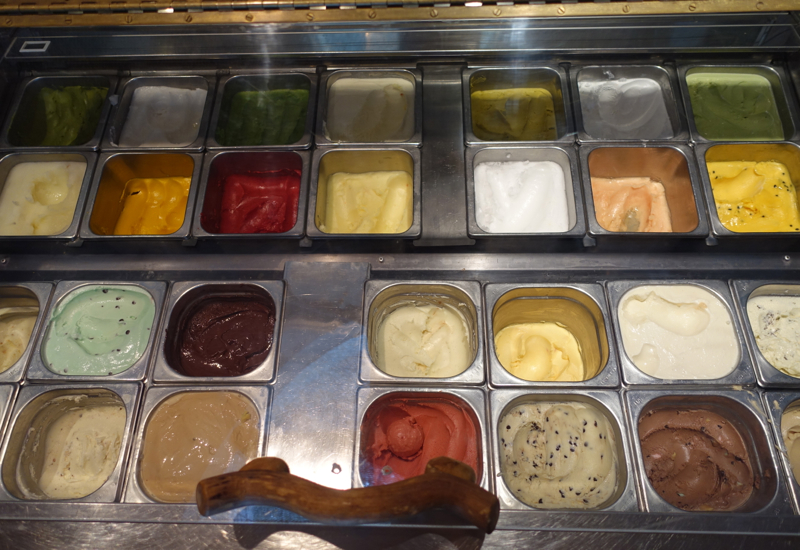 Chocolate Room
The chocolate room was beautifully presented, with an array of handmade chocolates (my favorites were the salty caramel and passionfruit chocolates) as well as macarons and even chocolate fondue. I'm sure we would have indulged more if it hadn't been for the Ice Cream Room. Something about hot weather made us crave sorbets and ice creams more than chocolate.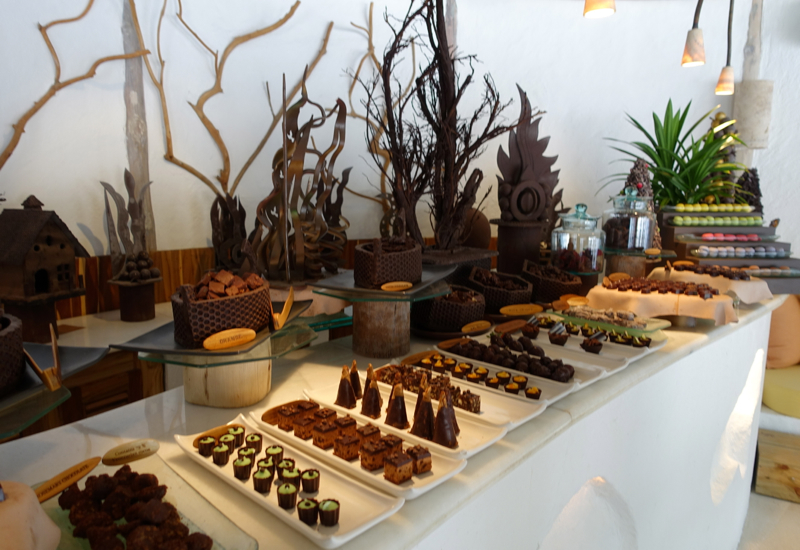 Cheese Room
We didn't even know about the Cheese Room until the father of Julian's new friend told us about it, which was fortunately our second day. After that, I often helped myself to a bit of cheese as part of breakfast, or as an in-between meal snack. It really was incredible how many different kinds of cheeses there were:
There was also Iberico ham, prosciutto, and other hams and salamis, plus fresh bread to go with the cheeses.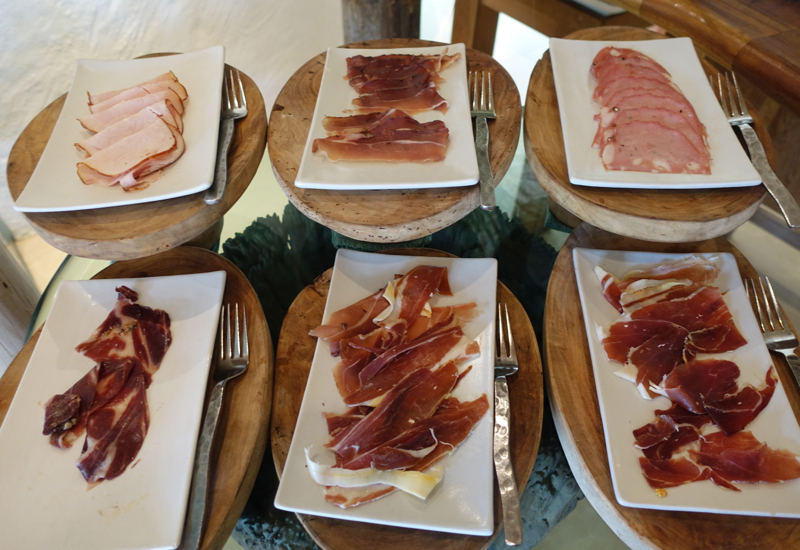 And a wonderful touch was that on Thursdays, the meat is swapped out for fish, so we got to try some delicious pepper salmon and pepper tuna, in addition to the cheese assortment: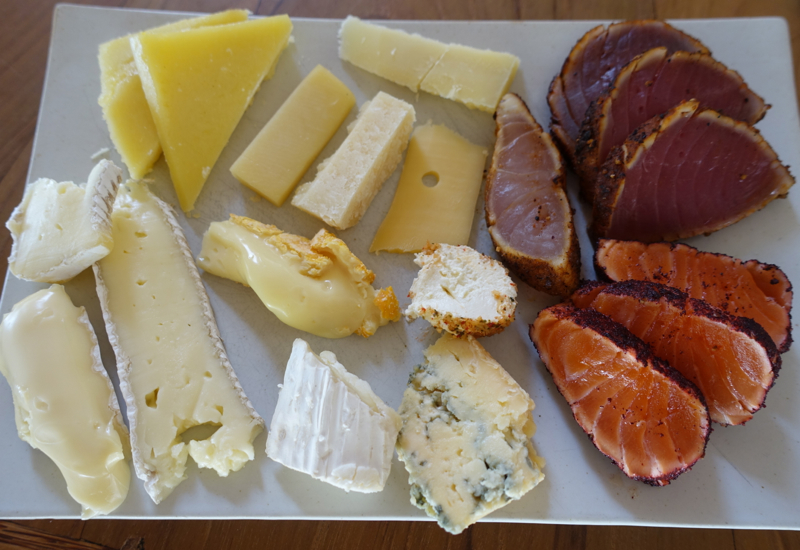 If you've been to Soneva Fushi, what were your favorites at breakfast and from the Ice Cream Room, Chocolate Room and Cheese Room?