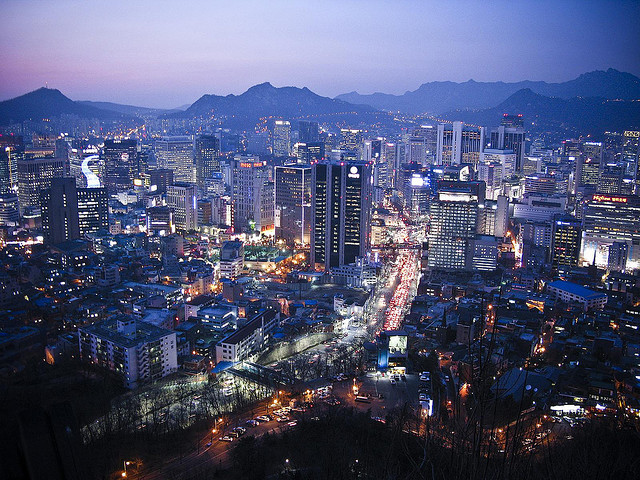 Why Go
Seoul is circled by dramatic mountains and split in two by the peaceful river Han. Still, this city's no beauty. Seoul had to be built from scratch following its destruction during the Korean War, so its skyscrapers are often tired blasts of Soviet-style concrete that choke the streets and cut out the sun. But the city skyline is rapidly slipping into a slinkier number, with dynamic green architecture replacing the grey uniformity of old. With several renaissance projects along the river and Zaha Hadid's space-like vision for the Dongdaemun Design Plaza and Park, it's little wonder Seoul was given the title World Design Capital 2010. The city is moving forward aesthetically at a rapid pace.
Down on street level, Seoul is one of the most colourful and crowded places in the world. On the city's avenues, street-sellers stir pans of red stew under sticky tarpaulin while bright-lit shops fire music into the streets. The businessmen in ties hurry along, but the cutesy sounds of Korean pop will tinkle into their dreams, too. Groups of stylish young women link arms down the avenues, covering their mouths as they giggle together. And though the city is perpetually packed, unless you visit Itaewon, the gritty expat ghetto next to the US army base, you'll only see a handful of other travelers per day. And that makes Seoul unique amongst the alpha cities. It will make you feel special in this city of 24.5 million souls.
Of course, plenty of foodies head to Seoul simply to try one of the world's most delicious cuisines in its heartland. Korean cuisine is almost unknown outside the country, which is a shame because it's deliciously spicy and brash, with most dishes strong in garlic, chilli, soy and sesame. And there's always a surprise element to Korean food. Your garlic bread from the patisserie might taste more like dessert, while your sponge cake may be flavoured with sweet potato. And if you're feeling really adventurous, there's always live octopus and fried grasshoppers to dive into. With prices that belie the sophistication of this hyper-modern city, it's understandable that eating out in Seoul is as popular as drinking Soju, the local moonshine that's cheaper than water. And that's where the beauty of Seoul really lies: in its people who play as hard as they work.
Insider Tips
International Incheon airport is 49km and an island west of central Seoul. To get to the city, it's 43 minutes and 13,000 won on the A'rex train to Seoul Station. From the airport, limousine buses also run a number of routes through Seoul for 15,000 won. These luxury buses are easy to find just outside airport arrivals. The subway terminal is under the airport's arrivals hall, and subway signs across the city are in English.
See Seoul at its best in April and May, when warm breezes carry pale cherry blossoms through the air. In fall, the hiking trails surrounding Seoul are a gorgeous blanket of red and ochres. But seasons in North East Asia are extreme. Summers are a mix of monsoons, with a constant humidity that feels as if you're being smothered under a hot wet blanket. Winters are some of the coldest on the continent, with Siberian winds turning Seoul into the most unwelcoming capital.
Crime rates are negligible, but never be the first or last to cross the street. Road fatalities are the seventh highest in the world, battered motorbikes and gleaming Hyundais smash through red lights without care.
ATMs accepting foreign cards are at every 7/11 and subway stop. Just look for a machine with the Global sign on it or a screen with a Foreign Card button.
Your phone won't work in Korea, but you can rent phones at the airport for a couple of dollars a day. The tourist information desk can organise your rental on arrival at the airport. Otherwise, there are cheap internet cafes, or PC Bangs, and phone boxes on almost every street.
Happy Birthday! Step off the plane and age a year. Koreans are aged one from birth. A Confucian society, hierarchy and respect are everything, so enjoy being older than your Korean companion, it means they will always pour your drinks–just remember to accept your glass with both hands. Also, you should face away from your elders whilst drinking. But don't worry about the rules too much. As a visitor, you'll be forgiven for misdemeanours.
Learn a few words of Korean before you go. While all young Koreans learned English at school, many are shy to speak the language. 'Annyeong Haseyo' means Hello, while 'Gamsa Hamnida' means thank you.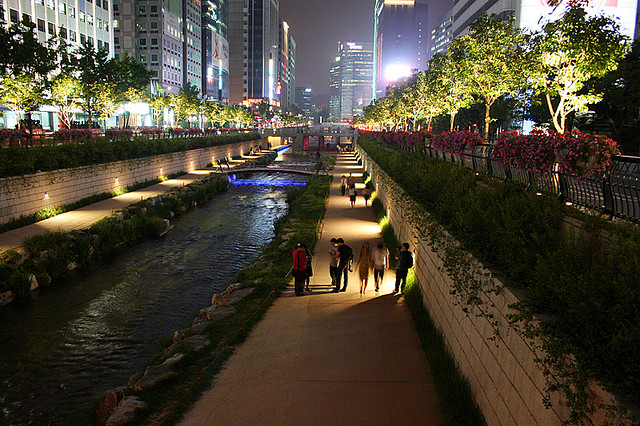 Where to Stay
While in Seoul, why not sleep at a sauna house? Jjimjilbangs abound, and there are often basic sleeping rooms for you to lay your head. One of the best is Silloam Formentation Sauna, just behind Seoul station. Prices are as low as 9000 won, and foodies who want to save their hard-earned cash for more restaurants will find the option to pick a sauna house means a pleasant night's sleep for very little money.
Another excellent bet is one of the more traditional guesthouses. Stumbling upon a hanok always delights, with their curved roots reminiscent of upturned boats. Bukchon Guesthouse is an excellent pick for an atmospheric stay, with rooms starting at 40,000 won per night. Travelers who want a bit of a traditional experience with friendly service and a comfortable place to sleep will be delighted.
For a ritzier and contemporary stay, travelers should choose the W Hotel Walkerhill, located close to the swanky Gangnam district. Here, there are enough designer suites and beautiful people to keep any fashionista happy, with a focus on the chic and the now. But be warned, prices are as high as the mountain W sits on.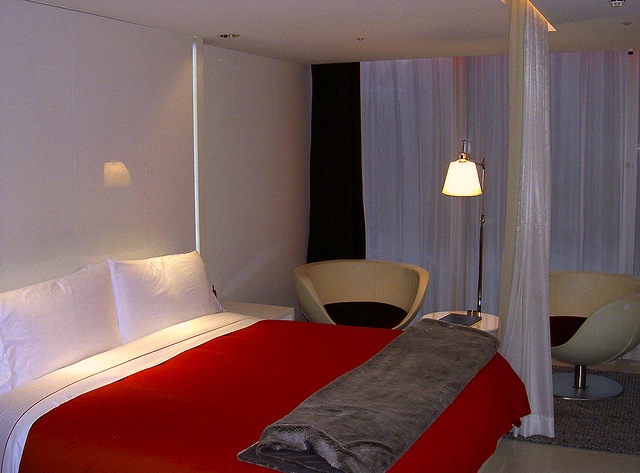 Where to Eat
In Seoul, hole-in-the-wall joints are always thriving, with locals diving into staples such as dolsot bibimbap – a sizzling hotpot filled with rice, spicy red pepper paste and vegetables topped with a fried egg. Mixing it up yourself is part of the fun, the crunchy jewels of rice at the bottom the best part of the dish. Wherever you go, expect a number of appetizers (banchan) and side dishes as part of the bargain. Mainstays are pickles, tofu and kimchi – the spicy national dish of tangy fermented cabbage.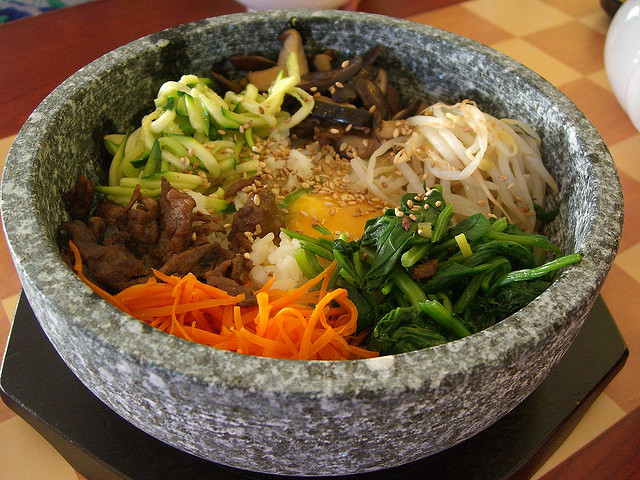 For something truly unforgettable, there's little more convivial than a Korean barbecue–and nothing more delicious. A gorgeous smoke fills the air of typical bulgogi restaurants, where groups of friends drink and toss pieces of steak over the charcoal grills built into their tables. Once you've cooked your meat the way you like it, swirl it in your dish of galbi – a soy sauce sweetened with sugar, ginger, garlic and sliced onions. Pop your meat onto a lettuce leaf and top with spring onion salad and ssamjang – a spicy red paste. For a heady combination enjoy your meal, like the locals, with a shot or seven of Soju. Barbecue restaurants rarely disappoint, so just look out for their distinctive tables in order to taste Korea's most delectable dish.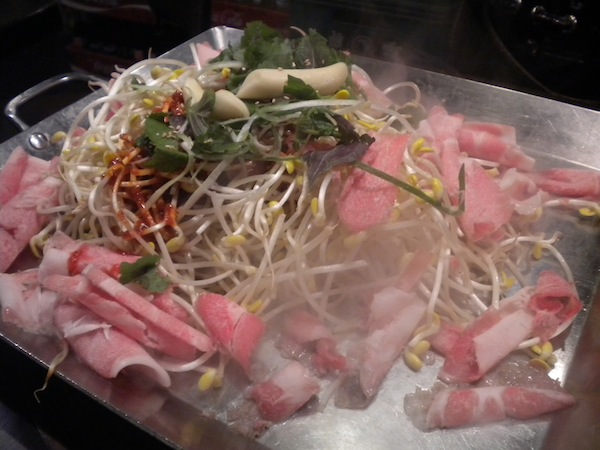 If you're looking for somewhere extra-special, try Samwon Garden, set in a tranquil waterfall garden. Here, the dining experience is as much about the atmosphere as it is about the meal itself, which is immaculate as well. And if you want beef that rivals Argentina's, Byeokje Galbi (Songpa-gu Bangi-dong 205-8) is the place for you. Expect delicious and tender choice cuts that will have you hankering for more.
Chicken barbecues are moreishly spicy. Added to the mix of chicken and chilli paste is cabbage, pressed rice cakes, potatoes and onion. But the best part of all is the fried rice the waiter can grill for you using the leftovers. Yoogane in the buzzing Myeongdong shopping district is worth visiting. For the less carnivorous, the Bibimbap on the top floor restaurant of Hyundai department store, at Sinchon intersection, gets simple rice hash just right.
Foodies on a budget will love the street-stall offerings of tteokbokki, a meal of chewy pressed rice cakes in a spicy red sauce. Octopus balls are another great street eat, as is peanut butter grilled squid. And those who are hungry later into the evening will find street stalls open, ready to serve up tasty treats.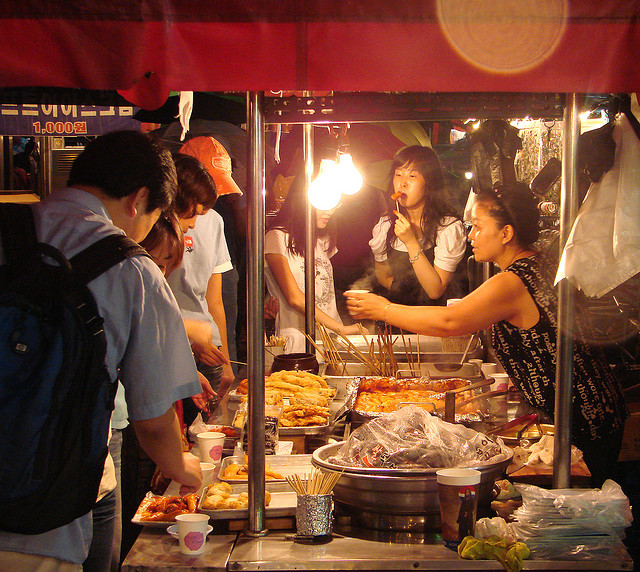 Not all Korean food is spicy. Samgyetang is a summertime soup in which a whole spring chicken is stuffed with rice and infused with the delicate flavours of jinseng and jujube. This dish is at its best at Tosokchon ( 85-1 Chebu-dong, Jongno-gu). For another delectable and traditional treat, Mandu gook, a simple meal of steamed dumplings in a warming beef broth, is done perfectly at Jaha Son Mandu.
The Buddhist offerings at Sanchon in Insadong are as simple yet elaborate as the hanok in which you will dine and enjoy a dance show. In typical Korean style, the set-menu has more side dishes than you can count, and most of the delectable offerings are rich in herbs and tofu. The crisp vegetable pancakes are especially good.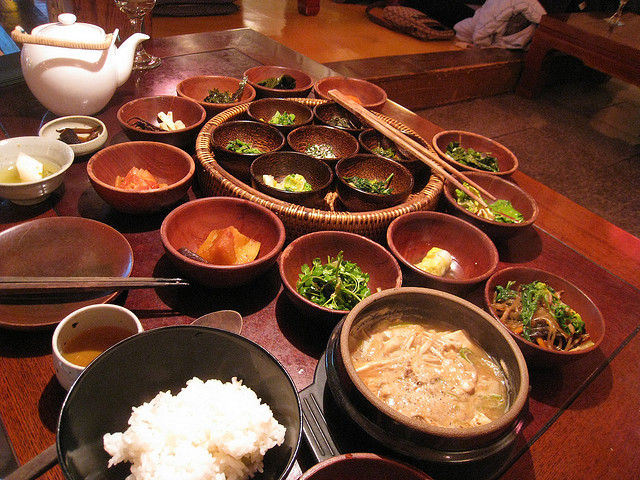 Cafe culture is surprisingly strong in Seoul. You'll never be far from a gorgeous patisserie filled with the best macarons this side of Paris. And for fresh-baked baguettes, delicious Italian sandwiches and pizza, head to Jenny's Bread to the left of Hongik University.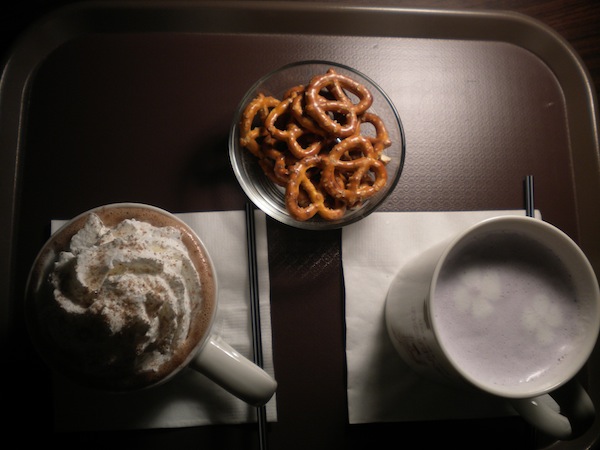 What to See and Do
Those interested in architecture and greenery must visit World Heritage-listed Changdeokgung. This palace charms everyone with the opportunity to amble through its Secret Garden. Visits to Changdeokgung can only be taken with a tour, and there are two a day in English. Choose the 11.30am visit of the palace, enjoy lunch in touristy yet traditional Insadong, then take the 2:30pm tour of the garden. It's definitely an experience worth waiting for.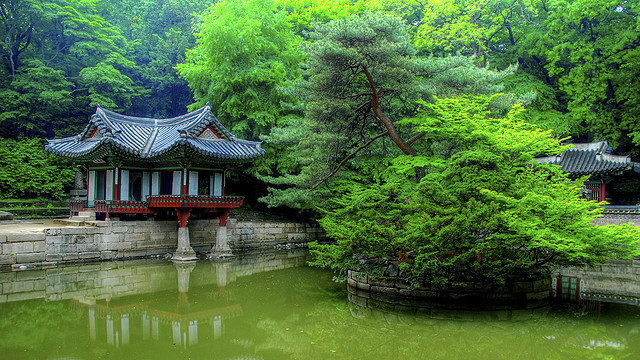 One of Seoul's loveliest hangouts is the Hongdae District, home to Hongik art school. Kitsch coffee shops are strung with fairy lights and offer blankets for huddling against the bitter spring nights. Tea dresses and pastel coats hang simply from white walls in vintage stores, providing sanctuary from the outdoor hustle of Korea's hippest kids. Those looking for underground music and art will love it here, with street artists splashing color over concrete while live bands make music in the park and beatboxers take over the subway station. Hongdae could not be more alive, or more neon. Every sign shouts Karaoke! Internet! Booze! Burger King! Check out the silent disco, on every second Saturday night at the playground. Hundreds of tipsy clubbers dance to their own beat until the early hours, passing time until the subway re-opens at 5am.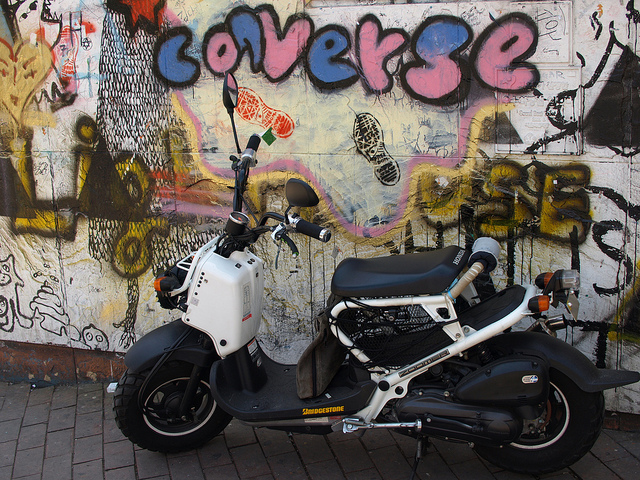 Be sure to visit the iconic Namsan Tower (Myeongdong Exit 3) for panoramic views of the city. But there's something more romantic than a mere sweeping vista; just outside the tower, thousands of locks have been chained to the railings by swooning couples.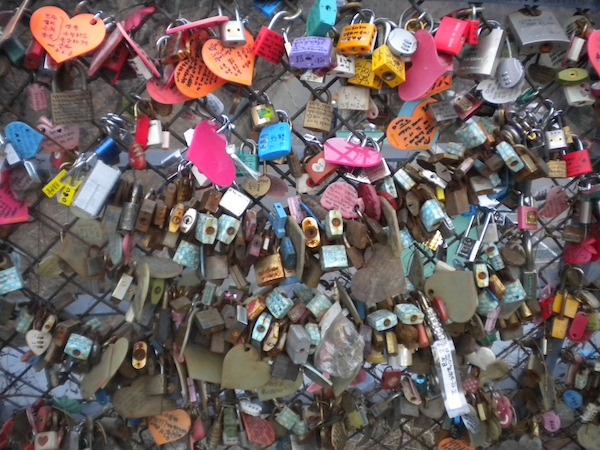 Those with a bit more time and some athleticism should take a moment to cycle by the River Han. It is as close as you'll get to peaceful in central Seoul, and a lovely way to see the city. You can rent bikes for free near Jamsil Station (Exit 1) and in four other locations, though you may have to wait in line on weekends.
What are your spicy food favorites in Seoul?
Related Posts
Review: Asiana First Class Suite NYC JFK to Seoul ICN
Review: Asiana Business Class, A330
Asiana First Class Suite Review
Asiana First Class Lounge, Seoul Review
Need Award Booking Help? Our fee is as low as $75 per ticket if you book your hotel through us.
If you enjoyed this, join 150,000+ readers: please follow TravelSort on Twitter or like us on Facebook to be alerted to new posts.
Become a TravelSort Client and Book 5-Star Hotels with Virtuoso or Four Seasons Preferred Partner Amenities!
Photo credit: Ailsa Ross, Avlxyz, Photocapy, Slack12, Kim Travel, Avlxyz, Choweee, rickcox, d'n'c