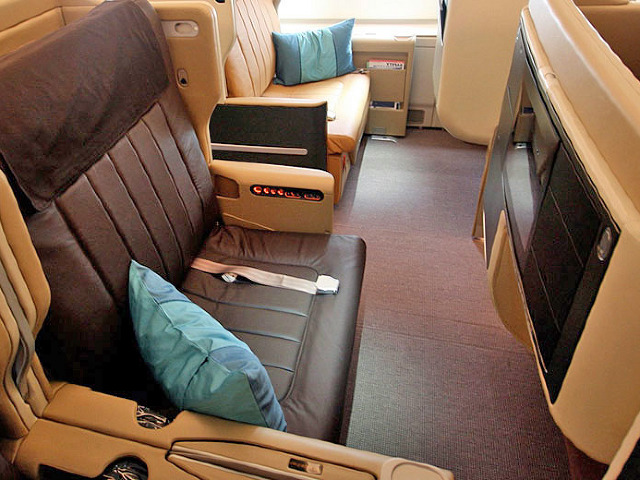 This Singapore Business Class Review for an NYC (JFK) to Frankfurt (FRA) flight is part of a UK and France trip report including flights in British Airways in New First Class, Singapore Business Class and Singapore Suites, and stays in a Scottish castle and 5-star hotels in London and Paris. For the prior posts, please see:
British Airways New First Class 777 Review
British Airways Galleries Arrivals Lounge London and Concorde Room
As I will write in more detail in a subsequent post, based on my recent experience there is a quantum leap between flying Singapore Business Class versus flying in Singapore Suites. This post will review my Singapore Business Class flight from JFK to Frankfurt, including the Oasis Business Class lounge in New York JFK. Apologies in advance for the photo quality, as these were taken with my iPhone.
Booking Singapore Business Class Awards
I'm lucky that I never have to worry about booking award tickets since my wife Hilary, who runs TravelSort, takes care of all our first and business class award bookings. If you need award help, check out her Award Booking Service. She booked my business class flight about a year ago, using Singapore KrisFlyer miles transferred from AMEX Membership Rewards points. She tells me that it's also possible to book Singapore Business Class with AviancaTaca LifeMiles but since we can earn AMEX Membership Rewards points relatively easily, we saw no reason to buy AviancaTaca miles and wouldn't earn those since we fly very few paid airline tickets.
Oasis Airport Lounge, JFK
I had an early evening departure time and arrived at JFK a little early, so I stopped by the Oasis Business Class lounge. The lounge itself was functional, but that is about the best I can say. The layout of the lounge was such that it was broken up into somewhat narrow spaces.
In addition, because the lounge was relatively crowded, there was not much of the relaxing atmosphere which is such a nice luxury as compared with waiting at the gate. In fact, my feeling about this lounge was that it was more comparable to an upscale "waiting-at-the-gate" type of experience than the truly exclusive feel of many other lounges.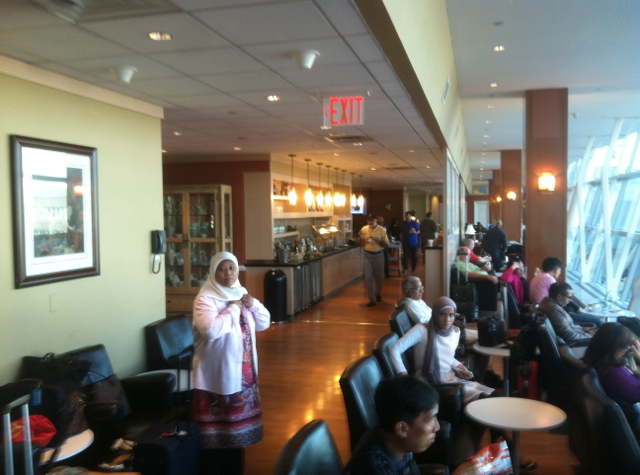 The food was pretty bare bones. Other than some stale-looking sandwiches, there was some leftover curry that had seen better days. And while it is hard to complain about free drinks, there was not much of an environment to savor them in. There was a little dining area, but the tables were crowded with dirty dishes.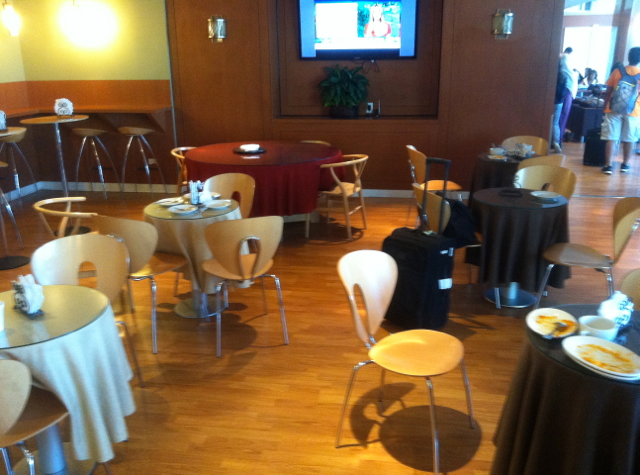 Singapore Business Class
So I was happy to board the plane and check out my Singapore Business Class Seat. The flight was delayed for several hours on the tarmac at JFK, so by the time the plane was in the air I was ready to relax. My Singapore Business Class cabin was completely full, but the layout of the seats afforded a reasonable sense of privacy.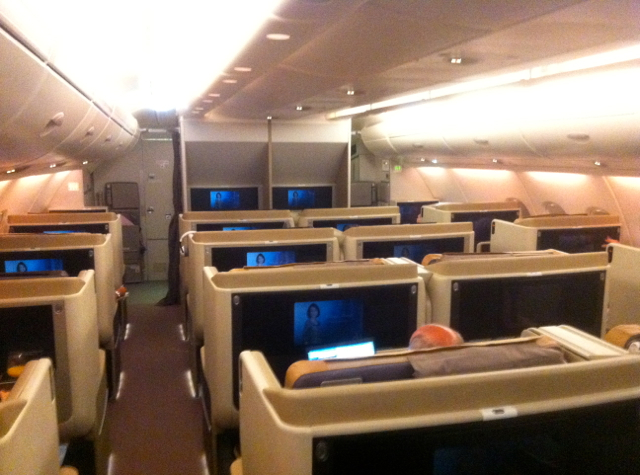 The seat itself is quite wide, with a moveable side cushion and ample leg room.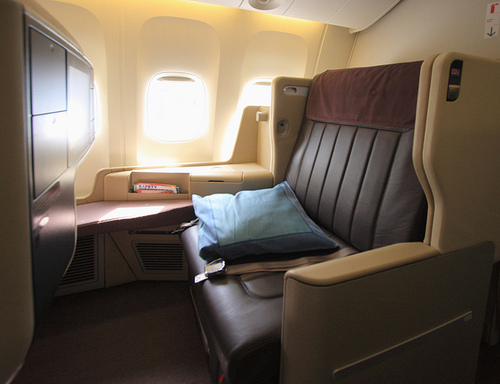 I didn't bother with any food options and soon I was ready to get some sleep. If I had planned on eating, most likely I would have done Singapore Airlines' Book the Cook and pre-ordered the Roast Rack of Lamb. You can view all the Book the Cook options on Singapore Airlines' Book the Cook page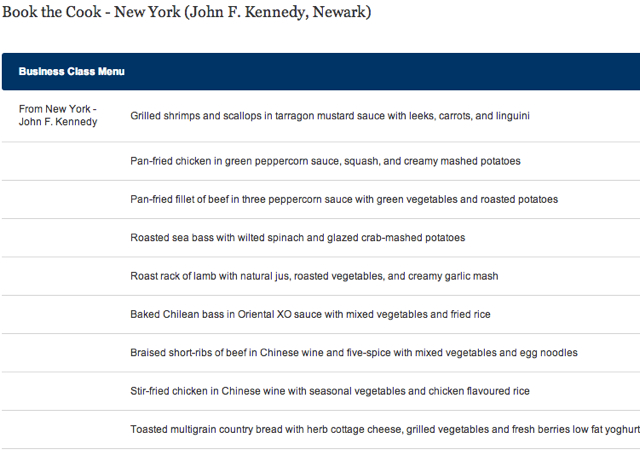 I was not disappointed: the seat was quite large enough to fold down into a rather long flatbed (with my feet sliding under the video console located on the back of the chair in front of me). Overall, the bed was very comfortable, with no bumps or edges. The flight attendant made up the bed, which required some rather elaborate machinations.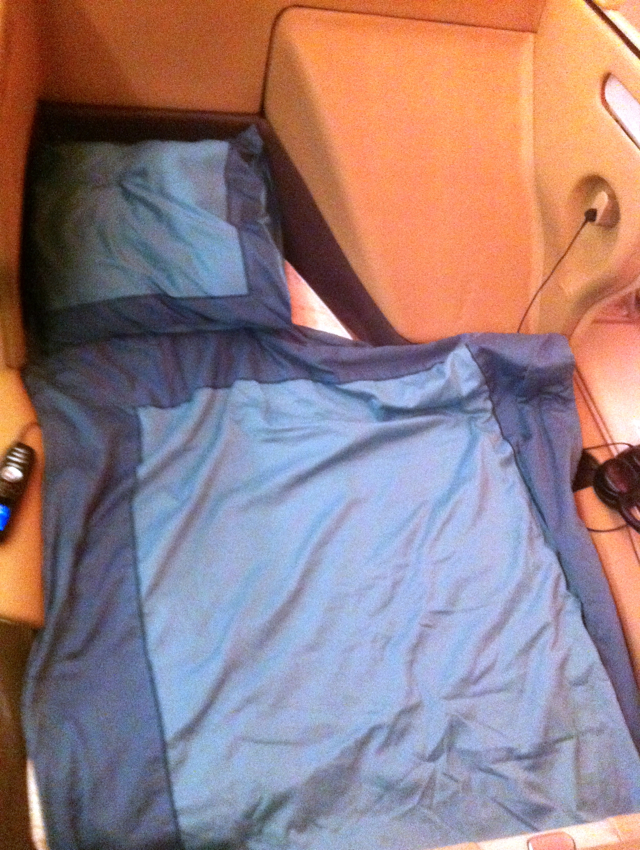 The bathroom was spacious, clean and perfectly serviceable.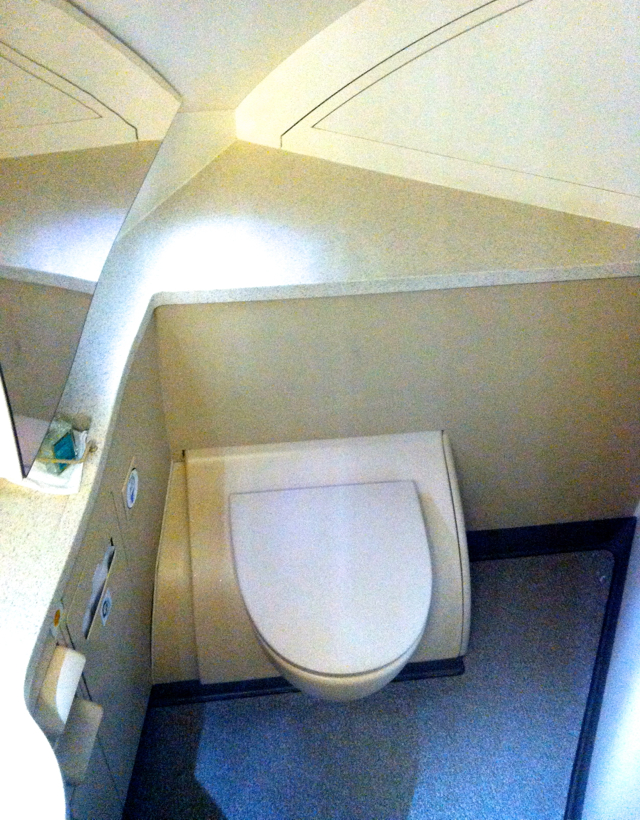 I was quickly asleep and so I did not have much interaction with the staff; though overall, the quality of Business Class service was mediocre, perhaps because there were so many customers to attend to on my flight.
The Verdict: On Singapore Airlines Business Class I had a pleasant experience, without any major complaints. The seat size was ample and the experience was relaxing, but nothing spectacular. By contrast, in my future post, I will have nothing but superlatives to say about Singapore Suites. It was absolutely the most luxurious flying experience of my life. Every aspect (save one) was perfect.
Related Posts
Singapore Business Class Bookable with AviancaTaca LifeMiles
Singapore Airlines Business Class Review: Tokyo to Singapore
Singapore Airlines Suites Award Tips and FAQ
Singapore Airlines Suites Class Available at Saver Award Level on KrisFlyer
Need Award Booking Help? Our fee is as low as $75 per ticket if you book your hotel through us.
If you enjoyed this, join 100,000+ readers: please follow TravelSort on Twitter or like us on Facebook to be alerted to new posts.
Become a TravelSort Client and Book 5-Star Hotels with Virtuoso or Four Seasons Preferred Partner Amenities!