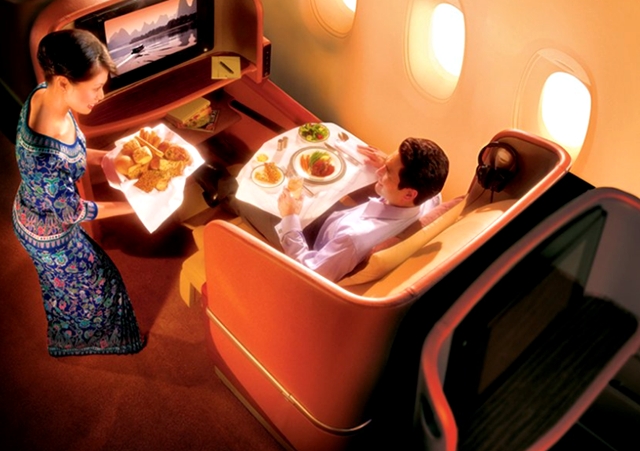 TravelSort Reader Jen asks: "I was lucky enough to grab some first class Singapore Airlines award tickets using United miles this summer, but never chose seats. I logged into United but it won't let me choose or even request particular seats. Do I have to call Singapore?"
First, congratulations Jen on managing to get Singapore First Class award tickets using United miles during that July weekend when it was possible! Seat selection and assignment with partner airlines on award tickets can be a hassle, and Singapore Airlines is no exception.
Your best bet is to call Singapore Airlines at 800-742-3333, hit 2 for First/Business Class when prompted, and ask the representative to look up your reservation by your last name and flight number, unless you already have a Singapore Airlines PNR (passenger name record), in which case you can use that. Then ask the representative for your requested seat. It may be that one has already been assigned to you, but if it's not the one you want, don't be shy about asking if your preferred seat is available.
Also make sure that your ticket is correctly issued, since there are definitely synchronization issues that occur sometimes with partner award tickets, including Star Alliance partner awards on Singapore Airlines. You want to ensure that there isn't anything that might result in your ticket being auto-cancelled.
If you do already have a Singapore Airlines PNR, you could try entering that, along with your last name, on the "Manage Booking" tab, but don't be alarmed if it doesn't work–I've had it not work even with a valid Singapore PNR and last name, and simply give the error message "We are unable to retrieve your booking because this booking contains ticket(s) which is not issued by Singapore Airlines. Please check with the airline or travel agent you have made this booking with." In that case, simply call.
And while this isn't Jen's situation, since she has first class award tickets on Singapore, note that only Business and First Class award ticket holders are able to select seats in advance on Singapore Airlines. If you have an Economy award, you'll need to wait until check-in, as only economy tickets booked through the Singapore Airlines site can select seats in advance.
Finally, although I haven't tried this yet, some folks report success using the Singapore Airlines iPhone app to manage their booking, even when they can't manage their booking via the Singapore Airlines Web site via computer. Or, as Dominik added in the comments, just use the Singapore Airlines mobile site, even if you're on a computer or other smartphone, and you should be able to plug in your Singapore PNR to choose your seat.
What's your experience with seat selection and seat assignments on Singapore Airlines, using a partner award?
Related Posts
Deal Alert: Singapore Airlines First Class Bookable on United!
Singapore Airlines Business Class Review, Tokyo to Singapore
Singapore Airlines Business Class Awards Bookable on United
Best International Business Class Seats for Sleeping
If you enjoyed this, join 200,000+ readers: follow TravelSort on Twitter or like us on Facebook to be alerted to new posts.
Subscribe to TravelSort on YouTube and TravelSort on Instagram for travel inspiration.
Become a TravelSort Client and Book 5-Star Hotels with Virtuoso or Four Seasons Preferred Partner Benefits