This Singapore Airlines Business Class Review is for a Tokyo to Singapore flight, the third of a trip report that includes United Business Class New York (EWR) to Los Angeles (LAX) and ANA Business Class LA (LAX) to Tokyo Haneda (HND).
Though somewhat haggard looking, not having slept at all on the red eye on ANA from LA to Tokyo, I was perhaps unjustifiably excited about taking my first ever Singapore Airlines flight. What can I say? The airline's reputation precedes it.
Even though I wasn't there when boarding started, there was still dedicated business class boarding when I arrived, which was nice. I was greeted and shown to my seat, a window seat in the bulkhead (12K).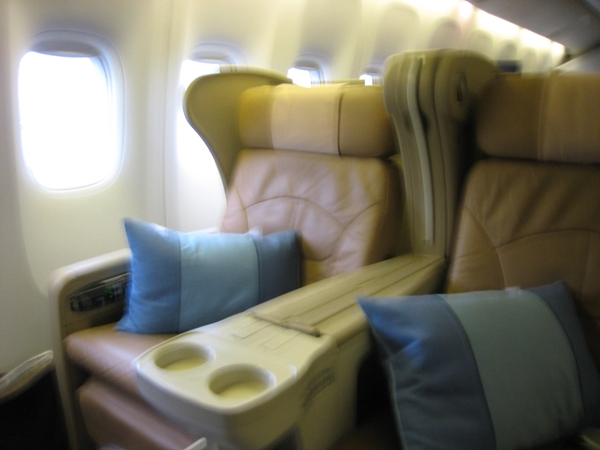 Perhaps because I'd so recently flown ANA, it was interesting to see the different style of the cabin crew, especially the more senior flight attendant (you can tell flight attendants' seniority by the color of their uniforms). Very professional, polite, etc., but much more brisk and assertive, compared to the "softer" more feminine style of the ANA attendants. I enjoyed both styles, for purely personal reasons–the ANA Japanese style of interacting felt familiar in a positive, even nostalgic way due to my time living in Japan. And yet the more assertive Singapore style is closer to what I, and I'd venture most Americans, are culturally used to–ultra professional and brisk efficiency. I could also immediately understand what some people refer to as "scripted" interaction, which simply seems due to rigorous training (I think Singapore Airlines crew training is among the longest for any airline).
In any case, service was pretty flawless–refreshing towel, welcome drink (the male attendant apologized when I asked for water, as his tray only contained juice and champagne, but he very quickly got back to me with the water). We were handed menus, which included a boring Western breakfast option (ok, to be fair, there was a choice of mains between pancakes with bacon and scrambled egg and grilled chicken with miso sauce) and a very enticing looking Japanese bento box designed by Chef Yoshihiro Murata of Kikunoi in Kyoto, which serves incredible kaiseki meals (kaiseki refers to multi-course, seasonally driven Japanese cuisine). Guess which one I chose?
And it did not disappoint. Slightly ironic that the best Japanese food I tasted this trip was on Singapore Airlines, and not ANA, but at least I got to taste it. The menu descriptions and photo, unfortunately, just don't do it justice, but I'll describe it anyway.
Upper right: white fish paste (least interesting of the bunch), grilled scallop with sesame seeds (slightly smoked? Lovely flavor), omelette, simmered beans (almost candied–really lovely)
Upper left: Silver cod Saikyo (lightly marinated, perhaps with mirin? Sweet and perfectly moist), ginger stick (bracing piquantness) and bayberry yamamomo (unique sweet-sour taste)
Middle right: veggies: miniature carrot, wax gourd (didn't care so much for it), peas, tri vegetable roll, and kabocha (Japanese pumpkin–love this)
Bottom right: seasoned spinach with bonito (fish) flakes, Japanese pickles–refreshing palate cleansers
Bottom left: two types of steamed rice rolls, one with yukari (which I think is a kind of furikake, or seasoning mix) and one with gomoku. "Go" is "five" in Japanese, so assume it means made with five ingredients, probably different kinds of vegetables, by the taste of it.
Oh, and there was also miso soup there on the right.
This was easily the most gourmet Japanese bento box I've ever eaten, and it was the perfect amount of food. And so satisfying, that even with my sweet tooth, I had no desire for dessert after eating it.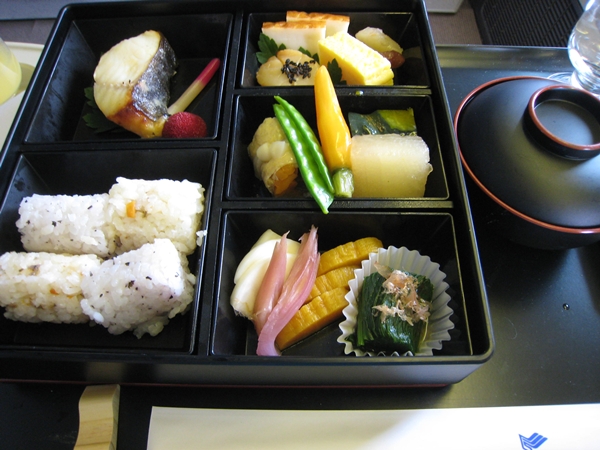 Since I was still feeling sleep deprived after the sleepless ANA flight, I checked out the seat control. As expected, there was an angled flat setting–the seats weren't full flat ones.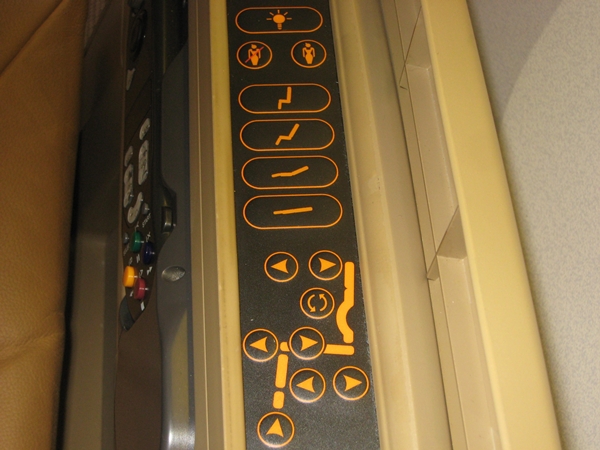 I reclined all the way and rested, but, as with the ANA seats, sleep wasn't in the cards for me–as tired as I was, it just wasn't comfortable to be at an angle like that. And I wasn't going to take a sleeping pill given the flight was 6 hours, and a good deal less than that after meal service. Just as with the ANA flight, I'd be surprised if anyone over 6 feet tall would find this seat comfortable, even if they don't mind angled flat seats, simply because of the total length and proportions of the seat. If you're tall, I think you'll almost always want to fly first class, especially on Asian carriers.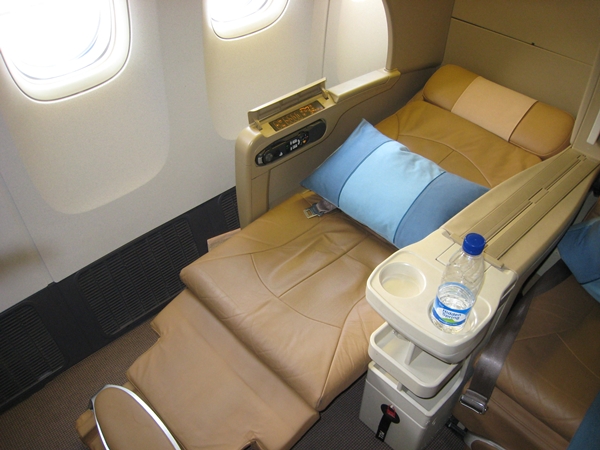 The bathroom was ordinary and small–not as big as the ANA business class bathroom–but it did have L'Occitane toiletries, which is more than I can say for the hotels I've stayed at on this trip (more on the hotels in future posts).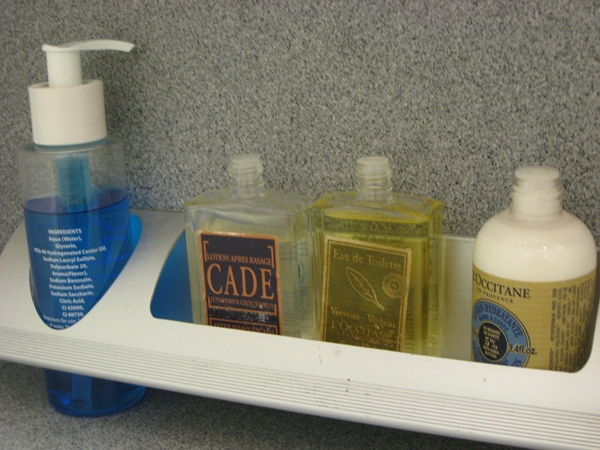 Although given the length of the flight I only expected one meal, to my surprise a second was offered before landing, and there were two choices on the "Refreshment Menu" which were really more like hearty lunches: Grilled beef fillet with madeira sauce, braised endives, carrots, green beans and sweet potatoes, or Gindara no saikyo yaki (Grilled silver cod with Bekko-an sauce, seasonal vegetables and steamed rice). While I considered the beef, since I'd just had silver cod for the bento box, I ended up going for the fish again, with this slightly different bekko-an sauce–the fish was simply that good. Not sure I'd trust many other airlines to serve fish (which usually ends up awfully when prepared as airline food) but again, incredible meal.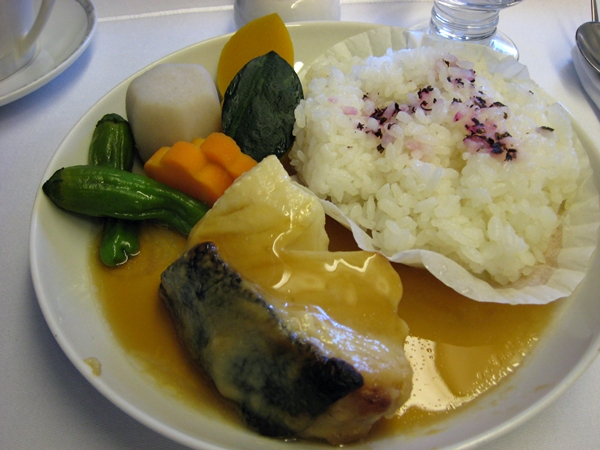 I didn't have any wine or cocktails, given my already tired state (didn't need dehydration to exacerbate things) but choices looked solid if uninspiring. Personally, I'd like to see things like Argentinean Malbec, some really good Sonoma Zinfandel, perhaps some New Zealand Sauvignon Blanc, and not just Italian Chianti, French Cab and German Riesling.
I personally don't bother with the IFE or even headphones usually, since I'm either resting or working, but the screen size and resolution of the wall-mounted screens seemed fine to me, and I even surreptitiously watched a bit of my Japanese seatmate's film (since it had English subtitles).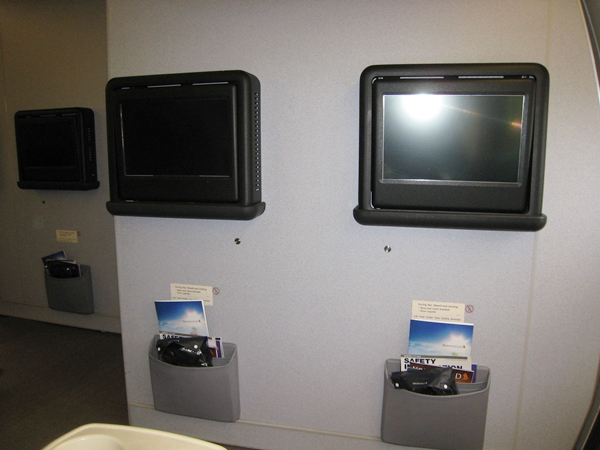 Verdict: This was a relatively short Singapore Airlines flight, and I've vowed to never fly in another angled flat seat again if I can possibly help it, on Singapore or any other carrier, but I will say that the service and the food were fantastic. Now if they could just upgrade those seats….
Using United Miles to Fly Singapore Airlines
As with the ANA flight, I booked this Singapore leg as part of a mini round the world trip on a discount Aeroplan award deal back in early December 2011 when Aeroplan had a freak award sale. Your best bet now to fly Singapore on this route is to use United miles, because Aeroplan now imposes fuel surcharges on most of its partners apart from United, Swiss, US Airways and Air New Zealand. Business class is 30,000 United miles and just $26.60 for a one-way flight, and you can easily book it at United.com. Here's a screenshot: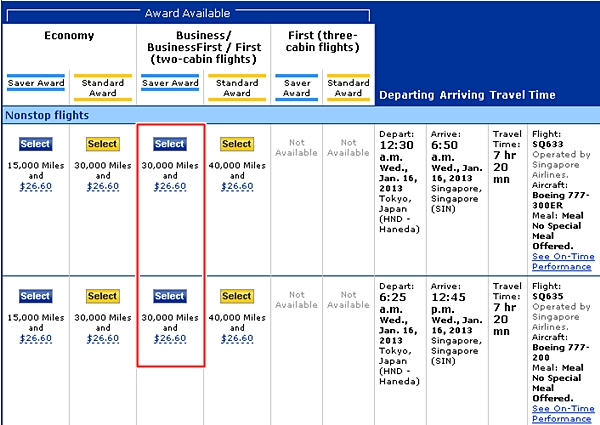 The fastest way to earn United miles if you're not a frequent flyer is by leveraging category bonuses with the Ink Bold, Sapphire Preferred, or Chase Freedom, since Ultimate Rewards points transfer 1:1 to United. There are also a couple of United cards that could be worth it for the initial bonus in the case of the United MileagePlus Explorer card (match it to 50,000 points with first use of the card) or for United Club access and waiving close-in ticketing fees (allowing you to more easily nab United award seats without paying pesky fees) in the case of the United Club Card, if you fly United a fair amount but aren't top tier elite.
Related posts
Review: Hilton Tokyo Narita Airport Hotel
How to Find Star Alliance Award Seats
The Airlines with the Best International First Class Products
Need Award Booking Help? Our fee is as low as $75 per ticket if you book your hotel through us.
If you enjoyed this, join 200,000+ readers: please follow TravelSort on Twitter or like us on Facebook to be alerted to new posts.
Become a TravelSort Client and Book 5-Star Hotels with Virtuoso or Four Seasons Preferred Partner Amenities!