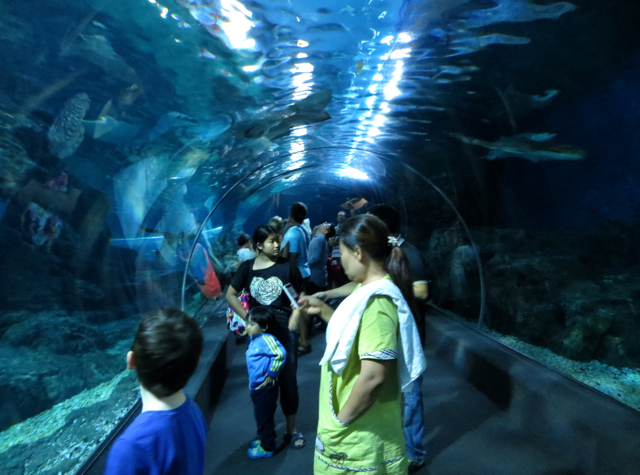 Siam Ocean World Aquarium in Bangkok's Siam Paragon shopping mall is great if you're looking for any of these things:
An inside attraction out of Bangkok's sweltering heat that doesn't involve retail therapy
A fun place for kids that's still in the heart of Bangkok
A way to see sharks up close, with no fear for your personal safety and no need to punch a shark in the nose
I had one day with the munchkin in Bangkok, and knew he wouldn't get much out of traipsing around the major temples and sights. And since Siam Ocean World Bangkok is in Siam Paragon shopping mall, just a quick ride away on the BTS aerial train, it was a good choice for us.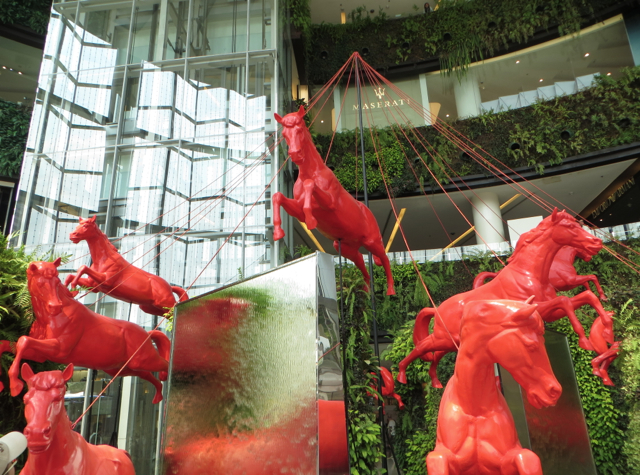 Plus, since there's a food court, it was no problem to grab some lunch before our visit (never mind the fact that we'd eaten not long ago in the Executive Club Lounge at the Four Seasons Bangkok.
Siam Ocean World Bangkok isn't cheap, at least not for foreigners, who are normally charged 1100 THB per adult and 900 THB per child for a ticket that includes the aquarium, "5D" movie, glass bottom boat ride and back of house tour.
Fortunately, the Four Seasons Bangkok Concierge (and likely other hotel concierges as well) has discount flyers that offer a 20% discount on this ticket, or a 30% discount if visiting both Siam Ocean World Bangkok and Madame Tussauds Wax Museum. We weren't interested in Madame Tussauds, so we just purchased discounted admission to Siam Ocean World.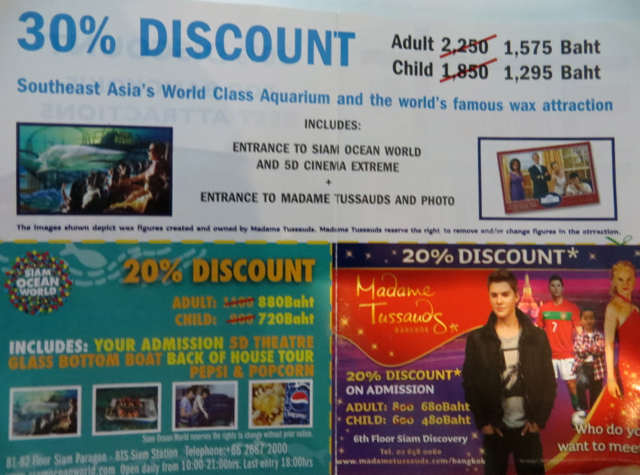 Since we didn't have a lot of time, we didn't bother with the glass bottom boat ride (we'd been on a great one anyway in the Galapagos) or the back of house tour, although if we'd had more time I would have liked to have seen the back of house tour.
Instead, these were the highlights for us of Siam Ocean World:
1. Sharks
We spent most of our time gazing at these apex predators, as they languidly drifted around their tanks. I was glad to not be in the water with them, given that these were definitely not the smaller black tip reef sharks we saw while diving and snorkeling in the Maldives.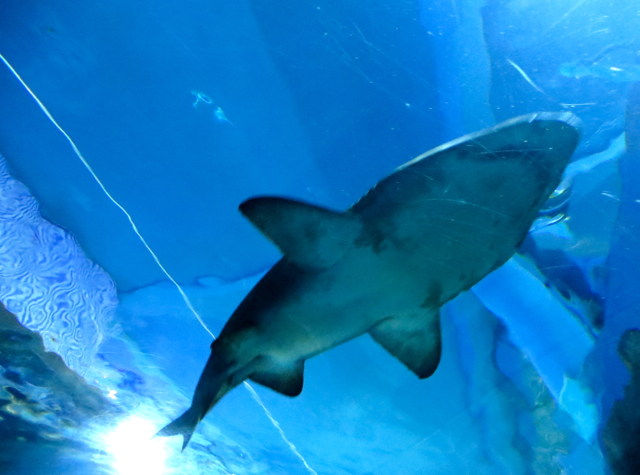 2. Manta Rays
If sharks always inspire a bit of apprehension in me, Manta Rays are simply beautiful in their graceful movements. We've enjoyed seeing them while snorkeling off Nusa Lembongan, and I can't wait to try a manta night dive to see them feeding.
3. Shark Feeding
Speaking of feeding, I was again very glad not to be one of the divers in the tank doing the shark feeding. Yes, I know that well fed sharks aren't likely to bother humans, but still. While it was hard to get good photos with the crowds, it was actually a fairly striking spectacle, since it took place over the "tunnel" in Siam Ocean World aquarium, something similar to that at the Conrad Maldives.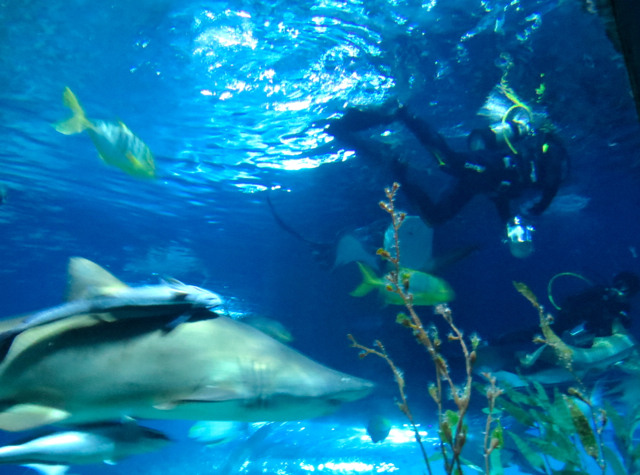 4. Eel
While not as scary as the sharks, the munchkin was still sufficiently awed by this eel that we saw, slowly slithering in and around coral. It's not always easy to spot eels when snorkeling and diving, so I also enjoyed watching how this one behaved.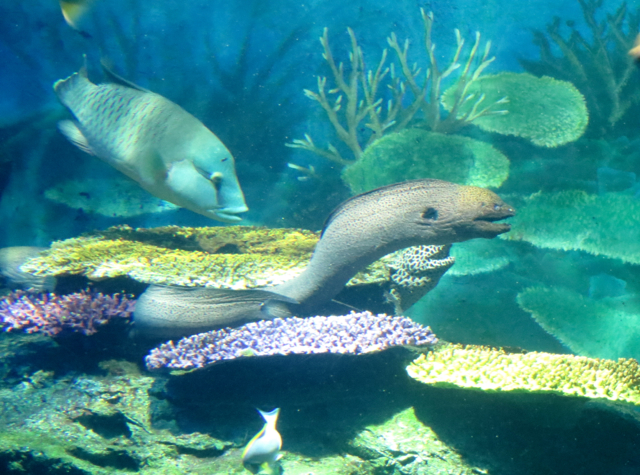 5. Giant Crabs
One of the first exhibits you see upon entering Siam Ocean World is one of giant crabs. Forget even the large live crabs you see in Chinatown tanks—these are huge. I've only seen bigger ones in person while in Hokkaido, Japan.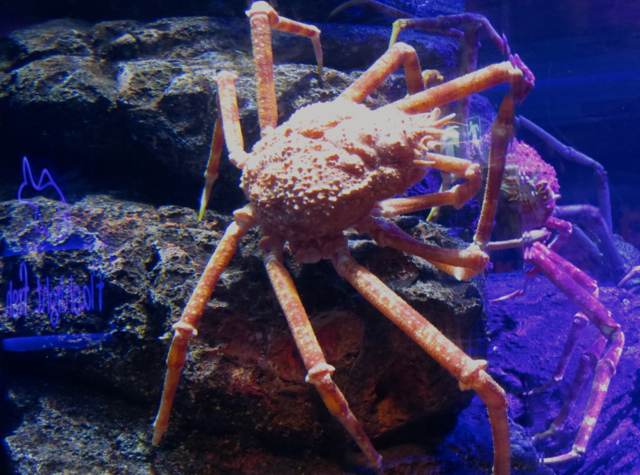 6. Penguins
Penguins are always a delight to watch—funny and awkward on land, and swift, graceful swimmers in the water. This was a popular exhibit, so be prepared to stand for awhile before someone vacates their seat.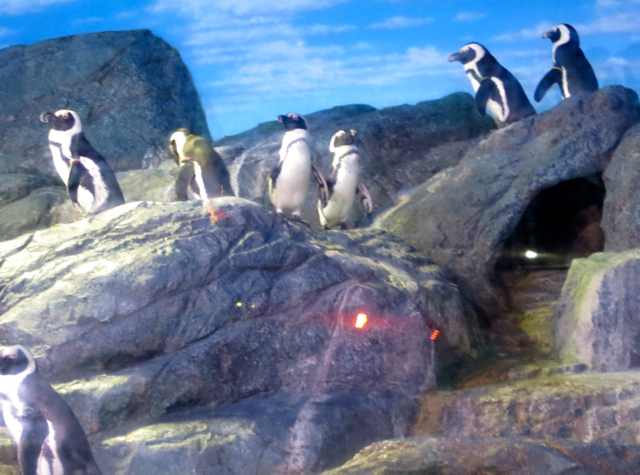 7. Playground
The playground at the end of Siam Ocean World was very small, but still a big hit with the munchkin, even though targeted at younger children. Kids should take their shoes off before entering the playground (a great way to keep everything more hygienic). The aquarium "tuk tuk" was also a huge hit.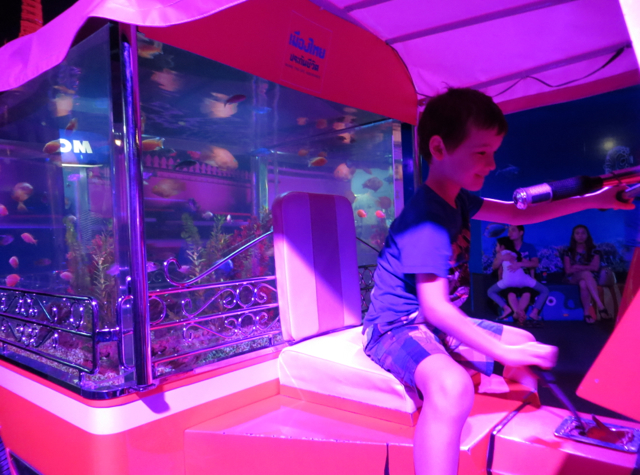 8. Photo Ops
There are some fun photo ops at Siam Ocean World, for example on this scallop shaped "under the sea" chair by one of the large tanks.
Or at the end of the aquarium visit, have your kid (or kid at heart companion) ham it up with one of the toothy critters: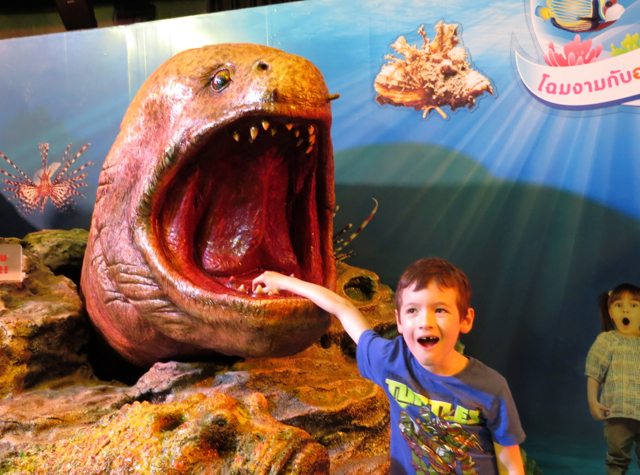 9. Jurassic Fishes Exhibit, Including Sturgeon
Ok, so the "Jurassic Fish" signage was more impressive and dramatic than the actual fish in this exhibit, but it's still intriguing to see fish such as sturgeon (which are the ones caviar comes from), as they really do look like something that could have existed in the time of the dinosaurs.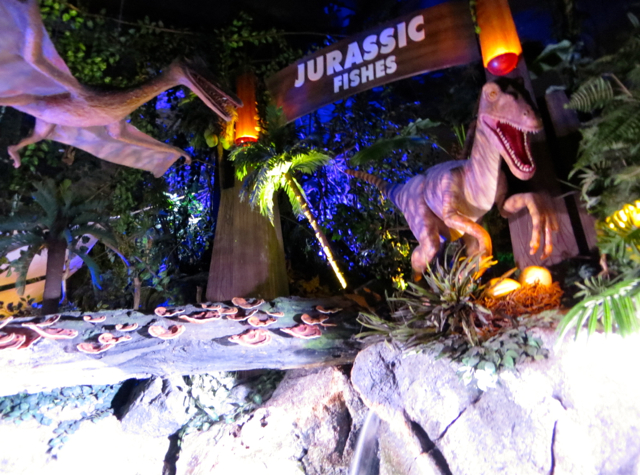 A Let Down: the "5D" Movie Experience
This was truly cheesy, and I'd recommend giving it a miss. Yes, it did still provide some thrills for the munchkin, since he's not quite as desensitized to stimuli as we have no TV at home, but overall I'd rather see several showings of the IMAX Great White Shark film that we saw at the Denver Museum of Natural History, over this one.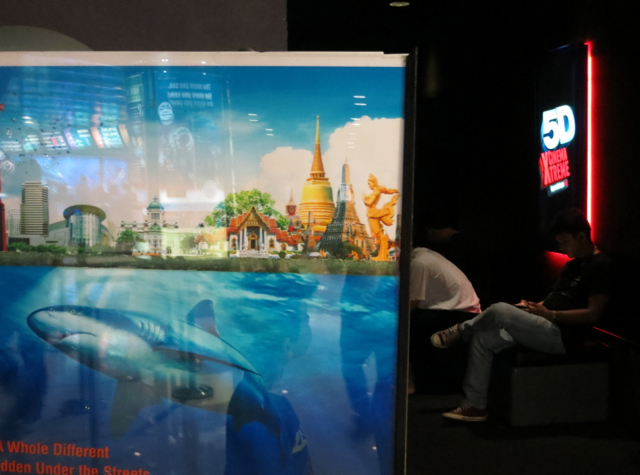 The Verdict: Siam Ocean World is a good place to while away a couple hours in Bangkok if you enjoy seeing marine life up close, especially sharks, rays, tropical fish and corals. It will disappoint if you're expecting something like the Vancouver Aquarium, since the entire aquarium is inside, on the lower level of a shopping mall (so no outdoor tanks with dolphins or beluga whales) but given its location, it's done very well, albeit somewhat over-commercialized. And forget the 5D movie—very cheesy.
If you've been to Siam Ocean World Aquarium in Bangkok, what was your experience?
Related Posts
Four Seasons Bangkok Hotel Review
Royal Barges Museum and Bangkok Canals Tour
Peninsula Bangkok Hotel Review
Need Award Booking Help? Our fee is as low as $75 per ticket if you book your hotel through us.
If you enjoyed this, join 100,000+ readers: please follow TravelSort on Twitter or like us on Facebook to be alerted to new posts.
Become a TravelSort Client and Book the Four Seasons Bangkok with Four Seasons Preferred Partner Amenities!