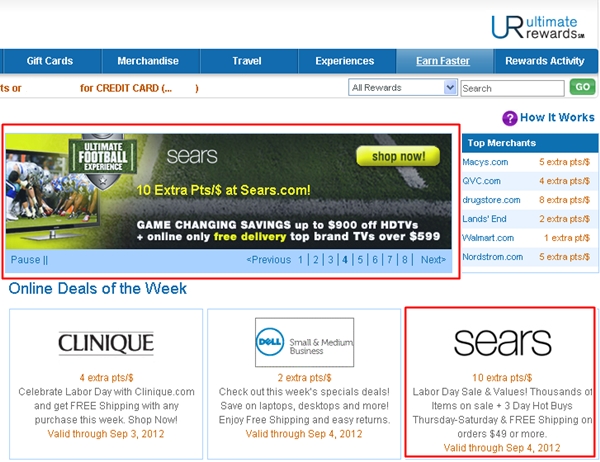 The Ultimate Rewards Mall September bonus points offers are out, and mostly mediocre. The 10X bonus points for Sears via the Ink Bold and Sapphire Preferred are gone, but the good news is that 10X is available using the Chase Freedom (you need to log in to Ultimate Rewards using the specific card to see the bonus offers for that card). I for one am glad, because I didn't have a chance to use all my gift certificates that I bought last month, so now I get another chance, using the Freedom.
As we wrote in 20X Bonus Points at Sears via Ultimate Rewards Mall, you can get 20X if you first buy Sears gift cards, then again go through the Ultimate Rewards Mall and pay with those gift cards.
Update: I had bought gift cards in early August, but due to traveling just managed to use some of them on 8/31, right before the 12 midnight deadline (for Ink Bold and Sapphire) and 10X points have since posted–so I can verify that at least for me, the 20X has worked! In both cases of puchasing gift certificates and using certificates, points posted 3 days after the transaction. Have a different data point in terms of points and when they posted? Please share in the comments!
1. Apply for the Freedom Card
If you don't already have it, apply for the Chase Freedom Card. The current bonus is only 10,000 points, but it's easily the best no annual fee card, and the one I use most frequently, thanks to the 5X quarterly bonuses (currently dining and gas) and Chase Exclusives bonuses. See What's in My Wallet.
2. Log into the Ultimate Rewards Mall with your Freedom to View the 10X Bonus Points Sears Offer: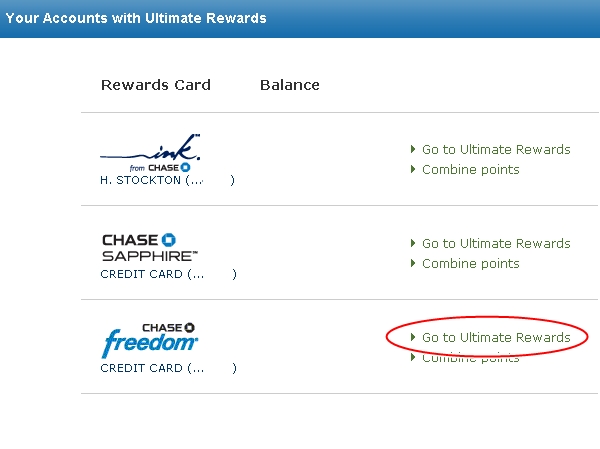 3. Click Through the Ultimate Rewards Mall to Go to Sears.com:
As you can see, the Sears terms do not exclude points for gift certificate purchases (many other stores do exclude gift certificate purchases from receiving points)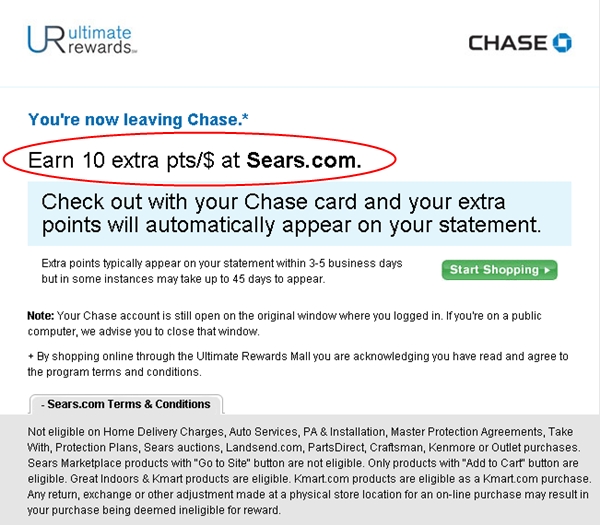 4. Buy Sears Gift Cards
Then, just follow our screenshots at 20X Bonus Points at Sears via Ultimate Rewards Mall to purchase your gift cards (we recommend eGift cards, assuming you'll be using them yourself, since it's faster). Before you get your eGift cards, expect a call from Sears to verify your identity–don't worry, it's standard procedure, so just answer the multiple choice questions they ask you. It was kind of a pain last time for me, since there was some sports trivia in there (I never kept track of the sports teams or mascots at the universities and grad schools I attended) but for most people it shouldn't be too onerous.
5. Strategize Your Purchases and Comparison Shop
After you get your eGift cards, you'll want to figure out what you're going to buy at Sears. Keep in mind that eligible purchases are ones that you can "add to cart." That means that any Sears Marketplace purchases that require you to click to another site to purchase won't work. I play it safe by simply narrowing my results to "Sears only" which you can click on after a search:
You'll also want to make sure you're not overpaying, or at least not by much, relative to other places you could buy the item. I do most of my benchmarking via Amazon, since I hardly use any other sites to do my online shopping, but of course you could do a Web search to easily find the lowest price available for a given item. The bigger problem that I found is that there are a number of items that Sears itself does not carry, and are only available at absurd markups via Sears Marketplace sellers. So try to stick to generic purchases. In my case, I bought houseware type stuff that I've been meaning to get for awhile–new sheets, mattress covers, cookware, etc.
6. Go Through the Ultimate Rewards Mall to Sears and Pay with Sears Gift Certificates
I recommend using a different browser (I use Google Chrome) and clearing all cookies before logging into the Ultimate Rewards Mall with the Freedom and clicking through to Sears, then adding your items as quickly as possible and checking out. You want to minimize the chances of losing the tracking code that will enable your purchase to be tracked to your clickthrough from the Ultimate Rewards Mall, ensuring you get your points.
FAQ
Can I apply for the Freedom card and get it in time to take advantage of this deal?
If you apply now or the next day or so, most likely yes. If you're not immediately approved, I recommend calling reconsideration within a couple days of your application in order to try to get it approved, and ask if they can expedite the card to you, explaining you have some purchases that you'd like to make. Don't forget to also enroll for the 5X bonus points for dining and gas; you can always purchase gift certificates before September 30, then use them later over the next year to get an effective 5X on those later purchases.
Will I definitely get 20X bonus points?
As with most deals of this type, your mileage may vary. If you use your Freedom to make the initial gift certificate purchase, you are pretty much assured to get 10X. As some readers have pointed out, though, there is some risk in getting your points when using the Sears gift certificates, even though there's nothing in the Ultimate Rewards Mall terms that prohibit using it, and in fact the Mall, as many other mileage malls, is run by a third party, Cartera. While many do get 20X, some folks have just gotten the 10X from the gift certificate purchase and are still waiting for the 10X from the purchases made via the gift certificate to post. I wouldn't make more purchases than you're comfortable making in the worst case scenario that you only get 10X, which is still quite a good return.
How do I view my Ultimate Rewards Mall Bonus Points?
After logging into your Freedom Account, go to "See Ultimate Rewards Mall Activity" and select the month you made your purchase to view your points.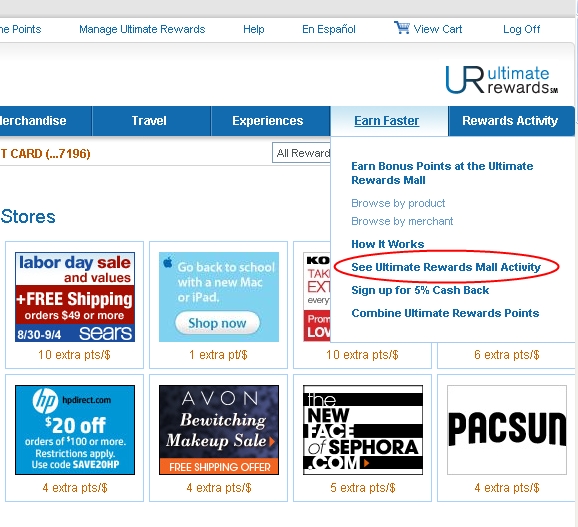 Although it says "New transactions may take up to eight weeks to appear on your activity page after the transaction has been billed to your Chase card account" most people see their points in at least a pending state with a few days to a week or so after the transaction. For my last Sears gift certificate purchase, points posted in 3 days.

Do you plan to get 20X points at Sears using your Chase Freedom?
Check out and apply for the Best Travel Credit Cards.
If you enjoyed this, please follow TravelSort on Twitter or like us on Facebook to be alerted to new posts.
Become a Member to find your perfect luxury or boutique hotel at up to 50% off: TravelSort Hotels