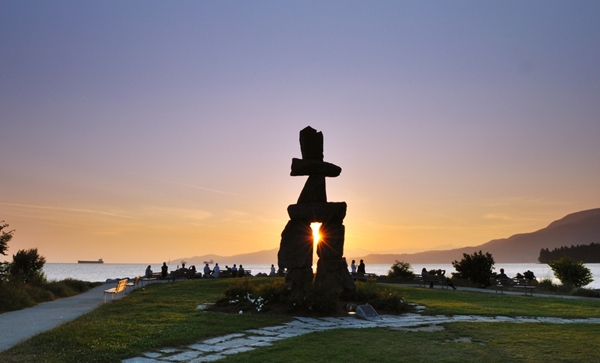 Why go
Vancouver has always been a city near and dear to my heart. I spent childhood summers visiting relatives and lazing about the city's parks and pools. However, it was not until a recent adulthood visit that I really got to experience the full offerings of the city. Vancouver is deceptively sleepy, although it was thrust into the spotlight with the 2010 Winter Olympics. Major world sporting events aside, Vancouver has no shortage of shopping, art galleries, cultural museums, beaches and a cornucopia of international cuisine along with exquisite seafood. It's also just a few hours to Whistler, for all the fluffy white powder a skier could dream of. I'm much more of a museum and theatre girl myself, and would prefer an afternoon perusing the Vancouver Maritime Museum followed by a night at one of Granville Islands many theaters; perhaps stand-up comedy tonight and tomorrow a drama by a new local playwright; rounded out with a seafood dinner and a drink or two in Gastown.
Insider Tips
Even though Granville Island might seem like it was built for tourists, as it is the only place in the city I would ever define as crowded, but all the activities and experiences truly deserve a full day's attention.
The city is easily navigable, but rambles in many directions. To really experience all the sides of it I suggest renting a car, lest you are a very avid city walker.
Don't stay in Stanley Park after dark. This perfectly lovely daytime place to explore can get a little rough at night. Which is a general rule for most parks worldwide.
A quick drive across the Lions Gate Bridge on the way to Stanley Park is absolutely worth the taxi fare.
In Gastown, which is named after a historic figure, don't miss the steam-powered clock. Steam shoots through the whistles on the top four times an hour.
Kitsalano Beach, located just across English Bay from Downtown Vancouver, is the best place to forget how far north you actually are and relax in the sun beside the waves. Although, the beach is best enjoyed when the sun does actually peek out from behind those Canadian clouds, you don't need to worry about snow if you're contemplating a winter stroll down the sand.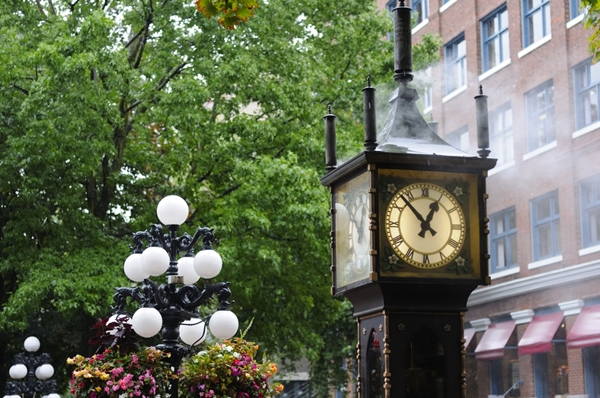 Where to stay

The Opus Hotel is on the cutting edge of modern and chic, each room vamps on a different style of modern design, but they "unify both comfort and style". Although this hotel falls into the upper price categories, if you have the cash this is the place to spend it. The Opus bar is super chic, but still maintains the friendliness and is open late, so you can grab that one last drink before falling into their luxurious sheets. I skipped the hotel restaurant – Elixir – not because the menu didn't look sumptuous, but because I tend not to be around my hotel at major meal times. The neighborhood surrounding the Opus is the historically preserved Yaletown, and while preservation generally means tourist and antique, this is not the case. The eight-block region is filled with chic restaurants and adorable boutiques.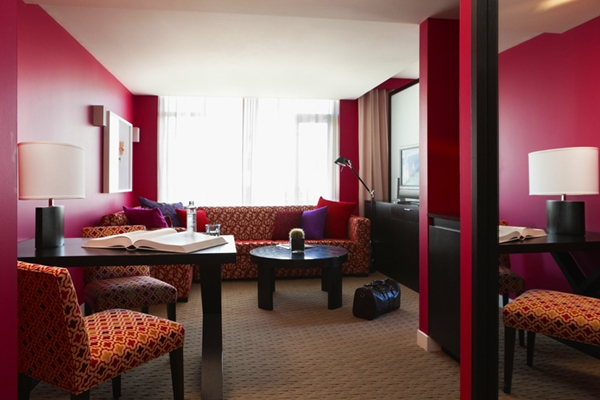 As a person who tends to travel on the lower side of cheap, I've slept in a lot of hostels. I prefer the chain Hostels International because you always know what you're going to get, whether it's in Spain, England or Vancouver. At Hostelling International Vancouver Central (1025 Granville St.), breakfast is included and always served early so it's not a problem motivating yourself out the door to get an early jump on attractions. If you do want to sleep in and grab breakfast elsewhere, the hostel is smack dab in the middle of Vancouver with no shortage of quick-on-the-go breakfast joints or places where you can sit down and enjoy the service.
Canadians are known for being clean and this trait follows them into the hostel business. This was probably the cleanest of all the hostels I've stayed in, and scores major points in my personal little black book for that alone. Additionally, the bathrooms are personal so you don't have to listen to someone else scrub sand out from between their toes while you fix your makeup for your night out. There are even a few bathtubs if you feel like a night in.
The Hostel also offers its own sponsored day trips and evening excursions. I recommend these for travelers who like the company and don't like figuring out how to maneuver a large group from one unknown location to the next. Not to mention deciding if you all actually want to go there. All the work's done for you in these hostel organized outings, so relax, meet new people.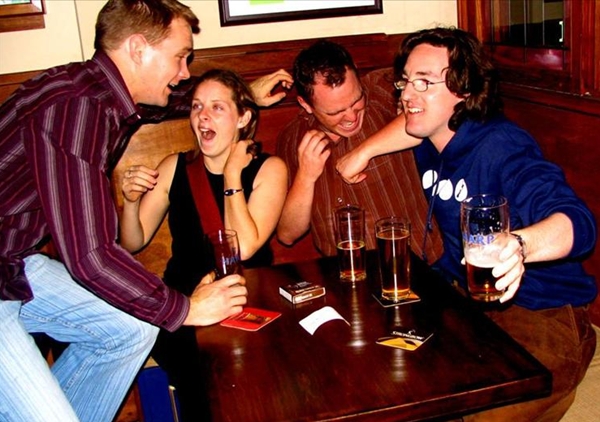 What to eat
Lumiere is a superb if you're looking for the perfect destination for a long, luxurious romantic dinner for a special occasion—think anniversary or Valentine's Day. Try the Quebec foie gras terrine with rhubarb puree, the glazed duck, short rib ravioli, and don't miss the cheese course or the chocolate fondant.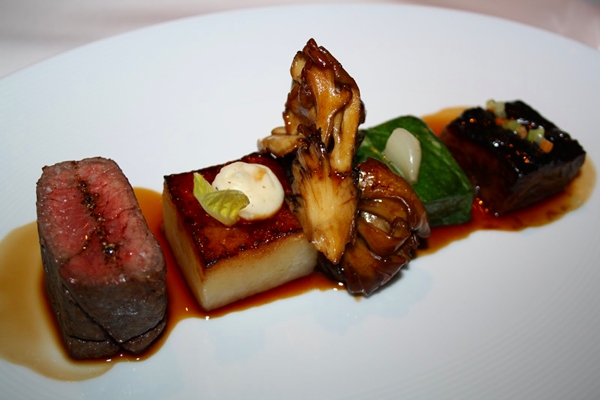 The Sandbar Restaurant on Granville Island is almost an Asian American Northwest fusion restaurant, I recommend anything with Pacific salmon. My uncle on the other hand is just about obsessed with oysters and he highly recommends the Pan Fried Oysters with chili lime aioli and tobiko. He says this is his favorite way to have oysters.
The wine list is an intriguing affair. It has a wide range of varietals, and is possibly the only wine list I've ever seen that shies away from European wines. The focus is on British Columbia and probably contains wines you would be hard pressed to find outside of BC, if not even outside Vancouver. Wines from BC have started flourishing in the last five-ish or so years and are bound to start breaking into the scene the way California wines did before. Speaking of California wines, the wine list also has a huge assortment of them for those who are not quite willing to take the leap and drink such new vines.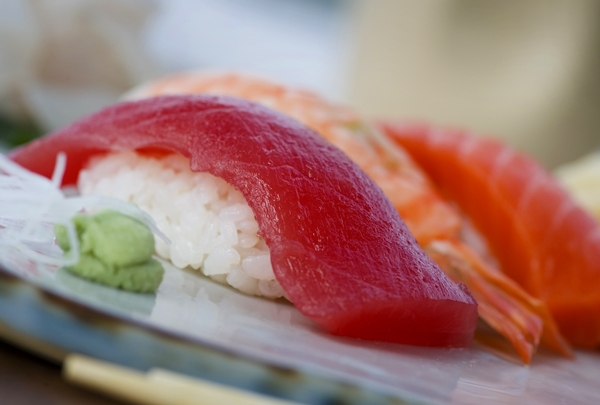 What to do
If you take my advice and attempt to spend an entire day at Granville Island, the next best piece of advice I can give you is bring a cooler full of ice. Leave it in the car, or if you don't have a car make it small enough to carry. The Granville Island farmers market is irresistible, and as it should be the first stop on your visit to see the fruit, vegetables and flowers at their freshest of the day, you're going to need a place to keep them cool. Buy your breakfast. I suggest a few pints of berries and whichever pastries catch your eye. If you have cooking facilities grab some of those gorgeous prawns for dinner.
If you have small ones in tow the absolute next stop is the Kids' Market. Even if you don't have kids, this complex offers all the toys and activities a small one would care to dream about. They also have a playground and water park for that late afternoon energy spike, when the parents just want to crash. A great time to bring back out that second pint of strawberries you bought earlier. All the other complexes are full of cute jewelry boutiques and fantastic shops to pick up gifts for all the people back home.
A walk around the harbor offers great views of all the boats and can take you around to the Museum of Vancouver, explained more below. It's not too long of a walk, but you do want to head back to Granville Island for dinner. The Sandbar is an absolute must to finish off your day on Granville Island.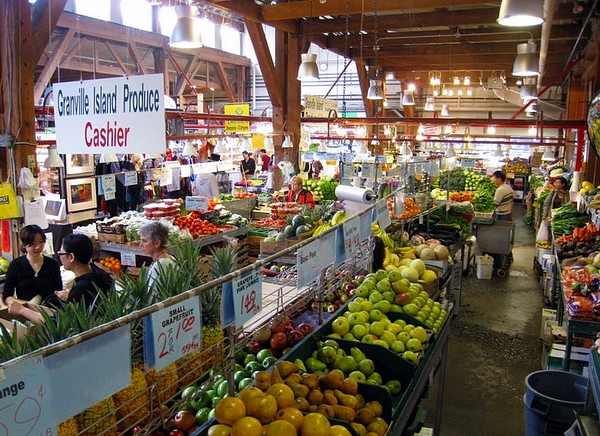 If you're a museum junkie like me, the Museum of Anthropology on the University of British Columbia campus is just your cup of tea. The exhibits are neither long nor overbearing for those who are not so inclined towards museums on vacations. MOA does offer a nice introduction into the lives of the First Nations peoples of British Columbia. In addition to an assortment of rescued totem poles, they have art from modern First Nations people, including a stunning wood sculpture depicting the reaction of man according to the Haida. The Museum is located on the University campus tucked right on the Pacific Ocean and is completed by replicas of First Nations buildings. When I visited the museum the grounds were being used for a wedding reception, which can give you an idea of their beauty.
Paired with a visit to the Museum of Vancouver, but not necessarily on the same day, offers a very full introduction to the history of British Columbia after European settlement. The Museum of Vancouver is close to Granville Island, the walk between the two offers full views of the harbor and the perfect place to decompress after lunch on Granville Island.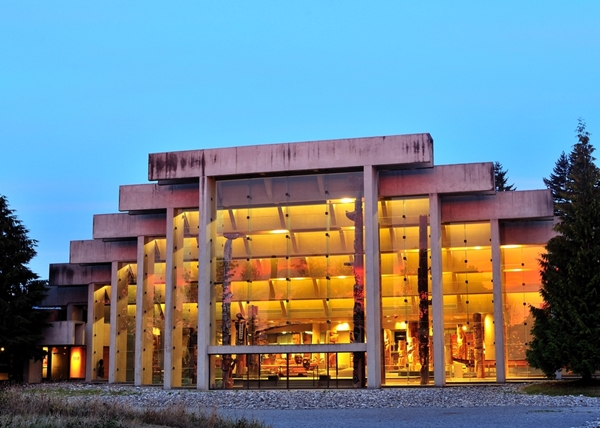 Stanley Park is a 1,000 acre park in the middle of Vancouver and my uncle assures me that it's "world famous". A walk through the park will take you past artists at work, an aquarium, flora and fauna native to the Northwest, a pool and a miniature train, in addition to the twenty of so sculptures and memorials which permanently reside amongst the trees. A walk along the Sea Wall skirts the entire peninsula that makes up the park, offering views of North Vancouver, West Vancouver and the Strait of Georgia. The train is fun even for those without wee ones in tow.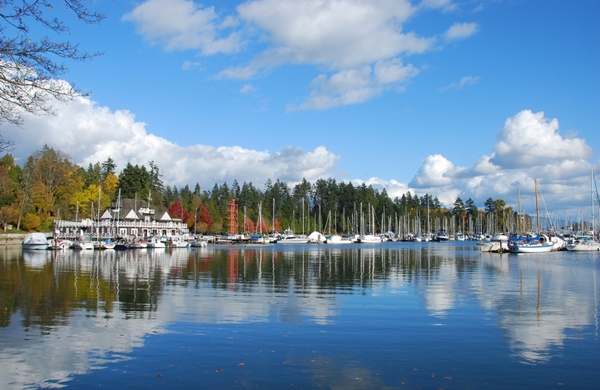 For the less walking inclined there are horse-drawn carriage tours of the park. Renting a bicycle ranks top on my list of ways to get around Stanley Park. The paths are well worn or paved and even an inexperienced bicyclist shouldn't have an issue with the ride. A bicycle allows you to see everything at your own pace, lingering where you want to and skipping over the parts that don't interest you. Make sure you rent bike locks. In addition to the open wilderness of Stanley Park there are a couple of cultivated gardens and a bird conservatory, which are worth including in any wonder through the park. The park is picnic friendly and does have its own restaurants including The Fish House, with its wonderful seafood dishes and bread served with lobster oil.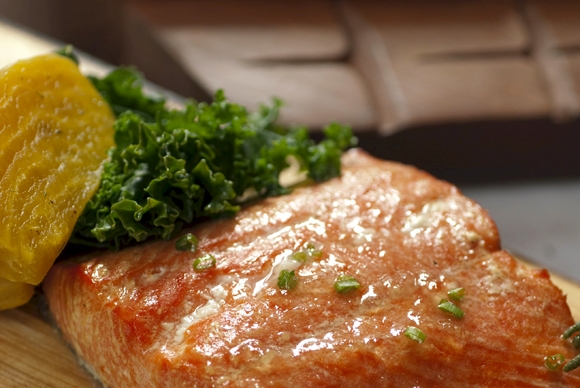 If you enjoyed this, please follow TravelSort on Twitter, like us on Facebook or become a Member to be alerted to new posts.