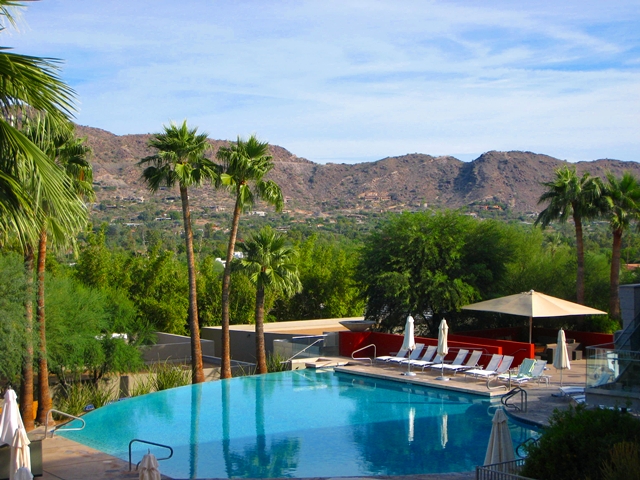 Sanctuary on Camelback Mountain is often lauded as the best spa resortb in Paradise Valley, if not Scottsdale, so when I spotted a great rate on TravelSort Hotels, I booked it for my recent trip to Phoenix. I arrived late at night, so unfortunately I missed the sunset, which is often spectacular here.
There was no one at the reception desk when I entered, but an older woman shortly emerged from the adjoining room to help me check in. I inquired about a possible upgrade, but was told that the resort was 95% fully booked. Interestingly, when I asked for a King Bed (my initial reservation had been for Twin beds, when I'd thought I might be traveling with the munchkin) she responded that this would be an upgrade. Really? On the Web site, the Mountain Casitas with King or Twin Beds are exactly the same price. In any case, it emerged that I had already been allocated a King Bed, so I collected my key and went to find my room. There was a valet who at first was going to insist I go with him in a golf cart, but I said I wanted to walk. I asked him to confirm the path to my room on the map my I'd gotten from the front desk, but since he misread the room numbers, I decided to simply find the room on my own.
Things improved considerably once I was no longer interacting with the less than knowledgeable staff. I found my room, and while certainly not ultra high end, for an older property it had been done up nicely. The room was quite spacious, at 500 square feet. Soft, immaculate Frette linens on the bed: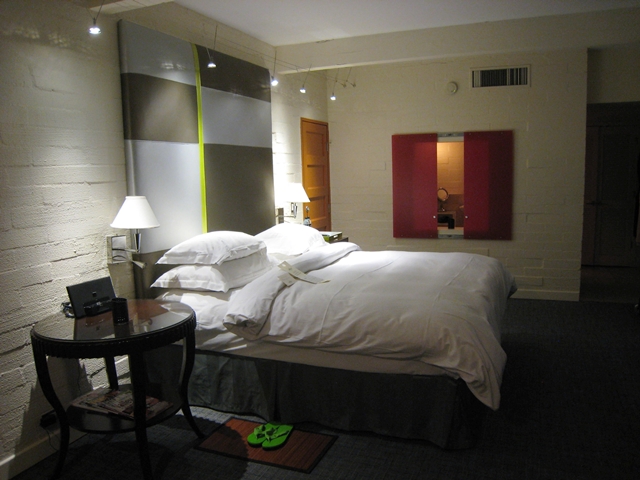 A flat screen TV, serviceable work desk, and sculpture faced the bed: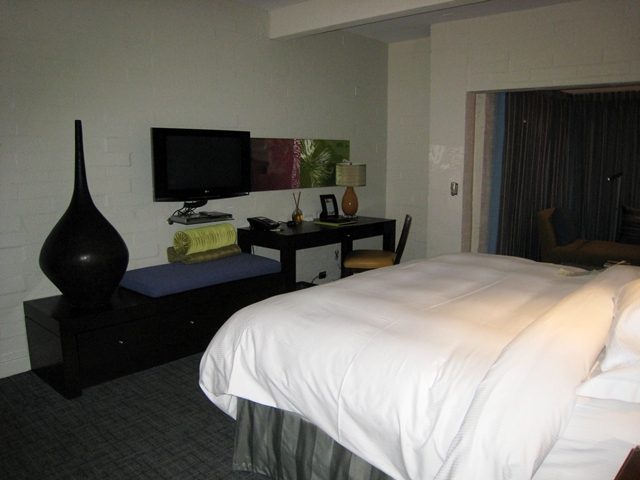 There was an enclosed sun room with fan, sofa, and honor bar: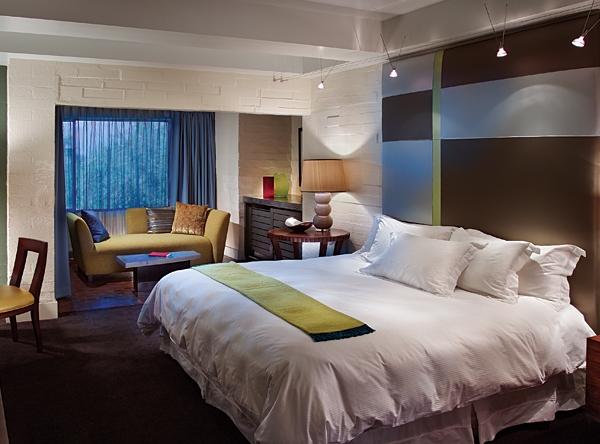 There were a variety of liquors for the honor bar, not that I had occasion to use them: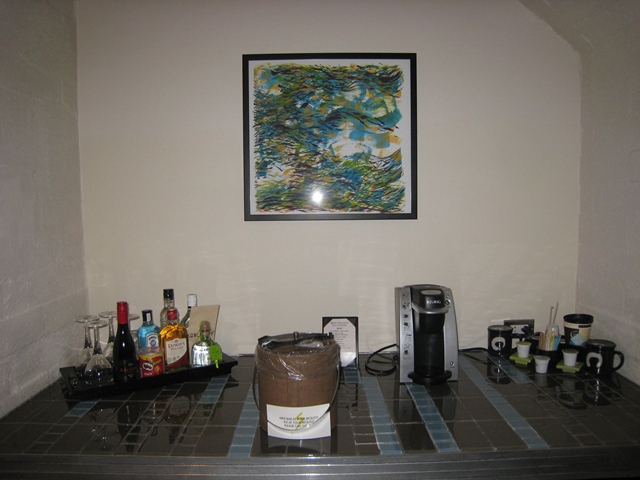 And near the honor bar was a Keurig coffee machine. I wasn't too impressed, since I much prefer Nespresso machines. To me at least, a Keurig is indicative of a 3 or 4-star property, not a 4.5 much less 5-star resort.
Turndown service was nice: green Sanctuary slippers were laid on a mat by the bed, with bottled water and lavender mist on the bedside table: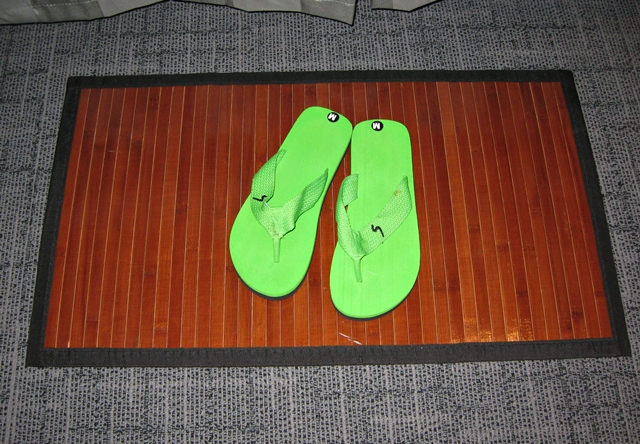 I also enjoyed the bathrobe, which was super soft: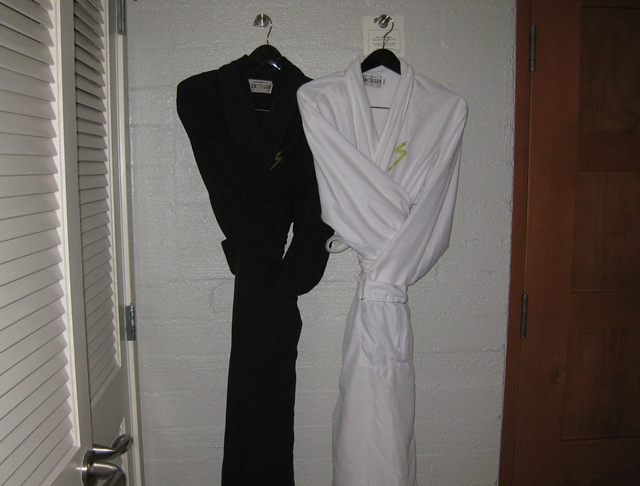 The bathroom was fine, but could use updating. The bathtub was of average size and not so different from my regular bath at home. There is a unique "peek a boo" red slider that enables you to view someone in the room from the bathroom, and vice versa.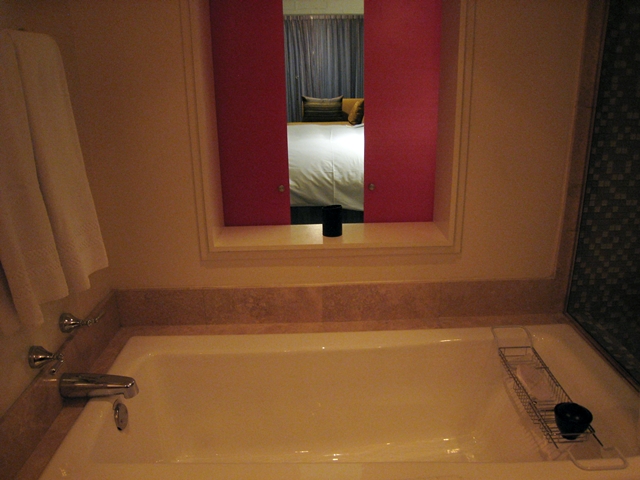 The glass enclosed shower had dual shower heads, similar to Westin Heavenly Shower, but no rainfall shower option: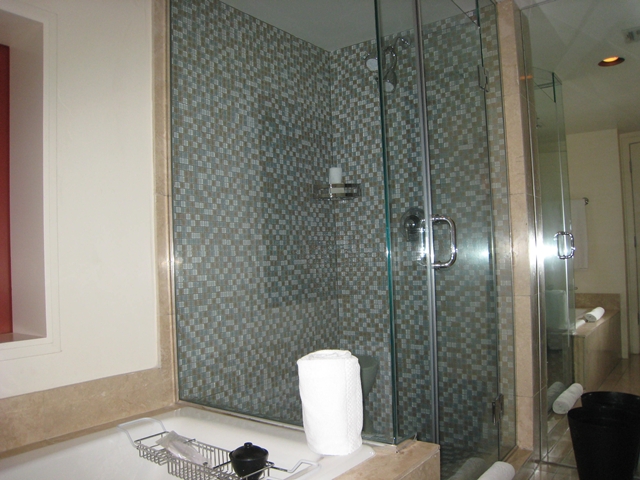 Bath amenities were signature products for Sanctuary formulated by Red Flower in New York, which I found ironic–are there no good artisanal bath products makers in Phoenix or at least the Western U.S.? The scent was nice, but I still prefer L'Occitane's bath amenities (which no doubt are more expensive than Red Flower's).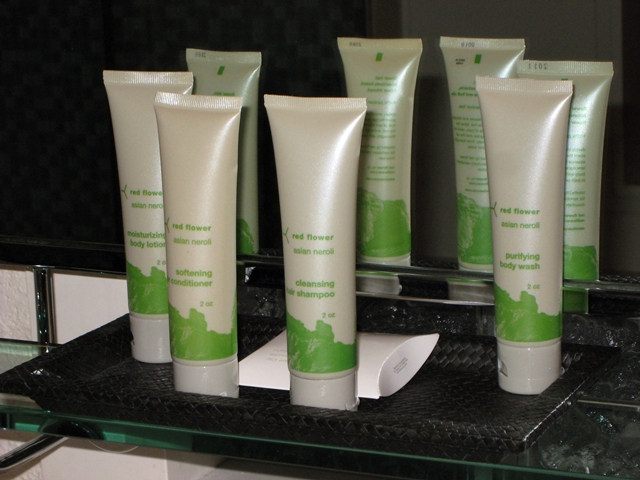 I went to bed as soon as I could, given how late it was, although I didn't fall asleep immediately. While the Frette linens were great, I personally found the Simmons bed too firm for my liking. I much prefer my Spring Air pillowtop bed at home with memory foam. I know some folks love firm beds though, so it's a matter of personal preference.
In the morning, I wandered over to the main building for breakfast. In the morning light, I was able to appreciate the beautiful views of Praying Monk Rock from Sanctuary's north slope location, and also the main infinity pool and outdoor jacuzzi, which at 9am on a Saturday were both still deserted.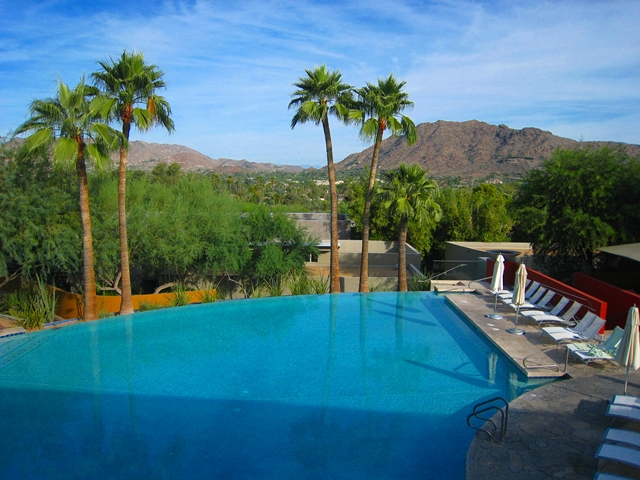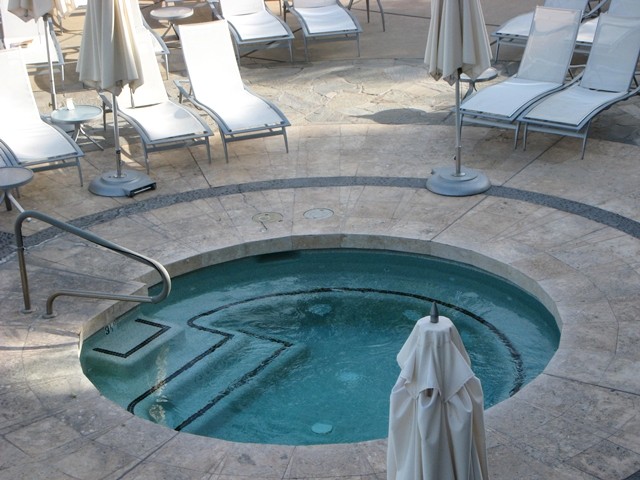 I walked through an indoor section of Elements Restaurant, which is known as one of the best places for dinner in Scottsdale:
Given the lovely day, I requested a seat outside, on Elements' terrace: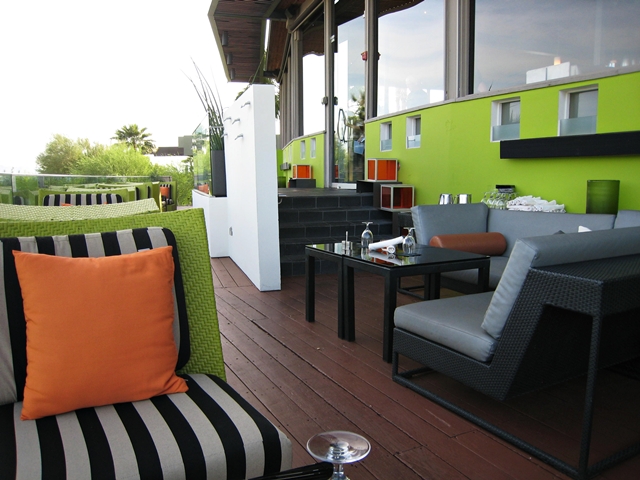 The breakfast menu, while not of course anywhere near as elaborate as dinner, had some intriguing choices. I was tempted by the quesadilla, but the server noted that the lemon ricotta pancakes with blueberry apricot compote were especially good. When they came, however, there was no sign of the compote it was supposed to come with: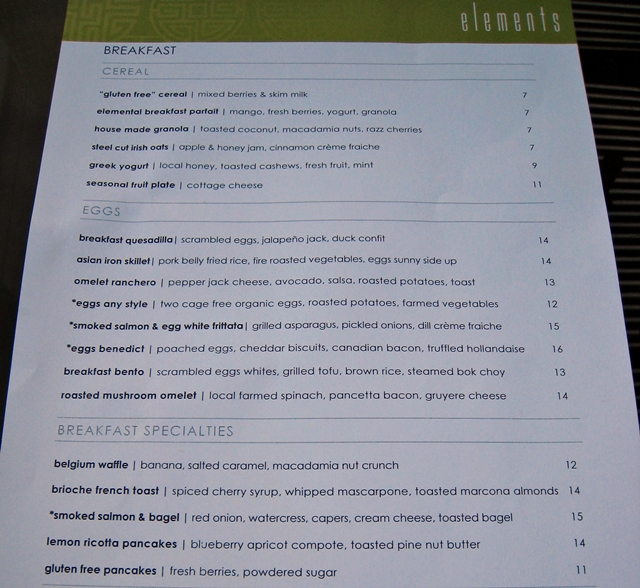 I asked the server, who, confused, went back to the kitchen. She came back, saying the kitchen had said the compote was layered between the pancakes. I checked, but nope–no compote. Back the server went, and finally brought back some brown looking compote in a dish. I tasted some, and it tasted of prunes and nothing else. I asked the server about it, and she at first said that it was indeed blueberry apricot, and then, when I pressed, admitted there were also prunes in it. Nowhere on the menu did it say there were prunes as part of the compote, and frankly, the compote was pretty disgusting. Fortunately the pancakes were fine, even if not as good as those at Freemans in NYC, or even the ricotta pancake recipe I use at home. But I can't say I was that impressed overall with either the quality or the service at Elements for breakfast.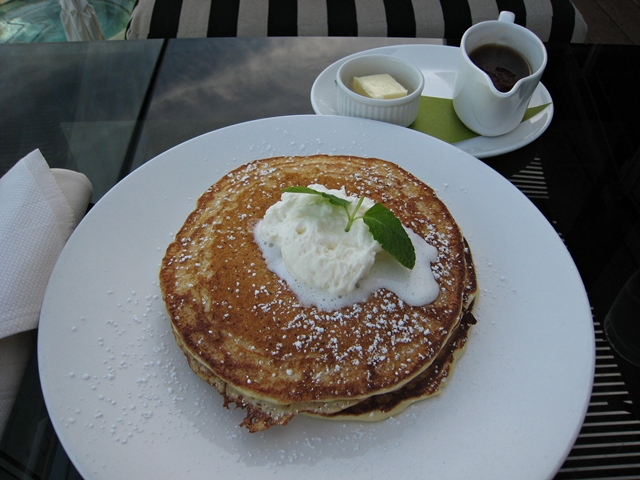 Having noticed some of the other breakfast guests in tennis gear, I decided to go check out where the tennis courts were. It's no surprise that Sanctuary is a great place for tennis players, since the resort was formerly the Paradise Valley Racquet Club, then John Gardiner's Tennis Ranch, before becoming Sanctuary. You can reserve a court for 60 minutes for a $20 fee, or sign up for either group tennis clinics or private lessons with professional coaches. There are five Deco-Turf championship courts, and particularly scenic are the ones with Camelback Mountain in the background: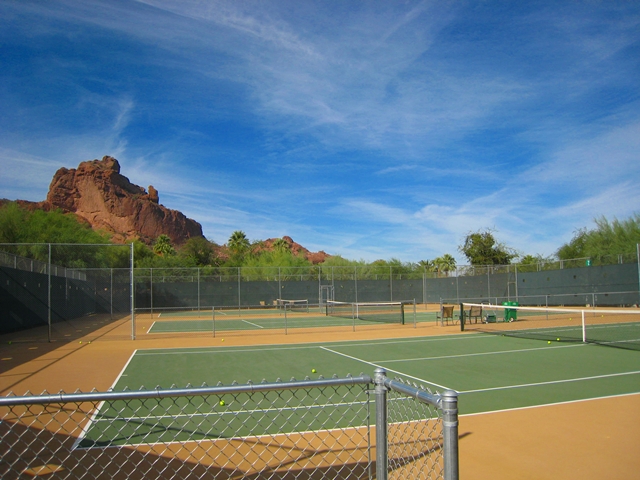 I also dropped by Sanctuary Spa for a quick tour. The changing room includes the usual showers and lockers, as well as a jacuzzi: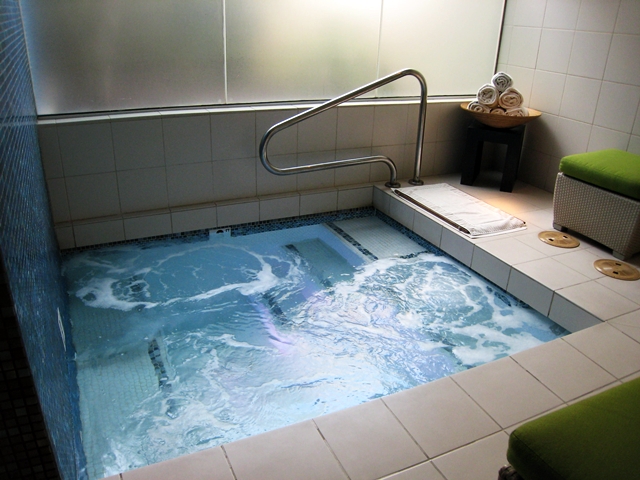 The lounge, where you wait to be called for your treatment, is on the small side: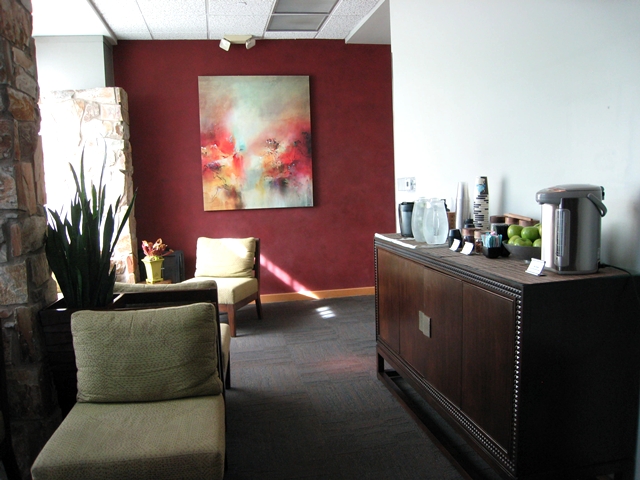 Outside, there's a Zen Garden with loungers. I was surprised that there was no shady area to sit here.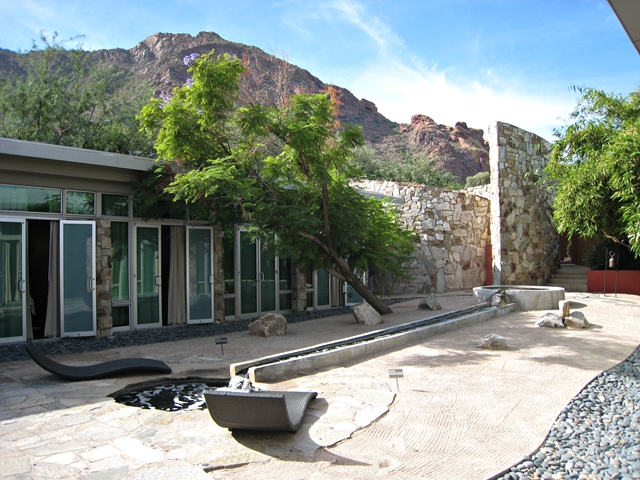 There's also a lap pool, which is fortunately shaded. You can actually book a swimming lesson with former Olympic Gold Medalist Misty Hyman ($125 for 1 hour), as well as a variety of spa treatments, beauty rituals, and even astology readings.
The Verdict: Sanctuary on Camelback Mountain offers lovely views and was somewhat reasonable for the price I paid as a travel professional. The poolside is nice if you go early in the morning, but got crowded with both adults and kids in the late morning and afternoon. Sanctuary is a good place for tennis or fitness buffs, or if you want to improve your swim strokes, since private lessons are offered with former Olympic Gold Medalist Misty Hyman. That said, I would have been pretty disappointed if I'd paid full price for this resort. Perhaps I've been spoiled by the truly 5-star resorts we recently experienced in Asia, such as the Four Seasons Bali and Four Seasons Hong Kong, and by the hospitable service even at the more modest resorts we stayed at, such as Batu Karang Lembongan, but I felt Sanctuary Camelback Mountain has a ways to go service-wise to live up to its top-notch billing.
If you've already stayed at Sanctuary, what was your experience?
Related Posts
Montelucia Spa Review, Scottsdale Arizona
Four Seasons Preferred Partner Benefits
Four Seasons Las Vegas Hotel Review
Need Award Booking Help? Our fee is as low as $75 per ticket if you book your hotel through us.
If you enjoyed this, join 200,000+ readers: please follow TravelSort on Twitter or like us on Facebook to be alerted to new posts.
Become a TravelSort Client and Book 5-Star Hotels with Virtuoso or Four Seasons Preferred Partner Amenities!