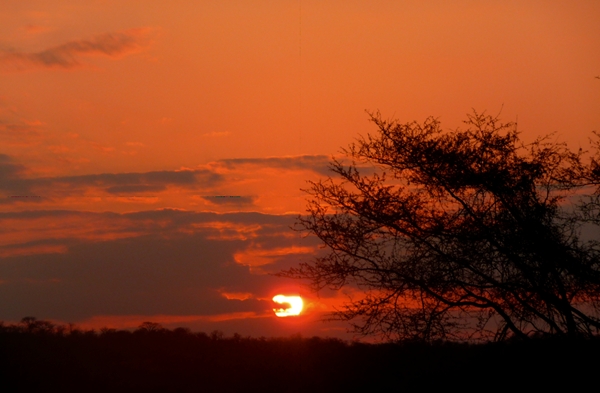 Why go
Do you want to get away from your busy life and head off into the wild where the terrain is out of this world? Fancy seeing big game such as kudus, zebras, rhinos and giraffes roam in their natural habitat? Did you ever dream of being like Indiana Jones, Allan Quatermain or Lara Croft? If you answered yes, then you should go on a safari.
Covering 20,000 square kilometers and 14 different ecozones, Kruger National Park, is considered the flagship of South African National Parks. Kruger is home to the big five: lions, leopards, elephants, rhinos and buffalos. There is also a variety of flora to be seen such as dense forests to flat grasslands. The northern part of Kruger is one of the most famous places to go bird watching. A trip to Kruger is the kind of once-in-a-lifetime trip that will leave you with some of the most vivid memories imaginable.
Insider Tips
The nearest major airport is OR Tambo International in Johannesburg. The airport is served by most major international airlines. Private charters to Kruger National Park leave from smaller airports such as Lanseria. They land in either one of the four airports inside Kruger although some private concessions have their own airstrips.
Check if you need a visa. Apply as early as possible because it can take almost a month for the embassy to process it, longer if there is no South African embassy in your country. A visitor's permit would cost R425.
South Africa has eleven official languages, the most common of them is English and Afrikaans.
Kruger National Park is categorized as a malaria risk. Before your trip, go and see your doctor to get a prescription for anti-malaria prophylactics. Bring mosquito repellent lotion as well.
The best time to go on Safari will be in the dry season from June to early October. Vegetation in winter is thinned out and perfect to view big game. The temperature tends to drop in the early and evening hours so dress in layers and bring a warm coat.
Pack appropriate safari wear. Breathable cotton in neutral cotton works well and will allow you to blend in with the terrain. Never wear anything in bright colors as it might scare the animals away. Bring a wide brimmed hat and lots of sunblock because the African sun can get extremely hot during midday. It would be practical for the ladies to wear pants or shorts since most safari vehicles don't have doors and you will have to climb up and down.
If flying into Kruger, check the luggage requirements of your aircraft. Some will require only soft-sided luggage such as backpacks and duffels. Bring along some medicine if you get motion sickness. It can be a very bumpy ride for a small ten-seater plane and flights can last up to two hours.
Most Kruger camps and lodges will offer all-inclusive packages. Packages may include flights, lodging, meals, guide, game drives and bush walks. It might be worth checking them out because they usually end up cheaper and definitely more convenient.
Bring along a small but powerful flashlight. Most lodges provide one for you but it never hurts to carry an extra one. Walking along the path to your cabin can be scary at night especially when lions roam free.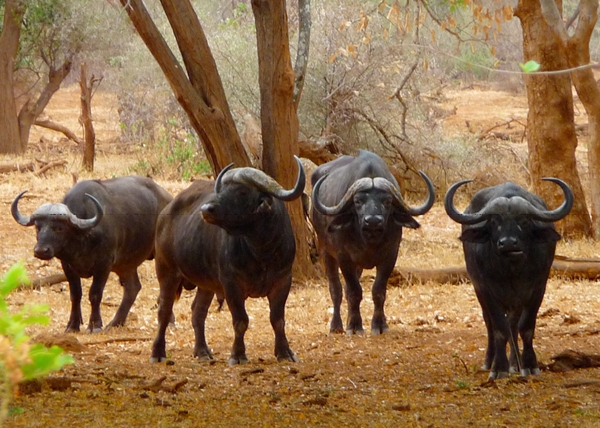 Where to stay
Kruger has a plethora of camps and lodges that can fit anybody's style and budget. Private game reserves along the Sabie river bordering the Kruger offer the most luxurious accommodation while basic huts and camps are available inside the Kruger for those who are on a tight budget. However, one of the best ways to experience the Kruger is to stay at a private concession.
Private concessions are pieces of land inside the Kruger that has been leased to private safari companies. With only a small number of guests allowed inside a private concession, you get personalized service. Not only do you get a more luxurious place to stay, you also get the benefit of your own private guide. Open-topped and open-sided vehicles, off road game drives and night drives are only allowed in private concessions.
Named after one of person responsible for establishing Kruger National Park, Hamilton's Tented Camp gives guests the experience of what a safari was like in the early part of the twentieth century. A small camp, it can be reached through daily schedule flights with Federal Air. There are only six tents available. And each luxury tent sleeps two and comes with a butler service, private veranda and an outdoor shower overlooking the Ngwenyeni Dam. Hamilton's Camp is unique because it offers guest modern conveniences such as air conditioning and intercom service. For those who want to relax after going on a game drive, the camp has a pool and offers spa treatments. Rates start at R3,665 per person per night and only allows children 12 years and older to stay.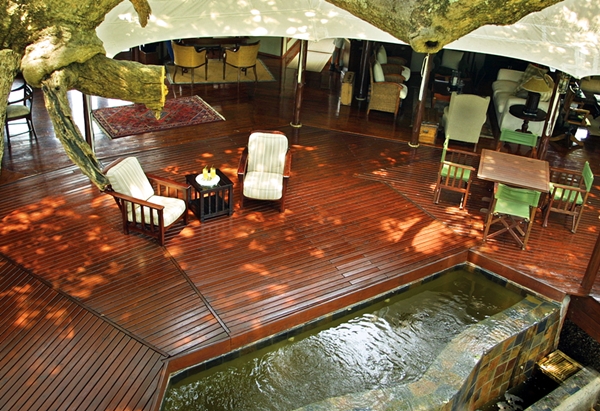 Situated on 15,000 hectares of private concession land in the northeatern part of the Kruger, Shishangeni offers some of the best game viewing experiences in the park. There are three camps to choose from: Shishangeni Private Game Lodge, Camp Shonga and Camp Shawu. Shishangeni Private Game Lodge has 22 individual chalets, each with a private game-viewing deck and fireplace. Guests can mingle around a spacious lounge with a bar or hang out by the pool, or get some exercise over at the gym. The lodge is child-friendly and babysitters are available for a fee. For a more intimate atmosphere, guests can experience luxury and comfort in the bush by staying at one of the five tents at Camp Shonga. The camp offers majestic views of the Lebomobo mountains as well as the African bush. Game viewing over at Camp Shawu is fabulous. The camp overlooks Mpanamana dam and animals gather in the afternoon to drink. Rates start at R2,340 per person per night.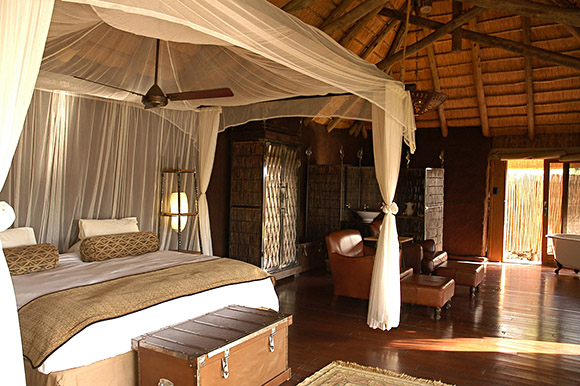 Lying in the Makuleke Concession, the wildest and most isolated part of the Kruger, Pafuri Camp is the best place to stay for avid bird watchers. The camp is divided into two areas, Pafuri East with 7 tents and Pafuri West with 13 Meru-style huts. Guests going on game drives will be treated to spectacular views of the fever tree forest, towering baobabs and wide, open grassland. Visit Crook's corner where the Limpopo and the Luvuvhu rivers join together and stand in the area where the borders of South Africa, Zimbabwe and Mozambique meet. Ask for Godfrey, easily the best and friendliest guide at Pafuri. Rates start at R1,600 per person per night.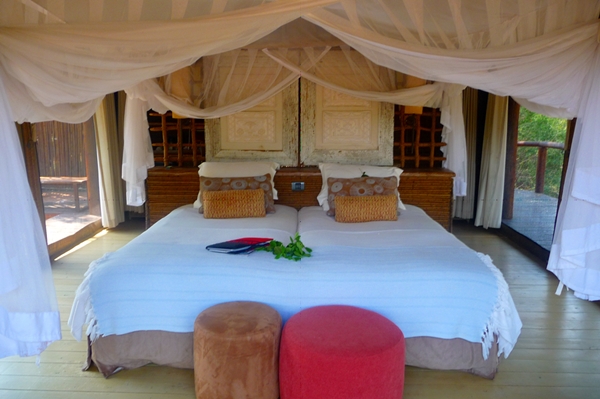 What to eat
Isolated from any other form of civilization, the only place to dine is in the lodge where you are staying. Private concessions in general normally provide all-inclusive packages and the food is usually superb. Experienced chefs prepare bountiful buffets and there are cookies and drinks available at all times. With the exception of your sundowner drink, alcohol is normally charged to the guest's account.
Meal times follow the activities schedule set by your guide. To start the day, a light breakfast of croissants or rusks and a cup of coffee is served at dawn. Guests go on their morning game drives and return back to camp around 9-10am. Brunch is served and is usually buffet style. There's plenty of choices for everybody, ranging from cereals, sandwiches, all the way to pasta and rice. Before leaving for the afternoon game drive, tea is served at around 3pm. Guests enjoy sundowners and snacks in the bush sunset. Beneath the starry sky, dinner is served. Sometimes it's a buffet, other times they switch it up an offer a five-course fine dining experience. One thing is certain: you will never go hungry when going on a safari!
Lodges usually serve up a wide variety of dishes to guest. While international cuisine is always on the menu, this is the time to try some of the more traditionally prepared South African dishes. Popular South African dishes would include:
The traditional barbecue of Africa, braai is rooted in the customs of the people. It's considered a national pastime in South Africa. Originally grilling over wood, it has now encompassed all grilling methods. During a braai, people usually eat outdoors and socialize wit one another Expect to find grilled meat such as ostrich an other game, sausages and chicken and the occasional fish. Safari lodges often have a braai out in a boma once a week, usually the last evening of a scheduled safari.
Boerewors is the most popular sausage in South Africa. It is made out of a mixture of minced beef, pork and lamb and spiced with coriander, pepper, nutmeg and cloves. It is usually formed into a long continuous spiral and grilled. On a safari, it is usually served during brunch.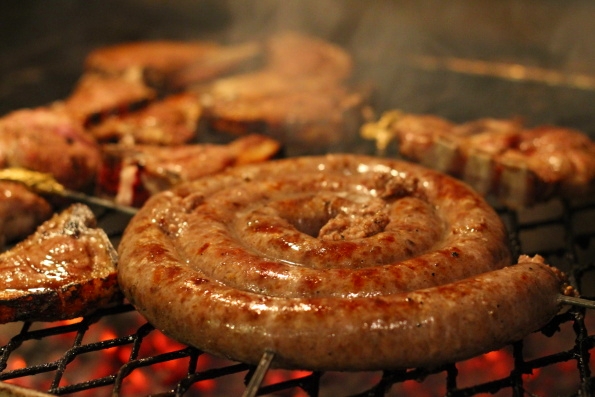 Forget about mashed potatoes or rice, pap is the staple here. Made out of ground maize, there are several ways to prepare pap. It can be a a but soupy, like a traditional porridge, dry and crumbly, or so thick it can be held in one hand. Savory pap sautéed with tomatoes and onions is a great side dish to accompany grilled meat during a braai.
During one of the sit down dinners at camp, you might encounter bobotie. A South African meatloaf, bobotie is complex flavorful and made up of all kinds of ingredients. Chopped apricots, raisind, sultanas, nuts and a handful of spices such as ginger, marjoram and curry powder are added to ground pork or beef and baked until the top is crisp. Don't forget to pour chutney over it before you take a bite.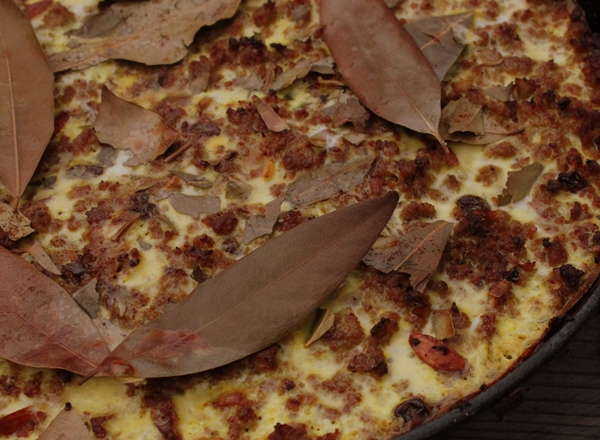 If you get hungry, grab a pack of Biltong. Biltong is air dried cured meat, similar to jerky. The main difference is that biltong is more savory, It does not have that sweet taste that jerky has. Biltong is also made from different types of meat such as beef, kudu, springbok or ostrich. Safari guides bring this as a snack for the guest during the sundowner at the bush. It's a perfect accompaniment to a cold can of beer and the South African sunset.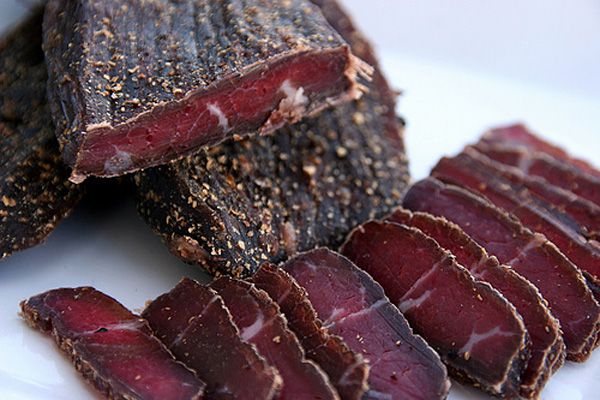 Nothing beats a bowl of potjiekos to keep your tummy warm during a cold African evening. Potjiekos literally means a small pot of food. It is an African stew, a one-pot meal. It includes meat, vegetables and some form of starch such as potatoes that has been cooked in a cast iron pot for several hours. The result is meat so tender, it easily pulls apart when you use your fork, vegetables so soft it melts in our mouth. The stew is rich and creamy and full of flavor from the different spices being used . It tastes similar to pot roast. While it can be enjoyed on its own, it goes really well with pap.
If you are a wine drinker, try South African wines. Most of the wines come from the Stellenbosch and Paarl regions near Cape Town. They have an excellent flavor profile and goes down smooth. South African wines are also of good value. There are a lot of great wines that are under $20. Popular wines include the Kanu Chenin Blanc 2008, Flagstone Noon Gun Dry White, Jam Jar Sweet Shiraz 2010 and Excelsior Cabernet Sauvignon 2008.
What to see and do
Your safari guide will be the same from the moment you arrive at camp to the time you leave. Safari guides belonging to private concessions usually follow a general schedule. Guests are woken up at 5am go on early morning game drives or bush walks. After brunch, guests have some personal time and you can spend it in your tent, out on the pool or hanging around the common areas. Some camps have libraries sticked with a wide variety of books. You will set-out again into the wild for another adventure until sunset where you experience sundowners out in the bush. Private concessions are unique because they are allowed to take their guests on game drives at night. Then it's dinner at camp and off to an early night. Be considerate and don't stay up at the common area too late because guides are required to escort you to your tent.
Much of your enjoyment will depend on the skill of your guides. With a lot of hectares to cover, your guide must have a keen eye and know where to spot the best wildlife as well as alert on the radioed reports of the other guides. When making a reservation consult the camp and request a guide that will fit your interest. Some guides are experts on birds, while others are keen photographers and others specialize in walking safaris.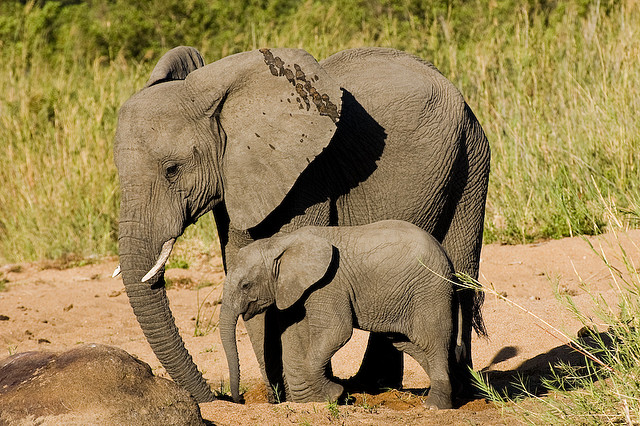 The biggest reason to go on safari is to go on game drives. Kruger has a lot of big game and you might be able to all of the big five during your stay. Vehicles in private concessions can go off road offering a closer look at the animals. Stay inside the vehicle and do not stand up when approaching animals in the wild because you might startle the animals. Bring a jacket because early morning drives can get really get cold and put on lots of sunscreen because the midday heat can be harsh.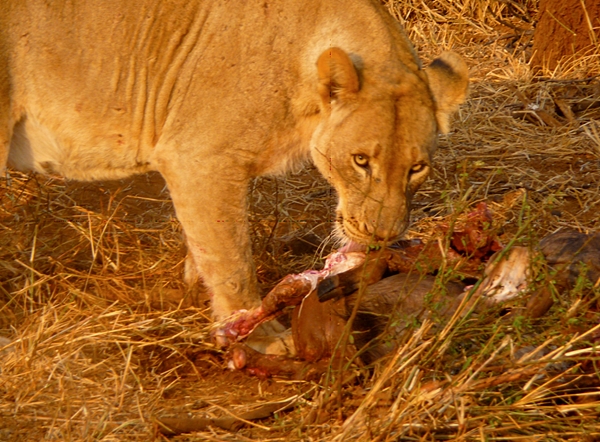 For an intimate encounter with the African bush, some guest may opt to go on a walking safari. You won't see much of the big game up close during your hikes as it can be dangerous but you be able to learn about the different terrain and scenery. Most camps only offer day excursion but there are some outfits that offer longer stay out there in the bush. Walking safaris might not be for everybody as it will require a higher level of fitness and some uphill parts of the trail can be difficult.
Rhino Walking Safaris specialize in walking trails for up to eight people. Highly qualified guides will educate you on the secrets of the bush. Guests will have the option to stay at Plains camp or do a sleepout underneath the stars.
Pafuri Walking Trails is a camping experience for those who do not want to stay at the main Pafuri camp. Guests will camp out under the canopy of trees for 3 nights and spend 4 days walking around the 24,000 hectare Makuleke concession.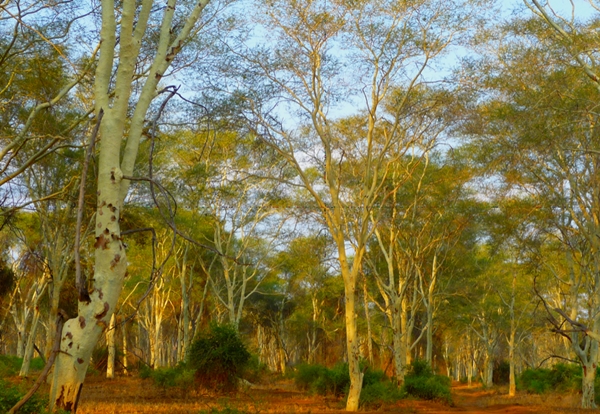 Related Posts
Tips for Booking Award Flights to Africa
Best Fine Dining Restaurants in Cape Town, South Africa?
Galapagos Adventure: Stunning Wildlife, Fearless and Up Close
Tips for Booking Award Tickets to the Maldives
Need Award Booking Help? Our fee is as low as $75 per ticket if you book your hotel through us.
If you enjoyed this, join 90,000+ readers: please follow TravelSort on Twitter or like us on Facebook to be alerted to new posts.
Photos: Angie Zafra, sausyn