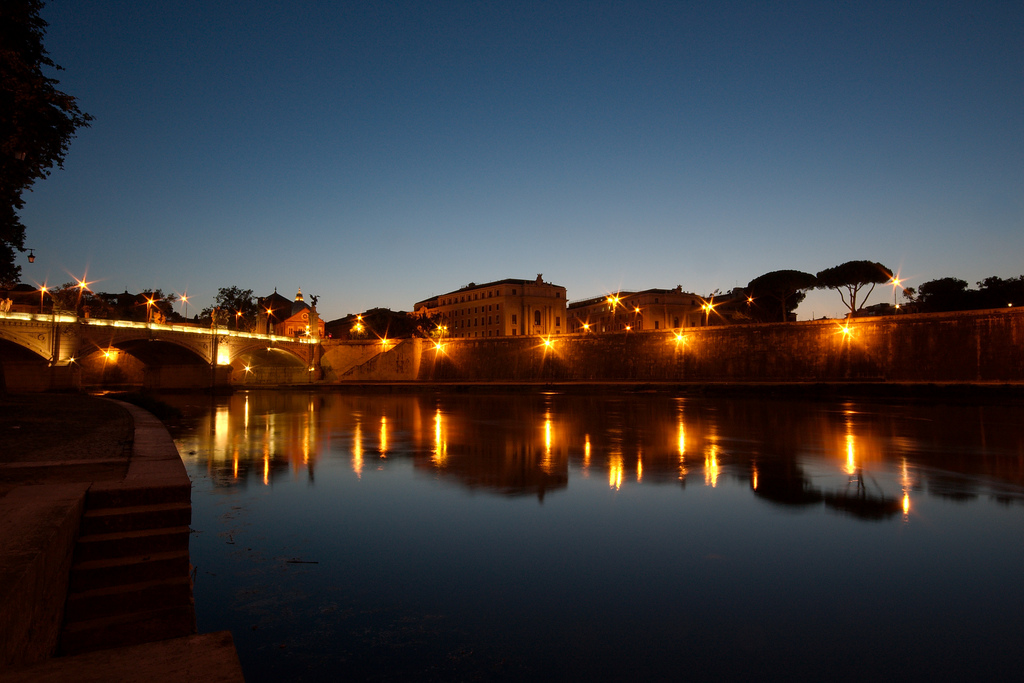 Why Go
Rome has been at the heart of passionate and dramatic encounters throughout its entire history, ever since its inception during ancient times. It has been at the center of the mighty Roman Empire, been celebrated as an artistic and philosophical haven during the Renaissance and immortalized on celluloid by some of cinema's greatest masters (during the 50's and 60's). Today, Rome still shines bright and is renowned the world over for its excellent food and stunning landmarks. Typical Romans truly enjoy the "Dolce Vita", a mindset perfectly reflected in their choice of fashion, culture, and their overall sense of merriment. Thanks to its exquisite fountains, magnificent wines, romantic music, hidden passageways and breathtaking sunsets, it's no surprise this enchanting capital city is still a top destination choice for many visiting couples in love.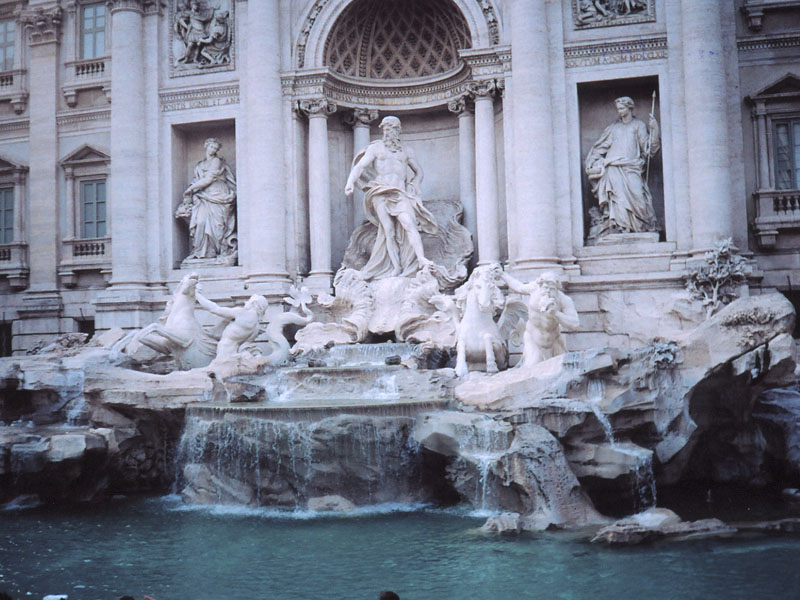 Insider Tips
• Although the weather is lovely in spring, pleasant in the fall and mild in the wintertime, rain is a possibility all year round. Be sure to come prepared with a compact umbrella and water-resistant walking shoes.
• Avoid visiting in the late summer months as the temperatures have been known to soar way over 100 degrees in the afternoons during this period of time, leaving many popular restaurants and shops closed.
• In Italy, queen and king size beds are only available in junior suites or larger accommodations so if this is an issue for you, book ahead for the best price options.
• Most International flights arrive at Fiumicino (Leonardo da Vinci) Airport which is conveniently located only 30 mins away from the main train station (Stazione Termini) by express train (which costs 9.50 euros). This is a far better option than taking a taxi where you might run the risk of seriously overpaying for your transfer.
• If you plan on visiting many of the tourist sites during your stay, then the Roma Pass might be of interest to you. For 25 euros, you get free admission into two participating museums or archeological sites, plus free travel on buses, trains and metros for three days.
• When visiting the Vatican (or any other churches in Rome), men must wear long pants and ladies must cover their shoulders as well as their knees. There are no exceptions to these rules, so remember to follow them in order not to miss out on some wonderful landmarks.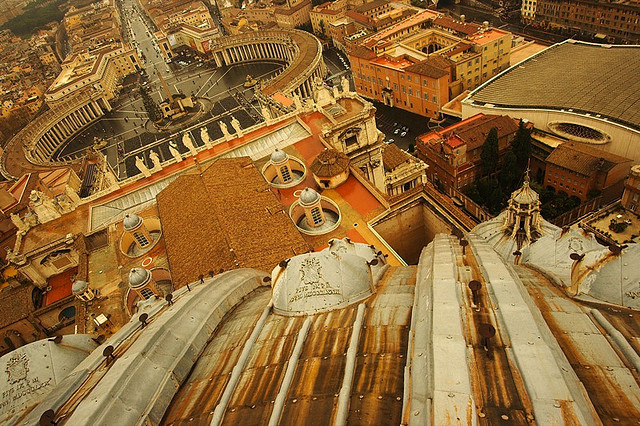 Where to Stay
If you are looking for a cozy getaway close to the city's many attractions, then book your stay at the charming 16th century former cloister known as Hotel Santa Maria. This modest but comfortable establishment features clean, simple rooms with a lovely orange-tree garden serving as the peaceful backdrop for relaxation. Surprisingly, the price for their very best Senior Suite starts at 110 euros per night. It's an excellent–and affordable–pick for romantic seclusion in the Trastevere district, across the river from the rest of Rome.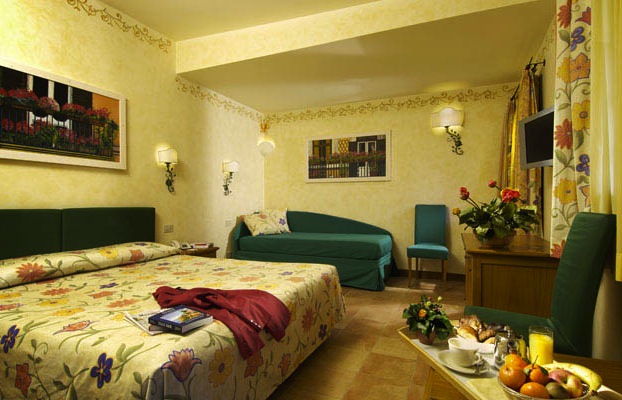 For classic elegance close to everything from the grand Piazza della Republica to the Colosseum, stay at the inviting 4-star Hotel Bailey's, a 19th century former palazzo. Hotel Bailey's features very tasteful rooms with a complimentary fruit basket and buffet breakfast included in the price. A night here will cost you an acceptable starting price of 185 euros per night.
If you can afford to splurge on the very epitome of modern and luxurious indulgence, then you must stay at the Portrait Roma. Owned by the Italian fashion giants Ferragamo, this hotel embodies style and sophistication. This exquisite townhouse has only 14 suites and studios that offer every modern convenience that the opulent traveler can desire. Look forward to continental breakfast served in your suite or at the marvelous rooftop terrace bar, daily maid service, marble bathtubs, tasteful décor, and limousine service. Expect to pay at least 400 euros a night for the privilege of all this romantic pampering.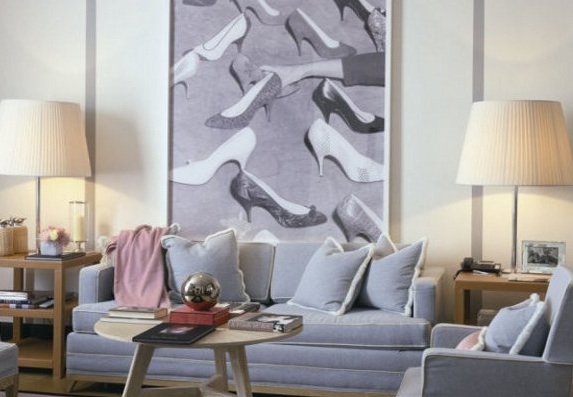 What to Eat
The foundation for Roman cuisine is fresh seasonal ingredients, prepared in a tasty but simple way. An abundance of various meats, cheeses, vegetables and assorted pastas (in creative combinations) are what keep this type of fare popular with locals and tourists alike. Romans take their meals quite seriously and often enjoy a glass of wine with lunch or dinner.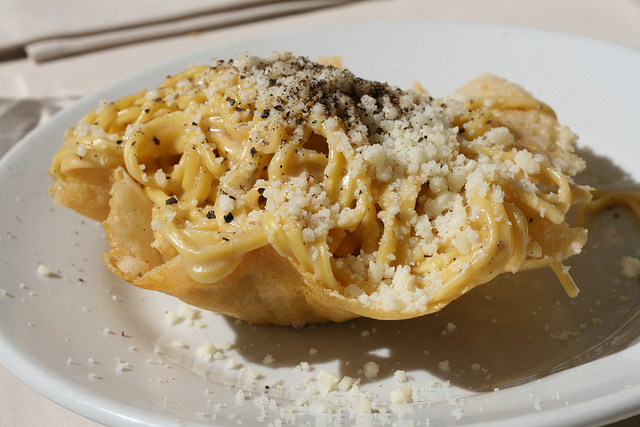 For lovers wanting to experience an incredible panoramic view of the city, make a dinner reservation at Lo Zodiaco, a traditional-style restaurant serving classic Italian dishes, including artisan pizzas made in authentic wood ovens. Reserve a cozy candlelight table and gaze at the stars while sampling a delicious pasta dish such as Tagliata di pesce spada al pesto di mente (Sliced swordfish with a side of mint pesto).
If you are looking for something truly spectacular, then take your loved one to La Pergola in the exclusive Rome Cavalieri Hotel. Dining in this spectacular 3-star Michelin eatery (the only one in Rome with this distinction) is not only a sensational gourmet experience, but it is also one that seduces all the senses. The cutlery and dinnerware are of the finest quality, the room is filled with creative artwork of centuries past, there is an amazing view of the city, and the scent of gorgeous, fresh, seasonal flowers fills the atmosphere. For an unforgettable gastronomic adventure, try the nine course inventive tasting menu (changes seasonally) at 198 euros per person.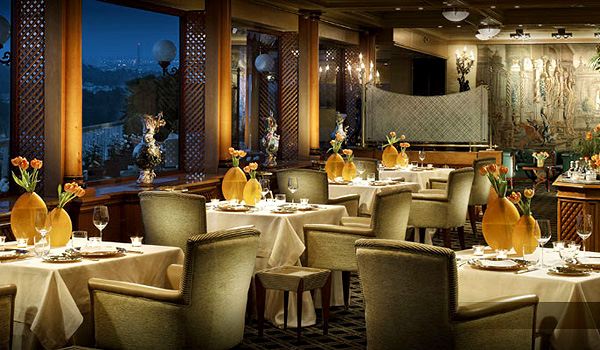 For a low-key yet intimate dinner together, visit Bistro 23, an elegant yet unpretentious restaurant situated on a quiet street not far from the Vatican. The contemporary Italian and French cuisine is delightful, but what keeps the crowds coming back for more are the stunning desserts. Ask for two spoons and devour the amazing Semifreddo di Menta e Cioccolato (Mint and Chocolate Parfait) together. With mains averaging 15 euros and a great wine selection, it's a lovely option for romantics still working with a budget.
What to See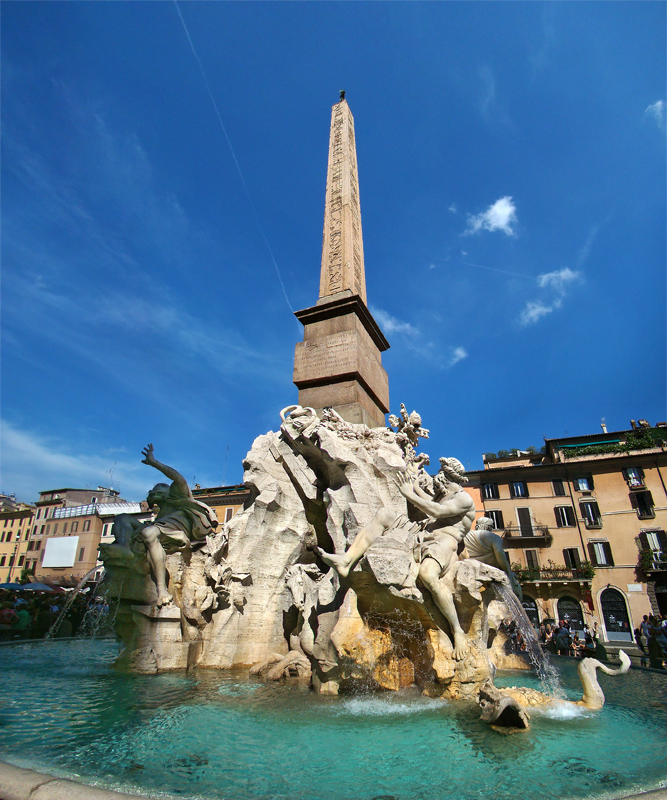 The dazzling architecture and the quaint cobblestone streets are enough to put anyone in a romantic mood in Rome. Assuming that you will visit the usual tourist attractions but also desire a little more adventure, there are a number of places to see and activities to do that are a bit more inventive and off the beaten path.
Everyone insists that a kiss by the world-famous Trevi Fountain is the quintessential thing to do whilst in Rome, and so you must experience this little bit of magic (at midnight for that extra special touch) but do not overlook some of the other stunning fountains around town. One worth mentioning is the impressive Fontana dei Quattro Fiumi (Fountain of the Four Rivers); a stunning piece of artwork built in the 17th century and designed to depict four rivers on four continents that were once ruled by papal authority.
Walking hand in hand with that special someone is essential in Rome. Take a stroll on the Via Margutta, the charming artists' street, where you can find dozens of fashionable art galleries and restaurants. Stop for a gelato from one of the many street vendors on hand on the famed Spanish Steps or walk down the steps to the Piazza di Spagna, and find a small eatery called Gina, where they will be happy to prepare a lovely picnic basket of goodies for you to take out and eat at your leisure.
If you continue your walk from there, in just a few minutes you will find yourself at the Pincio Gardens in Villa Borghese, offering splendid views of the city. Close to the gardens, you will find the Galleria Nacionale d'Arte Moderna e Contemporanea (The National Museum of Modern and Contemporary Art), the perfect place to see fabulous Italian art from the 19th century to the present.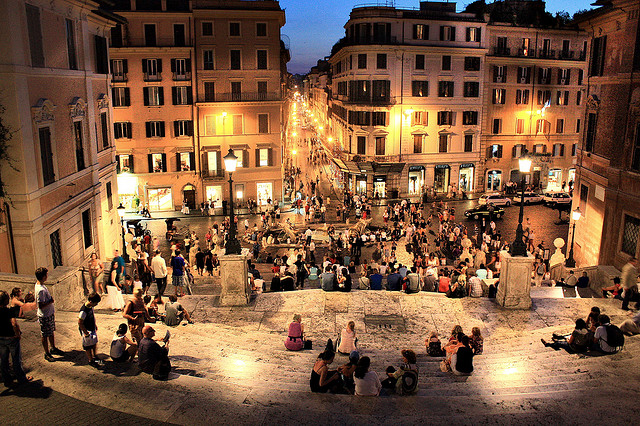 For a change of pace, explore the neighboring district of Trastevere, an enchanting area found on the west side of the Tiber River which seems more like a small, inviting village than part of a cosmopolitan capital. Wander around its winding medieval streets, bustling with open air markets and piazzettes (tiny squares) and you might find yourself falling in love all over again. Whilst here, a definite "must" is a visit to the glorious Basilica di Santa Maria, one of the oldest and most ravishing churches found in Rome.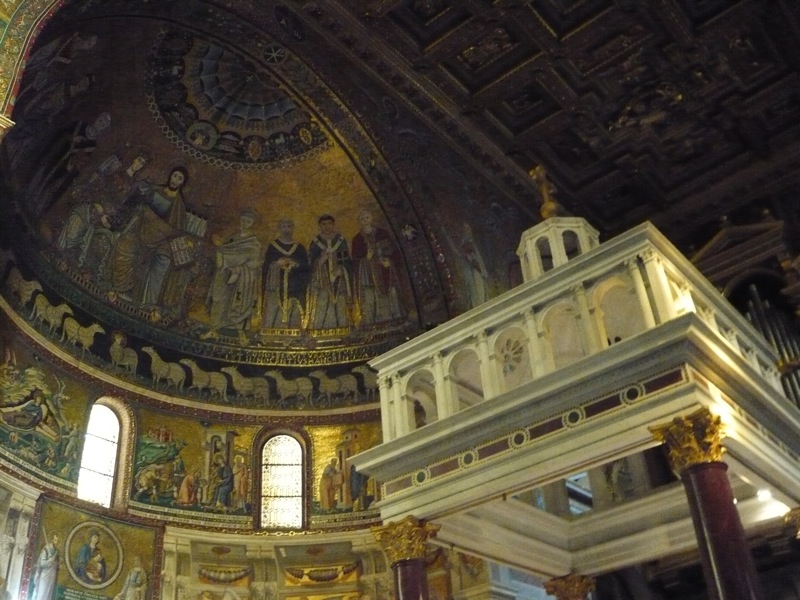 Of course, shopping in Rome is also world-famous, and some local shopping will ensure that you take some fabulous Roman mementos back home with you. If you prefer top fashion brands, you might want to explore the exclusive Via dei Condotti at your own pace, secure in the knowledge that the once-applicable fee for just "looking around the shop" no longer exists. A staple shopping street for both Romans and tourists is the busy Via del Corso, featuring designer brands as well as lesser-known local shops.
For bargain hunters, visit the Porta Portese Flea Market, which is open from 8am until 2pm on Sundays. If you are fortunate, you may find some antique treasures here, but be ready to haggle for the best possible prices. Food lovers will enjoy the Piazza Vittorio Emanuelle, the largest open market found in Rome. Here, you may shop for fresh fruit and vegetables and other tasty treats. The market is open Monday through Saturday from 7am until noon, and although you might not stumble upon any great finds to take back home, you will experience a little of what daily life is like in this bustling "eternal" city.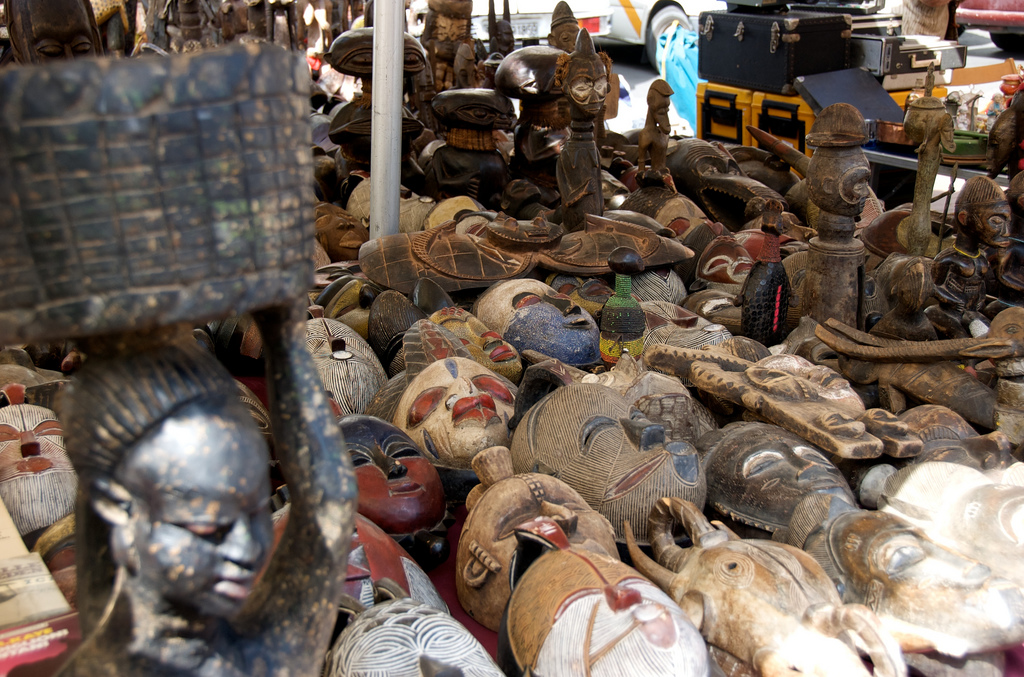 Related Posts
Portrait Roma Review, Rome Luxury Boutique Hotel
Marzapane Rome Restaurant Review
How to Avoid Rome Pickpocketing Scams
Need Award Booking Help? Our fee is as low as $75 per ticket if you book your hotel through us.
If you enjoyed this, join 200,000+ readers: please follow TravelSort on Twitter or like us on Facebook to be alerted to new posts.
Become a TravelSort Client and Book 5-star hotels with Virtuoso Perks and Preferred Partner Benefit
Photo Credit: Jessica Benavides Canepa, Gianni Dominici, Christine Zenino