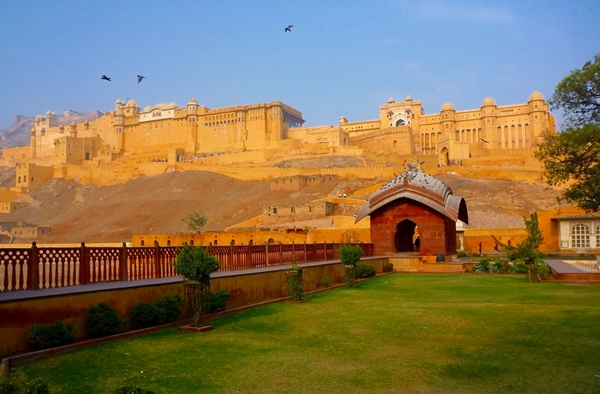 Why go?
So you're planning a romantic getaway with your honey – why pick Jaipur? To put it succinctly: Jaipur is simply magnificent, from its gorgeous and ornately decorated Amber Fort and palaces to its rich and varied cuisine to the warmth of its people.
In terms of sumptuous romantic charm, India is hard to beat. It's a place of ancient wisdom, fabulous scenery and incredible culture. Certainly, trying to prepare yourself for your experience in India is almost impossible because it'll probably be quite different than you imagine. True, poverty may still be very much at the forefront of large cities like Old Delhi, but to generalize about the Indian people would be very misguided. In terms of a welcoming, friendly nation, India has got to be top of the list.
In no other place we've ever travelled have we been able to sit cross legged on the floor of a jewel cutter's loft drinking rice wine and examining an array of precious stones scattered before us like carnival candy… That's how we spent one of our afternoons in Jaipur, however – one of the premier capitals of jewel cutting in South Asia. What was most amazing about this experience, however, was not the abundance of glittering emeralds, rubies and other gems, but the enthusiasm of the jewelers to share their history and culture with us. That applied in so many contexts in Jaipur.
Insider Tips
Jaipur is dry, since it's in the desert, but can be very hot, especially June through September. Try to time your trip instead for the winter season, October through March, when highs are in the low 70s. Evening lows in the winter are in the 40s, so you'll need to bring a warm sweater or light jacket.
Jaipur (Sanganer) International Airport is just 8 miles from the city center, and is served by Air India, Indian Airlines, Jet Airways, Kingfisher Airlines, Air Deccan, Air Sahara, and Go Air. There's a prepaid taxi counter at the airport, where you can pay for your ride to avoid haggling with the driver.
Jaipur is breathtakingly beautiful and absolutely full of things to see – but being a pretty popular tourist destination is also prone to the occasional problem. With that in mind, it's sensible to prepare for a certain amount of heckling from local street traders and to be aware that it might be a good idea to avoid flashing too much money around, lest someone becomes a little over interested in your wallet…
Bad points out of the way, Jaipur is an awesome shopping destination – so bring an extra suitcase, or ten! Don't be afraid to slash prices in half – or even a third – when you barter with shopkeepers: they expect it, and you better believe the citizens of Jaipur aren't paying a fraction of what you are! Bartering can become an incredibly fun game: one that can continue in camaraderie between you and the trader if you're planning to stay for a little while. Build a good relationship with the trader and you might get to see some treasures usually reserved for "special people."
One important thing we mustn't forget is dress. As in many South Asian cultures, it's important to be modest in Jaipur – and India as a whole. To avoid trouble or unwanted attention, it's always best – especially if you're a lady – to ensure your sleeves are long, your skirt or pants are cut well below the knee and that you're not wearing anything too low cut. If you're looking for inspiration, there are a lot of local tailors who will make beautiful clothes for you at incredibly low prices! To cope with the heat, look for lightweight cotton or linen garments that'll help keep you cool.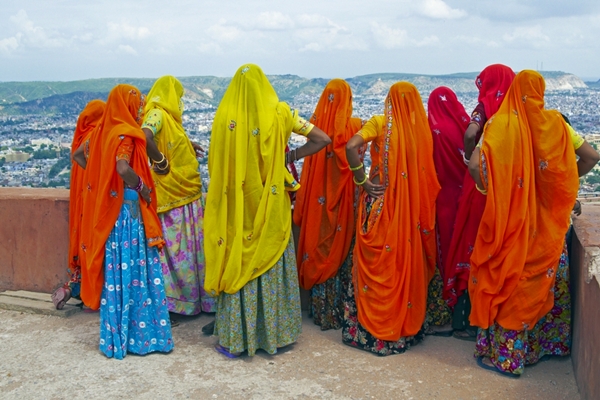 Where to stay
You're spoiled for choice on hotels in Jaipur – being a trendy city for travelers has its perks! The wonderful thing is that even the most basic hotels are most often clean and welcoming: the usual Indian style. On the other hand, you could book yourself into a five star hotel for almost no money at all compared to other major world cities – it's completely up to you.
Many hotels in Jaipur can be booked in advance: especially the larger, fancier ones. Alternatively, you can easily find a place to stay without advance planning – and some of the rates are highly negotiable, especially for longer stays! So whether your version of romance is being pampered in the lap of luxury or spontaneously turning up and whisking your beloved into adventure, Jaipur has what you're looking for.
Whichever hotel you choose, you're likely to get some really first class service from the owners and staff who are ready and willing to share their city with you. Most places have food available at almost every hour of the day and night. Aloo Parathas, for example, are an excellent (and zingy) way to breakfast and you'll find that the vast majority of hotels are happy to make them for you any time your heart desires.
There are nearly a hundred hotels in Jaipur, and many of them are quite luxurious. If you're looking for a friendly atmosphere, good food and are on a budget, the Pearl Palace Hotel on Ajmer Road is a real diamond in the rough; you'll be hard pressed to find anywhere else half as nice for the price ($20/night).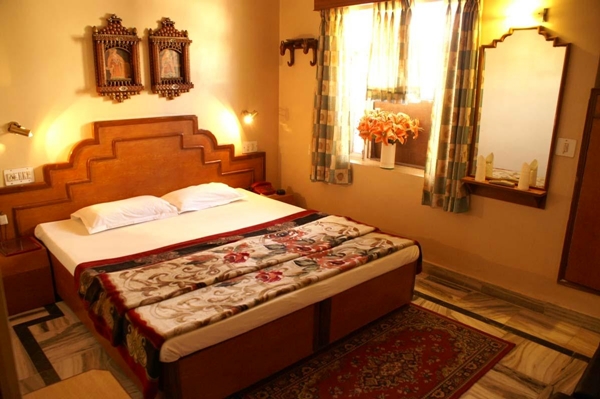 If money is no object, splash out at the Taj Rambagh Palace, a truly sumputuous affair that is not only fit for a king and queen, but actually served as the primary residence for Jaipur's royalty for many years. Rooms and suites are richly appointed with beautiful traditional Rajasthani artwork, rich silks and sheer fabrics, four-poster beds, spacious marble bathrooms, and modern conveniences such as large plasma TVs and tea/coffee makers. All suites include the services of a personal butler.
What to eat
Following on from the previous comment about chili-studded potato flatbread (that would be the Aloo Paratha), we'd better mention the food in Jaipur. Forget everything you know about Indian food – if it's not served to you in India, you're missing out on an experience! There's absolutely nothing like it in the world. The vast and completely delightful array of different tastes are not only delicious but also strangely correspond with the hot Indian climate! At no point on our trip to Jaipur did we have any burger cravings – the local food was just too good.
If you are looking to eat traditionally Rajasthani cuisine, the Annapurna restaurant (behind the Raj Mandir cinema on Bhagwan Das Road) is a great place to go – as is the Gulab Mahal (at the Taj Jai Mahal Palace on Jacob Road). At both, the service is second to none and the atmosphere cheerful and colorful. There's nothing like being led to your table through one good scent after another, watching the other patrons tuck into their various beautifully arranged dishes and dreaming of one's own order… One of the most traditional Rajasthani dishes is Dal Baati Churma. Although it is simple, consisting of bati (unleavened bread), dal (lentils) and churma (a sweet delicacy of crushed ground wheat cooked with ghee and sugar, sometimes mixed with dried fruit) it is satisfying, and often eaten at festive occasions and weddings.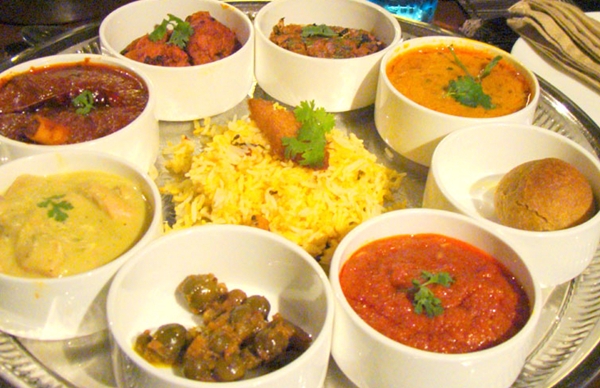 Also try the Mutter Paneer – a traditional chickpea curry, Paneer Jalfrezi or the incredible northern Indian rice dishes, which are often served in quite elaborate style! Portions are generous, so there'll be no longing for an all-you-can-eat buffet… For more of a multi-cultural experience, try the excellent Copper Chimney (on the Mirza Ismail Rd) and tuck into South Asian, Indian and Western cuisine. It's a great place to go if you're having a pasta craving – but don't miss their delicious Chicken Tikka, either…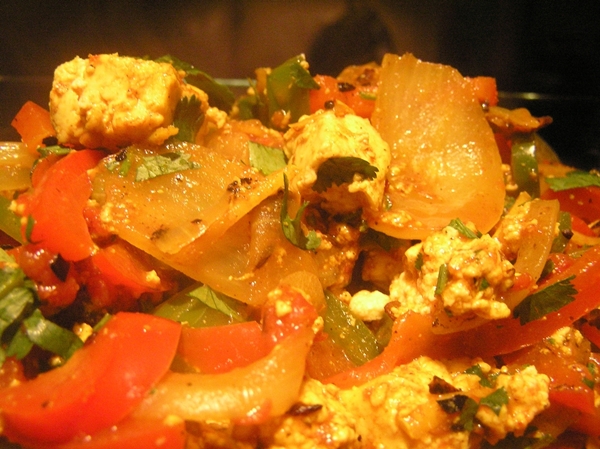 We heartily recommend trying as much food as you can while in Jaipur. Naturally make sure that the restaurants you choose to eat in are properly managed and clean, because unlike the local people, you are not used to the various indigenous organisms that inhabit India. The same would apply in return of course: we're all acclimatized to the environment we usually live in, after all.
With that said, do come prepared in case your tummy needs an adjustment period! Don't, however, avoid certain foods religiously for fear of becoming ill: very often, the spices in one food will compliment the spices in another, leading to a much more satisfying and healthy experience for your gut! Plus it's all so good… We've eaten every different type of food in Jaipur, from delicious mango lassies to exuberantly displayed chicken biryanis and spiced meats, and only wish we could get these same vibrant and authentic tasting treats back home.
Naturally it's also essential to forgo the knives and forks – use naan bread instead and scoop up your food in the traditional way. Just imagine the romantic dining experiences you can have with your honey!
What to see and do
So now you're in the world famous "Pink City" where do you go from here? Before we get started on that, did you know that the whole of Jaipur was literally painted pink to welcome the British Prince of Wales in 1853? Parts of the city are indeed, still pink – so if you ever find yourself distracted by the color of a wall in the market district while paying for dried chilies (as we did), now you know.
There's so much to do in Jaipur that it's difficult to know where to start – but one thing you simply cannot miss while you're there is the Amber Fort. It's absolutely beautiful and a stunning example of sixteenth century Indian creativity and architecture, though it was built on a much older structure. Originally a palace inhabited by the ruling Amber clan before their move into Jaipur itself, the fort is an incredibly ornate building decorated with a whole host of beautiful features.
Walk through rooms covered in thousands of tiny mirrors and into an intimate space where, if you shine a flashlight at the ceiling you'll be greeted by the sight of what seem like a never ending cascade of jewels studded into the stonework. Go outside and let the sun warm your back as you gaze onto the lake. It's just such a beautiful place to go.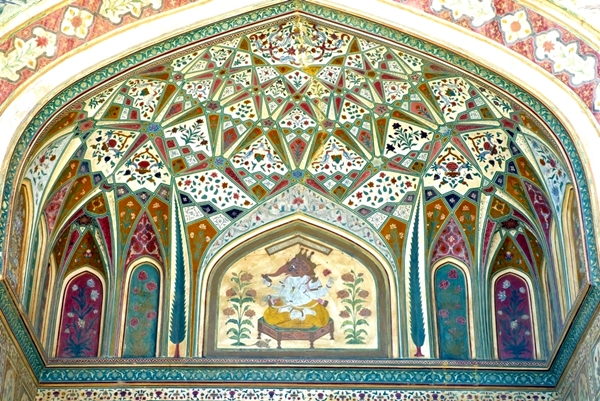 We rode up to the fort on the back of an elephant: a unique experience and certainly the best way of getting a fantastic view over the city. It's a very interesting feeling, sitting atop one of these great big fascinating animals, feeling them amble up toward the ancient orange building and strange to think that while we might have a little trouble picking up another human being, they find us almost weightless. The elephants at the Amber Fort are beautifully painted, well taken care of and very gentle, so if you've ever wanted to say hello to one, it's the perfect chance. There's no need to book ahead: the elephants and their handlers are available all day both at the bottom and at the top of the trail.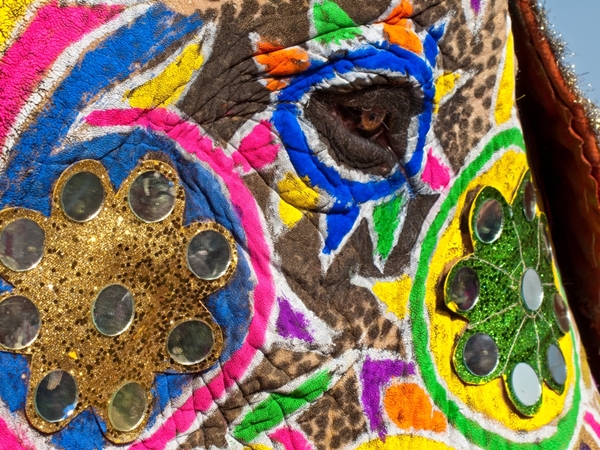 You can also view the city from the air by taking a hot air balloon ride over Jaipur. While not inexpensive (cost is ~$225 per person) the views from the hot air balloon are magnificent, and a wonderfully romantic adventure. Float about with your other half and marvel at your surroundings from cloud level – if you've never been on a balloon ride, what better place?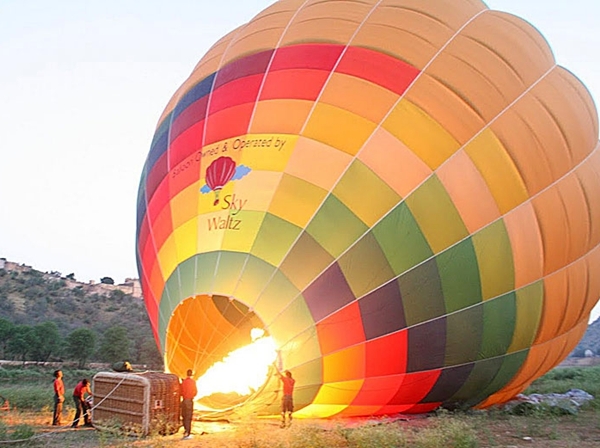 Another striking wonder is the Jal Mahal ("Water Palace;" not to be confused with the Taj Jai Mahal Palace Hotel), which appears to float on Man Sagar Lake, just north of Jaipur. The palace was built by Maharaja Madho Singh I in 1799 and based on the Lake Palace of Udaipur, where he was born. It served as a lavish place for the royalty to entertain guests, following duck hunting. The palace cannot actually be visited, and is in the process of being converted into a palace hotel, but it is worth going simply to view it and to take pictures. The Jal Mahal is located just north of Jaipur on the road to Amber and can be seen from Nahargarh Fort.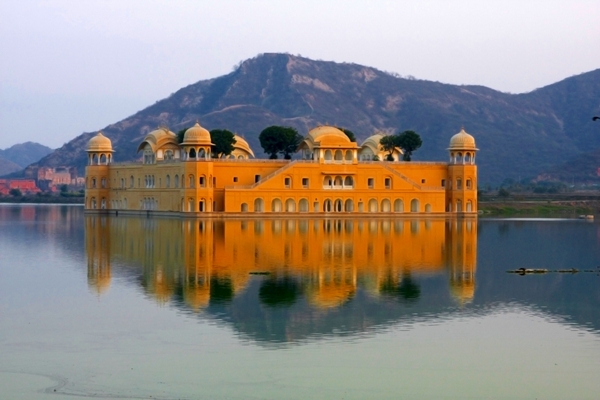 Naturally that leaves shopping – most notably in the market districts of Chaura Rasta, the Nehru Bazaar and the Jauhari Bazaar! We mentioned bartering a little earlier but truthfully, there's nothing more fun that scooping up a few deals on beautiful items to bring home. Jaipur is a huge jewelry center and also a hub of Asian traders, with more good deals on real Persian carpets than you can shake a stick at! If you like to assimilate pieces of rich culture, there's really no better place than Jaipur: just make sure you've made arrangements for extra luggage on the plane home, because you'll need it!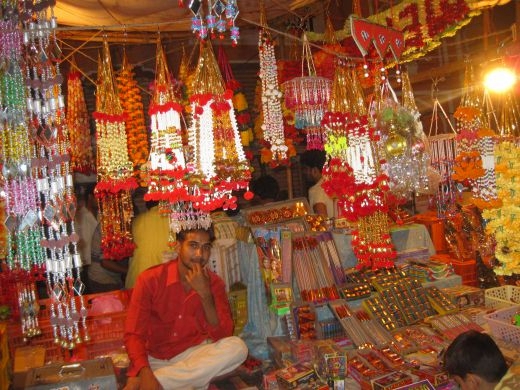 Photos: Pearl Palace Hotel, Taj Rambagh Palace, Laurel Fan, Mridula Dwivedi