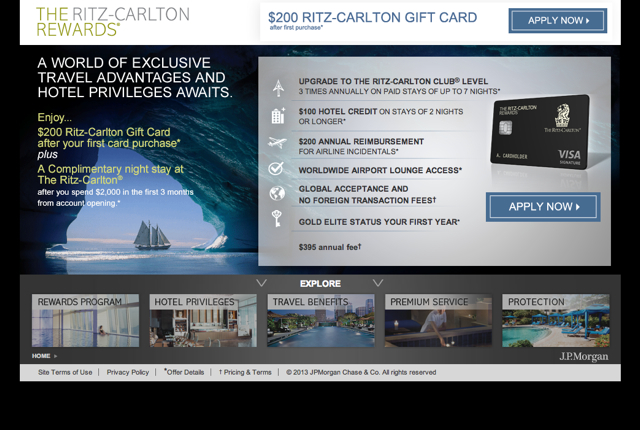 The Ritz-Carlton Rewards Card Now Offers a $200 Ritz-Carlton Gift Card (no referral credit to me) in addition to its 70,000 Ritz-Carlton Rewards points, per TravelSort reader Roderick (rodsren on Flyertalk), a better offer than the standard offer that doesn't include the $200 Ritz-Carlton Gift Card.
I previously reviewed the Ritz-Carlton Rewards Credit Card last year but since the $200 gift card offer is new and the Tier Levels have increased, figured it was time to post an update.
First, here's a summary of what the card offers:
Ritz-Carlton Credit Card Benefits
$200 Ritz-Carlton Gift Card after first purchas (new offer)
Earn 70,000 points after spending $2000 in the first 3 months (used to be after first card use)
$395 annual fee is NOT waived the first year (a prior offer targeted to Ritz-Carlton residence owner waived the fee)
No foreign transaction fees
Earn 5 Ritz-Carlton Rewards points per $1 charged to your guest room at participating Ritz-Carlton hotels
Earn 2 Ritz-Carlton Rewards points per $1 spent on airline tickets purchased directly with the airline, at car rental agencies, and restaurants
Earn 1 Ritz-Carlton Rewards point per $1 spent on all other purchases
Automatic Gold Elite Status the first year; thereafter qualify for Gold Elite after $10,000 in purchases per account year
$200 credit per calendar year for airline incidental (non-ticket) charges
24-hour JP Morgan Premier Concierge Service
Receive a $100 hotel credit when you book a paid stay of two nights or more at participating Ritz-Carlton hotels
Upgrade to the Ritz-Carlton Club Level on up to three paid stays of up to seven nights each by using an E-Certificate (but see restrictions as described below)
Complimentary access to airport lounges via Lounge Club
3 Reasons to Get the Ritz-Carlton Rewards Card with $200 Ritz-Carlton Gift Card
1. Up to $400 Airline Incidental Credit ($200 Per Calendar Year) and $200 Ritz-Carlton Gift Card for $395 Fee
If you can manage to max out the $200 per calendar year airline incidental credit and the $200 Ritz-Carlton gift card, the card more than pays for itself, even with the $395 fee that is not waived.
The great thing with the Ritz-Carlton airline incidental credit is that, unlike the AMEX Platinum Airline Fee Credit, you do NOT have to specify one airline for the calendar year for reimbursement. The not so great is that the credit really is supposed to be for incidentals (baggage fees, in-flight food and beverage) so you're less likely to be able to get a $200 gift card, a Premium Economy upgrade or even change fees reimbursed, which greatly limits the usefulness of the credit, especially for elites who already don't pay checked baggaged fees. You may need to instead purchase $50 airline gift cards, keeping in mind that usually you can only use one gift card per ticket.
Note that the $200 Ritz-Carlton gift card can only be used at Ritz-Carltons that participate in the Ritz-Carlton Rewards program, so forget trying to use it at The Ritz London, The Ritz-Carlton Millenia Singapore, Bulgari Resorts, Ritz-Carlton Reserve properties or other non participating properties. Here are the terms of the $200 Ritz-Carlton Gift Card: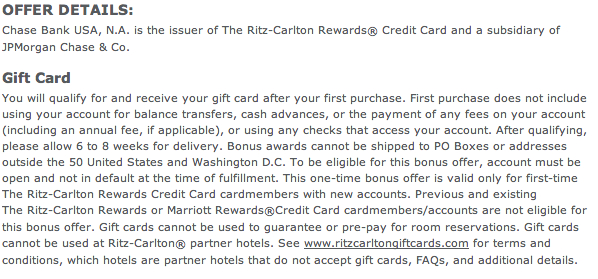 2. Upgrade to Club Level at Time of Booking for Up to 3 Paid Stays Per Account Year
The upgrade to Ritz-Carlton Club Level is great, since it's available at time of booking, if you can find a qualifying rate (see below) that isn't much higher than the best discounted rate you're eligible for. It can be an especially good deal for families with young children who don't have to pay the surcharge for a third or fourth guest to access the Club Lounge (often 12 or 13 and older) but do eat a lot, since a la carte food and beverages can be quite pricey.
If you are able to upgrade to the Club Level for a two or more night paid stay, you can also combine this with the $100 hotel credit for stays of 2 nights or longer.
3. Gold Elite Status
You receive Ritz-Carlton Gold Elite status your first account year, and on subsequent years, you have Gold Elite status if your spend on the card was at least $10,000 the prior account year. So what does Ritz-Carlton Gold Elite Status get you?
Room Upgrade if available (excludes Club Level and Suites)
25% Point Bonus
Free Internet Access
By holding Ritz-Carlton Gold Elite Status, you also have Marriott Gold Elite status, which for folks who stay more at Marriotts may actually be the real reason to get the Ritz-Carlton Rewards Card. It gets you:
Elite Reservation Line, 800-228-2100
Elite Guest Services Line, 800-321-7396
Free Internet Access
Room Upgrade if available
Lounge access (resorts excluded)
25% Point Bonus
4 Reasons Not to Get the Ritz-Carlton Rewards Card
1. 70,000 Ritz-Carlton Rewards Points = 1 Free Night vs. 2 Free Nights with Hyatt Visa or Fairmont Visa
The 70,000 Ritz-Carlton Rewards Points bonus isn't as generous as the 2 complimentary nights at any Hyatt offered by the Hyatt Visa (see Best Park Hyatt to Stay 2 Free Nights with the Hyatt Visa) or the Fairmont Visa (see Fairmont Visa Signature Card Review), since the 70,000 points gets you 1 free night at the top Ritz-Carltons (Tier 5, which includes the Ritz-Carlton New York Central Park, Ritz-Carlton Hong Kong, and Ritz-Carlton Shanghai, Pudong).
Here are the Ritz-Carlton Rewards Points needed per night, by Ritz-Carlton Tier of the hotel: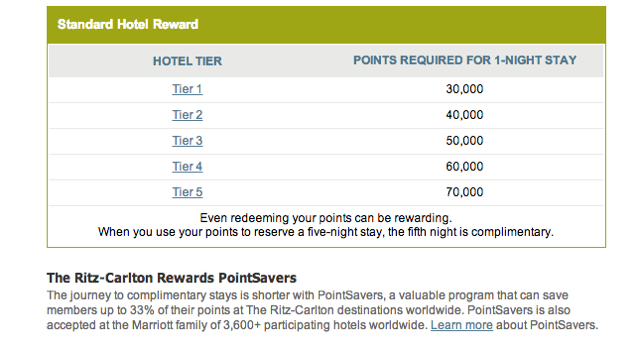 2. The Best Ritz-Carlton Properties Don't Participate in Ritz-Carlton Rewards
Before you get too excited about using your Ritz-Carlton Rewards Points, $200 gift card or Club Level upgrades at Ritz-Carlton Reserve resorts, Bulgari hotels and resorts, or even properties such as the Ritz-Carlton Millenia Singapore, you should know that all of these properties don't participate in Ritz-Carlton Rewards, and are thus ineligible for points stays, Club Level upgrades and gift card use.
3. Ritz-Carlton Club Level Upgrades Only Valid with Rack Rate and Must Call to Reserve
Here's the scoop with this benefit: for most, it overpromises and underdelivers. Why?
The first inconvenience is needing to call the Ritz-Carlton number provided in your Welcome Packet; you cannot book online or email anyone to secure a Club Level upgrade
The eligible rates are typically higher than what you'll find online, on the property Web site, because no package rates or advance purchase discounted rates are eligible for use with the Club Level upgrade
As usual, corporate rates are also not eligible, although some Flyertalk members have reported managing to combine them–they were fortunate, and this is not the norm
Cannot be combined with any consortia amenities, such as Virtuoso or AMEX Fine Hotels and Resorts
4. Another Chase Card
Since this is another Chase card for your wallet, and Chase often will not approve more than 1-2 personal cards at a time, you'll want to weigh whether getting this card might interfere with getting other Chase cards that may be worth more to you.
If you have the Ritz-Carlton Rewards card, what's been your experience with it?
Related Posts
Ritz-Carlton Credit Card Review: 70,000 Points Offer Worth It?
Ritz-Carlton Millenia Singapore Review
Best Marriott Hotels and Resorts to Stay at Free With the Marriott Visa
Virtuoso Confirmed Upgrades at Time of Booking: Top 10 Hotels
Top 20 Four Seasons Third and Fourth Night Free Offers in 2013
Need Award Booking Help? Our fee is as low as $75 per ticket if you book your hotel through us.
If you enjoyed this, join 90,000+ readers: please follow TravelSort on Twitter or like us on Facebook to be alerted to new posts.
Become a TravelSort Client and Book Your Hotel with Virtuoso or Four Seasons Preferred VIP Amenities!