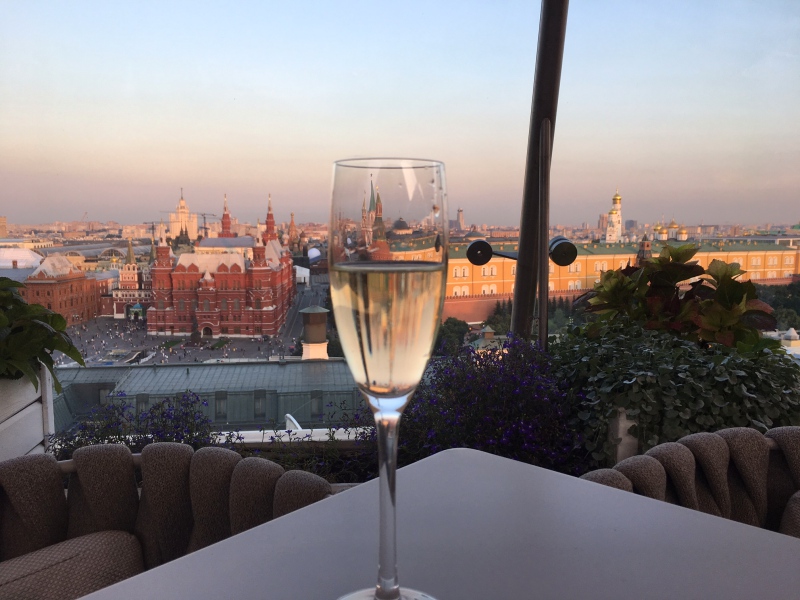 This Ritz-Carlton Moscow Club Lounge Review is from our recent August 2017 stay, about 10 years after my prior stay at the hotel, soon after it opened. It's always interesting to see to what extent a hotel has maintained standards, particularly in the service arena, a key differentiator for luxury properties.
Visiting Moscow? See all our posts tagged Moscow and Russia.
Ritz-Carlton Moscow Club Lounge Benefits and Hours
The Ritz-Carlton Moscow Club Lounge is located on the hotel's 11th floor, and is open 7 am to 11 pm daily. It offers 5 complmentary food and beverage presenations daily:
Breakfast: 7 am to 11 am
Light Lunch: 12 noon to 3 pm
Afternoon Tea: 3:30 pm – 5 pm
Hors d'oeuvres: 6 pm to 8 pm
Desserts and Cordials: 8 pm to 11 pm
Additional benefits include:
Check-in and check-out in the Club Lounge
Dedicated concierge service
Complimentary pressing for two items per day
1 complimentary hour of meeting room usage, advance reservation required
This was our letter: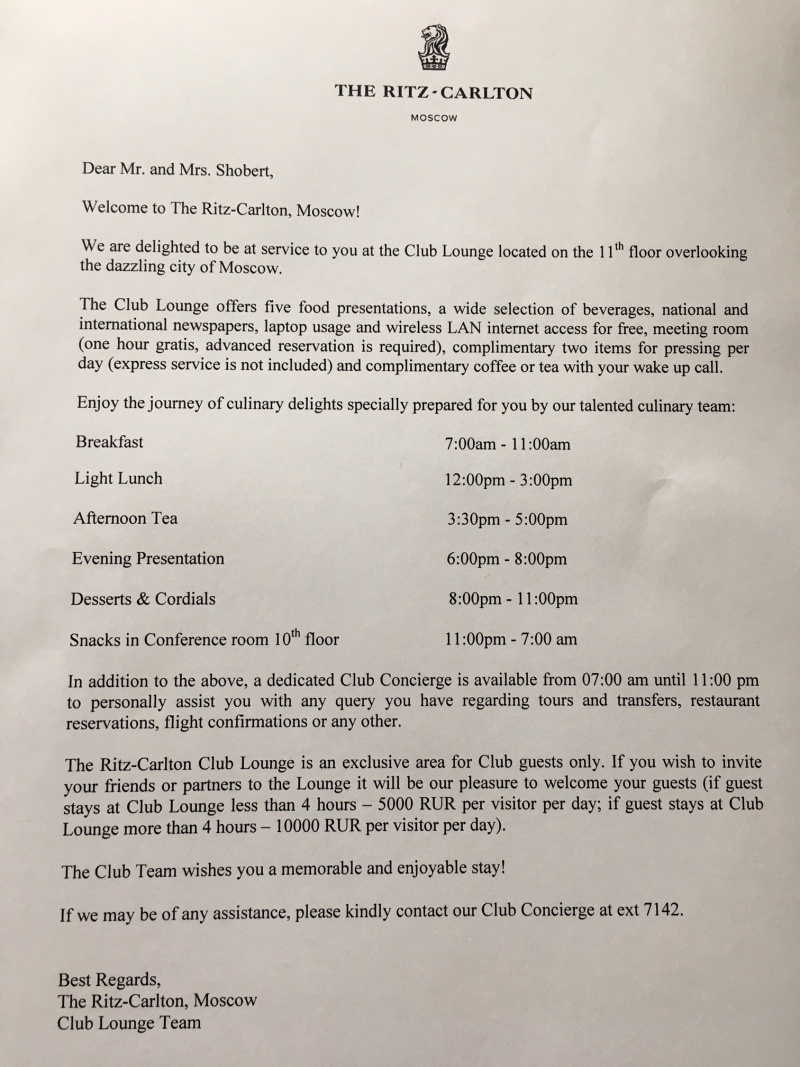 The lounge itself has a number of tables and comfortable seats set up for dining, and there's also a sofa and TV area if wanting to watch the news.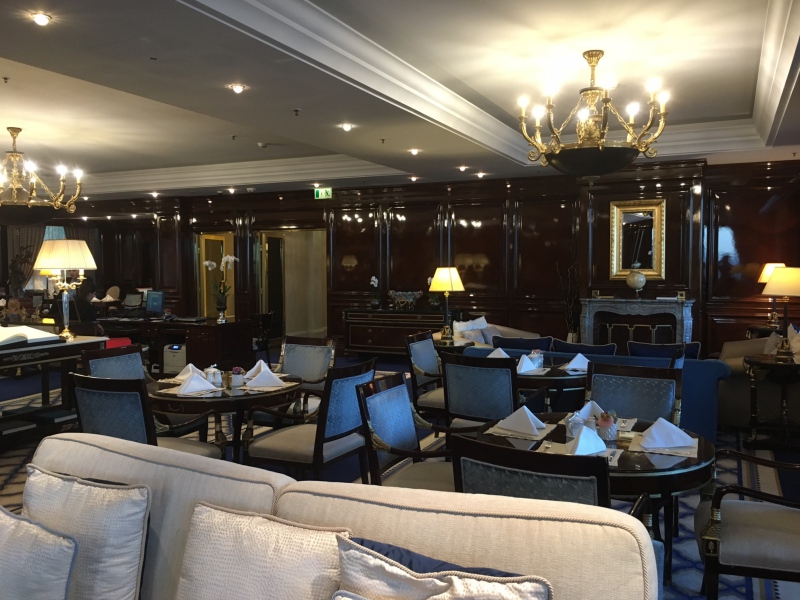 My favorite part, however, was the outside terrace, with its view of the Kremlin: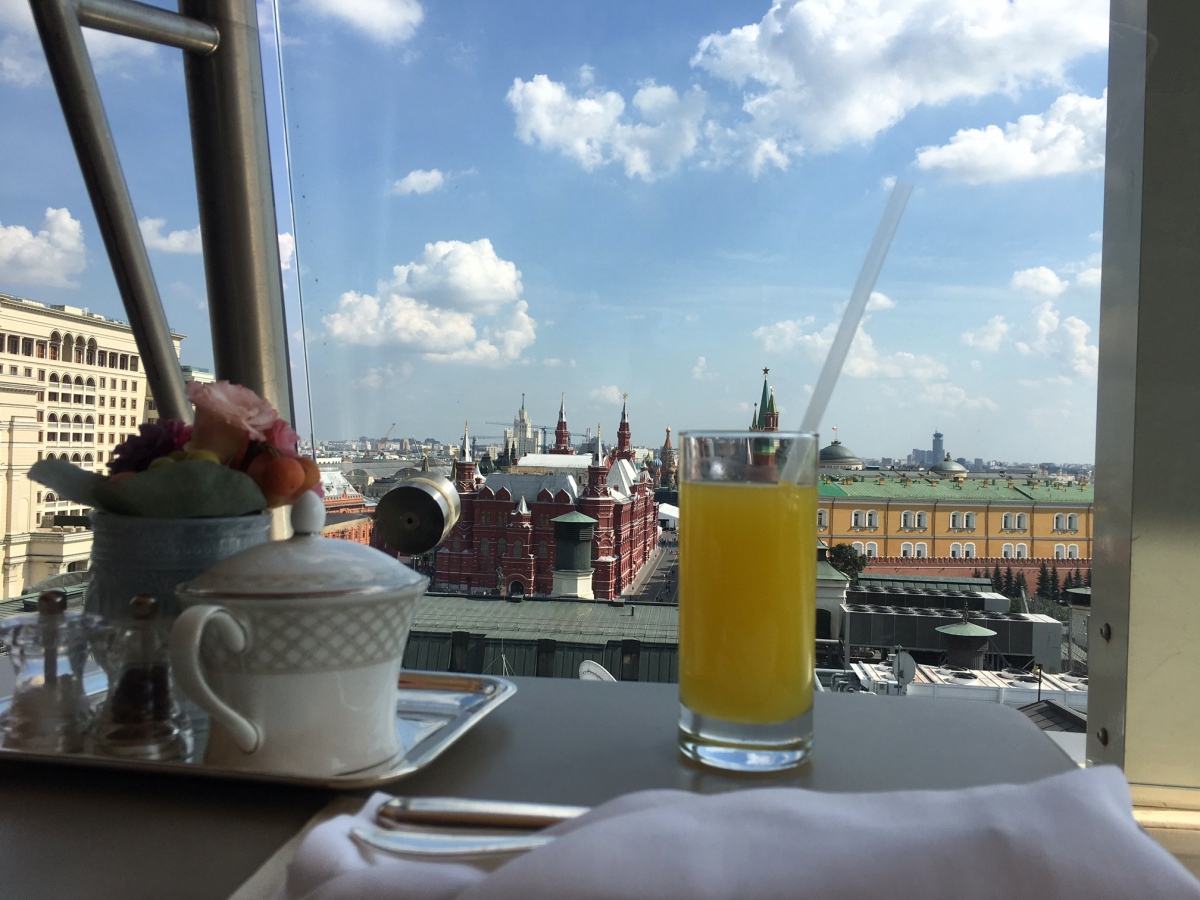 Lunch, Ritz-Carlton Moscow Club Lounge
We checked into the Ritz-Carlton Moscow Club Level during its lunch presentation, and since our room wasn't quite ready, we enjoyed lunch while we waited.
A buffet offered various cold cuts and cheeses, my favorites of which were the smoked salmon and unagi (grilled eel).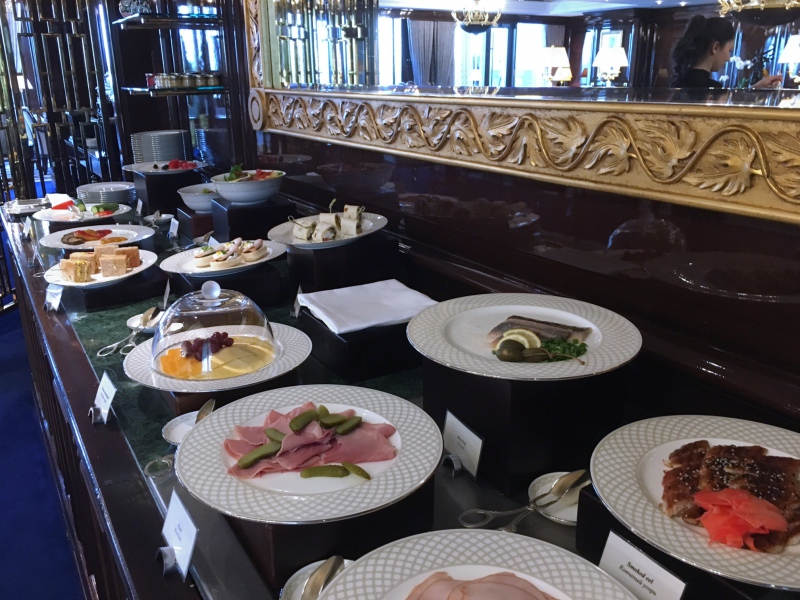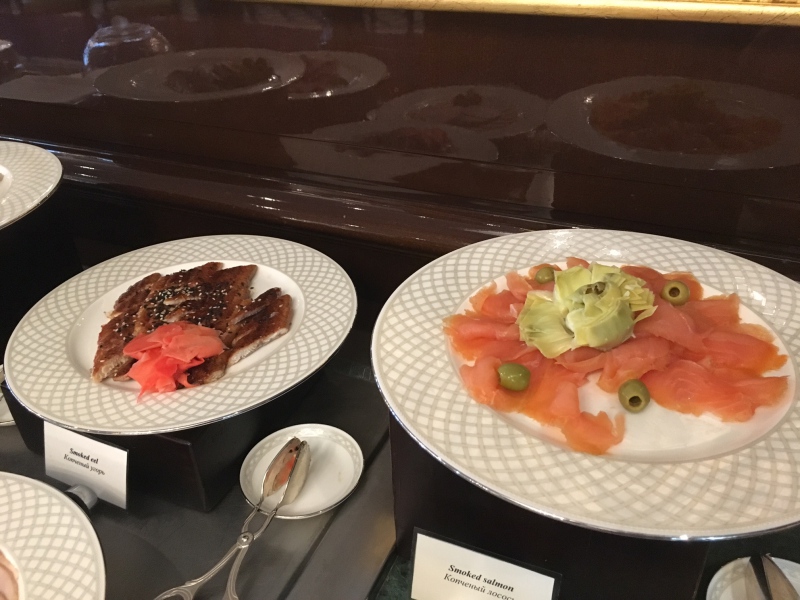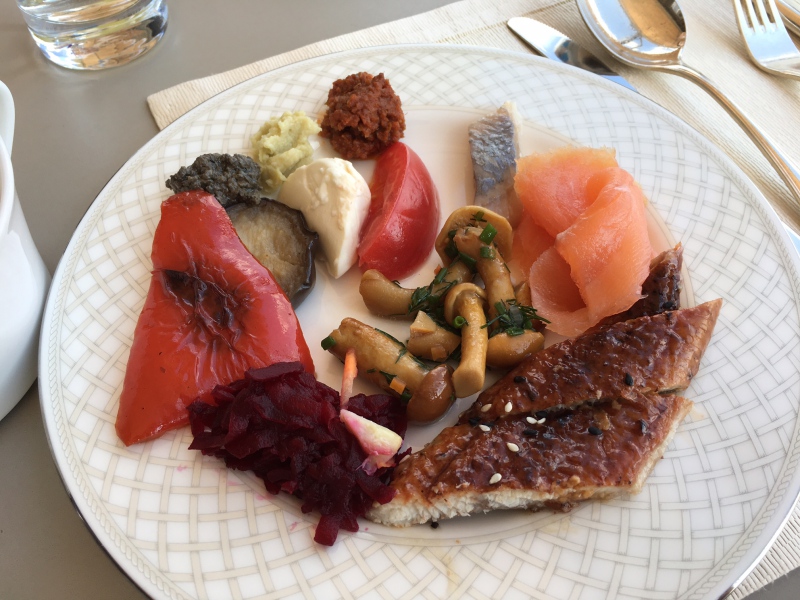 I liked that there were several whole fresh fruits on offer; the doughnut peaches were especially sweet.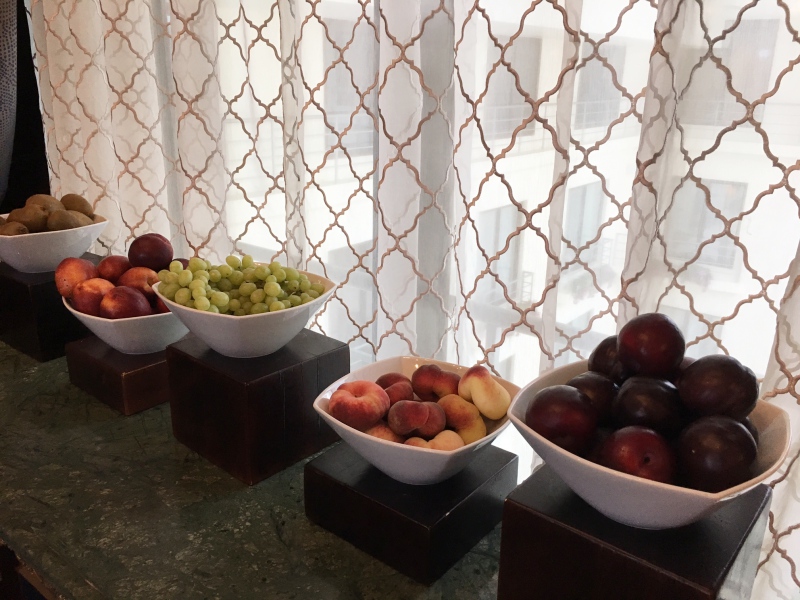 The desserts weren't that impressive, but the chocolate and cacao nib cookies were excellent.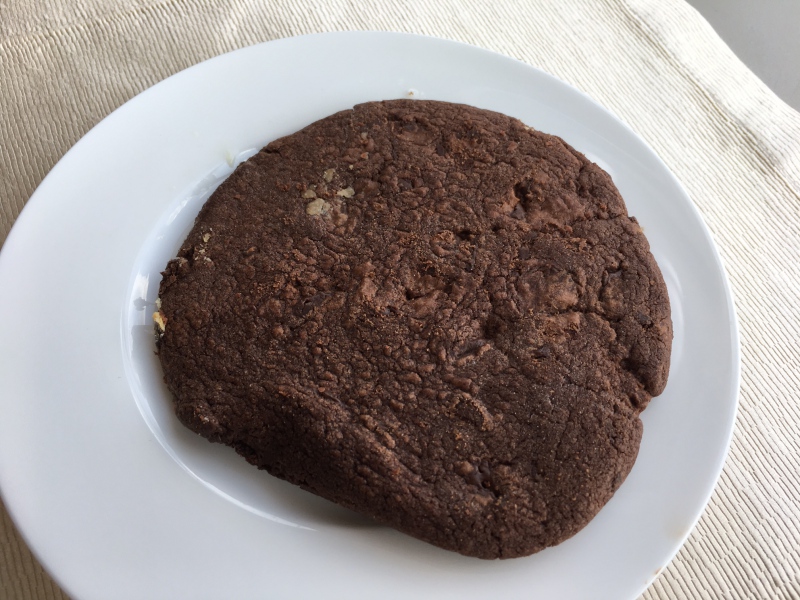 Here's a quick video of the rest of the lunch offerings:
Evening Hors d'Oeuvres and Desserts, Ritz-Carlton Moscow Club Lounge
A number of items on the buffet appeared to be repeated from lunch, such as cold cuts, dips, and salads, but there were also three evening hors d'oeuvres, all of which were delicious. We especially enjoyed the fresh crab with corn, and the grilled quail, although the salmon was also tasty.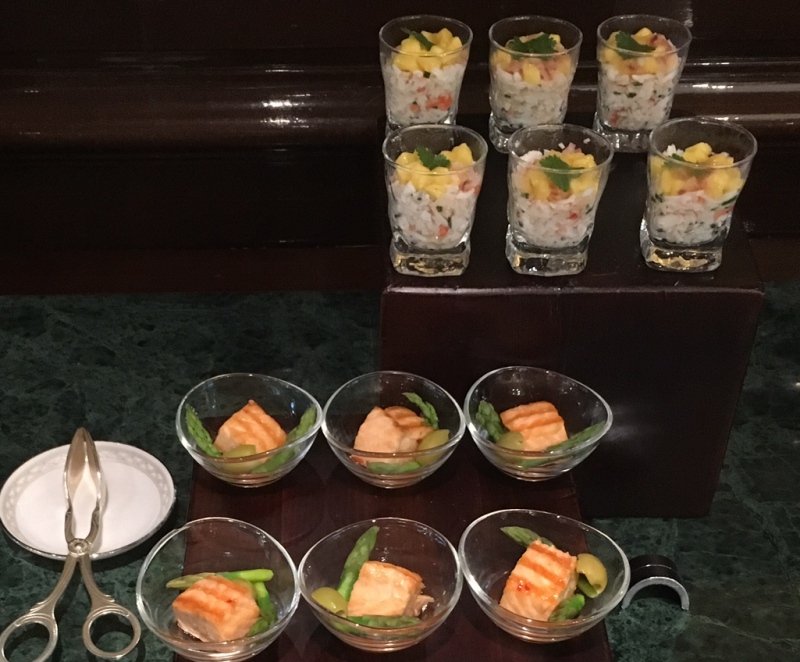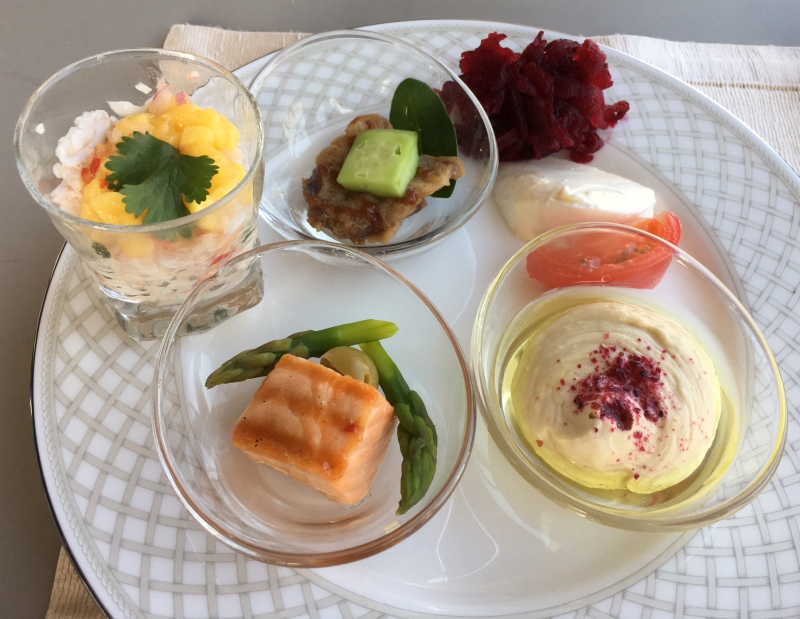 On the outside terrace, which is a fantastic place to enjoy drinks and hors d'oeuvres with a view of Red Square, there was a chef preparing blini with sweet toppings: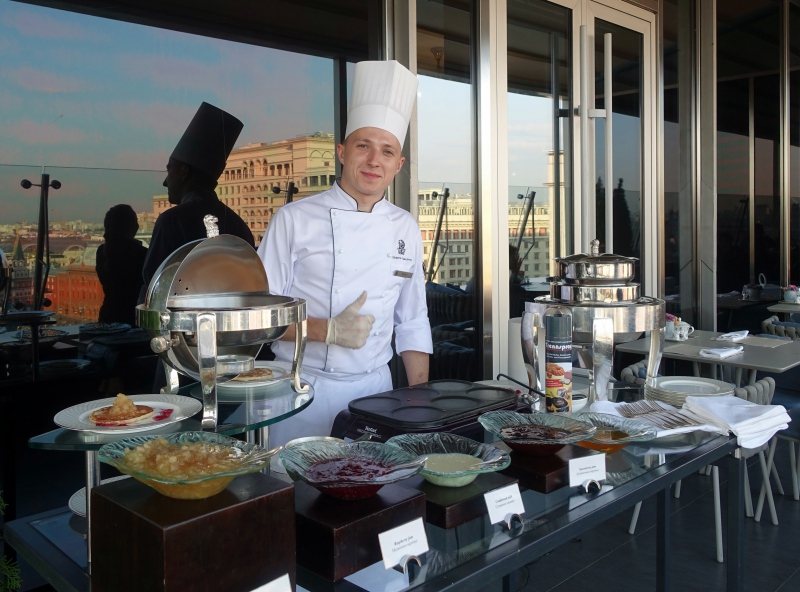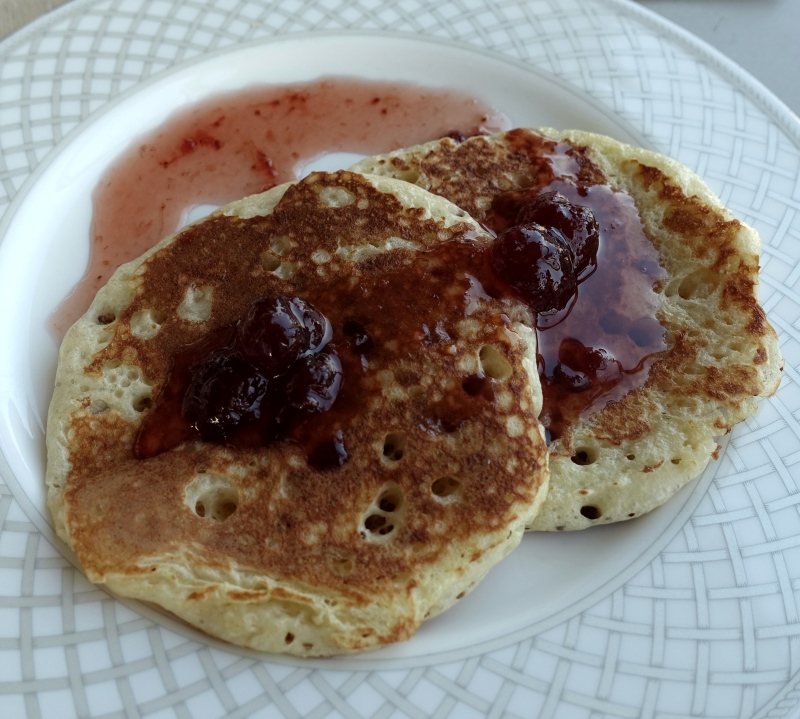 Later on that evening, when I was doing some work in the lounge, I decided to have a slice of apple tart. It was quite good, and better than the cakes on offer.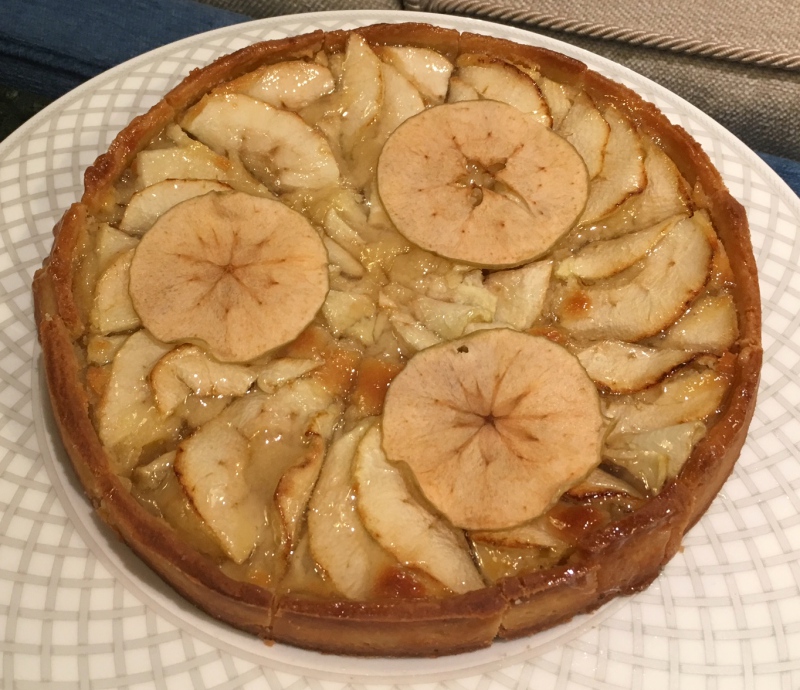 Sabrage at O2 Lounge Terrace, The Ritz-Carlton Moscow
When we checked in, we were given a certificate for a complimentary sabrage, or champagne opening. While I'm not much of a champagne drinker, I was curious to see a champagne bottle opened with a saber. The setting was lovely, on the terrace of the O2 Lounge.
My son was visibly excited when he found out he'd be participating in the sabrage: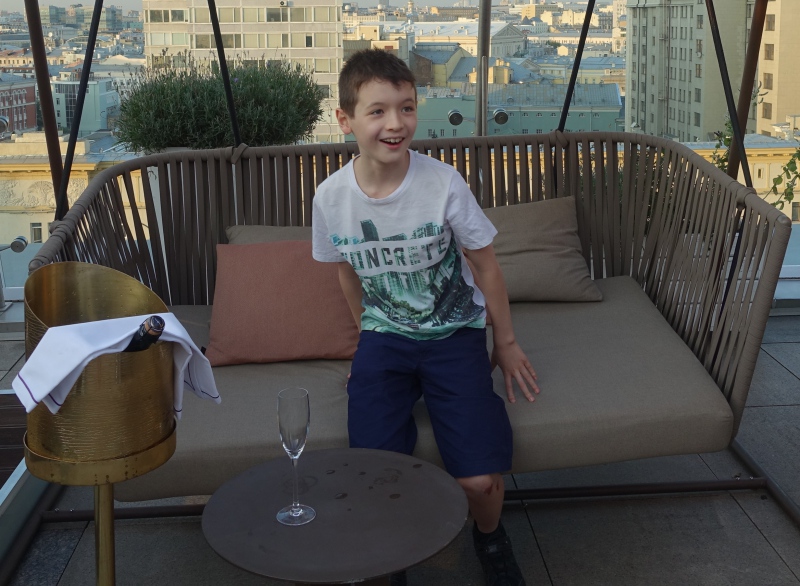 And here he is holding the bottle, while the master of sabrage opened it:
Our Sabrage Master kindly let my son don her sabrage jacket for a photo opp: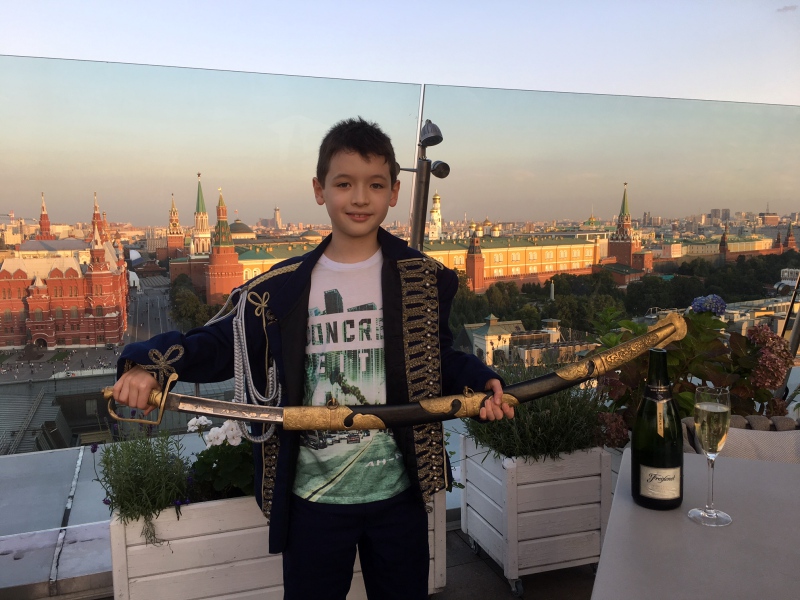 Breakfast, Ritz-Carlton Moscow Club Lounge
Breakfast in the Club Lounge features a cold and hot buffet, with a variety of fresh cut fruits, whole fruits, juices, cereals, breads, cheeses, cold cuts, hot porridge (oatmeal, buckwheat), bacon, and boiled eggs.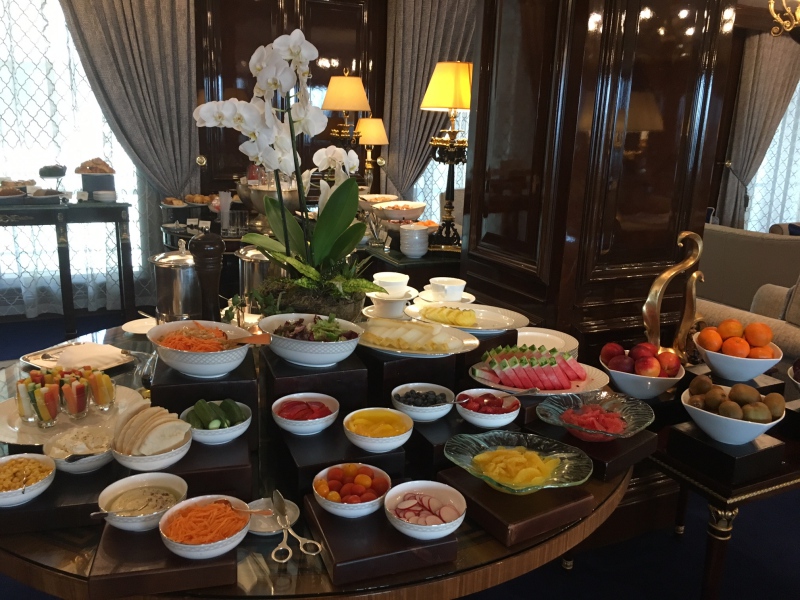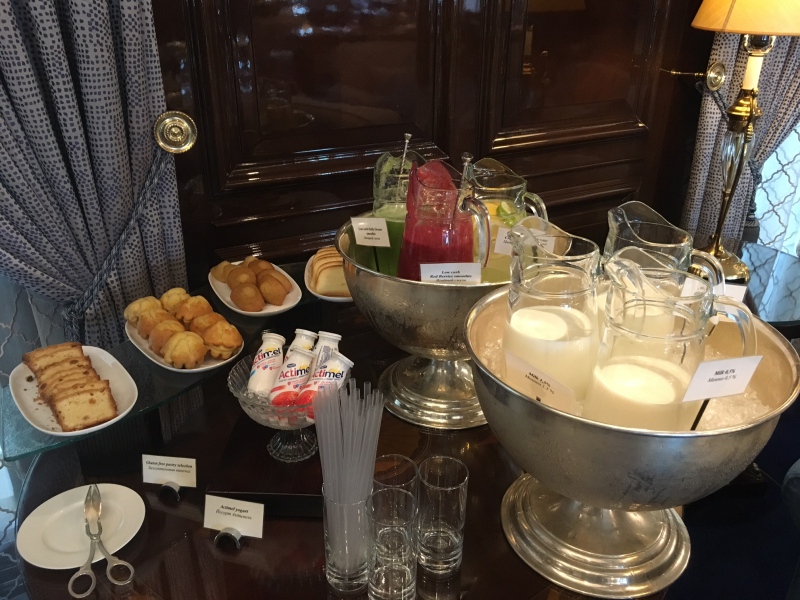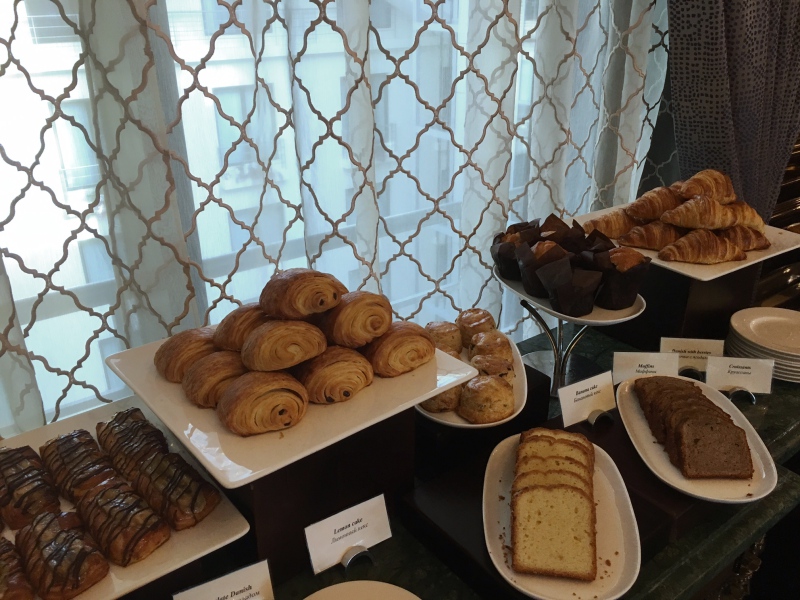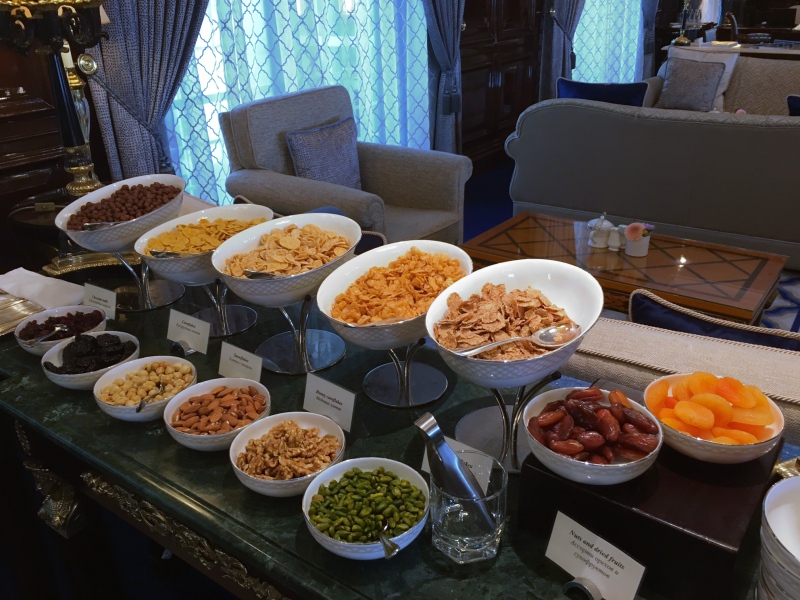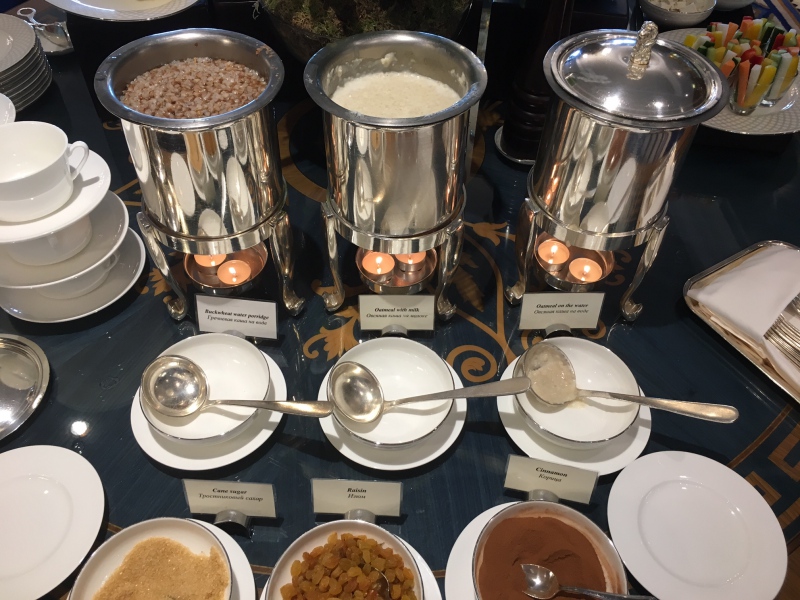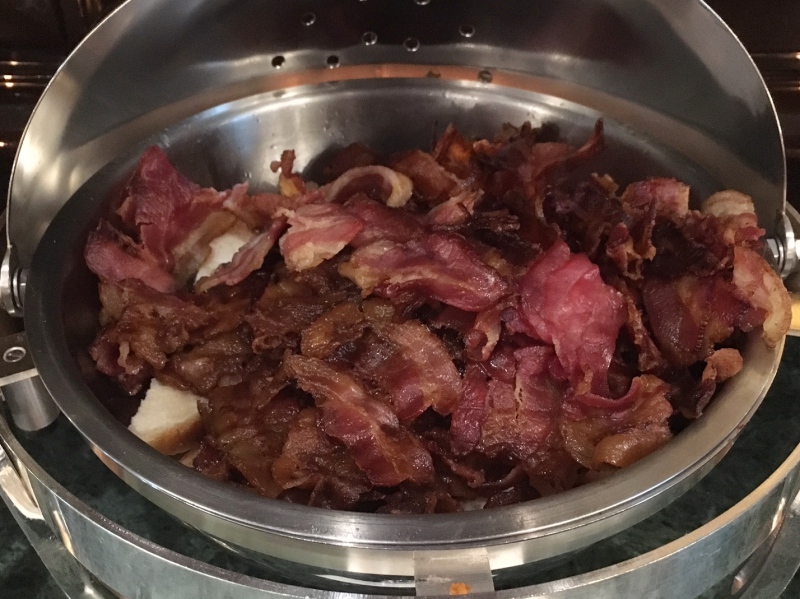 There was also a sign letting guests know that eggs could be made to order, so we ordered omelets with cheese, spinach and mushroom: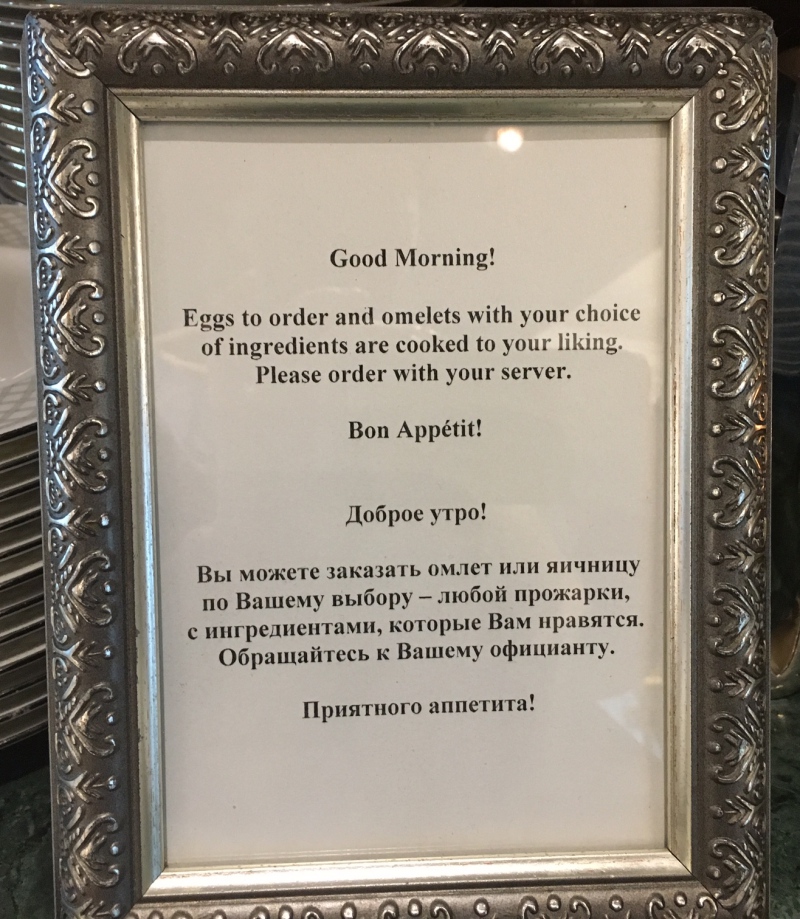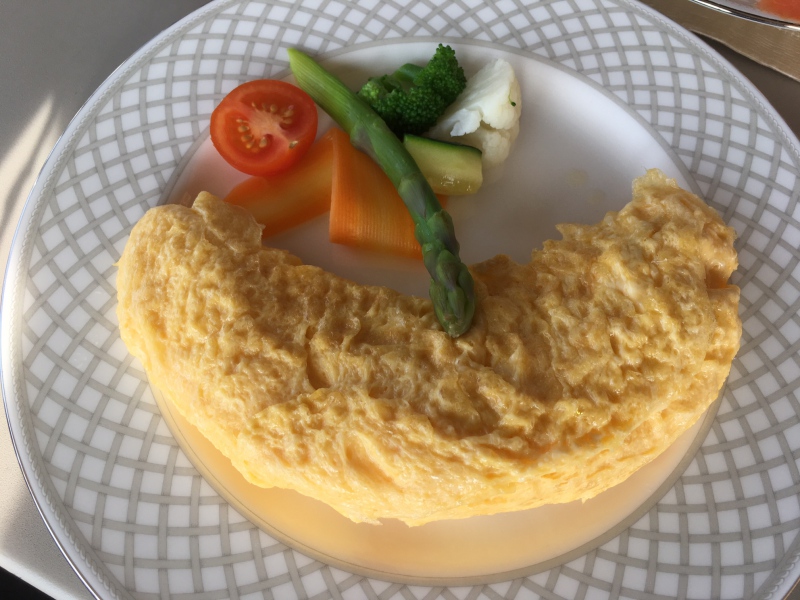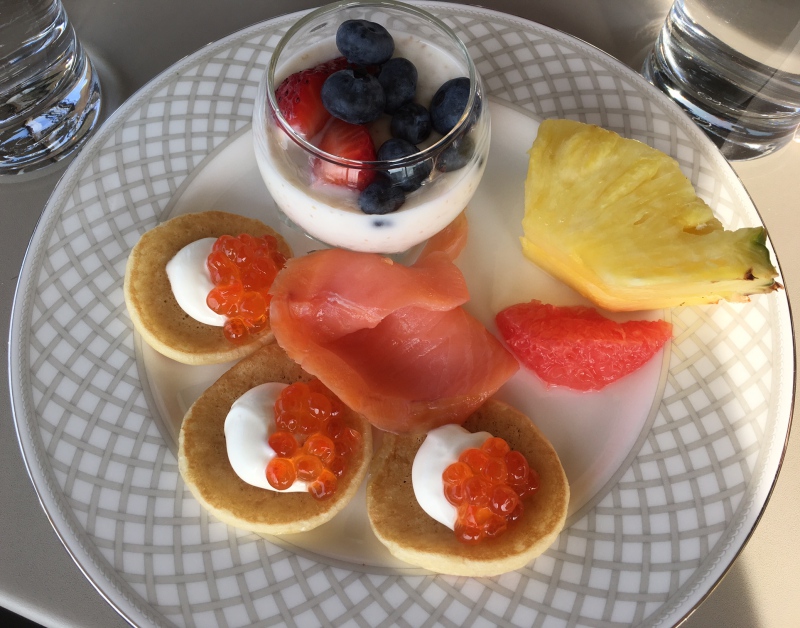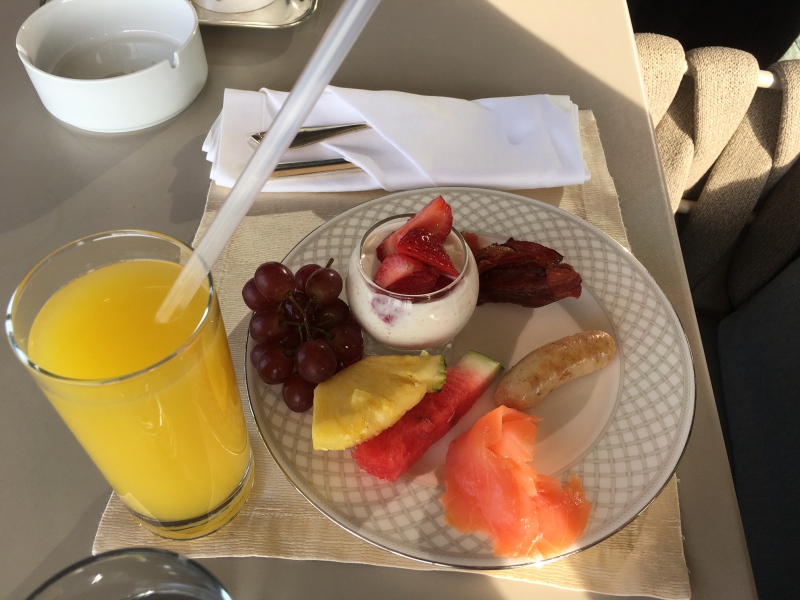 We sat on the terrace again, but the sun is quite glaring, so I'd probably eat inside next time, and save the terrace for afternoons and evenings.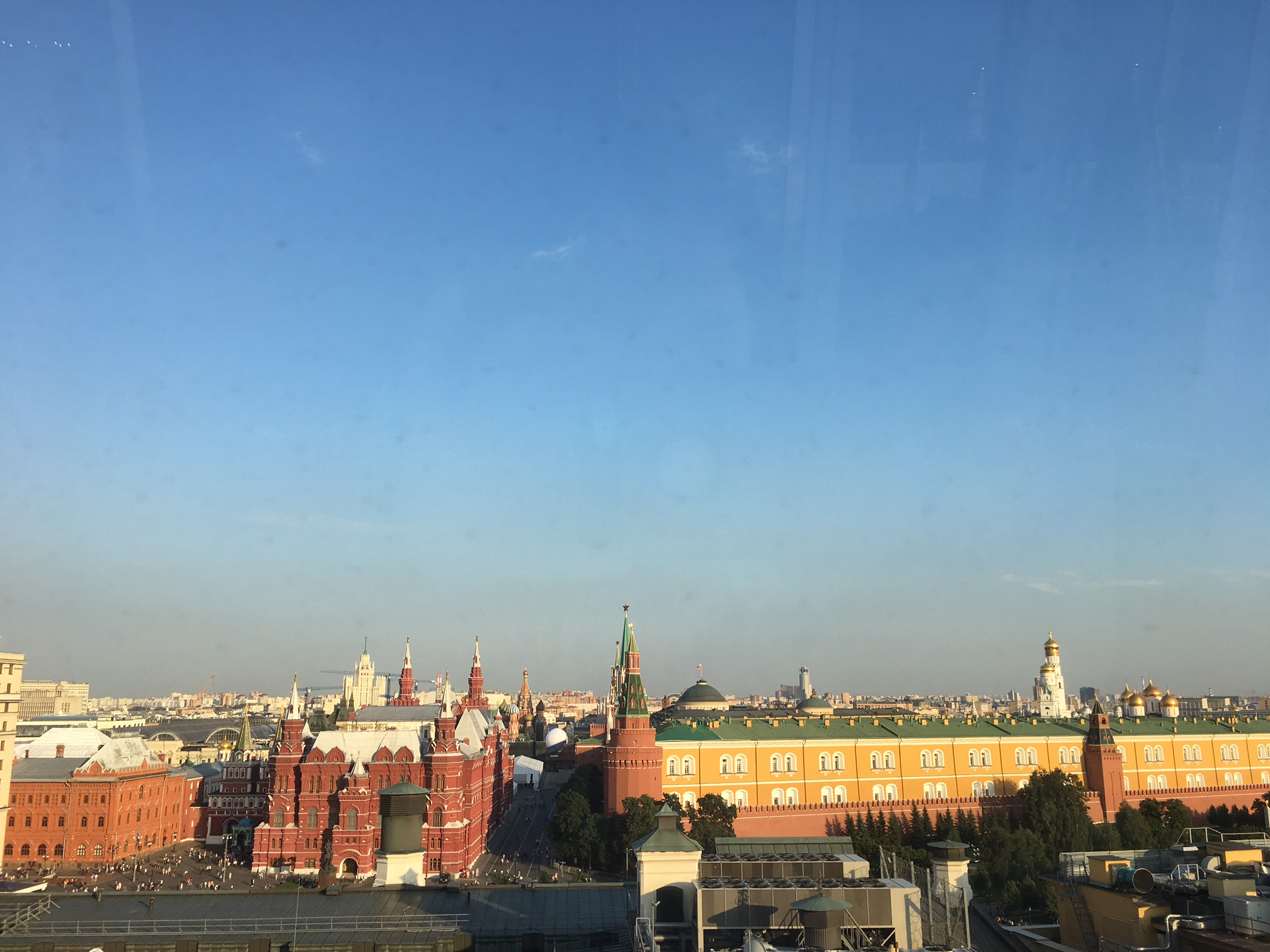 The Verdict
We enjoyed the Ritz-Carlton Moscow Club Lounge, particularly the fantastic views of Red Square from the terrace, the attentive service, the fresh squeezed orange juice, the evening hors d'oeuvres, and breakfast, including blini and caviar. The lounge was never crowded, so it was one of the most relaxing and tranquil Ritz-Carlton Club Lounges I've visited.
Service was every bit as good as I remembered from a visit 10 years ago, soon after the hotel had opened, and while there weren't savory blini with caviar in the evening, the chef making blini accompanied by jams and sweet toppings for dessert was a lovely touch. And there were mini blini with red caviar as part of the breakfast spread. The key areas for improvement, based on my visit, would be to double check that the Club Lounge welcome letter is addressed correctly (ours was addressed to other guests); not make fish one of the hot covered dishes for dinner, since it gets overcooked and dried out so easily; and offer syrniki at breakfast, along with high quality jams (Bonne Maman is ok but too sweet; d'Arbo or Agrimontana have higher fruit content, or better yet, housemade high fruit content jams). I'd also recommend using bread and pastries from Volkonsky (Maison Kayser) which is in Moscow, as its breads and pastries are higher quality than what was available in the lounge.
If you've recently visited the Ritz-Carlton Moscow Club Lounge, what was your experience?
Recommended Posts
Review: Ritz-Carlton Moscow, Club Room
Ritz-Carlton San Francisco Club Lounge Review, 2017
Top 13 Virtuoso 3rd Night Free and 4th Night Free Offers Fall 2017
Top 10 Luxury Hotel Perks, No AMEX or Loyalty Program Needed
Disclosure: I paid for my stay, using a travel professional rate. The views expressed in this post are my own.
Need Award Booking Help? Our fee is as low as $75 per ticket if you book your hotel through us.
If you enjoyed this, join 200,000+ readers: please follow TravelSort on Twitter or  like us on Facebook to be alerted to new posts. 
Become a TravelSort Client and Book the Ritz-Carlton with Virtuoso or Ritz-Carlton STARS Benefits!