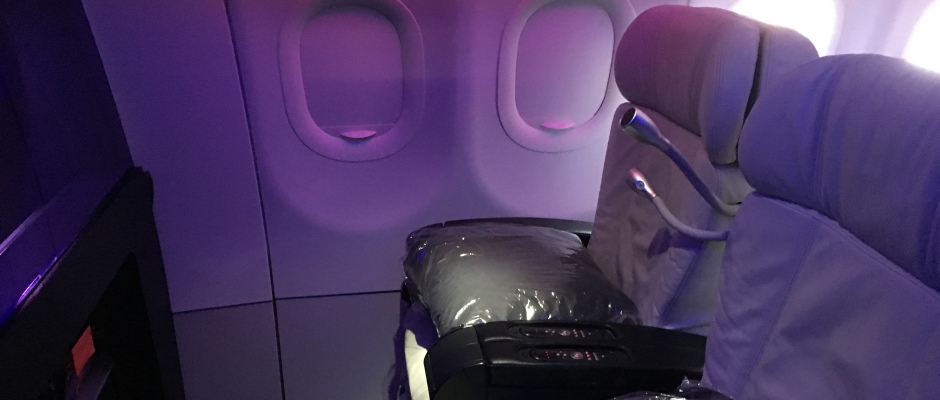 This Review of Virgin America First Class on an A320 from New York JFK to San Francisco SFO is from our recent 2017 trip, booked with Alaska Mileage Plan miles. Virgin America was acquired by Alaska Airlines in 2016, and earlier in 2017 Alaska announced that the Virgin America brand will go away by sometime in 2019, even though Alaska will fly with a mixed fleet for at least the next 6 years.
Visiting the San Francisco Bay Area? See all posts tagged San Francisco.
If departing out of New York JFK, Virgin America flies from Terminal 7. The gate waiting area seemed like a shabby afterthought, and the restrooms were quite dirty.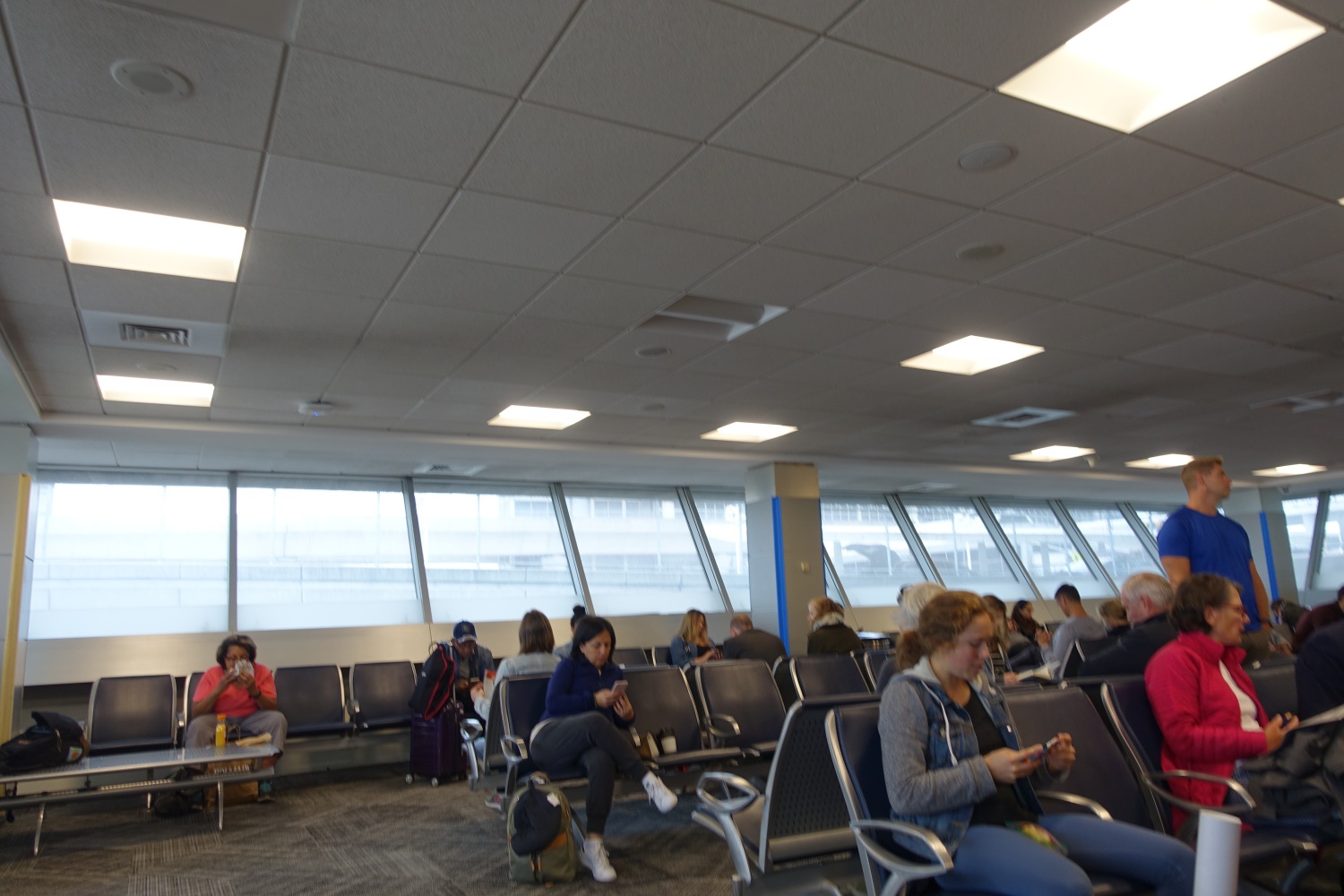 Virgin America A320 First Class Cabin and Seat Selection
Virgin America has just 8 first class seats in a 2-2 configuration across two rows. We were seated in bulkhead row seats 1C (my husband, since he always prefers an aisle seat), aisle seat 1D (me) and window seat 1F (our son). In general this would be fine, except that on this West-bound flight, we really should have opted for the second row–more on this later.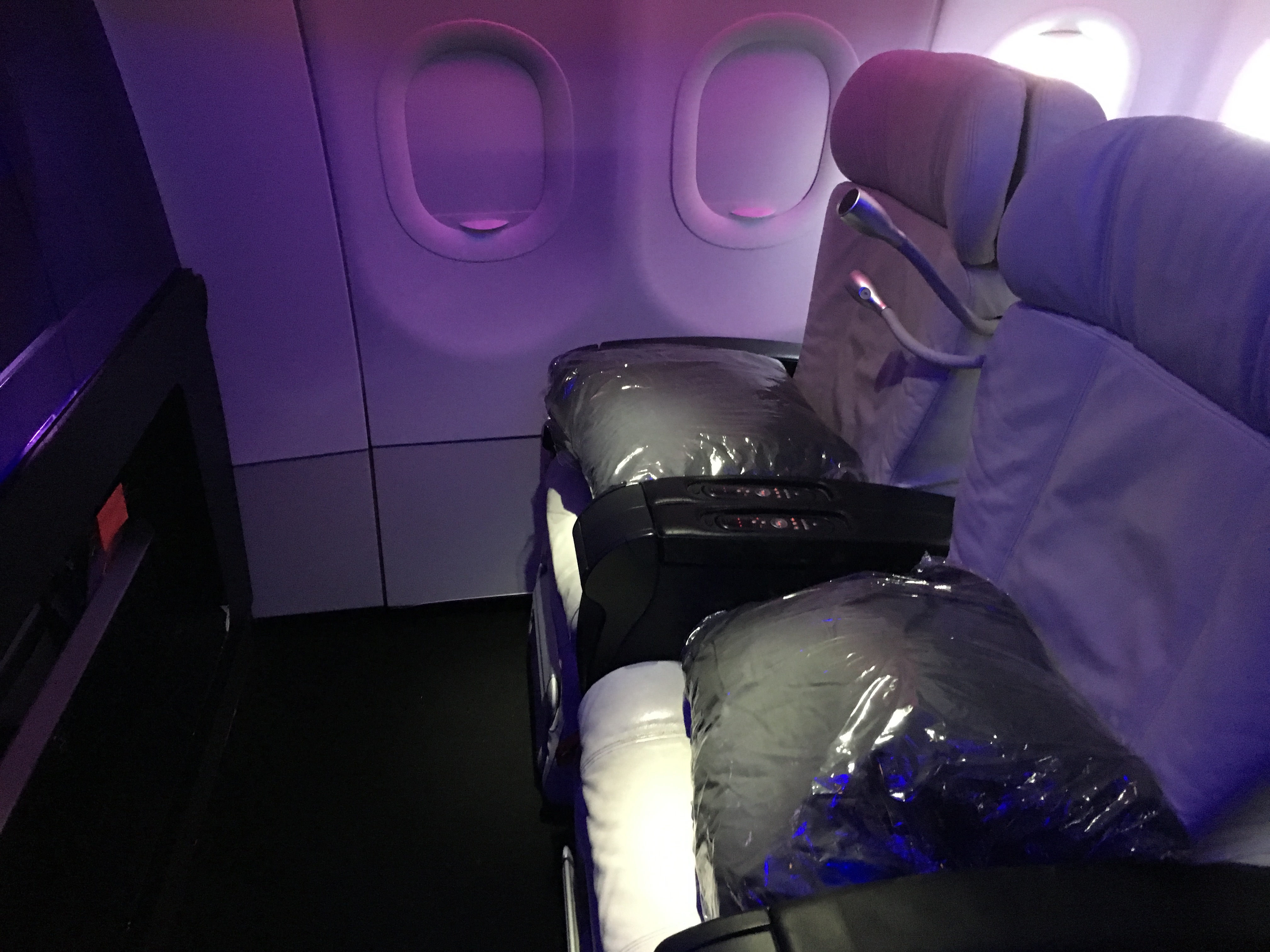 On the day we were flying, the wildfires in Santa Rosa were still raging and initially we were told there would be a 3-4 hour delay in taking off. We were allowed to deplane for awhile, and fortunately the actual delay was a bit less than 1 hour. Meanwhile, we were served pre-flight drinks, which were cranapple juice for my son, and coffee for me.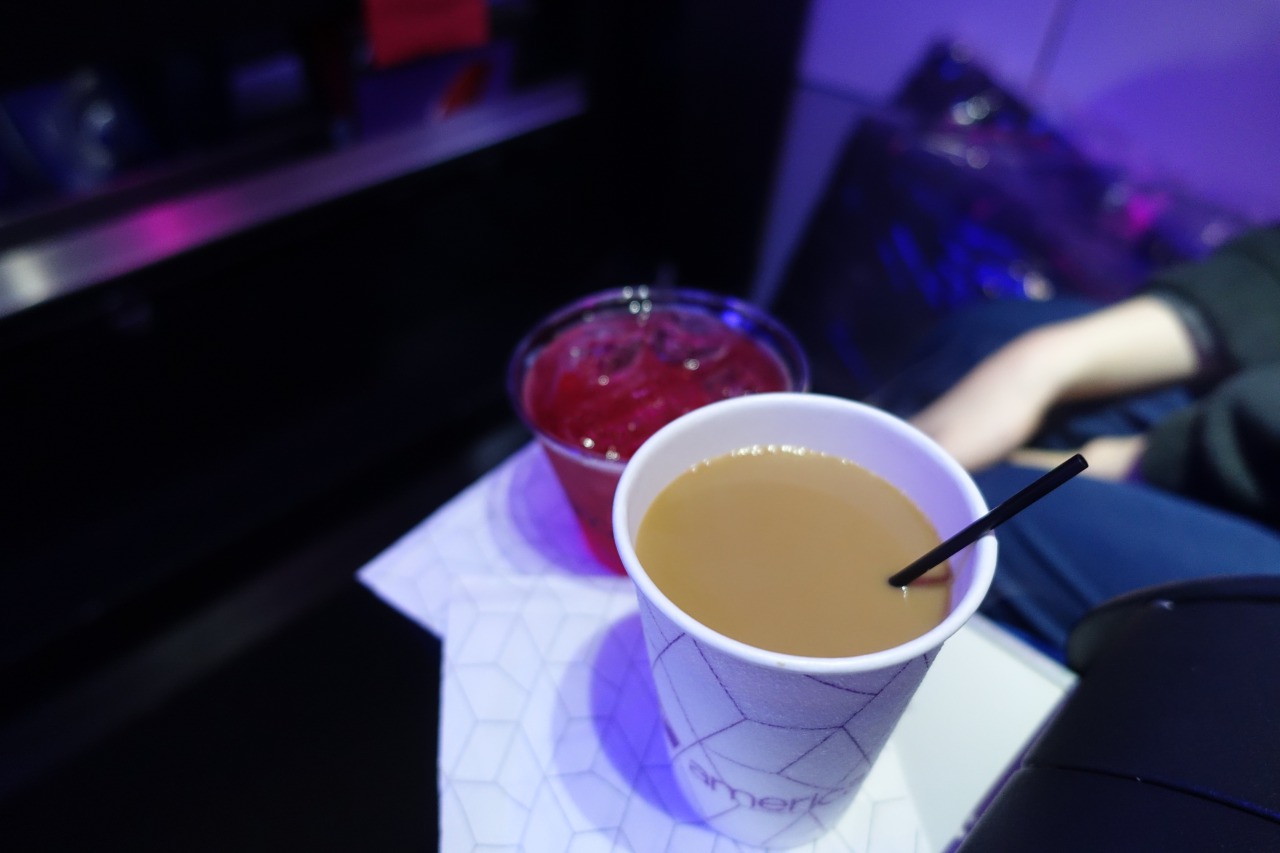 Given the delays, our son had fun with the mood lighting, making shadow figures: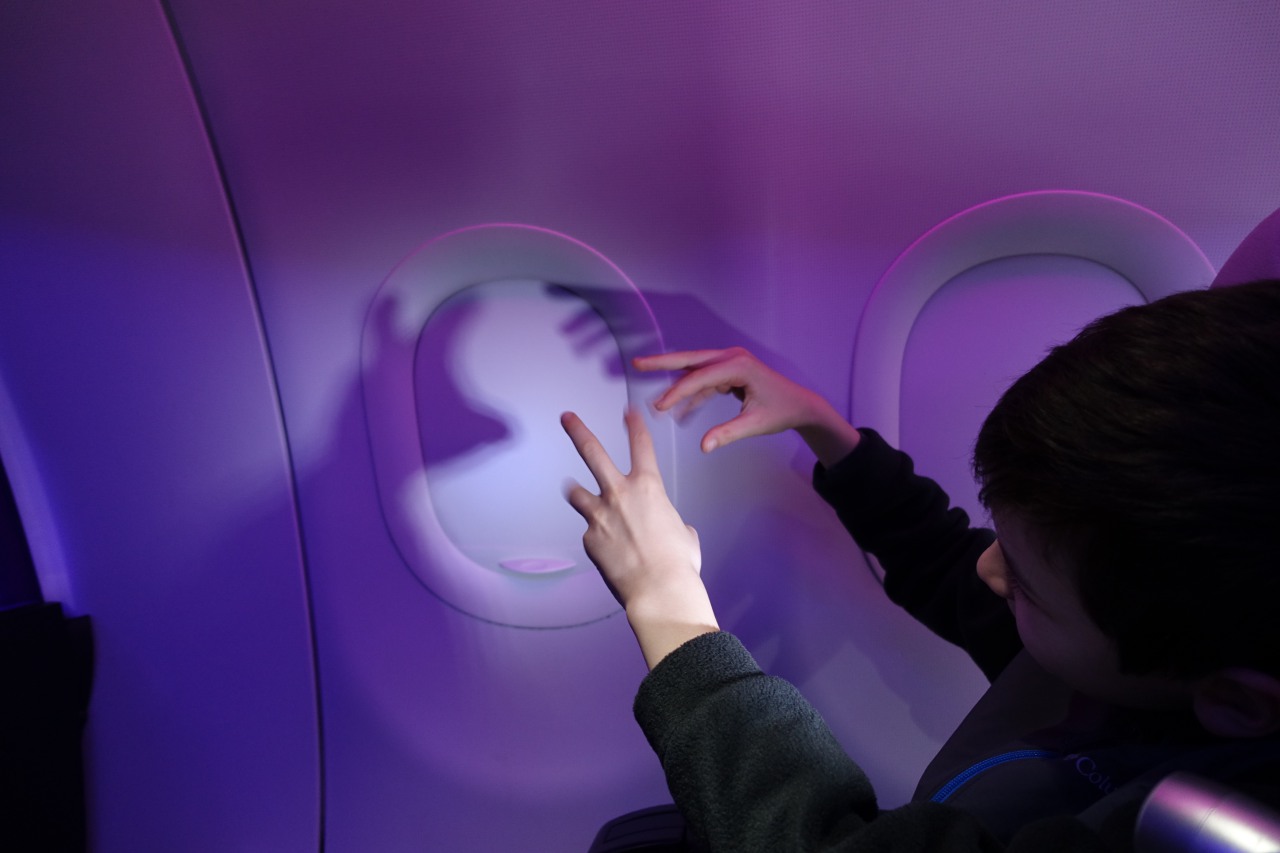 Virgin America A320 First Class Seat and Amenity Kit
The Virgin America First Class seat started operations in 2007, and while its white leather first class recliner seat was great at the time it debuted, it's rather passé now, given all the flat bed seats available on transcontinental (and even some other) routes: American Airlines A321 First Class, American Airlines A321 Business Class, and of course JetBlue Mint, which even has 4 suites (free of charge to select, if you book early enough that they're available).
It's not too much of an issue on day-time flights, and certainly the seat, which is 55 inches wide, reclines far more than Alaska Airlines First Class seats, which are some of the most uncomfortable domestic first class seats I've ever come across. It's honestly amazing to me that Alaska manages to engender the customer loyalty it does, with such horrible domestic first class seats, but back to the topic at hand.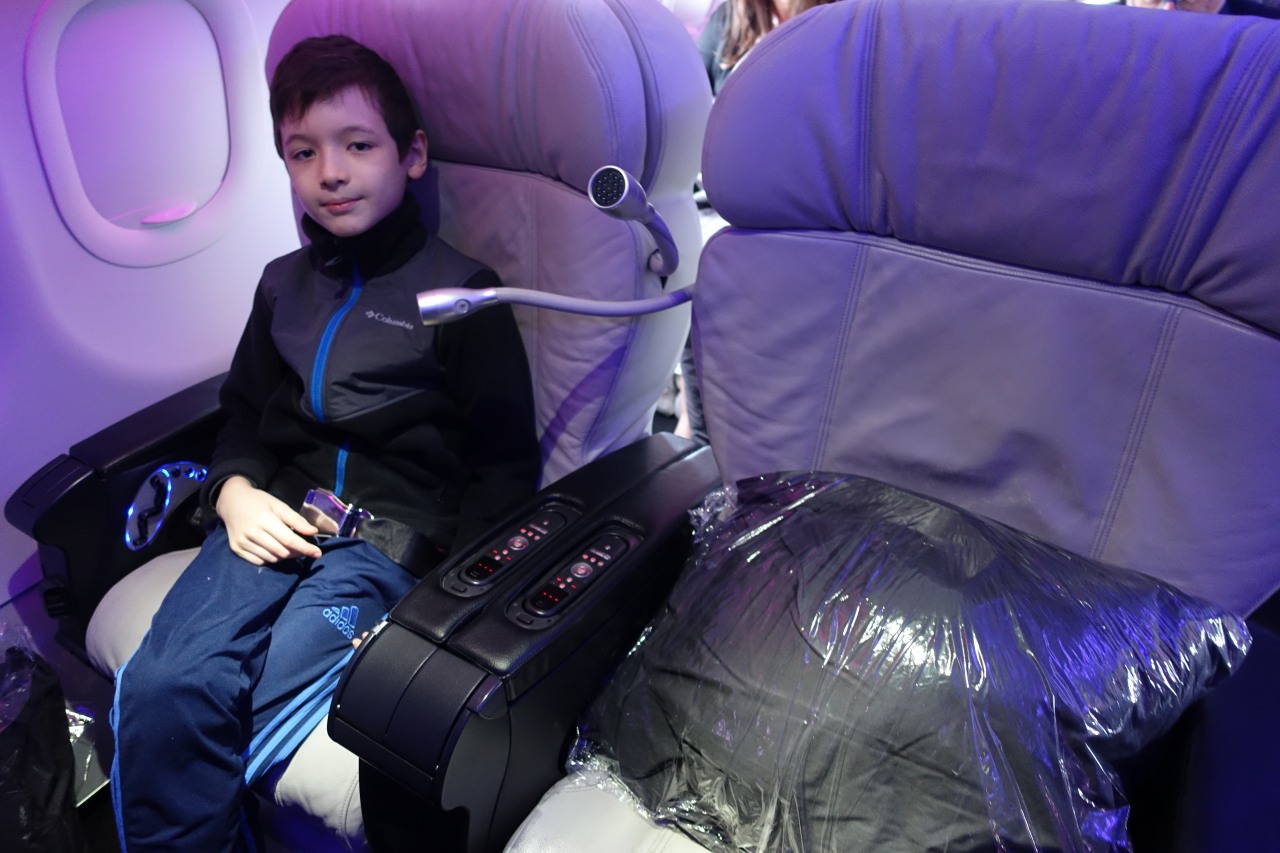 For bulkhead seats, the IFE screen folds into the middle arm-rest, which is also where the IFE controls are.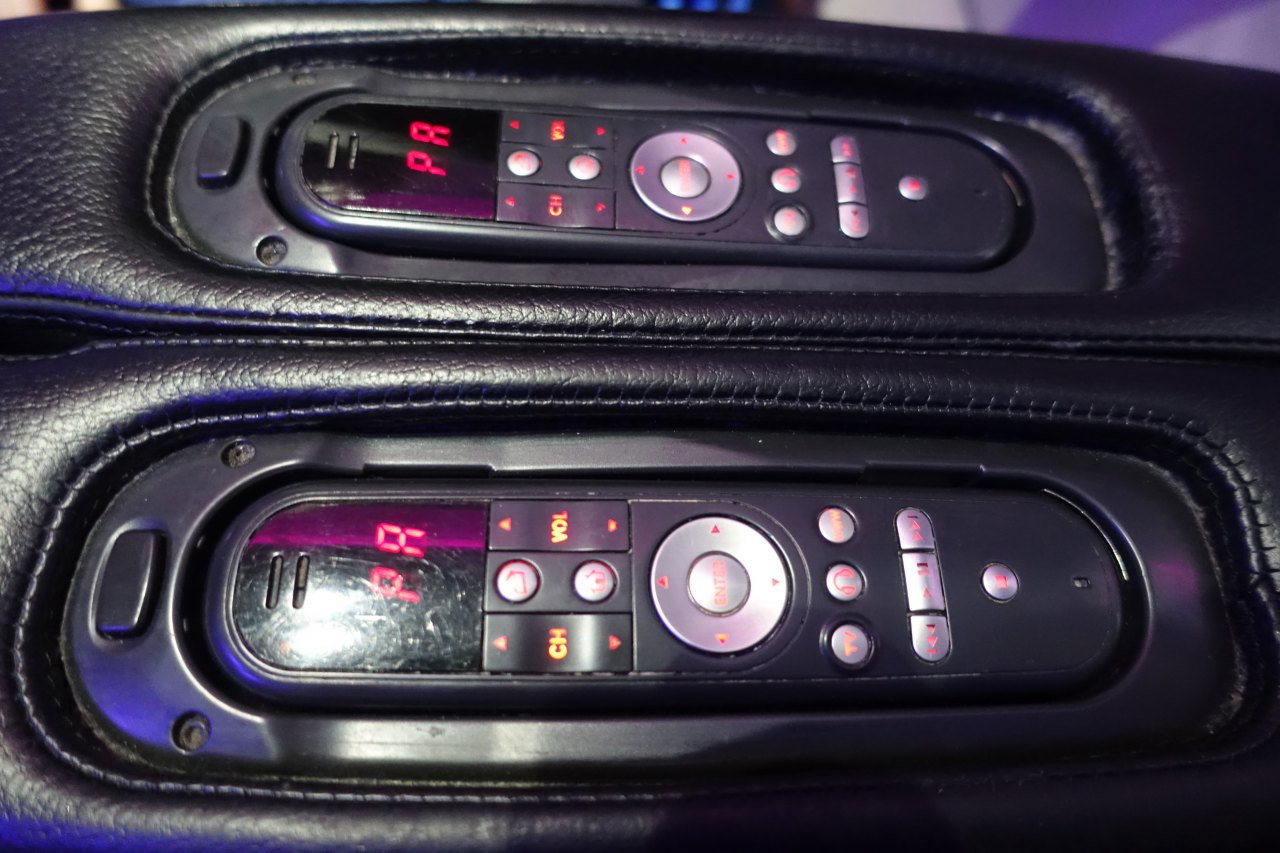 Seat controls are manual, and you can adjust the back of the seat separately from the leg rest. If you're in a window seat, note that, as is often the case, when the aisle passenger fully reclines his/her seat and extends the leg rest, you'll have to awkwardly step over their legs to get to the aisle, unless they retract their leg rest.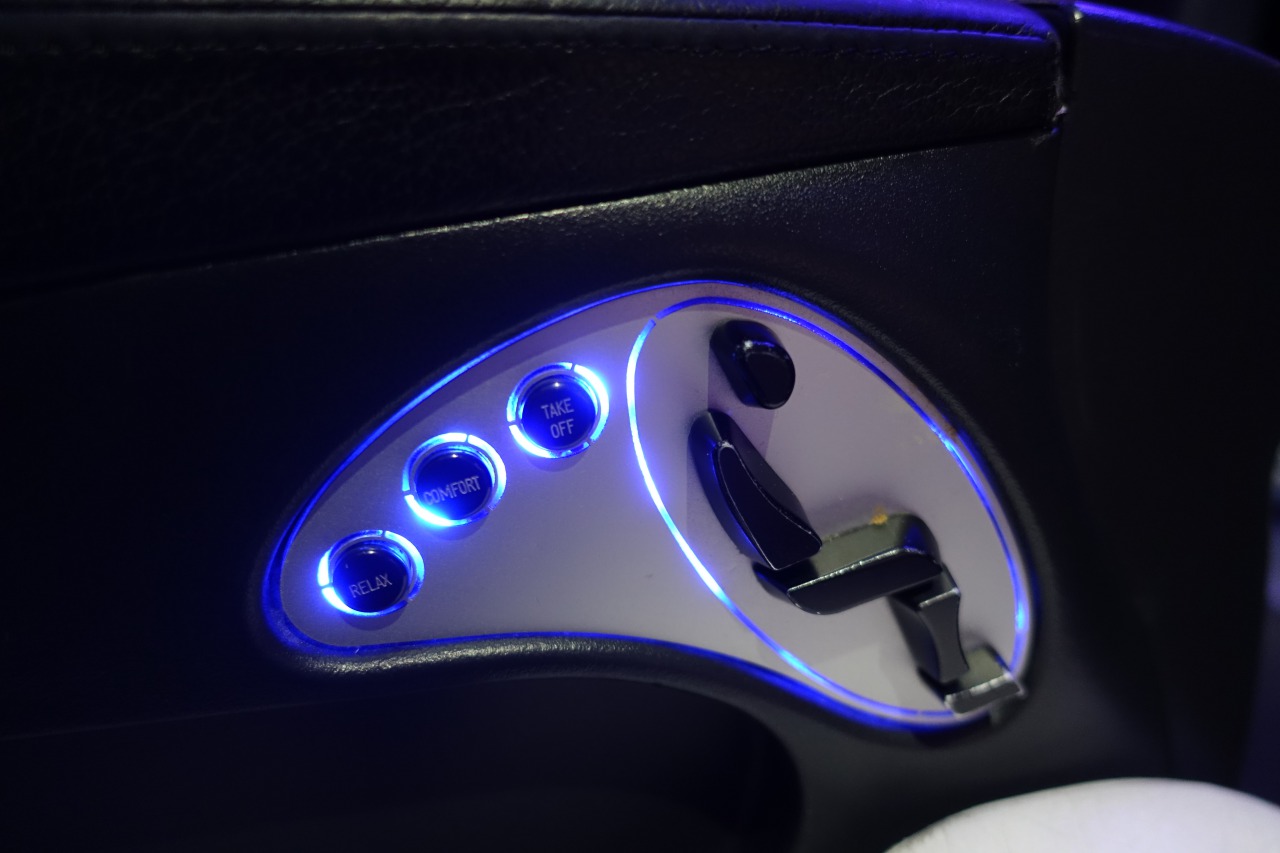 Seats came with a pillow and a comforter, which my husband immediately put to use as it was very chilly even before take-off.
There was also a little round amenity kit, each of them themed for a destination served by Virgin America. The contents were an ill-fitting sleep mask and small pen.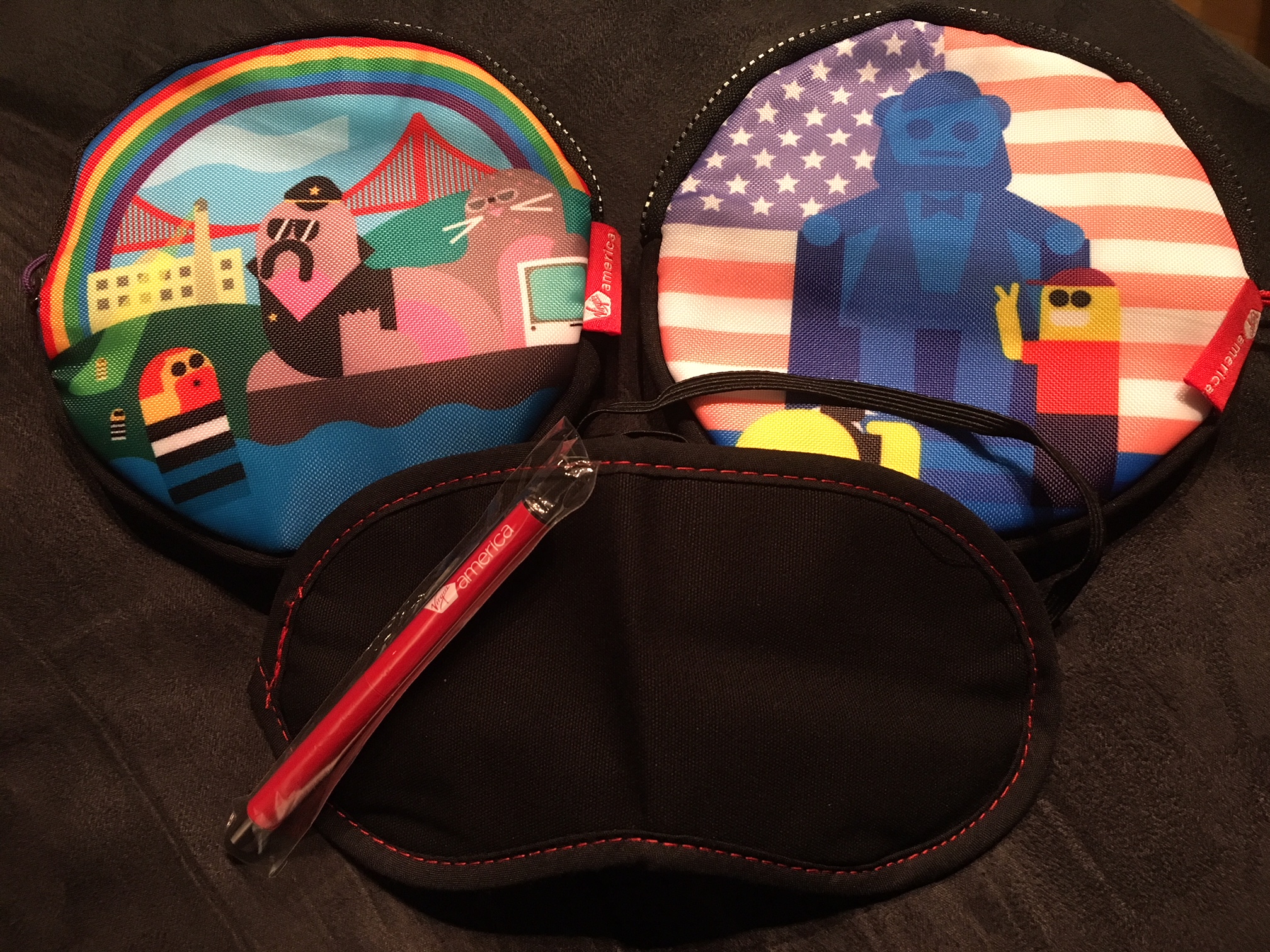 Virgin America First Class Menu and Food
I was surprised that we weren't given menus before or even after take-off. The reason soon became apparent: Virgin America is incredibly stingy or obtuse or both with how they cater Virgin America First Class, at least if our flight is anything to go by.
The flight attendant went past us to the 2nd row passengers, showed them the lunch menu, and took the order. Only then did he come and ask the three of us what we wanted, and pointed out that the burger (which all three of us wanted) was already sold out, because each of the 2nd row passengers had ordered it and only 4 were on the flight.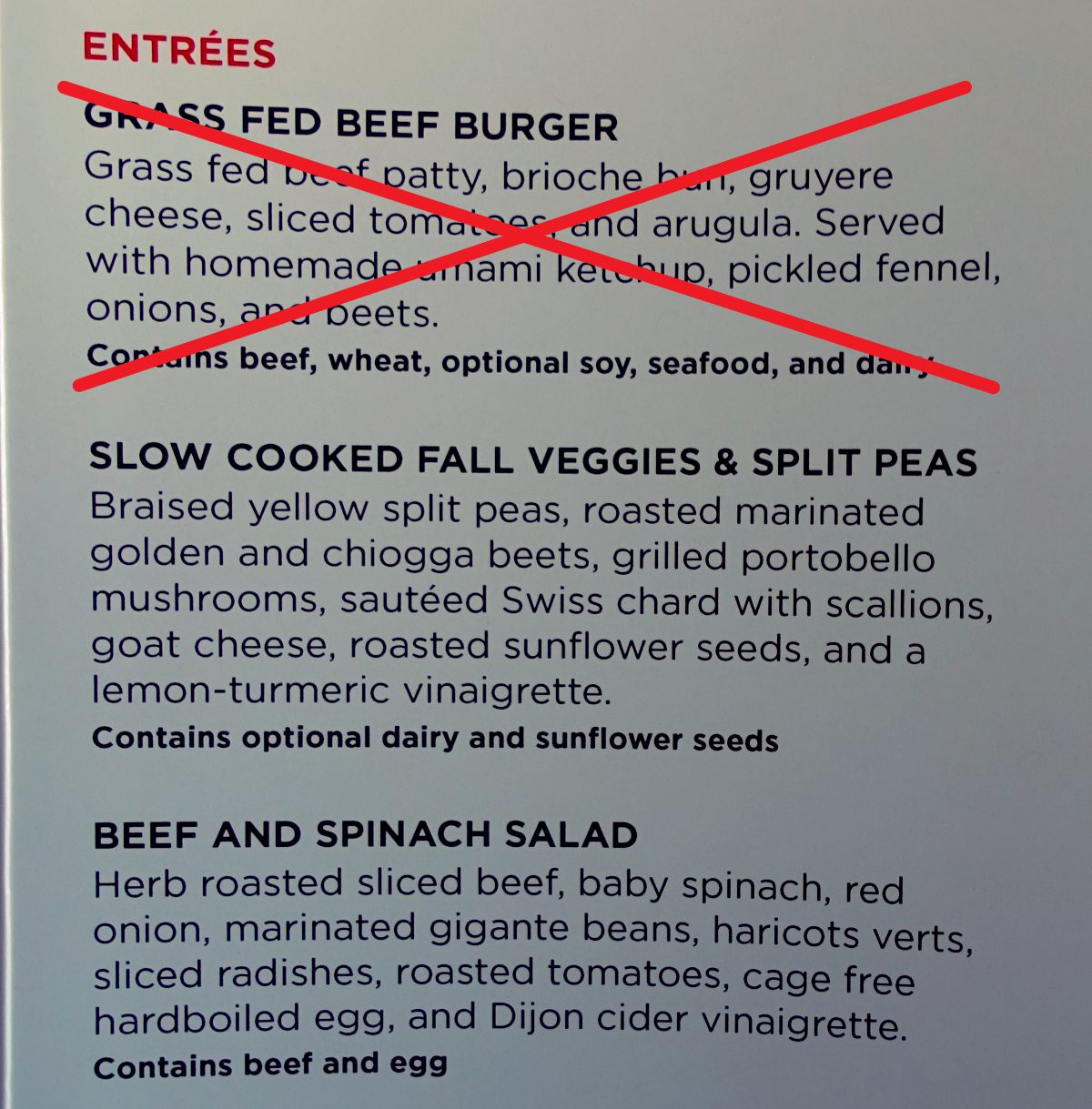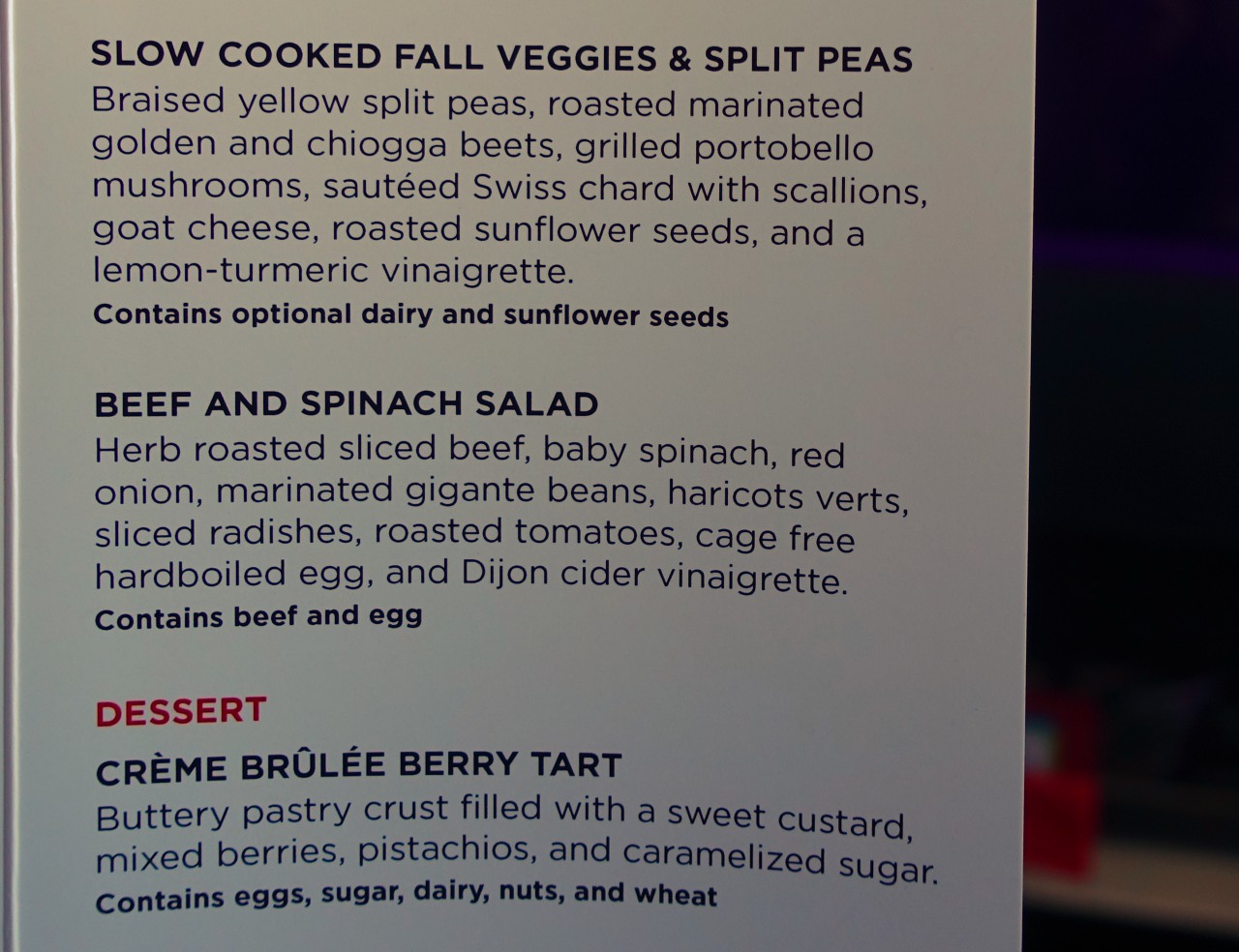 This is what prompted my post, Dear Virgin America: You're 0/3. Let First Class Pre-Order Meals. Yes, it's just a meal, but when none of us (nearly half the cabin) get to order the meal we wanted, Virgin America isn't getting their catering right. And I'll bet this isn't the first time this has happened, by the way the flight attendant behaved.
A tiny hot towel was given to each of us before the meal.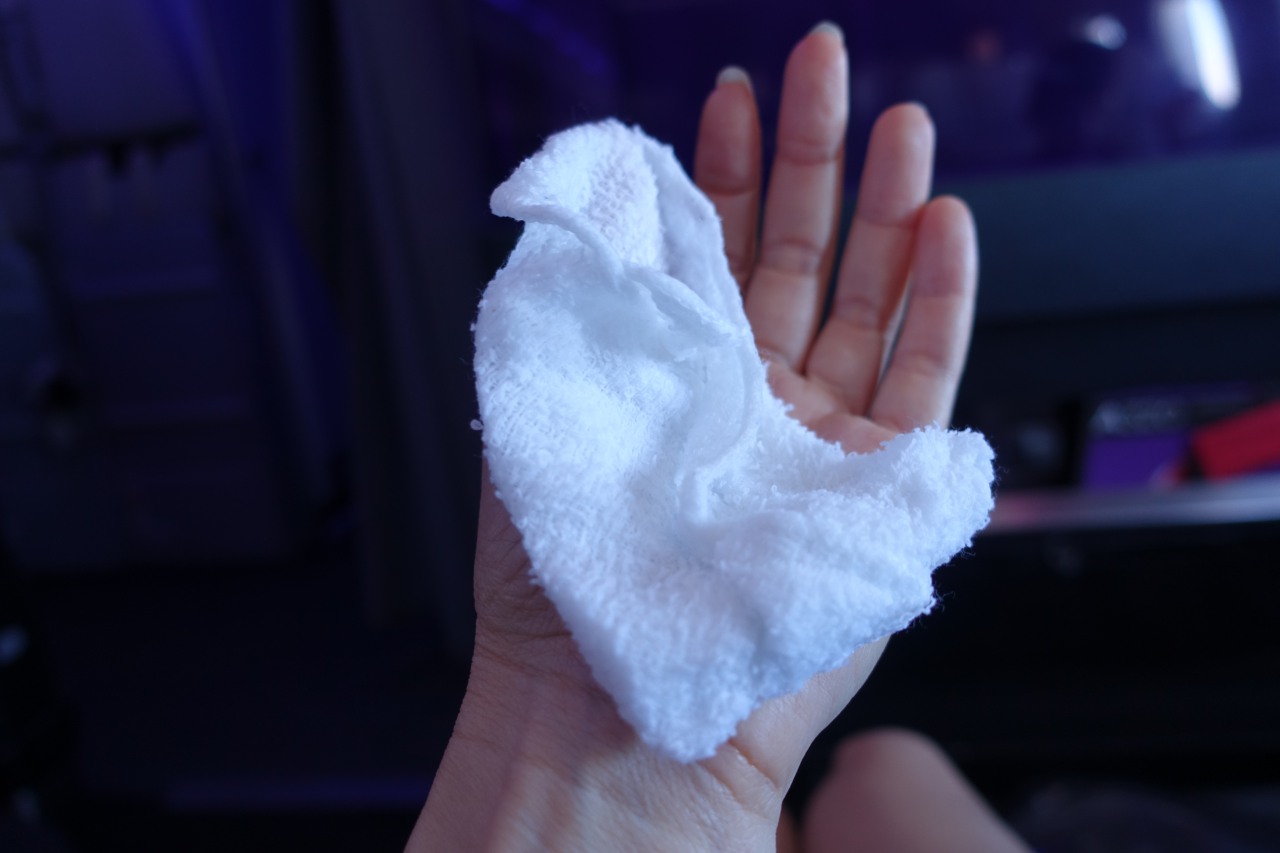 The appetizer, which was the same for everyone, was a very oily Eggplant Caponata with Flat Bread.
Since Virgin America had only catered burgers for half the cabin, my husband and son had the Beef Spinach Salad, which they said was mediocre.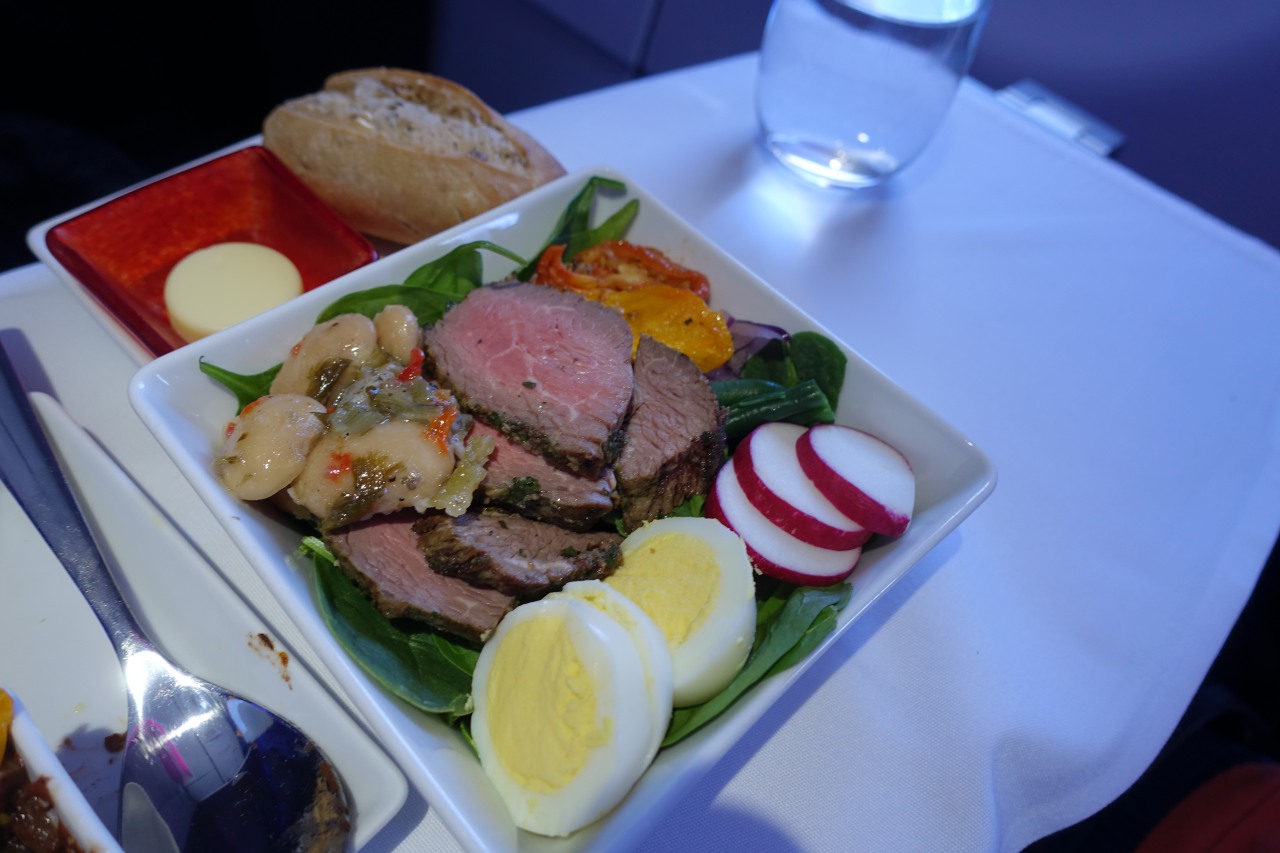 And as neither of the non-burger choices on the menu appealed to me, I gave up and just had a quinoa chicken salad that was part of Virgin's food for purchase program for Economy passengers. The best I can say is that I've had worse airline salads.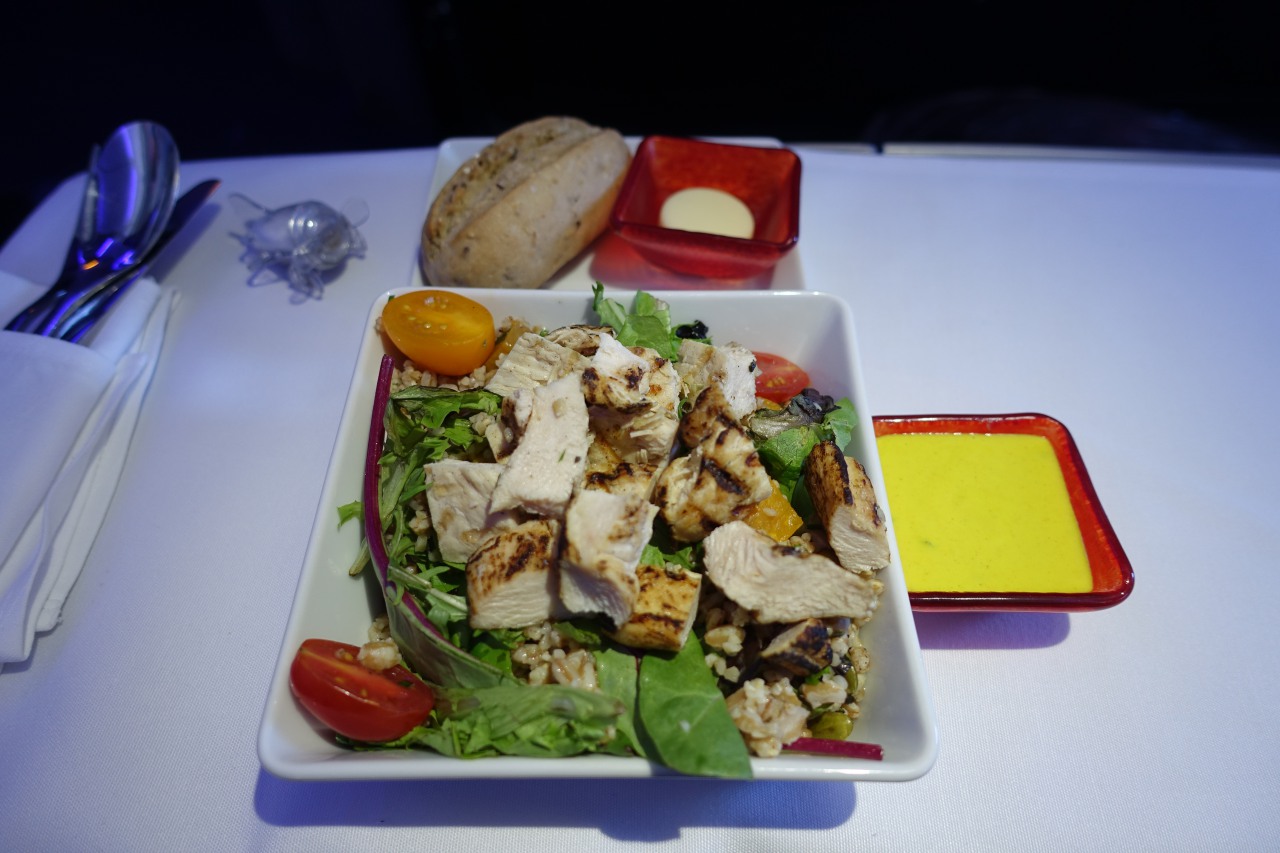 The berry tart dessert had a soggy crust but I ate it anyway from hunger, and also had some tea.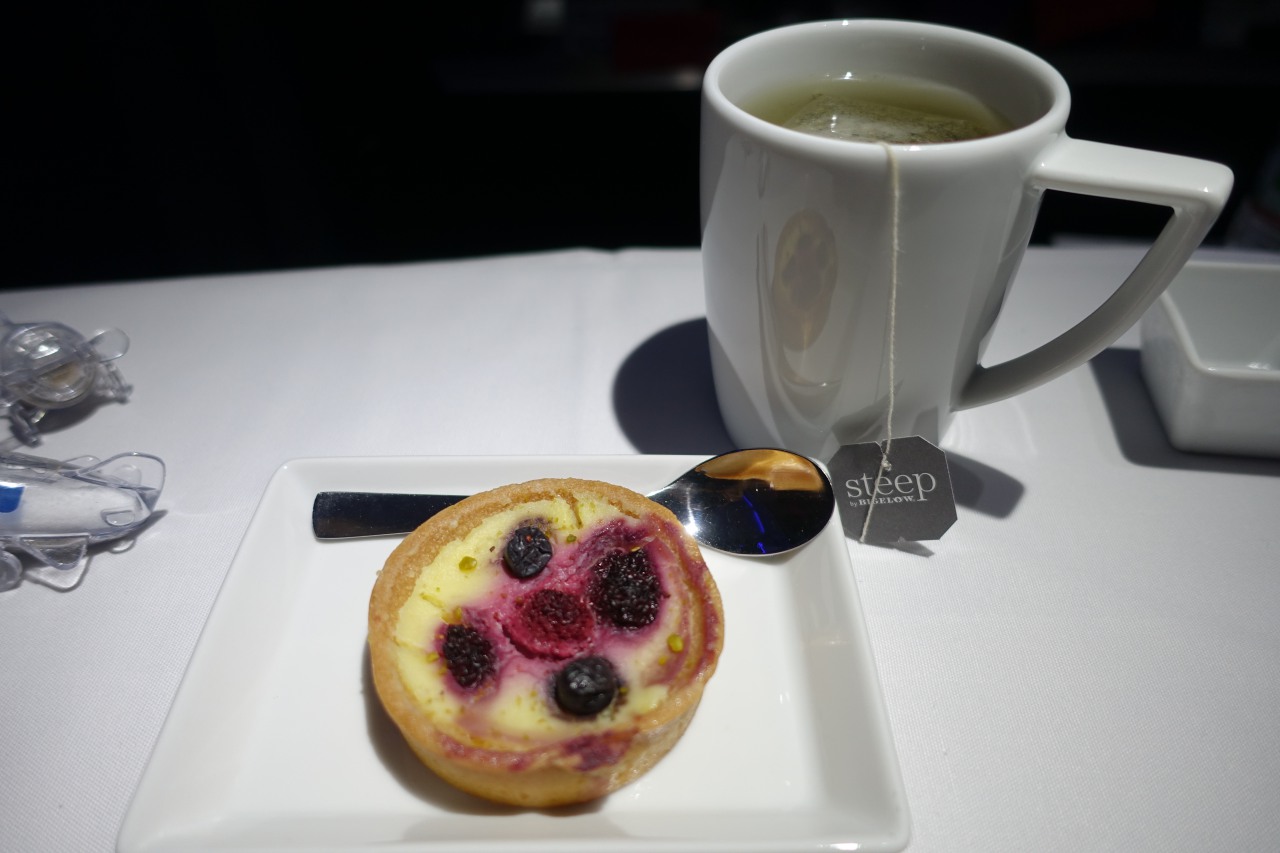 The Verdict
We had to fly on a specific date due to attending my grad school reunion, and there weren't other nonstop business class award seat alternatives for all of us, nor did we want to pay for JetBlue Mint, so Virgin America First Class was the most economical choice for us.
Of the three of us, our son definitely enjoyed it most, both because he never wants a lie flat seat during a day-time flight, and because he loved all the "cool" touches such as mood lighting, boarding music, the circular amenity kits, etc. that just seem gimmicky to me. In fact, overall it reminds me of Starwood's W Hotel brand, which tries to be hip but which I usually find irritatingly loud and more form over function.
Mostly I was peeved by the poor catering on the flight, and did end up complaining and getting a few miles from Alaska Airlines. Not much, but nearly enough to equate to the cost of getting the burgers that all three of us were craving after being denied them on the flight.
If you've flown Virgin America, what was your experience?
Recommended Posts
Flight Review: Virgin America First Class SFO to JFK
Alaska Airlines Ignores Sexual Harassment Until It Can't
Virgin America: Flights to Hawaii from SFO
10,000 Alaska Miles Bonus for Virgin America Elevate Members
If you enjoyed this, join 200,000+ readers: follow TravelSort on Twitter or like us on Facebook to be alerted to new posts.
Subscribe to TravelSort on YouTube and TravelSort on Instagram for travel inspiration.
Become a TravelSort Client and Book 5-Star Hotels with Virtuoso or Four Seasons Preferred Partner Benefits